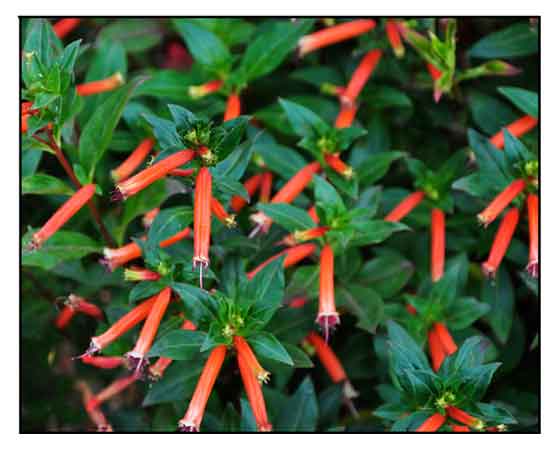 Gen info
- Cuphea ignea is a species of flowering plant in the genus Cuphea of the family Lythraceae.
- Cuphea is considered the largest genera of the Lythraceae family.
- Etymology: The genus name derives from the Greek work "kyphos" meaning 'curved' or 'humped', which may refer to the shape of the seed. The species epithet "ignea" is Latin, meaning 'fiery', which refers to the flowers resembling lit cigars. (2)
- In the UK the plant has gained the Royal Horticultural Society's Award of Garden Merit. (2)
Botany
Cuphea ignea is a rounded, densely branched, bushy, evergreen sub-shrub that grows 20-30" tall and as wide. Small, tubular, bright red flowers (to 1.25" long) bloom singly in the leaf axils from late spring to frost along stems crowded with pointed, lance-shaped to ovate, dark green leaves (to 1 1/2" long). Each flower consists of a narrow, tubular, red calyx (no corolla) tipped with a thin white rim and two tiny purple-black petals, all of which is purportedly suggestive of a lit cigar (cigarette or firecracker). Flowers are attractive to hummingbirds and butterflies. (3)
Distribution
- Introduced.
- Ornamental cultivation.
- Native to Mexico and the West Indies.

Constituents
- Qualitative phytochemical screening of aqueous ethanolic extract of aerial parts yielded phenolics, flavonoids, tannins, alkaloids, carbohydrates, glycosides, triterpenes, and unsaturated sterols. (see study below) (4)
- Study of aqueous ethanol extract of aerial parts isolated a coumarin with a rare structure, 7-hydroxy 3-methoxy coumarin 5-O-ß-glucopyranoside. (see study below) (5)
- Study of aerial parts of C. ignea yielded total phenols of 121.66 mg/g and total flavonoids of 105.33 mg/g. (4)

Parts used
Leaves, aerial parts.

Uses
Folkloric
- No reported folkloric medicinal use in the Philippines.

Studies
• Antiulcerogenic Effect / Aerial Parts: Study evaluated the gastroprotective effect of aqueous extract of aerial parts of C. ignea on ethanol-induced gastric ulcer in Sprague Dawley rats. The extract significantly attenuated gastric ulcer as evidenced by significant reduction in gastric ulcer index and volume of gastric juice, along with increased pH value and pepsin activity. Pretreatment also increase the gastric levels of enzymatic and non-enzymatic antioxidants i.e., CAT, SOD, GSH-Px, and GSH, with concomitant reduction in MDA level. (see constituents above) (4)
• Antioxidant / Radical Scavenging Effect / Aerial Parts: C. ignea extract of C. ignea showed radical scavenging activity at seven different concentrations ranging from 0.5 to 500 µg/mL, nearly similar RSA as ascorbic acid at concentration of 50 µg/mL. The extract completely inhibited the radical absorbance and exhibited potent radical scavenging activity with 98% at concentration of 100 µg/mL, indicating remarkable antioxidant capacity. (4)
• Coumarin / Cytotoxicity / Antioxidant / Aerial Parts: Study of aqueous ethanol extract of aerial parts isolated a coumarin with a rare structure, 7-hydroxy 3-methoxy coumarin 5-O-ß-glucopyranoside. The rare coumarin significantly inhibited ROS production with ED50 of 6.31 µg/ml and 5.78 µg/ml by DPPH and ORAC assay respectively. The coumarin showed cytotoxic activity using neutral red assay (NRA) against lung cancer cell line (H23) with IC50 of 40.38 µg/ml. (5)
• Antiviral Against SARS-CoV-2 / Antioxidant / Aerial Parts: Study identified and quantified the constituents of polyphenols-rich C. ignea extract. Molecular docking was conducted for 15 compounds in the extract against SARS-CoV-2 main protease, among which rutin, myricetin-3-O-rhamnoside and rosmarinic acid exhibited the most promising antiviral activity. A self-nanoemulsifying formulation, composed of 10% oleic acid, 40% tween 20 and propylene glycol 50%, inhibited SARS-CoV-2 completely in vitro at a concentration as low as 5.87 µg/mL. Results suggest a promising antiviral remedy for SARS-CoV-2, which may be attributed to the possible synergism between extract components. (6)
• Antihypertensive / Leaves: Study evaluated the in vivo antihypertensive potential of C. ignea A.DC. and explored its metabolic profile using UHPLC-Orbitrap-HRMS technique. Results showed the ethanolic extract of leaves in doses of 260 and 500 mg/kbw significantly normalized the elevated blood pressure in N(G)-nitro-L-arginine-methyl ester-induced hypertension in rats. Angiotensin-converting enzyme (ACE) was significantly decreased by high dose extract compared to lisinopril. Nitric oxide (NO) was significantly restored. Both doses displayed significant reduction in MDA while high dose restored elevated glutathione level. Results provide evidence for use of C. ignea as complementary treatment in the management of hypertension. (7)
• Angiotensin-Converting Enzyme and Renin Inhibition Activities / Antioxidant / Leaves: Study evaluated the antihypertensive activity of C. ignea using invitro angiotensin-converting enzyme (ACE) and renin inhibition assays. The aqueous extract and n-butanol fraction of leaves showed the highest ACE inhibition activity with IC50s of 0.491 and 0.084 mg/mL respectively. Alcoholic extract of leaves showed highest percentage inhibition (94.82%) on renin inhibition assay. Antioxidant studies showed moderate correlation with phenolic content and strong correlation with flavonoid content. Renin inhibition activity showed significant correlation with phenolic and flavonoid contents with r values of 0.777 and 0.629, respectively. (8)
• Antitumor Activity / A549 Human Lung Cancer Cell Line: Study evaluated the preventive and therapeutic efficacies of Cuphea ignea extract in a mouse model of lung tumorigenesis induced by oral benzo(a)pyrene and its cytotoxicity toward A549 human lung cancer cell line. Cuphea ignea treatment alleviated all alterations in affected parameters in serum and lung tissues. (9)
Availability
- Wild-crafted.
- Seeds in the cybermarket.
- Ornamental cultivation.