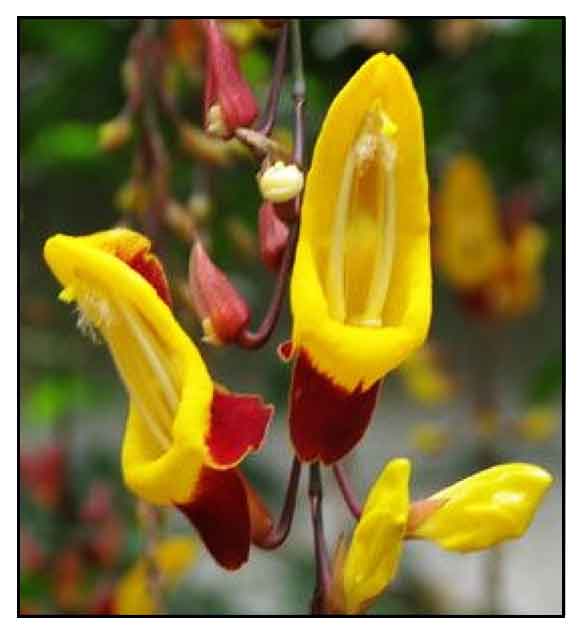 Gen info
- The genus name "Thunbergia" honors the Swedish physician and botanist , Carl Peter Thunberg, 1743-1828. The specific epithet "mysorensis" refers to the city of Mysore in Karnataka, India.
- Considered one of the most beautiful vines in the world and has received the prestigious Royal Horticultural Society Away of Garden Merit in 1993.
- The variety of common names refer to the shape of the flowers and the clockwise twinning of the vine.
Botany
Thunbergia mysorensis is an evergreen twinning vine that grows 16-25 feet tall and at least as wide, with a dense covering of dark green, opposite, lanceolate, acuminate, dentate leaves, 4 to 6 inches long, prominently three-nerved.. Stems twine clockwise as they mature. Inflorescence is an elongatd pendant raceme, slender, three feet or longer. Flowers dangling from inflorescenses are two-lipped, arising from the leaf axils, with red calyces and a floral tube with a 3-inch gaping mouth, yellow along the edges and down the throat, with red reflexed petals.
Distribution
- Introduced.
- Cultivated in Laguna and Baguio City as an ornamental plant.
- Native to southern tropical India.
- Naturalized in Mediterranean climates.
Constituents
- Phytochemical screening yielded protein, alkaloid, amino acid, carbohydrate, flavonoids, tannin, and phenolics. (see study below) (3)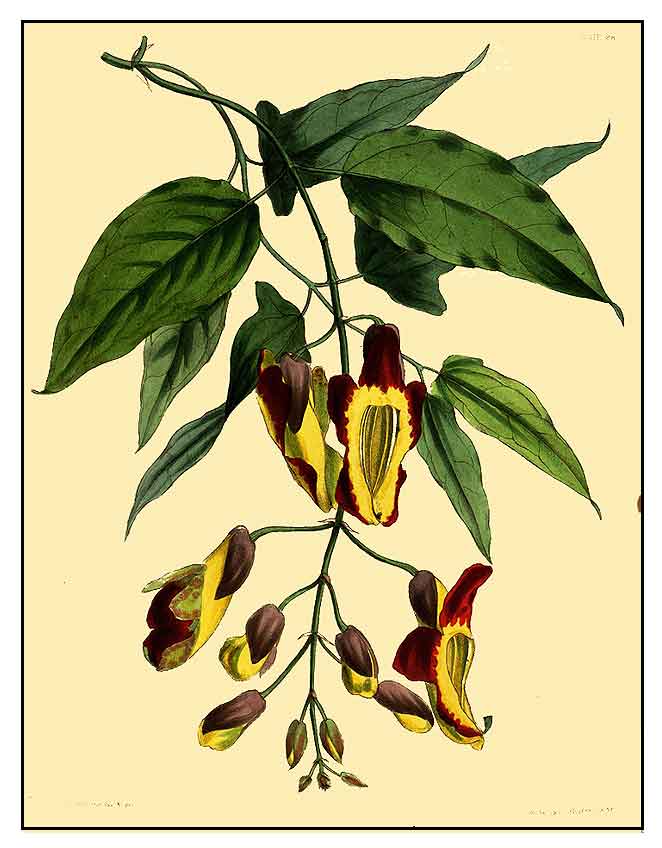 Properties
- Sweet nectar is attractie to birds.
- Studies have suggested antioxidant properties.

Parts used
Flowers

Uses
Folkloric
- No reported folkloric medicinal use in the Philippines.
- In India, used to treat coughs, jaundice, liver disease, fever.

Studies
• Antioxidant: Study evaluated an ethanol extract for antioxidant potential. Phenol and flavonoid concentration were 0.264 µg/ml and 0.259 µg/ml, respectively. Reducing power was 0.311 µg/ml. The IC50 was 125 µg/ml, compared to standard vitamin C at 237.5 µg/ml. Results suggest a good source of natural antioxidants. (see constituent above) (3)
• Antibacteria / Flowers: Study of aqueous extract of flowers showed antibacterial activity against E. coli, S. aureus, and P. aeruginosa with 7-10 mm zone of inhibition. (4)
Availability
- Wild-crafted.
- Plants in the cybermarket.