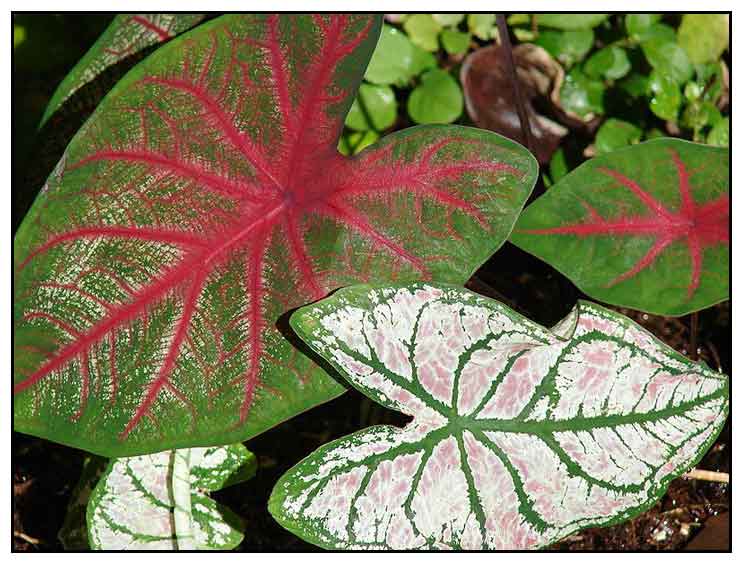 Botany
Corazon de Maria is a long-lived perennial herb arising from a fleshy, roundish, underground stem (corm). Leaves have an elongated stalk and a heart-shaped blade, 10 to 40 centimeters long, 6 to 30 centimeters wide, variously colored on the upper surface, green or blotched with red and white in various patch designs. Blade is mostly green, with scattered white spots and reddish veins. Fleshy flower cluster (spadix) is erect, shorter than the enclosing bract (spathe), about 10 centimeters long, tubular, constricted at the middle, green on the outer surface, white on the inner. Flowers are of one sex, without stalk and floral envelope (perianth); males are crowded on the upper part of the cluster, the females on the lower. Fruit is a berry, many seeded.
Distribution
- Introduced.
- Ornamental cultivation in Philippine gardens for its various colors and leaf shapes.
- Occasional use as hedge plant.
- Native to Trinidad, Guiana, and Brazil.
Constituents
- Phytochemical screening yielded the presence of saponins, flavonoids, limonoids, polyphenols, alkaloids, carotenoids, lactones, xanthophs, oxalate, cyanide, and terpenes.
Properties
- Considered antiseptic, anti-tumor, emetic, laxative, insecticide.

Parts used
Leaves and tubers.

Uses
Edibility
- All parts of the plant, but especially the leaves and bulb, when raw, contain irritant crystals of calcium oxalate. When cooked, both leaves and bulbs have been eaten as vegetables in tropical America and the West Indies.
Folkloric
- No reported folkloric medicinal use in the Philippines.
- Elsewhere, used for sore throats, constipation, catarrh, wounds.
- Used for sores and toothache.
- For facial paralysis, crushed bulbs applied to the face.
- In Brazil, heated bulbs are covered with olive oil and applied to tumors. Also, decoction of leaves used as vermifuge and purgative; externally used for furunculosis.
- In Cameroon, decoction of tubers and leaves used for vaginal inflammation.
Others
- Insecticide: In the Philippines, powdered leaves are used as insecticide.
- Veterinary: In India, decoction of leaves used for external cattle festers caused by worms.
Caution
• All parts of the plant, especially the leaves and bulb, when raw, contain raphides of water-insoluble calcium oxalate and other proteinaceous toxins.
• Excessive dosing can cause nausea, vomiting, diarrhea, swelling and redness of the eyes, and swelling of the mouth and tongue.
• Although attractive, avoid planting within easy reach of children.
Studies
• Phytochemicals / Polyphenols: Study of the polyphenol content of stem, leaf, bulbs, and roots of three caladium sp. showed significant differences. All three yielded polyphenols, saponins, carotenoids, alkaloids, limonoids,and flavonoids.. The polyphenol content of C bicolor was significantly higher than that of C. ornamental and C. variegatum. The leaves of the three plants were significantly higher in polyphenols than the stem, bulb, and roots. Saponins were also extensively found. Cyanide content was highest in C. bicolor, with the roots yielding more cyanide than the bulb, stem and leaves. The presence of the biochemical components suggest a potential for use in cancer.

Availability
Wild-crafted.