Botany
Dadayem is an erect, branched perennial herb, glabrous or hairy, 0.2 to 1.5 meters high. Leaves are 1- to 2-pinnatifid and 15 centimeters long or less, the upper ones being usually much smaller; segments ovate-lanceolate, 2 to 5 centimeters long and toothed. Flowering heads are about 8 millimeters long. Disc flowers are brown or yellowish and the ray ones yellow or nearly white. Inner involucral bracts have broad, scarious margins. Flowering head about 8 millimeters long. Fruits are achenes, black, long and slender, linear, 1 to 1.5 centimeters long and characterized by four projections at the apex.
Distribution
- In waste places, chiefly at medium altitudes, ascending to 2,200 meters from Batanes and Babuyan Islands and Northern Luzon to Mindanao.
- In many places, a common and pestiferous weed. Also used as cover crop. (60)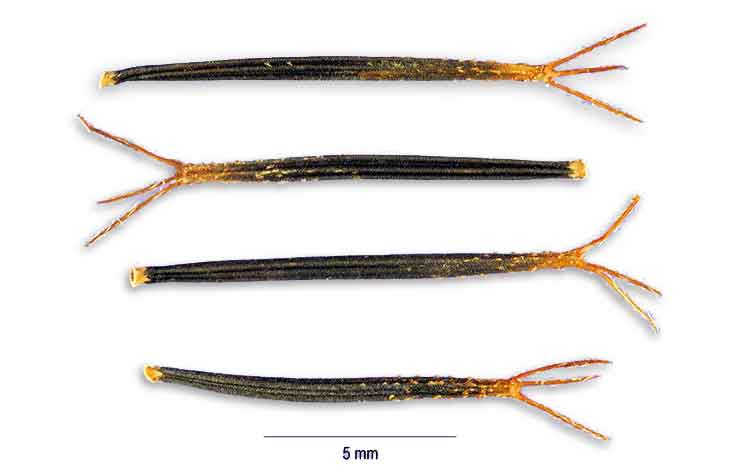 Constituents
- Plant contains iodine; the leaves, tannin and saponin; the flowers, sulfur.
- Earlier studies have isolated sterols, terpenoids, phenylpropanoids, hydrocarbons.
- Flavonoids metabolites are subdivided into aurones, chalcones, flavanones, flavones, and flavonols. The terpenoid metabolites are divided into sesquiterpenes, diterpenes, sterols, triterpenes, tetraterpenes.
- Metabolic profiling yielded a new compound, heptanyl 2-O-􏰀-xylofuranosyl-(1→ß6)-glucopyranoside (1), and eight phenolic compounds: 3-O- rabinobioside (2), quercetin 3-O-rutinoside (3), chlorogenic acid (4), 3,4-di-O-caffeoylquinic acid (5), 3,5-di-O-caffeoylquinic acid (6), 4,5-di-O-caffeoylquinic acid (7), jacein (8), centaurein (9). (see study below) (30)
- Study of leaves for essential oil yielded 27 compounds, representing 97.57% of total oil contents. Major constituents were α-pinene (14.7%), e-caryophyllene (13.5%), and ß-ocimene (12.8%), (see study below) (56)
- Phytochemical analysis of crude methanol extract of stem and root parts yielded the presence of cardiac glycosides, terpenoids, flavonoids, and alkaloids. Saponins were not found in any of the fractions. GC-MS analysis yielded: cis-9hexadeceal, 2-hydroxyl ethyl (Z)-9-octadecenoate, octadecanal, oleic acid, 4- (dimethylamino)-benzaldeyde, 4,6,7-trimethoxy-2,3-dihydrofuro(2,3-biquinolone. (see stud below) (59)

Properties
- Sweet tasting, mildly refrigerant.
- Studies have suggested antibacterial, anticancer, antioxidant, antidysenteric, anti-inflammatory, antimicrobial, antimalarial, diuretic, hepatoprotective, antipyretic, antidiabetic, analgesic, antipyretic, antiviral, immunomodulatory properties.

Parts utilized
· Entire plant.
· Collect before flower opens, rinse, sun-dry, section into pieces or compress.

Uses
Edibility / Nutrition
• In sub-Saharan Africa, fresh or dried tender shoots and young leaves are eaten as vegetable in times of scarcity.
• In Uganda, leaves are boiled in sour milk.
• Leaves are added to salads and stews.
• Young shoots used to make tea.
• In Mexico, leaves used as a substitute for tea.
• A valuable source of vitamin C (63 mg/100 g), iron (15 mg/100 g), and zinc (19 mg/100 g). (37)
Folkloric
· Used as preventive for influenza or cold, used for treatment of swelling pain at the throat, fever among infants, fear of cold weather.
· For sore eyes, pounded leaves are applied over the eyelids.
· Used for poisonous insects and snake bite.
· For enteritis, flatulence, diarrhea, appendicitis.
· For sprains, contusions, chronic ulcers.
· Used to stop wound bleeding.
· Leaves used as stimulant.
· Leaves used for treatment of thrush and candida.
· For piles, chronic ulcers, various skin diseases.
· Dosage: use 30 to 60 gms of dried material or 90 to 150 gms fresh material in decoction. Fresh materials may be pounded and applied as poultice or boiled in water and applied as external wash.
· In Uganda, the sap from crushed leaves is used to speed up blood clotting in fresh wounds. Leaf decoction used for headaches. Plant sap is used for ear infections. Decoction of leaf powder for kidney ailments. Plant decoction used for flatulence.
· In Java, Malaya and Indo-China, the leaves are used for eye complaints.
· In Indo-China, dried flower buds and ground and mixed with alcohol, and used as mouthwash in toothache.
· In Java, heated leaves are applied to boils to facilitate ripening.
· In southern Africa, used for malaria.
· In Zimbabwe, used for stomach and mouth ulcers, diarrhea and hangovers.
· In Peru, leaves are balled up and applied to toothaches.
· In the Amazon, used for hepatitis, angina, sore throat.
· The Zulus use an enema of the powdered leaves in water for abdominal troubles. Also, flowers used as remedy for diarrhea.
· In Columbia, leaves used as sudorific.
· In the Congo, plant used as poison antidote and to facilitate child delivery.
· In Nigeria, the powder or seed ash is used as a local anesthetic for cuts.
· In Brazil, the plant is traditionally used for conditions related to cancer. Also, leaves are used as styptic to stop the flow of blood, and as vulnerary.
· In Tobago and Trinidad, aqueous solution of leaves used to bathe babies and children.
· In Cameroon and Central America, leaf decoction used for dizziness, migraines, headaches, rheumatism. Used for treatment of hypertension. (61)
Note: This plant closely resembles Bidens tripartita which may be differentiated on the shape of the leaves, however the medicinal function of this plant is identical with Bidens pilosa and hence may be used as a substitute.
Others
• Spirits: Igorots mix the flowers with balls of boiled rice, then fermented to make crude spirits.
• Fodder: Useful as fodder for pigs. Seeds used as chicken feed.
• Nectar: Source of nectar of honeybees. (60)
• Dyes: In Kenya, used for the extraction of natural dyes.
• Crafts: In the Congo, roots are washed, dried and used as painting brush.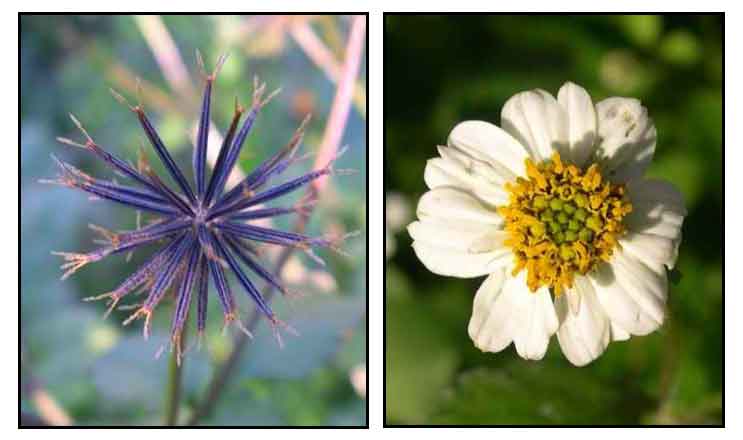 Studies
• Hepatoprotective: Study of water extract from B pilosa on Wistar rats showed phytotherapeutic activity in hepatic damage induced by chronic obstructive cholestasis by hepatoprotective effects on liver function, decrease of rate of necrosis and liver fibrosis.
• Anticancer / Antipyretic / Whole Plant: Extracts from B. pilosa were tested for anticancer and antipyretic activity. Ethanolic extract showed significant cytotoxic effect against Hela cells by in vitro method and showed a comparable antipyretic activity effect to paracetamol in rabbit pyrogen test. (3)
• Anti-Tumor / Aerial Parts: Various extracts were evaluated for antiproliferative potential in vivo using Ehrlich ascites carcinoma cell line assay. The chloroform fraction showed the best antitumor activity.   (10)
• Anti-Malarial Activity / Polyacetylene and Flavonoids: New evidences of antimalarial activity of Bidens pilosa roots extract correlated with polyacetylene and flavonoids: The results showed the in vivo activity of the ethanol extract depends on polyacetylene and flavonoids. (14)
• Anti-Malarial Activity: Study showed the presence of flavonoid compounds believed to be responsible for the antimalarial activity. Its proven activity against P falcifarum drug-resistant parasites in vitro and in rodent malaria in vivo, suggests it a good candidate for further testing as a phytotherapeutic agent.
• Immunomodulation / Centaurein and Centaureidin: Study yielded flavanoids – centaurein and centaureidin, which stimulated IFN-gamma expression. (4)
• Immunomodulation / T-Cell Differentiation: Study showed the butanol fraction of B pilosa has a dichotomous effect on helper T cell-mediated immune disorders, possibly through modulation of T cell differentiation.
• Anti-Herpes: Study showed the hot water extract of Bidens pilosa inhibited replication of the HSV. (5)
• Anti-Inflammatory / Antiallergic: Results of studies on suspension and boiling water extract of dried powder from the aerial parts of B pilosa L var radiata Scherff inhibited histamine release and production of IgE, suggesting it may be clinically useful in the prevention of type 1 allergic disease. (6)
• Anti-Diabetic: Results of study on water extract of B pilosa suggests it ameliorates type 2 diabetes in mice through regulation of insulin secretion and islet protection. (7)
• Anti-leukemic: Study of hot water extracts showed inhibition of leukemic cell lines and suggests it may be a useful medicinal plant for treating leukemia.
• Flavonoids / Hepatoprotective: Study in carbon tetrachloride-induced liver injury in mice and rats showed the total flavonoids of Bidens pilosa had a protective and therapeutic effect on animal liver injury and could be associated with its antioxidant properties and inhibition of NF-kB activation.
• Oxytocic / Leaves: Study to validate the claimed uses of Bidens pilosa and Luffa cylindrica inducing labor during childbirth showed the aqueous leafy extracts of Bp and Lc increased rat uterine motility suggesting oxytocic activity and validates their therapeutic herbal uses in childbirth. (9)
• Mutagenic Potential: A study to evaluate the capacity of teas of B pilosa and Mikania glomerata to induce DNA damages and mutagenic effects showed dose-dependent and preparation-form effects and suggests caution in the phytotherapeutic use of the plants. (12)
• Vasodilating / Calcium Antagonist: Study showed the vasodilating properties of the neutral extract of B pilosa and indicate a potential as a calcium antagonist. (15)
• Cytopiloyne / T Helper Cell Modulator / Anti-Diabetes: Study yielded a novel bioactive polyacetylenic glucoside, cytopiloyne. Results showed it functions as a T cell modulator, an activity that may directly contribute to its ethnopharmacologic effect on preventing diabetes. (17)
• Anti-COX-2 / Anti-PGE2 / Anti-Inflammatory: In a study of interleukin-1ß induced inflammation in normal human dermal fibroblasts, B pilosa inhibited the phosphorylation of MAPKs, COX-2 expression and subsequently PGE2 production. (18)
• Anti-Herpes simplex: Study of Bp in tissue culture cells and a mouse model showed potent virucidal activity. Bp treatment increased the survival rate of HSV-infected mice and limited development of skin lesions. (23)
• Leucocyte Mobilization / Anti-Inflammatory Effect: Study evaluated aerial parts of Bidens pilosa on in vitro and in vivo leukocyte mobilization, using models of chemotaxis and pleurisy induction by carrageenan in rats. Results showed reduction of leukocyte mobilization in both assays suggesting a potential anti-inflammatory effect. (24)
• Toxicological Evaluation of Infusion: Study evaluated the potential toxicity of a plant infusion in single and repeated doses in assessing it as a dermal irritant. Results showed the absence of toxicological effects in the single dose and repeat dose study. Study proved the infusion is non-toxic for dermal structures. (26)
• Antitumor Potential: Study evaluated a crude alcoholic extract and solvent fractions for cytotoxicity by brine shrimp and hemolytic, MTT and NRU assays, and antiproliferative potential was evaluated using Ehrlich ascites carcinoma in Balb/c mice. Results showed the chloroform fraction to have the best antitumor activity. (27)
• Cytopiloyne / T-Helper Cell Modulator / Anti-Diabetic: Study isolated a novel bioactive polyacetylenic glucoside, cytopiloyne. Cytopiloyne inhibited the differentiation of naive T helper cells into type 1 T helper cell; also suppressed IFN-y expression and promoted IL-4 expression. Results showed cytopiloyne functions as a T cell modulator and may contribute to the effect of B. pilosa on preventing diabetes. (29)
• Chemopreventive / Free Radical Scavenging Activity: Study evaluated crude and fractionated plant extracts of Bidens pilosa for chemopreventive activities. EA and butanolic fractions exhibited significant scavenging free radical activity comparable to α-tocopherol. Detectable cytotoxicity was observed on RAW 264.7 cells. (30)
• Cancer Chemopreventive: Study of methanolic extract for anticarcinogenic potential using DMBA model induced forestomach and TPA promoted skin papillomagenesis. Results showed a potential to induce Phase-II enzyme activity associated with carcinogen detoxification in liver of mice. There was significant inhibition of tumor burden and reduction of tumor incidence. (31)
• Quercetin / Free Radical Scavenging / Hepatoprotective: Study evaluated hydroethanol crude extract and fractions for antioxidant and hepatoprotective activities. Study yielded high contents of total soluble polyphenols and presence of a quercetin-derived flavanoid, quercetin 3,3?-dimethyl ether 7-O-b-D -glycopyranoside. In CCl4-induced liver injury, results showed hepatoprotection attributed to constituents with free radical scavenging activity. (32)
• Anthelmintic: Study evaluated the in vitro efficacy of Bidens pilosa against ruminant gastrointestinal nematode, Haemonchus contortus. An aqueous extract showed weak activity on different developmental stages of H. contortus; an ethanolic extract was more potent on larvae than on eggs. (33)
• Wound Healing: Study evaluated an ethanolic extract for wound healing potential on excision wound models in Wistar albino rats. Wound treated extracts showed faster rates of wound contraction and histological exam showed better collagenation, angiogenesis and organization of the wound tissue, with results comparable to neomycin sulfate. (34)
• Hepatoprotective / Ehrlich Ascites Carcinoma Mice Exposed to Gamma Radiation: Study evaluated the role of ethanolic extract of B. pilosa against Ehrlich ascites carcinoma-induced hepatic dysfunction in gamma irradiated mice. Treatment of BpE modulates most of the pathological alterations suggesting a hepatoprotective effect. (35)
• Anti-Adult T-Cell Leukemia Effects: Study evaluated the molecular pathways responsible for the anti-adult T-cell leukemia (ATL) effect. Water extracts of Bp showed growth suppressive effects on human T-cell leukemia virus type 1 (HTLV-1) infected T-cell lines and ATL cells. Extract arrested cells in G1 cell cycle and induced apoptosis of HTLV01 infected T-cell lines Results suggest a potentially useful plant for the treatment of ATL. (36)
• Antimicrobial / Whole Plant: Study evaluated various extracts of powdered whole plant-parts for antimicrobial activity against Escherichia coli, Staphylococcus aureus, Pseudomoas aeruginosa, and Enterococcus faecalis. The crude methanol extracts yielded secondary metabolites viz. tannins, saponins, alkaloids, cardiac glycosides, steroids, and flavonoids. Hexane and methanol extracts demonstrated similar activity with 8-17 mm and 11-18 mm inhibition zone-diameter ranges, respectively. (39)
• Androgen Deficiency Dry Eye / Leaves: Study evaluated the effect of aqueous extract of Bidens pilosa leaves on androgen deficiency dry eye in Finasteride induced dry eyes in rats. Results showed the extract to be effective for treatment of androgen deficiency dry eye in rats by improving aqueous tear quality, maintaining tear film stability and inhibiting the inflammation of the lacrimal gland. (40)
• Antihypertensive: Study evaluated the protective effects of Bp ethylene acetate extract on L-NAME induced hypertension and oxidative stress in male Wistar rats. Results showed a hypertensive effect probably due to the presence of quercetin 3,3'-dimethyl ether 7-0-ß-D-glucopyranoside. (41)
• Improvement of Blood Homeostasis and ß-Cell Function in Men / Pilot Study: Study evaluated the effects of Bp formulation on fasting blood glucose, fasting serum insulin, and glycosylated hemoglobin A1c in diabetic subjects. Results showed reduction of level of FBS and HbA1c with increase in fasting serum insulin. The homeostatic model assessment showed the antidiabetic activity was due to improvement of ß-cell function. Safety evaluation of the Bp formulation showed no obvious side effects. (42)
• Hypoglycemic / Long-Term High Dose Effects: Study evaluated the anti-diabetic and high dosage effects of Bp in T1DM rat model. Results showed a hypoglycemic effect which was maintained for a period of two weeks, which was lost in subsequent weeks. High dosages of extract was associated (p<0.049) with increased systemic enzyme leakage. Tissue degeneration cause by enzyme leakage (AST and ALT) can be an etiologic factor in the development of secondary pathologies with the potential of worsening T1DM prognosis. Authors recommend further investigation into cellular mechanisms. (43)
• Anti-Plasmodial / Cytotoxicity: Study evaluated the in-vitro activity of extracts and fractions of Bp on Plasmodium falcifarum strains. Cytotoxicity evaluation was determined against HEPG2 and L929 cells by MTT assay. Fraction from ethyl acetate extract showed the highest antiplasmodial activity with no cytotoxicity. (44)
• Antioxidant Components from Flowers: An ethyl acetate fraction from a methanol extract of flowers showed the highest total phenolic and total flavonoid contents and antioxidant activities in radical scavenging and ferric reducing power assays. The bioavailability of the fraction was assessed by in-vitro uptake using the Caco-2 human colonic cell line. Results suggest DiCQAs (di-Ocaffeoylquinic compounds) are better absorbed than PGAs (polyacetylene glucosides). (45)
• Toxicity Study / Whole Plant: This 24-wekk study evaluated the toxicity of whole plant of B. pilosa in both sexes of mice and chicken. Measured parameters were mortality, body weight, organ weight, food intake, water consumption, hematology and serum chemistries, urinalysis, genotoxicity and organ histopathology. Results showed no adverse effects at does of 5% or less in food and suggests high degree of safety for veterinary purpose. (46)
• Antimicrobial / Cytotoxicity / Antioxidant / Paclitaxel / Leaves: Study evaluated the antimicrobial. cytotoxicity, and mosquitocidal potential of a leaf extract of B. pilosa. The extract showed highest antimicrobial activity against E. coli (MIC 80 µg/mL and IC50 110.04 µg/mL) and significant cytotoxicity against human epidermoid carcinoma (KB-3-1) cells (IC50 of 99.56 µg/mL). IC50s for scavenging DPPH and ABTS were 80.45 µg/mL and 171.6 µg/mL, respectively. Paclitaxel, an anticancerous compound, was detected for the first time from B. pilosa leaves. (47)
• Impairment of Cerebral Replication of Toxoplasma gondii: Study evaluated the effect of B. pilosa acetonic fraction enriched for maturase K in controlling the cerebral parasite burden of mice experimentally infected with Toxoplasma gondii. Both total extract and acetonic fraction of the plant displayed capacity to impair replication of T. gondii trophozoites. Treatment with the acetonic fraction for 10 days significantly decreased the number of T. gondii brain cyst compared to controls. The protein isolated from the acetonic fraction was characterized as a novel lectin, maturase K. (48)
• Diabetes and Hypertension / Leaves: Randomized stratified experimental design study evaluated the efficacy of B. pilosa leaf extract in 50 diabetic and hypertensive subjects.. Study concludes that B. pilosa extract can cure by 98% of type 1, type 12 diabetes and hypertension than conventional medicine. It exhibited good efficacy and showed antibacterial activity against gram negative bacteria in the gastrointestinal tract. (49)
• Wound Healing / Bidens pilosa and Aloe barbadensis / Ointment Formulation / Leaves: Study evaluated an herbal ointment formulation from ethanolic extract of leaves from B. pilosa and Aloe barbadensis. Ethanolic extract of leaves. The formulation showed accelerated rate of wound reduction and shortest epithelization and healing time. Results showed the herbal formulation to be an efficacious wound healing remedy with potential as alternative medicine for wound management. (50)
• Antimicrobial / Roots: Study evaluated various roots extract of Bidens pilosa using agar dilution method. The extract showed significant activity against all test bacteria and some fungi. A methanol extract showed best activity against most bacterial and fungal strains. (51)
• Hepatoprotective / Acetaminophen Toxicity / Leaves: Study of Bidens pilosa aqueous extract of leaves showed hepatoprotective effect o acetaminophen-induced acute liver injury in mice. Activity could be mediated by antioxidant and anti-inflammatory activities, with reduction of lipid peroxidation and increase of GSH level. (52)
• Heptonica / Hepatorestorative Polyherbal Product: Study evaluated the safety and effectiveness of a Ghanaian polyherbal product (Bidens pilosa, Citrus aurantifolia and Trema orientalis) on 50 participants with clinical and biochemical signs of liver impairment. No untoward effect was observed on kidney functions, hematological and urine parameters. The participants exhibited improvement in clinical and liver parameters. Results suggest hepatorestorative action with potential use as liver tonic without observable toxicity. (53)
• Inhibition of Adipogenesis and Lipid Accumulation:/ Anti-Obesity: Study evaluated the ant-obesity effect and mechanism of Bidens pilosa and its active constituent. Results showed significant decrease in adipogenesis and lipid accumulation associated with down-regulation of expression of Egr2, C/EBPs, PPARy, adipocyte Protein 2 (aP2) and adiponectin. Results suggest a novel application of B. pilosa and GHT against obesity. (54)
• Analgesic Effect / Leaves: In Uganda, B. pilosa has been used in the management of painful oral lesions of HIV/AIDS. Study evaluated the analgesic effects of B. pilosa using acetic acid in mice, formalin-induced pain and tail flick methods in rats. Both aqueous and ethanolic extract of leaves produced statistically significant dose dependent inhibition of acetic acid induced pain in mice and non-dose-dependent reduction in formal induced pain (p<0.05) and non dose-dependent tail withdrawal pattern (p<0.05). in rats. (55)
• Antioxidant / Essential Oil / Leaves: Study evaluated the total antioxidant capacity of essential oil of leaves of B. pilosa used as protectant of stored grains. The EO inhibited 77.4-18.69% for DPPH system, 59.55-19.14% for RP method and 91.88-21.8% for ß-carotene-linoleate model system, respectively. The antioxidant activity of essential oil of leaves may be an added value for the EO preventing stored produced from pest attacks. (see constituents above) (56)
• Attenuation of Monocrotaline-Induced Pulmonary Arterial Hypertension / Leaves: Study evaluated the effects of an ethyl acetate leaf extract of B. pilosa on pulmonary hypertension in rats induced by IP injection of monocrotaline in Wistar rats. The Fulton Index (ration of RV weight to LV+septum weight) increased and suggested the occurrence of right ventricular hypertrophy. There was thickening of lung vessel walls with luminal narrowing. The extract and sildenafil significantly (p<0.01) reduced the Fulton index. The extract attenuated the morphologic change induced by monocrotaline. Results suggest the EA extract might have therapeutic potential for pulmonary arterial hypertension.   (57)
• Antibacterial / Chronic Wound Bacterial Pathogens / Leaves: Study evaluated the bio-burden of chronic wound and possible source of new antimicrobial products for wound healing. The antibacterial effect of a crude flavonoid fraction isolated from leaves of B. pilosa using agar well diffusion was used to determine the antibacterial activity against various bacterial pathogens. The flavonoid fraction was more effective against gram positive bacteria than gram negative bacteria and exhibited effect on MRSA, resistant and sensitive P. aeruginosa and S. pneumonia. (58)
• Antimicrobial / GC-MS Analysis / Stems and Roots: Qualitative phytochemical screening and GC-MS analysis was done on crude methanol extract and fractions of stem and root parts. Antimicrobial studies shewed the lower concentration (6.25 mg/mL) was achieved by EA fraction of stem and hexane fraction of root extract for Candida albicans, Hexane fraction of root extract showed antimycobacterial activity. (see constituents above) (59)
• Antiepileptic: Study in adult male mice evaluated the sedative and anticonvulsant properties of plants traditionally used in the treatment of insomnia and epilepsy in Africa, particularly in Cameroon. 78.3% of plants, including B. pilosa, protected mice against convulsions induced by PTZ. B. pilosa also showed activity against STR-induced convulsions, protection against NMDA-induced turning behavior, (61)

Availability
- Wild-crafted.
- Seeds, extracts and supplements in the cybermarket.