Gen info
Hemigraphis is a genus of about 90 species of low-growing, slender-stemmed annuals, perennials and subshrubs.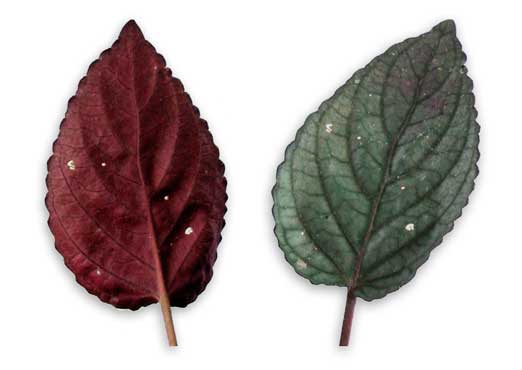 Botany
Dahon-pula is a prostrate herb. Leaves are opposite, ovate, 4.5 to 8 centimeters long, 3.5 to 4.5 centimeters wide, with a subobtuse tip and rounded and heart-shaped base with toothed margins. Upper surface of the leaves is dark purple throughout. Flowers are white, borne in terminal spikes up to 7 centimeters long, with large imbricate bracts. Calyx is green and 5-parted. Corolla is tubular, cylindric below, swollen above, 10 to 15 millimeters long, and 5-lobed. Capsule is linear.
Distribution
- Ornamental indoor and outdoor plant for its attractive foliage.
- Cultivated in Manila and roadside provincial garden-marts for its leaves.
- Makes a good border plant.
- Native of Java.
- Now widely distributed in cultivation.
Constituents
- 100 grams of fresh leaves reported to yield 0.351 grams of potassium.
- Extracts of leaves and stems yielded phenol, carbohydrates, steroids, saponins, coumarins, tannins, proteins, carboxylic acids, flavonoids, xanthoproteins and alkaloids.
- Phytochemical screening of hot water leaf extract yielded steroids, carbohydrates, tannins, phenol, proteins, and amino acids. Cold water extract of leaf yielded carbohydrates and tannins. (13)
- Phytochemical screening yielded steroids, tannin, coumarin, alkaloids, proteins, amino acids, diterpenes, phytosterols, phlobatannins, and flavonoids, with an absence of saponin, anthocyanin, phenols, leucoanthocyanin, and cardiac glycosides. (16)
Properties
- Considered diuretic, vulnerary, antibacterial, antidiabetic, anti-inflammatory.
- Studies have shown phytoremediative, air-purifying, antibacterial, wound healing, antidiabetic, anti-inflammatory, antioxidant, antinociceptive, antidiarrheal, cytotoxic, anthelmintic properties.
Parts utilized
Leaves
Uses
Folkloric
• Leaves consumed as a cure for gallstones
• Used as diuretic.
• In Java, leaves used in treatment of bloody dysentery and hemorrhoids.
• Used as decoction for excessive menstruation.
• Used externally for skin complaints.
• Paste of leaves applied to fresh cut wounds to stop bleeding and promote healing; also used for anemia.
• In Vanuatu, sap of leaf buds squeezed in water and drunk at dawn for 4 days as contraceptive and to induce sterility.
• In Kerala, India, leaf paste applied externally to bone fractures. Also used for stomach aches, anemia, diabetes, wound healing. (20)

Studies
• Phytoremediation / Indoor Air-Purifying Plant: VOQs (volatile organic compounds including benzene, xylene, hexane, heptane, octane, decane, trichlorethylene (TCE) and methylene chloride) have been known to cause or aggravate various illnesses when people are exposed to them in indoor spaces. Studies have shown the ability of some plants to remove VOCs, a process called "phytoremediation." Of 28 species tested with 5 volatile indoor pollutants - benzene and toluene (plastics, cleaning solutions, environmental tobacco smoke), octane (paints, adhesive materials), TCE (tap water, cleaning agents, insecticides), and alpha-pinene (synthetic pains and odorants) - Hemigraphis alternata, Hedera helix, Hoya carnosa, Asparagus densiflorus had the highest removal rates for all the VOCs introduced. (1)
• Antibacterial: Antibacterial screening showed the benzene extract demonstrated maximum zone of inhibition against the pathogen Acinetobacter sp and S. aureus. (3)
• Wound Healing: Study evaluated the wound healing property of a leaf paste (topical application) or suspension in an excision wound model. The leaf paste promoted wound healing in mice, with faster wound contraction and epithelialization. The oral suspension was ineffective. (4)
• Wound Healing / Dried Leaves Ointment: Study evaluated the wound healing activity of a methanolic extract ointment of dried leaves of H. colorata in albino rats, using excision and incision models. In the excision model, results showed significantly higher closure wound closure than control, while in the incision model, the tensile strength of treated wounds was higher. Results encourage the use of H. colorata in the topical management of wounds. (7)
• Anti-Diabetic: Study of n-hexane and ethanol extracts of whole plant showed lowering of blood glucose in glucose fed rats. The effect was attributed to steroids and coumarins present in the extract. It was devoid of any conspicuous toxic symptoms in sub-acute toxicity evaluation in mice. (10)
• Antioxidant / Anti-Inflammatory / Cytotoxicity: Study evaluated various extracts of crude plant for antioxidant, anti-inflammatory and cytotoxicity properties. Results showed the ethanolic extracts to have more antioxidant and anti-inflammatory activity than chloroform, hexane and acetone extracts. There was low cytotoxicity against DLA cell lines up to a concentration of 200 µg/mL in short- term bioassay. (9)
• SLN (Solid Lipid Nanoparticiles) / Polyherbal Ointment / Anti-Inflammatory: Study evaluated four different formulations of nano-encapsulated antimicrobial ointment from Plectranthus amboinicus and Hemigraphis colorata. Results showed the combination of plant extracts have enhanced antimicrobial, antioxidant, anti-inflammatory properties over usage of single plant extracts of PA and HC. (11)
• In Vitro Wound Healing Activity / Influence on Fibroblast and Endothelial Cells: Study evaluated the wound healing activity of H. alternata for in vitro wound healing effects. Study showed the aqueous extract at concentration of 2.5 and 5.5 mg/mL exhibited an enhancement in proliferation in serum free and serum containing culture conditions. The ethanolic extract was toxic to cells. Results showed potential implications in wound healing through its influence on fibroblast and endothelial cells. (14)
• Antibacterial / Wound Healing / H. alternata Incorporated Chitosan Hydrogel Scaffold: H. alternata extract incorporated chitosan scaffold was synthesized and characterized for wound healing. Antibacterial activity was evaluated against E. coli and S. aureus. Results showed a reduction in total colony forming units by 45-fold toward E. coli and 24-fold against S. aureus. The herbal scaffold made from chitosan was highly hemostatic and antibacterial. Results suggest the herbal scaffold has potential application for infectious wounds. (15)
• Silver Nanoparticles / Antibacterial / Antioxidant: Study reported on the biosynthesis silver nanoparticles fusing aqueous extracts of four selected plants. Hemigraphis alternata showed largest zone of inhibition against S. aureus and P. aeruginosa. Estimated antioxidant activity was 65% radical activity. (see constituents above) (16)
• Anti-Inflammatory / Antinociceptive / Antidiarrheal / Leaves: Study evaluated methanol and ethyl acetate extract of H. alternata leaves for anti-inflammatory (xylene induced ear edema and cotton pellet induced granuloma formation), antinociceptive (formalin induced paw licking test and acetic acid induced writhing tests), and anti-diarrheal (castor oil induced antidiarrheal test)activities in Swiss albino mice. No mortality was seen up to dose as high as 4000 mg/kg in mice. Results confirmed the leaves extract are nontoxic and possesses anti-inflammatory, antinociceptive, and antidiarrheal properties. (17)
• Wound Healing / Anti-Inflammatory / Leaves: Study evaluated H. alternata for anti-inflammatory and wound healing activity. The leaves exhibited promising wound healing and anti-inflammatory activities through scratch assay, tube formation assay, nitric oxide production inhibition assay, cytokine TNF-a production inhibition assay and lipoxygenase enzyme inhibition assay. (18)
• Anthelmintic / Cytotoxic / Leaves: Study evaluated three Bangladesh medicinal plants i.e., Ficus hispida, Hemigraphis alternata, and Senna sophera for cytotoxic and anthelmintic activity. In cytotoxicity testing using brine shrimp lethality assay, all extracts showed a moderate toxic effect, The leaves extract showed significant anthelmintic activity at dose of 50 and 100 mg/mL against tested earthworms. (19)

Availability
- Wild-crafted.
- Ornamental cultivation.
- Seeds in the cybermarket.