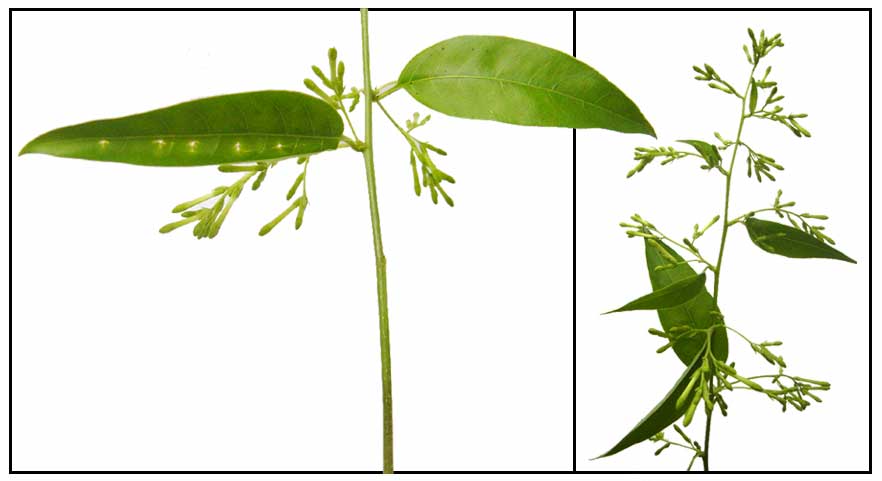 Botany
Dama de noche is an erect and climbing ornamental smooth shrub, about 2 to 3 meters in height, with long often-drooping branches. Leaves are oblong-ovate to oblong-lanceolate, 8 to 10 centimeters long, pointed at the tips. Flowers are numerous, slender, yellowish-green, about 2 to 2.3 centimeters long, borne in lax, axillary and terminal inflorescences, 7 to 10 centimeters long.
Distribution
- Widely cultivated in the Philippines for its sweet-scented flowers that bloom at night.
- Introduced from Tropical America.
Constituents
- Phytochemical screening of methanol extract of stems yielded flavonoids, saponins, tannins, triterpenes, and carbohydrates. (See study below) (15)
- Phytochemical screening of aerial parts showed saponins, triterpenes, sterols, flavonoids, tannins, and coumarins. (See study below) (18)
- Phytochemical analysis of various extracts yielded carbohydrates, proteins, flavonoids, tannins, cardiac glycosides, saponins, and alkaloids. (see study below) (20)
Properties
- Studies have suggested antibacterial, antioxidant, mosquitocidal, piscicidal, antitumor, anti-diabetic properties.
Toxicity concerns
- Toxic to livestock with poisoning symptoms of tachycardia, fever, oliguria, and slowing of respiratory rate; in extreme cases, convulsions and coma.
- Cuttings reported to be produce poisoning when eaten by animals.
- Experiments have shown the plant does not always poison stock and that toxicity is more likely with dry plants.

Parts used
Leaves.
.
Uses
Folkloric
Extract of the plant used as antispasmodic and treatment of epilepsy.

Studies
• Flavonol glycosides / Steroidal saponins/ Cytotoxicity: The study isolated two new flavonoid glycosides and seven steroidal saponins. The study reports cytotoxic activities of the compounds against human oral squamous cell carcinoma and normal human gingival fibroblasts. (1)
• Atrial Contractility Effect: Effects of Cestrum nocturnum n-butyl alcohol extract on contractile characteristics of right atrium: The extract study showed a two-fold regulation on contraction of right atrium in isolated guinea pig. (2)
• Antiepileptic / Analgesic: Decoctions from the dried leaves of the plant were tested in different neuropharmacological models. Although not effective against pharmacologically induced convulsions, repeated administration reduced the amplitude of epileptic spikes in both primary and secondary foci. Results suggest CN possesses analgesic activity through a peripheral mechanism. (4)
• Antibacterial: The aqueous and methanol extracts of Cestrum nocturnum showed bactericidal activity against S aureus, B subtilis, E coli and P aeruginosa. (5)
• Antitumor: The n-butanol and polysaccharides extracts of Cestrum nocturnum are able to inhibit tumor growth and prolong the lifetime of tumor-bearing mice in a dose-dependent manner. (6)
• Phytochemicals / Steroidal Glycoside: Phytochemical testing yielded eight new steroidal glycosides: spirostanol saponin, furostanol saponin, a pseudo-furostanol saponin, two pregnane glycosides, two cholestane glycosides and a pregnane-carboxylic acid g-lactone glycoside and two known spinostanol glycosides. (7)
• Mosquito Larvicidal Activity / Aedes aegypti: Study on the extracts of Cestrum nocturnum and Plumbago zeylanica for larvicidal activity against larvae of Aedes aegypti. The qualitative analysis of crude extracts yielded bioactive phytochemicals with the predominance of saponins in C. nocturnum and plumbagin in P zeylanica. Experiments on the partially purified secondary metabolites showed potent mosquito larvicidal activity against forth instar larval form. It presents another public health potential of plant extracts for vector control. (8) Study of Cestrum nocturnum and Sapindus mukorosi showed promising larvicidal activity. Study yielded 2 potent fractions containing larvicidal principles among 12 fractions from both plants. (23)
• Larvicidal Activity / Aedes aegypti: Aedes aegypti is a vector parasite of Dengue. In a study, a methanol extract showed significant larvicidal activity, achieving 100% mortality in concentrations tested. (12)
•Fumigant / Repellent Effects: Study investigated the repellent, fumigation, and contact toxicity of extracts of C. nocturnum. Results showed C. nocturnum had better fumigation and repellent effects on drosophila, but the contact action was weak. (10)
• Antioxidant / Essential Oil: Study concludes that the essential oil and various organic extracts from the flower of C. nocturnum possess antioxidant activities with a potential as natural resource for use in food and other allied industries. (9)
• Anti-Inflammatory / Analgesic / Antipyretic: Study of methanol extract of leaves showed strong dose-dependent analgesic and anti-inflammatory activity compared to standard drug. It also showed mild anti-pyretic activity at higher tested dose. (11)
• Anti-Diabetic: Study evaluated the antidiabetic activity of a hydroalcoholic extract of C. nocturnum leaves in Wistar rats. Results showed oral administration of the extract for 15 days showed a significant reduction in blood glucose levels in diabetic rats with improvement of biochemical parameters associated with diabetes. (14)
• Antioxidant / Stems: Study evaluated the antioxidant activity of extracts of C. nocturnum stems. The methanol extract showed the best free radical scavenging activity on a DPPH model. (15)
• Piscicide / Leaves: Study evaluated a methanolic extract of C. nocturnum leaves against predatory fish Channa punctatus. Results showed remarkable piscicidal activity which may be due to adverse effects on respiratory and energy production of the fish. The fish stupefying property presents a potential use in aquaculture. (16)
• Antimicrobial / Whole Plant: Study evaluated a crude methanol extract of whole plant against bacterial and fungal strains. Results showed marked activity against Pseudomonas aeruginosa, Staphylococcus aureus, Bacillus subtilis, Escherichia coli and Shigella flexneri. The extract also showed activity against Candida species and Microsporium canis. (17)
• Weak Anti-HIV activity / Aerial Parts: Study evaluated various extracts of aerial parts for Anti-HIV1 activity. All the extracts showed weak activity against ant9-HIV1 activity. Phytochemical screening showed saponins, triterpenes, sterols, flavonoids, tannins, and coumarins. (18)
• Antihyperglycemic / Antihyperlipidemic / Toxicity Study: Study of hydroalcoholic extract and saponin fraction of C. nocturnum leaves in STZ induced diabetic rats showed antidiabetic, antihyperlipidemic, and hepatoprotective activity. Toxicity study showed the LD50 of the extract and fraction in rat was higher than 2000 mg/kg. (20)
• Hepatoprotective / Paracetamol Hepatotoxicity: Study of an aqueous extract of leaves showed hepatoprotective activity against paracetamol induced hepatotoxicity in albino mice. The activity was attributed to the presence of flavonoids and phenolic contents. (21)
• Antifungal: Study investigated the in vitro anticandidal activity of some medicinal plants against Candida species. Among the plants used, T. ammi and C. nocturnum were found to be more potent than the others.    (22)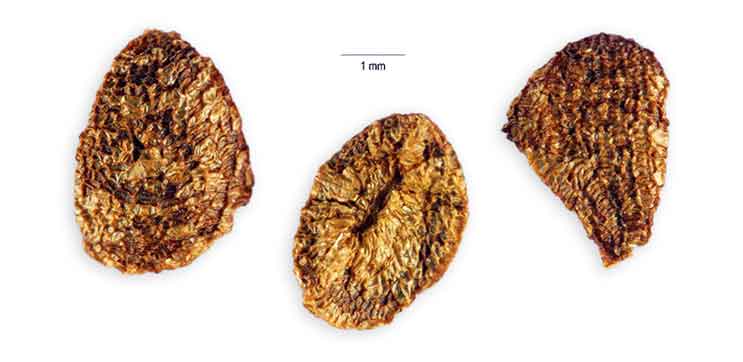 Toxicity
• Toxicity to livestock (above).
• Plant has anticholinergic properties.
• Anticholinergic syndrome results from the inhibition of muscarinic cholinergic neurotransmission. Signs and symptoms are: flushing, dry skin, altered mental state, fever, tachycardia, urinary retention, hypertension, tremulousness, confusion, hallucinations. In severe cases, coma, respiratory failure and cardiovascular collapse.

Availability
Wild-crafted.