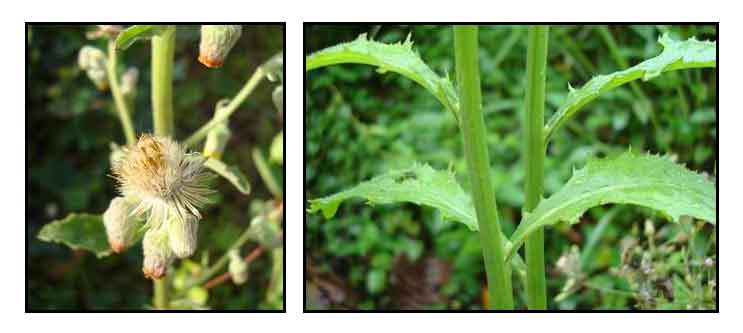 Gen info
- Blumea is a genus of flowering plants of the family Asteraceae. Plants in the genus are mostly small weeds; some are ruderal (growing on waste ground or among refuse) species. (47)
Botany
Damong-mabaho is a hairy or glandular, foetid herb, erect, simple or branched, very leafy, 30 to 60 centimeters in height. Leaves are obovate or oblanceolate, 5 to 12 centimeters long, 2 to 6 centimeters wide, smaller towards the top, stalked, and toothed or rarely lobulated at the margins. Flowering heads are about 8 millimeters across, borne on short axillary cymes, and collected in terminal, spikelike panicles. Involucre-bracts are narrow and hairy. Corolla is yellow and the pappus is white. Fruits are achenes, not ribbed, somewhat 4-angled and smooth.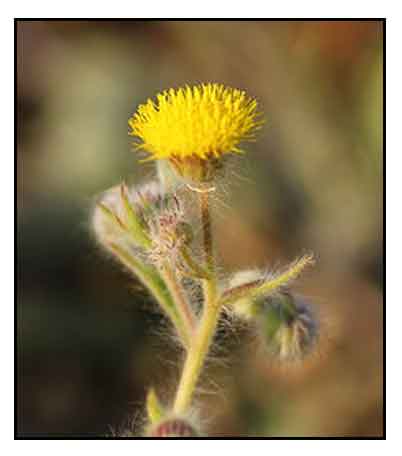 Distribution
- Native to the Philippines.
- Widely distributed in open waste places at low and medium altitudes.
- Also native to Andaman Is., Assam, Bangladesh, Borneo, Cambodia, China, Himalaya, Hainan, India, Jawa, Laos, Lesser Sunda Is., Malaya, Myanmar, Nepal, New Caledonia, New Guinea, New South Wales, Northern Territory, Oman, Pakistan, Queensland, Sri Lanka, Sulawesi, Sumatra, Taiwan, Thailand, Vietnam. (48)
Constituents
- Study isolated two new glycosides, the triterpenoid glycoside 19α-hydroxyurs-12-ene-24,28-dioate and the phenol glycoside 2-isoprenyl-5-isopropylphenol from the whole plant of B. lacera.
- Essential oil contains cineol, fenchone.
- Leaves yield coniferyl alcohol derivatives, campesterol, and flavones.
- Ethanolic extract of aerial parts yields hentriacontane, hentriacontanol, α-amyrin, lupeol, and ß-sitosterol.
- Root and root bark yield triterpenes and sterols.
- Essential oil of leaves yielded thymoquinol dimethyl ether as main constituent, together with β-caryophyllene, α-humulene and E-β-farnesene. (9)
- Phytochemical characterization of the plant yielded alkaloids, steroids, terpenoids, cardiac glycosides, tannins, and phenolic compounds. (21)
- Phytochemical screening of aqueous, methanolic, and chloroform leaf extracts revealed the presence of secondary metabolites such as carbohydrates, alkaloids, phytosterols, steroids, phenolic compounds, tannins, flavonoids, cumarine, amino acids, terpenoids, and saponins. (see study below) (26)
- Study for essential oil yielded major compounds of 2,5-dimethoxy-p-cymene (28.7-o.4%),
ß-caryophyllene (25.5-0.5%), carvotanacetone (24.5-0.4%), chrysanthenone (21.9-9.8%), and 2,6-dimethylphenol (11.4-1.8%). (see study below) (31)
- Study of ethanolic extract of whole plant isolated a flavonoid compound (1), 5-hydroxy-3'-methyl-3.6.7.4'-tetramethoxyflavone. (33)
Properties
- Astringent, anthelmintic, antiscorbutic, febrifuge.
- Essential oil considered analgesic, hypothermic and tranquilizing.
- In Ayurveda, considered bitter, astringent, acrid, thermogenic, errhine, anti-inflammatory, styptic, ophthalmic, digestive, anthelmintic, tonic, expectorant, diuretic, deobstruent and stimulant.
- Studies have shown antimicrobial, anti-leukemic, anti-inflammatory, repellent, antioxidant, antidiabetic, anti-bradykinin, anticancer, anthelmintic, tyrosinase inhibitory, antidiarrheal, antispasmodic, antiulcer, anxiolytic, hepatoprotective, antileukemic, antiviral, antipyretic, hepatoprotective, antinociceptive properties.

Parts used
Leaves, roots, flowers.

Uses
Edibility
- Leaves cooked and eaten as vegetable.
Folkloric
- In the

Philippines

, a decoction of fresh flowers is given before meals for bronchitis - 30 gm in 1 liter of water, boiled to half of its volume.
- Expressed juice of leaves used as anthelmintic, especially in cases of threadworm, either internally or applied locally. Used as a invaluable remedy for Tinea Tarsi.
- Expressed juice of leaves, mixed with black pepper, given for bleeding piles. Also, used as febrifuge and astringent.
- Dried herb used as febrifuge; as astringent in hemorrhages; as deobstruent and stimulant.
- Astringent eye lotion prepared from the leaves.
- Plant used as diuretic.
- Useful for catarrhal affections, wound healing.
- Used for treatment of inflammatory bowel disease.
- In

Ayurveda

, used as a bitter, astringent, acrid, thermogenic, errhine, anti-inflammatory, styptic, ophthalmic, digestive, anthelmintic, liver tonic, expectorant, febrifuge, antipyretic, diuretic, deobstruent, and stimulant. (

33

)
- In

West Africa

, plant prescribed as antiscorbutic.
- In

India

, root kept in the mouth used for buccal diseases. Tincture used for bleeding piles.
- In Uttar Pradesh,

India

, fresh leaf juice used twice daily for a week to treat threadworms. (

22

)
- In

Bangladesh

, natives of Sudarban use the herb for treatment of bleeding piles. Leaves used to treat most kinds of colds. Warm leaf paste used as diuretic. Leaf paste with black pepper powder applied to dog bites. (

30

)
Others
- Repellent: In the Konkan region of India, plant used to drive away fleas and other insects.

Studies
• Phytochemicals / Antimicrobial: Study of extract of air-dried leaves of Blumea lacera yielded α-pinene-7β-O-β-d-2,6-diacetylglucopyranoside, 5,4′-dihydroxy-6,7,3′-trimethoxyflavone, and 3,5,4′-trihydroxy-6,7,3′-trimethoxyflavone. Compounds 1-3 showed moderate activity against Candida albicans, low activity against Trichophyton mentagrophytes. (

2

)
• Cytotoxicity: Study of 16 Bangladeshi medicinal plants were studied for its cytotoxic effects. The methanolic extract of Blumea lacera showed the highest cytotoxicity against all tested cell lines, including three human cancer-cell lines (gastric, colon and breast). (

3

)
• Antibacterial: Study on the antibacterial activity of 5 indigenous plant species showed greater inhibitory effect against Gram-positive bacteria. The largest zone of inhibition was recorded against Bacillus subtilis with the leaf extract of Blumea lacera. (

4

)
• Tyrosinase Inhibitory Activity: A methanolic extract of B. lacera showed very good mushroom tyrosinase inhibitory activity. Tyrosinase inhibitors may provide clues for the development of new insect control agents, food additives and whitening agents. (

8

)
• Antidiarrheal: Study in experimental rats showed an ethanolic extract of root of B. lacera had more antidiarrheal activity than B. eriantha, although less effective compared with atropine sulfate. (

10

)
• Antioxidant: Study of methanol extracts of four Bangladesh medicinal plants, including B. lacera, showed antioxidant activity. BL also showed toxic action in the cytotoxicity assay against MDCK cell line. (

11

)
• Anthelmintic: Study evaluated the in vitro anthelmintic activity of Blumea lacera against Ascaris lumbricoides and Pheretima posthuma with piperazine citrate as standard. Results showed good dose dependent anthelmintic activity. (

12

)
• Hypoglycemic / Leaves: Study evaluated the hypoglycemic activity of methanolic extract of B. lacera leaves on Swiss albino mice, with glibenclamide as standard. Treatment of leaf extract on glucose-loaded hypoglycemic mice lead to significant reduction of blood glucose levels in a dose dependent manner. Results showed significant hypoglycemic activity supporting its traditional use. (

13

) (

27

)
• Antioxidant / Toxicological Study: Bangladesh study evaluated four plants--A. capillus-veneris, Blumea lacera, C. alata, and Cissus quadrangularis for antibacterial and antioxidant (DPPH assay) potentials, together with toxicological profile. Plants showed no antibacterial activity against test isolates. Significant antioxidant activity was demonstrated by the methanol extracts. Only C. quadrangularis was devoid of toxic action in the cytotoxicity assay.

(14)


• Antispasmodic / Leaves: Study evaluated the antispasmodic activity of leaves by contractile activity on guinea pig ileum. Results showed the hexane extract possessed antispasmodic activity.

(15)


• Cytotoxic Effects: Study evaluated 16 Bangladesh medicinal plants for cytotoxic effects against various human cancer cell lines (gastric, colon and breast). The methanolic extract of Blumea lacera showed the highest cytotoxicity against all tested cell lines.

(16)


• Anti-Inflammatory / Anti-Bradykinin Activity: Study evaluated alcoholic extract of B. lacera on acute and chronic models of inflammation. Results showed significant anti-inflammatory effect against bradykinin induced edema, significant effect against carrageenan induced edema, and significant effect against granuloma pouch and cotton pellet implantation, although less potent than phenylbutazone and betamethasone. The anti-bradykinin activity may be responsible for its anti-inflammatory activity.

(17)


• Mosquito Repellent: Study evaluated the repellent activity of B. lacera against mosquito vector Anopheles stephensi and Culex quinquefasciatus, with DEET as positive control. Results showed a potential as an effective mosquito repellent, with the a direct relationship with extract concentration and repellent activity.

(18)


• Mosquito Repellent: Study evaluated the antipyretic activity of a methanolic extract of B. lacera leaves on albino rats on a pyrexia induced Brewer's yeast model. Results showed an antipyretic effect at doses of 200 and 400 mg/kg.

(19)


• Antimicrobial: Crude extract of B. lacera was evaluated for antimicrobial and cytotoxic properties. Phytochemical screening yielded alkaloids, tannins, steroids, gums, and reducing sugar. Petroleum ether and methanol extracts showed antimicrobial activity against two bacteria and a fungus.

(20)


• Pharmacologic Activities: Study evaluated a crude methanol extract of whole plant for antidiarrheal using castor oil-induced diarrhea in mice, antimicrobial activity by agar disc diffusion method, anxiolytic activity using hold board and open field tests,membrane stabilizing activity by hypotonic solution induced hemolysis of human RBCs, anti-atherothrombosis using standard streptokinase, and antidiabetic activity using in vitro a-amylase inhibitory activity. The crude extract showed dose-dependent antidiarrheal activity. Antimicrobial assay showed better activity against tested fungi compared to bacteria. The plant exhibited significant anxiolytic activity. In vitro anti-atherothrombosis test exhibited 46.71% clot lysis. Membrane stabilizing evaluation showed inhibition of heat-induced hemolysis of RBCs. Study also showed dose dependent digestion of carybohydrates by a-amylase inhibition. Results suggest potential for many pharmaceutical applications. (

23

)
• Antiulcer Effects / Leaves: Study reports on the in vivo antiulcer activity of methanol extract of leaves of B. lacera on Long-Evans rat and in silico studies on its bioactive constituents. Treatment with MEBLL markedly attenuated ulcer and protected the integrity of gastric mucosa by preventing mucosal ulceration altered biochemical parameters of gastric juice such as carbohydrate, total protein and pepsin activity. The experimental group significantly (p<0.001) inhibited gastric lesions and malondialdelhyde (MDA) and upregulated antioxidant enzyme levels. Results showed MEBLL has ulcer healing property in both in vivo and in silico studies. (

24

)
• Attenuation of Anxiety and Depression: Study evaluated the neuropharmacological of Me-BLL at doses of 200-400 mg/kg p.o. in Swiss albino mice. EPM (elevated plus maze) and LDB (light-dark box) tests showed increased time sent in open arms and light box. HBT (hole-board) test showed increased number of head dipping, indicating anxiolytic effects. TST (tail suspension test) and FST (forced swimming) tests showed decrease in immobility time suggesting antidepressant effect. Of the bioactive lead molecules, thymol and cuminol revealed potential anxiolytic and antioxidant effects, while stigmast-5-en-3.beta.-ol and gamma-sitosterol showed promising antidepressant effects. (

25

)
• Antioxidant / Antimicrobial / Leaves: Study evaluated the antioxidant and antimicrobial activities of various extracts of B. lacera leaves. The methanol extract significantly inhibited the DPPH radicals at concentration ranging from 1000-5000 µg/ml. The IC50 was less than standard ascorbic acid. The ethyl acetate leaf extract showed highest antibacterial activity against S. aureus, P. aeruginosa, S. typhi.(see constituents above) (

26

)
• Cytotoxic Steroidal Glycoalkaloid / Apototic / Leaves: Study reports on the isolation of a new steroidal glycoalkaloid (SGA) 1. Cytotoxic activity of 1 and seven SGA analogues and steroidal alkaloids (SAs) (ß-solamarine, α-solanine, ß-solamargine, α-solasonine, khasianine, solasodine, tomatidine HCl) were evaluated against four human cancer (AGS, HT-29, MCF-7, and MDA-MB-231) cell lines. SGA1 was the most cytotoxic against a number of human cancer cell lines with IC50 of 2.62 µM against MCF-7 cells, with highest apoptotic potential (32% AV/PI) on MCF-7 cells. (

28

)
• Liposomal Drug Delivery / Hepatoprotective / Leaves: Study evaluated the hepatoprotective effects of B. lacera leaf extract and its effectiveness as a liposomal preparation vs suspension against carbon tetrachloride induced liver damage. Results showed the liposomal formulation showed significantly better hepatoprotective effects. The protective effect against CCl4-induced liver injury was attributed to presence of components such as phytol, and also due to improved bioavailability and stability of the leaf extract. (

29

)
• Antibacterial / Leaves: Study showed an ethyl acetate fraction of B. lacera was active against gram positive Bacillus cereus. A methanol extract showed significant dose dependent increase in antibacterial activity against gram-negative, Serratia sp., Proteus mirabilis, Salmonella typhi and Vibrio cholera. (

30

)
• Inflammatory Bowel Disease / Essential Oil: B. lacera is used in the traditional treatment of IBD. GC-FID-MS identified essential oil constituents. The major compounds could be potential moieties for treatment of IBD in terms of targeting h5HTR3A. (see constituents above) (

31

)
• Anti-Leukemic / Antiviral: In a study of hot water extracts of five Taiwanese medicinal plants were evaluated for in vitro anti-leukemic and antiviral activities. Blumea lacera exhibited broad mild to moderate anti-leukemic activity activity. It also suppressed the replication of HSV-1 and HSV-2, with IC50s below 100 µg/mL. It showed no cytotoxic effects at concentration that inhibited HSV infection. (

32

)
• Anti-Pyretic / Antinociceptive / Neuropharmacological: Study evaluated the in vivo anti-pyretic, neuropharmacological activity, and acute toxicity effects of leaf extracts of B. lacera in Swiss albino mice. In-vivo antipyretic testing using brewer's yeast method showed significant reduction in temperature, with diclofenac as standard. In gastrointestinal motility test, results showed significant reduction of GI motility when compared to standard loperamide. In in vivo antinociceptive testing, statistically significant (p<0.001, p<0.02, p<0.05) results were found when compared to standard diclofenac. None of the extracts showed any significant in-vivo acute toxicity in mice. (

34

)
• Antidiabetic: Study evaluated the antidiabetic activities of extracts of aerial parts of Blumea lacera in streptozotocin induced hyperglycemic rats. Results showed marked antidiabetic activity. The methanol extract at dose of 400 mg/kg showed significant dose dependent antidabetic effects without destruction and restored the structure of liver and pancreas of hyperglycemic rats. (

35

) Study of methanolic extract of B. lacera in alloxan-induced diabetic rats showed restoration of blood glucose to normal levels. (

36

)
• Ulcerative Colitis: Study evaluated the protective potential of standardized hydroalcoholic extract of Blumea lacera in acetic acid-induced ulcerative colitis (UC). Pretreatment with doses of 100 and 200 mg/kg significantly ameliorated the acetic acid-induced colonic injury, which paralleled with biochemical and histopathological examinations. Of 15 selected bioactive compounds, 5-hydroxy-3methyl-3,6,7,4-tetramethoxy flavones, lachnophyllic acid and d-fenchone exhibited better drug likeness property with higher docking score. The protective effect may be due to the synergistic effect of identified bioactive compounds via inhibition of key targets of inflammation. (

37

)
• Anticancer / Melanoma Cell Line / Antioxidant / Leaves: Study evaluated the anticancer and antioxidant properties of crude leaf extracts from B. lacera. Results showed antioxidant activity by various assays. Anticancer activity was showed by the anti-migratory effect of the extract against the melanoma cell line. (

38

)
• Cytotoxic Diterpenoid Glycoside / Apoptotic Effect / MCF-7 Breast Cancer Cells / Leaves: Study isolated a new diterpenoid glycoside, 6E,10E, 14Z-(3S)-17-hydroxygeranyllinalool-17-O-ß-D-glucopyranosyl-(1 -->2)-[α-L-rhamnopyronosyl-(1-->6)-ß-D-glucopyranoside (1) along with known diterpenoid glycoside (2) and two known glycosides (3,4) from methanol extract of leaves. Compound 1 showed strong cytotoxic activity with lowest IC50 value of 8.3 µM against MCF-7 breast cancer cells. In apoptosis and cell cycle analysis, compound 1 showed strong apoptotic activity against MCF-7 cells (45.5%) after 24 hours, with no arresting effect on any of cell cycle phases in MCF-7. (

39

)
• Antibacterial Herbal Ointment Formulation: Study reports on an herbal formulation from leaves and evaluated its antibacterial activity. The ointment prepared from B. lacera passed all physical evaluation parameters. It showed good antimicrobial activity against gram negative and gram positive bacteria compared to standard gentamicin, with ZOI between 23-28 mm. Activity could be due to leaf phytoconstituents like alkaloids, flavonoids, tannins, and phenols. (

40

)
• Anti-Inflammatory / Thrombolytic / Leaves: Study investigated the anti-inflammatory and thrombolytic properties of B. lacera leaves by observing cell lysis inhibition and percent clot lysis. Aspirin and streptokinase were used as standard drugs for the two experiments. Results showed dose dependent hemolysis inhibition and good clot lysis activity. The extract yielded alkaloids, steroids, terpenoids, flavonoids, glycosides, tannins, and phenolic compounds. (

41

)
• Hepatoprotective / Rifampicin Induced Hepatotoxicity / Leaves: Study evaluated the hepatoprotective activity of 70% ethanol extract of Blumea lacera leaves against rifampicin-induced hepatotoxicity in rats. Phytochemical screening yielded flavonoids, tannins and saponins. Results showed normalization of biochemical indicators of hepatotoxicity after pretreatment of extract. Hepatoprotective properties were attributed to polyphenolic compounds present in the plant. (

42

)
• Biocontrol of Whiteflies / Leaves: Study showed a 10% alcoholic leaf extract of B. lacera is a very effective bio-pesticide to control whiteflies on guava plant (Psidium guajava). It kills whiteflies and the repellent property last for more than 45 days. (

43

)
• Indomethacin Induced Enterocolitis / Aerial Parts: Study evaluated the therapeutic efficacy of ethanolic extract of aerial parts of B. lacera against indomethacin-induced enterocolitis in male Wistar rats. Pretreatment with EEBL or sulphasalazine significantly attenuated the indomethacin-induced proximal ileal damage, elevated serum LDH, tissue MPO, LPO and lower levels of TT, with correlated histopathological alterations. The protective action against indomethacin-induced enterocolitis in rats may be attributed to its antioxidant, anti-inflammatory, antimicrobial, and membrane-stabilizing properties. (

44

)
• Antifungal Against Aspergillus Spp. / Leaves: Study evaluated various extracts of leaves for antifungal activity, Growth inhibition was determined using food poisoning method against different Aspergillus spp. The ethanol extract of leaves showed more antifungal activity than methanolic and distilled water extract. A. parasiticus was more sensitive, followed by A. niger. Aspergillus niger was more sensitive to the ME followed by A. parasiticus and A. flavus. A. parasiticus was resistant, while other Aspergillus spp. were sensitive to distilled water extract. (

45

)
• Treatment in Chronic Renal Failure / Aerial Parts: Study evaluated aerial parts of Blumea lacera ethanol extract for preventive and treatment effects on a CRF model induced by adenine in mice. Phytochemical screening revealed major chemical components including flavonoids, alkaloids, saponin, tannins, sterols, carotenoids, polysaccharides, organic acids, and reduced sugars. The extract showed significant preventive as well as treatment effects on the chronic renal failure model in mice, reducing urea and creatinine concentrations in blood, along with improved anemic status in both preventive and treatment group. (

46

)

Availability
Wild-crafted.