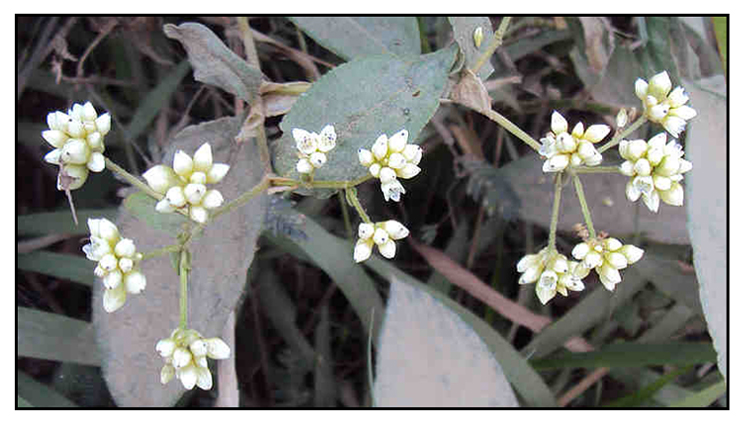 Botany
Daynon is a twining perennial herb, reaching a height of 1 to 1.5 meters. Nodes are prominent. Stems and branches are reddish-purple, glabrous, and spineless. Leaves are alternate, ovate to oblong shape, 5 to10 centimeters long, 3 centimeters wide, midrib violet-red, upper surface of leaf with an inverted "V" shaped spot. Stipules sheath on the stem just below the petioles, membranaceous, glabrous with no cilia at the margin. (Other polygonum spp. have ciliated membranaceous stipules.) Flowers are small, white or light reddish in color, arranged in heads (capitate); inflorescence axillary. Calyx are 5, enlarging when fruiting, transparent to white. Fruits are berries, globose in shape, enclosed in the enlarged and fleshy calyx at maturity. Seeds are small, black.
Distribution
- In thickets and forests at medium and higher altitudes 1,200 to 2,000 meters throughout the Philippines.
Parts utilized:
· Entire plant.
· Collected the year round.
· Rinse, cut into pieces, sun-dry.
Constituents
- Contains hecogenin, aurantiamide , stigmastane-3,6-ione, and 25-r-spirost-4-ene-3,12-dione, which are antiinflammatory and antiallergic.
- Phytochemical screening yielded terpenoids, flavonoids, tannins, saponins and glycosides.
- Ethanol extract of aerial parts yielded nine compounds: dotriaeontanol (1), β-sitosterol (2), methyl 3,4,5-trihydroxybenzoate (3), daucosterol (4), 3,4,5-trihydroxybenzoic acid (5), quercetin (6), quercitrin (7), hyperoside (8) and 3-O-Methy-lellagic acid 4'-O-rhamnopyranoside (9). (11)

Properties
- Cooling, mildly acidic.
- Relieves gastrointestinal disorders, antipyretic, deobstruent, and anti-infectious.
- Anti-allergic, anti-inflammatory, antiscorbutic, tonic, vulnerary.
Uses
Edibility
· Fruits are edible, sour tasting.
Folkloric
· Decoction of dried material: Used for dysentery, gastroenteritis, bloody stool, indigestion, hepatitis, tonsillitis, laryngopharyngitis.
· Poultice of dried material for furuncle and abscesses.
· Decoction as external wash for dermatitis, eczema, pruritus.
· Poultice or decoction as external wash used for sprains, bruises, poisonous snake bites.
· In traditional Chinese medicine, used to treat ulcers, eczema, stomach aches and various inflammatory diseases. (3) Also used to treat worms and scorpion bites.
· In Nepal, veterinary use as diuretic. (4)
Studies
• Antibacterial / Antifungal: Study evaluated various leaf extracts of Persicaria chinensis for antibacterial and antifungal activities against. All leaf extracts showed antibacterial and antifungal activity against the selected pathogenic bacteria and fungi. Methanol and aqueous extracts were comparable to reference drubs amoxicillin and fluconazole. (1)
• AP-1-Targeting Anti-Inflammatory Activity / Hepatoprotective: A previous study on the bioactivity of the methanol extract of Persicaria chinensis against LPS-induced NO and PGE2 in RAW264.7 macrophages showed prevention of HCl/EtOH-induced gastric ulcers in mice. In vivo and in vitro assays showed Pc-ME significantly reduced levels of LPS-mediated proinflammatory cytokines. The Pc-ME also showed strong antihepatotoxic activity in vivo in a mouse model of LPS/D-GaIN-induced liver injury, suggesting potential as a hepatoprotective remedy. (2)
• Anti-Inflammatory: Study evaluated a methanolic extract for inhibitory mechanisms and target proteins contributing to the anti-inflammatory responses of the plant. Results showed Pc-ME may play a pivotal role as an anti-inflammatory herbal medicine by targeting Syk and Src kinases and their downstream transcription factor NF-kB. (3)
• Anti-Tumor Activity: Research from China demonstrated in vivo antitumor activity of Polygonum chinense against human hepatocellular carcinoma cell line, Bel-7404. Study suggests varieties of P. chinensis var. chinensis may produce different pure compounds with different chemopreventive abilities to treat existing cancers. (4)
• Anti-Diarrheal: Study evaluated the anti-diarrheal activities of Polygonum chinense L. A 75% ethanol extract exhibited dose dependent anti-diarrheal activities in two mouse models. Antidiarrheal effect was attributed to two components: ellagic acid and corilagin. (6)
• Gastroprotective / Leaves: Study evaluated the gastropreventive effect of aqueous leaf extract of P. chinense against ethanol-induced gastric mucosal injury in Sprague Dawley rats. Results showed the significant protective activity, ascertained by gross appearance, histology, PAS and immunochemical studies. Activity was partly attributed to preservation of gastric mucus secretions and antioxidant activity. (7)
• Cytotoxic / Antioxidant / Antimicrobial: All tested extracts showed moderate inhibition against both Gram-positive and Gram-negative bacterial and against fungal strains. The leaf extract showed moderate antioxidant activity in DPPH, lipid peroxidation, and hydrogen peroxide assays. All extracts showed moderate cytotoxicity against all five cell lines tested. (8)
• Anthelmintic / Leaves: Study evaluated leaf extracts of Persicaria chinensis for anthelmintic potency against adult earthworm Pheretima posthuma. Aqueous and methanol extracts showed good dose dependent in vitro anthelmintic activity, attributed possibly to the presence of principles like saponins and tannins. (9)
• Hepatoprotective / Leaves: Study evaluated the hepatoprotective effects of alcohol extracts of Polygonum chinense against acute liver injury model in rats induced by CCl4. Results showed hepatoprotective activity with significant decrease in ALT, AST, MDA and significant increase in SOD content. (10)
Availability
Wild-crafted.