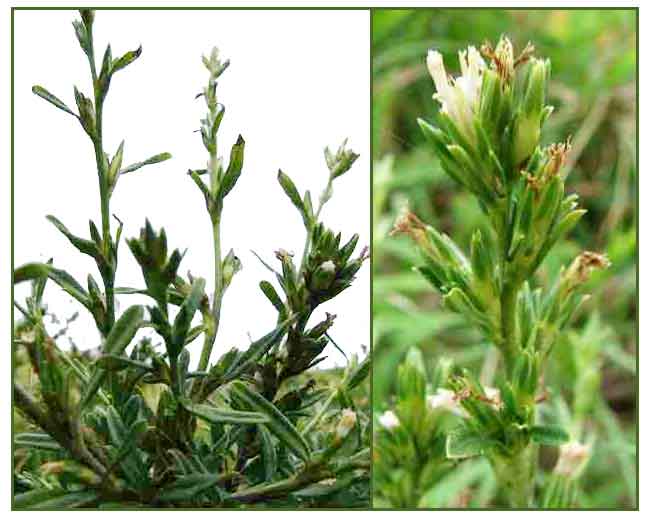 Botany
Dilang-aso is an erect, much branched, hairy or nearly smooth, rather stiff herb, 20 to 80 centimeters in height. Leaves are oblong-obovate and 9 to 14 centimeters long, with a blunt tip and narrowed base; those of the upper part of the stem are smaller. Flowering heads are about 1.5 centimeters long, without stalks, occurring in clusters of 2 to 5, borne in the axils of the very much-reduced leaves, and arranged along the few, elongated, spike-like branches of the inflorescence. Involucral bracts are green, the outer being much smaller than the inner ones. Achenes are linear-oblong, about 6 millimeters in length, ribbed and hairy, and glandular between the ribs. Pappus hairs are four, dilated, laciniate-cleft at the base, and unequal, two being straight and two being longer and abruptly recurved and again curved upward. Corolla is white and about 7 millimeters long.
Distribution
- Common in waste places in settled areas generally, from the Batan Islands and northern Luzon to Mindanao, in most islands and provinces.
- Native to tropical America.
- Introduced from Mexico.
- Also occurs in the Marianne Islands, Taiwan, southern China, Taiwan, and Java.
Constituents
- Column chromatography yielded fine white crystals which appeared to be glaucolide-B, a sesquiterpene lactone previously isolated from the species of the genus Vernonia.
- Study yielded five new sesquiterpene lactones, spicatolides D-H. (See study below)
- Study of aerial parts yielded five new sesquiterpene lactones, spicatolides D−H (1−5), along with four known compounds, pitocarphin D (6), 8α-acetoxy-10α-hydroxy-13-O-methylhirsutinolide (7), spicatolide A (8), and 13-O-methylvernojalcanolide 8-O-acetate (9). (see study below) (13) 
Properties
- Vulnerary, antileishmanial, hepatoprotective, anticancer, antifungal, antidotal.
- Studies suggest hepatoprotective, antileishmanial, anticancer, antifungal properties.

Parts used
Leaves.

Uses
Folkloric
- In central Luzon, leaves used as topical for eczema.
- Leaves used as vulnerary.
- In India, bark used as antidote for snake bites.
- In Jamaica, used for fever, eye problems, and sprains.

Studies
• Antifungal / Cadinanolide: Study yielded a new sesquiterpene lactone from a chloroform extract of P. spicatus which was shown to exhibit moderate antifungal activity against Candida albicans and A. niger. (1)
• Hepatoprotective: Study evaluating the liver protective effect of E. scaber, E. mollis and P. spicatus on CCl4 induced hepatotoxicity showed a moderate effect with P. spicatus. (2)
• Spicatolides / Cytotoxic Sesquiterpene Lactones: Study yielded five new sesquiterpene lactones, spicatolides D-H with four known compounds. Tested against human cancer cell lines, compounds 1-4 showed cytotoxicity against the Hep3B and MCF-7 cancer cell lines. (3)
• Germacranolides: Study yielded two novel germacranolides, stigmasterol, and glaucolide B. (4)
• Teng-Khia-U / Anti-Inflammatory: 'Teng-Khia-U," a folk medicine from Taiwan, derived from E. scaber, E. mollis and P. spicatus, was evaluated for anti-inflammatory activity in CFA-induced chronic arthritis in rats. Results showed pretreatment with Teng-Khia-U significantly inhibited carrageenan-induced acute arthritis and significantly suppressed the development of chronic arthritis induced by CFA. (5)
• Antileishmanial / Sesquiterpene Lactones: Study yielded three moderately to strongly active compounds: two hirsutinolids (8,13-diacetyl-piptocarphol and the 8-acetyl-13-O-ethyl-piptocarphol) and ursolic acid. IC50 against Leishmania amazonensis axenic amastigotes were 0.3, 0.37, and0.99, while IC50 for amphotericin B is 0.41 uM. (7)
• Cytotoxicity Bioassay: Study evaluated P. spicatus extract for biologic activity using Brine Shrimp Bioassay using four concentrations (1p, 100, 500, 1000 ppm). Decoction and ethanol-water extract were inactive against brine shrimp. The absolute ethanol extract showed the presence of cytotoxic substances and better extraction of active components than hot water or mixture or mixture of ethanol and water.  (12)
• Cytotoxic Sesquiterpene Lactones / Anticancer Against Hep3B and MCF-7 Cancer Cell Lines: Study of aerial parts of Pseudelephantopus spicatus isolated five new sesquiterpene lactones, spicatolides D-H (1-5) along with four known compounds from the EA extract of aerial parts. Compounds were evaluated for cytotoxic effects against five human cancer cell lines. Compounds 1, 3, and 4 showed cytotoxicity (IC50 <5µg/mL) against Hep3B and MCF-7 cancer cell lines. (13)
• Teng-Khia- U / Hepatoprotective: Teng-Khia-U is a Taiwanese folk medicine derived from entire plants of Elephantus scaber, E. mollis, and Pseudelephantopus spicatus. Study evaluated the hepatoprotective effects of water extracts of these three plants against beta-D-galactosamine (D-GaIN)- ad acetaminophen (APAP)-induced hepatic injury in rats. Results showed decrease in enzyme levels after treatment with the crude extracts of Teng-Khia-U. (14)
• Phytoremediation Study / Lead Contaminated Soil: Study evaluated the phytoremediation potential of Pseudelephantopus spicatus on plant tolerance to lead (Pb)-contaminated soil and its mechanism for Pb uptake. Results showed plants in Pb-treated soil had significantly shorter shoot length, and smaller width of largest leaf, and reduced number of leaves compared to control. Pb uptake increased with longer exposure time. However, higher lead concentration was observed in the soil compared to Pb in the roots. Results demonstrated the plant has tolerance as a Pb excluder, and may not be a good candidate for phytoremediation. However, further studies on effects of different Pb concentrations, higher time intervals response or use of chelating agents and fertilizers may improve its potential for phytoremediation. (15)

Availability
Wild-crafted.