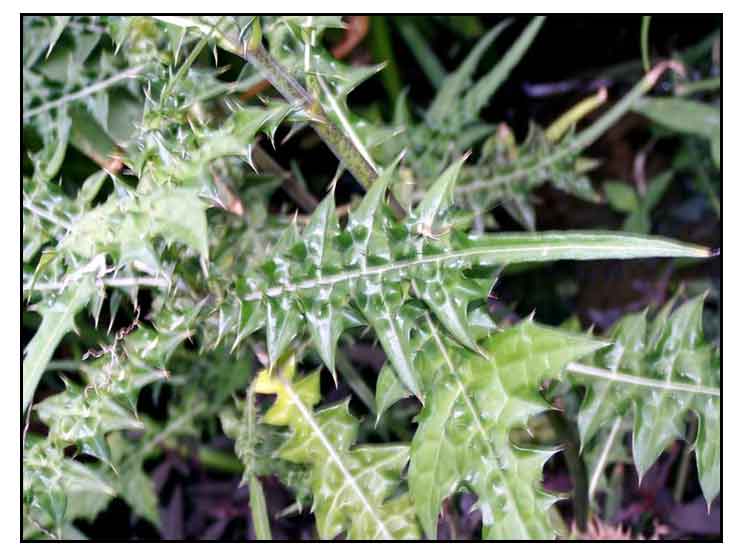 Botany:
Diluariu is an erect or ascending, slightly branched, smooth shrub, 0.5 to 1.5 meters high. Stems are cylindrical and greenish, with a pair of short, sharp spines at the base of each petiole. Leaves are rigid, coriaceous, green and shining, oblong to oblong-lanceolate, 9 to 14 centimeters long, sinuate-toothed in the margins with spinous teeth. Leaf stalks are 1 centimeter long or less. Flowers are about 4 centimeters long, each subtended by an ovate, green, closely appressed bracts 7 to 8 millimeters long, and by two similar but smaller bracteoles, borne in terminal, solitary, dense, or interrupted spikes. Calyx is green, 10 to 12 millimeters long. Corolla tube is 1 centimeter long, the lower lip, pale-blue, spreading or recurved, about 3 centimeters long, 2.5 cm wide, and pubescent within. Capsule is brown, shining, and 2 to 2.5 centimeters long. Seeds are 6 to 10 millimeters long, with white testa.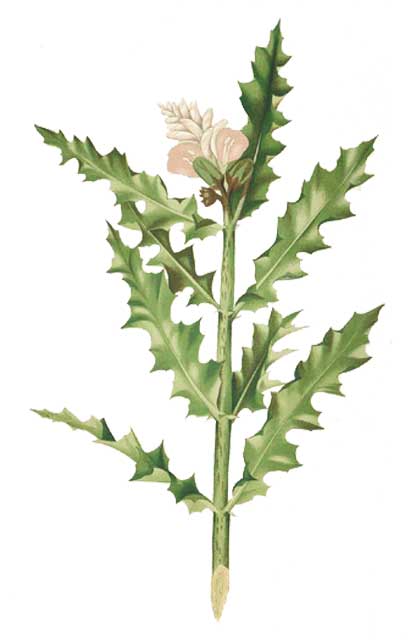 Distribution
- In low wet lands near the sea, subject to the influence of salt water, throughout the Philippines along tidal streams, swamps, mangrove, etc.
- Also occurs in tropical Asia, from South India to Sri Lanka to Indo-China, Indonesia and northern Australia.
Constituents
• Powdered leaves yield soft resins and a fatty matters colored with chlorophyll.
• Yields a bitter alkaloid which assumes a reddish-brown color with sulphuric acid
• Study yielded: acancifoliuside, a new coumaric acid derivative, acancifoliuside, and six known compounds: acteoside, isoacteoside, acanthaminoside, (+)-lyoniresinol 3a-O-ß-glucopyranoside, (-)-lyoniresino, and a-amyrin.
• Study of aerial parts yielded two lignan glucosides, (+)-lyoniresinol 3a-[2-(3,5-dimethoxy-4-hydroxy)-benzoyl]-O- -glucopyranoside, and dihydroxymethyl-bis(3,5-dimethoxy-4-hydroxyphenyl) tetrahydrofuran-9(or 90)-O--glucopyranoside have been isolated, together with eight known compounds. (25)
• Study isolated a new compound, 5,11-epoxymegastigmane glucoside, along with one known compound, megastigmane glucosides, (6S, 9S)-roseoside.
• Study yielded five compounds: luteolin 7-O-beta-D-glucuronide, apigenin-7-O-beta-D-glucuronide, methylapigenin-7-O-beta-D-glucuronate, uridine, and uracil.
- Phytochemical screening of leaves yielded flavanoids, phenols, terpenoids, and glycosides, with absence of saponin, alkaloids, steroids, tannins and reducing sugar. (29ee
- Study of aerial parts yielded two benzoxazinoid glucosides, 7-chloro-(2R)-2-O-ß-D-glucopyranosyl-2H-1,4-benzoxazin-3(4H)-one and (2R)-2-O-ß-D-glucopyranosyl-5-hydroxy-2H-1,4-benzoxazin-3(4H), together with six known compounds. (36)
- Study yielded six organic compounds consisting of three lignins and three indole alkaloids, with structures identified as: (+)-lyoniresinol 3α-O-β-D-glucopyranoside (1), (-)-lyoniresinol 3α-O-β-D-glucopyranoside (2), (+)-lyoniresinol (3), 1H-Indole-3-carboxylic acid (4), 1H-Indole-3-carboxaldehyde (5), 1H-Indole-3-acetic acid (6). (38)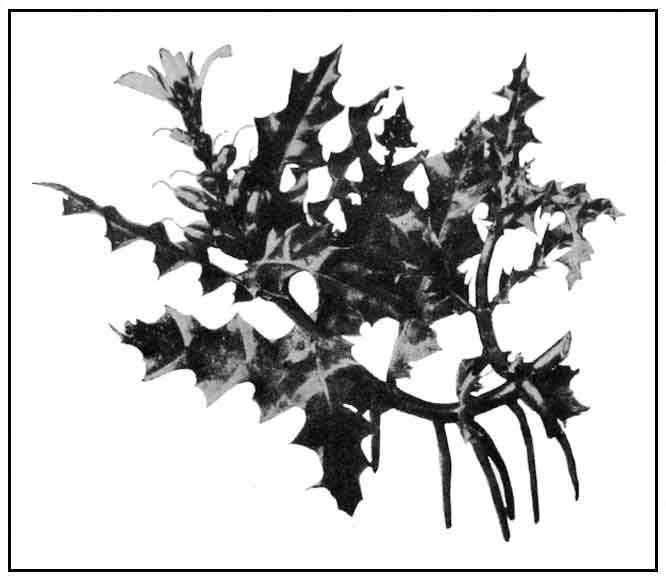 Properties
• Cooling, mildly salt-tasting.
• Antiphlogistic, anticontusion, expectorant.
• Galactagogue, expectorant, carminative.
• Leaves considered emollient.
• Root is expectorant.
• Astringent; makes a good nervine tonic and stimulant.
• In Siam and Indo-China, roots considered cordial and attenuant.
- Studies have suggest antibacterial, antifungal, antioxidant, hepatoprotective, gastroprotective, anticanca, chemopreventive, anthelmintic, anti-inflammatory, anti-osteoporotic, antinociceptive properties.
Parts utilized
· Roots, bark, leaves.

Uses
Folkloric
- Decoction of 30-60 g of dried material used for acute and chronic hepatitis, swelling-enlargement of the liver and spleen, swelling and enlargement of the lymph nodes, gastralgia, asthma.
- Decoction of roots and leaves used for asthma; also, to aid expectoration.
- Root boiled in milk used for leucorrhea and general debility.
- Used for gastrointestinal pains.
- Leaves are high in mucilage and used as emollient fomentation in rheumatism.
- Young leaves used as an antidote for snake venom.
- In India, popularly used for its wound healing effects; tender shoots and leaves used for snake bites.
- In Malaysia, leaves used for rheumatism, neuralgia, and poison arrow wounds.
- In Thailand, decoction of whole plant used for kidney stones.
- In Goa, mucilaginous leaves used as emollient in rheumatism and neuralgia.
- Ground fresh bark is used as antiseptic.
- Decoction of leaves for pain and as blood purifier.
- In Ayurvedic medicine, it is one of 9 plants in the drug 'Sahachara,' used for rheumatic complaints.
- Plant decoction with sugar candy and cumin used for dyspepsia with acid eructations. Also used as diuretic and cure for dropsy and bilious swellings. Leaves used for snake bites, and roots used for asthma and as expectorant. Plant boiled in milk used for leucorrhea and general debility. (20)
- In Siam and Indo-China, roots used for paralysis and asthma.
Others
- Soap: Plant is used in the manufacture of soap; the lye prepared from the ash.

Studies
• Anti-Hepatic Cancer / Leaves: Study showed the aqueous leaf extract prevented hepatic DNA alterations and chromosomal damage in tumor-bearing mice. and lengthened survival. It suggests A. ilicifolius may be a potential chemoprotector against hepatic neoplasia.
• Anticarcinogenic / Tumour Reducing: The study found AI extract to be effective against tumor progression and carcinogen induced skin papilloma in mice. There was reduction of tumor volume and significant delay in the onset of DMBA/Croton oil-induced skin papilloma in mice in a dose-dependent manner. (3)
• Antioxidant and hepatoprotective effect of Acanthus ilicifolius: An alcoholic extract of AI inhibited the formation of oxygen derived free radicals in vitro and reduced induced hepatotoxicity in rats. The results were comparable with those obtained with curcumin. (4)
• Anti-osteoporotic: Chemical constituents of Acanthus ilicifolius L. and effect on osteoblastic MC3T3E1 cells: The study yielded a new coumaric acid derivative, acancifoliuside and six other known compounds. Tested on osteoblastic cells, it concludes that A. ilicifolius may help prevent osteoporosis. (5)
• Anti-Inflammatory / Free Radical Scavenging Activity: In a study to evaluate its anti-inflammatory activity, the methanolic fraction of A ilicifolius leaf extract produced significant inhibition of rat paw edema, similar to a COX and LOX inhibitor. It also produced significant inhibition of COX 1and 2 and 5-LOX activity. It also showed significant free radical scavenging activity. (6)
• Antimicrobial / Leaves: Study showed the alcoholic and chloroform extract of leaves of A ilicifolius exhibited strong inhibitory action against B subtilis, S aureus, C albicans, A fumigatus and Aspergillus niger and moderate inhibitory action against P aeruginosa and P vulgaris. (7)
• Antimicrobial / Leaf, Stem and Roots: Study evaluated the antimicrobial activity of ethanol, methanol, and aqueous extracts of leaf, stem, and roots of A. ilicifolius. The most active antimicrobial parts were aqueous root, ethanol stem, and methanol leaf. The ethanol extract effect was significantly higher than that produced by methanol and aqueous extracts.
• Antiulcerogenic Activity: Study evaluated the antiulcerogenic activity of a water extract of Acanthus ilicifolius in different models of acute gastric ulcers in rats. Results showed pretreatment with a leaf extract (both hot water and cold water) caused a beneficial effect on NSAID-induced gastric ulcer in rats. (10)
• Chemopreventive / Ehrlich Ascites Carcinoma: Study showed treatment of EAC-bearing mice with an aqueous leaf extract resulted in restoration of hematological and hepatic histological profiles and lengthening of survival of animals against the proliferation of ascites tumor in vivo. (11)
• Chemopreventive Activity Against Hepatocellular Carcinoma: Study analyzed the active components of a leaf extract of A. ilicifolius. Five natural steroid compounds were compared against a synthetic drug Sorafenib and Doxorubicin on various target proteins of liver cancer. (14)
• Antioxidant / Free Radical Scavenging Effect: Study confirmed the antioxidative and radical scavenging activity of an A. ilicifolius extract. (15)
• Antioxidant / Cytotoxicity / Anticancer / Flowers: Flowers yielded terpenoid, phenolic compounds, and alkaloid. A methanol extract exhibited the highest antiradical efficiency against DPPH radicals and highest cytotoxicity against shrimp brine Artemia salina nauplii. Results present a potential candidate for cancer therapy. (16)
• Antinociceptive: A methanolic extract of Ai leaves was tested for antinociceptive activity using acetic acid-induced writhing, formalin and hot plate testing. Results showed a significant and dose-dependent antinociceptive activity in all three models. (17)
• Gastroprotective / Anti-Ulcer: Study evaluated the gastroprotective activity of a methanolic extract of A. ilicifolius using different models of gastric ulceration. In pylorus-ligated rats, the methanolic extract of leaves significantly reduced gastric volume, acidity, and peptic activity. Pretreatment significantly restored the levels of reduced glutathione (GSH) and SOD, CAT, and GPX, along with inhibition of both lipid peroxidation and myeloperoxidase activity. Results suggest the extract of leaves may possess anti-ulcer activities in addition to anti-inflammatory properties. (19)
• Anti-Leishmanial / Anti-Ulcer: 2-Benzoxazolinone (BOA) isolated from the leaves showed in vitro anti-leishmanial activity against Leishmania donovani. The LC50 for BOA was 40 µg/ml and compared well with pentamidine. (20)
• Anti-Diabetic / Roots: Study evaluated an ethanolic extract of roots in alloxan-induced albino Wistar rat models. Dosage of 200 and 400 mg/kg of extract significantly reduced blood glucose levels. Histopath studies showed better regeneration of ß-cells at both doses. Phytochemical analysis of roots showed the presence of flavonoids, alkaloids, terpenoids, tannins, and steroids. (21)
• Hepatoprotective / Hepatitis B / Roots: Study evaluated the effect of alcohol extract on duck hepatitis B. Results showed an obvious protective effect on liver function and liver tissue. However, A. ilicifolius cannot inhibit the replication of duck hepatitis B virus. (22)
• Anticarcinogen Against Hydrocortisone-Induced Genotoxicity: Study evaluated the anti-genotoxic effect of A. ilicifolius against hydrocortisone-induced genotoxicity. The extract significantly reduced the frequencies of chromosomal aberration, sister chromatid exchanges and enhancement of replication index in vitro. Results showed the Acanthus extract is highly effective in cancer prevention and quench free oxygen radicals. (23)
• Diuretic Activity: Study evaluated an ethanolic extract for diuretic activity. Results showed a significant increase in urine volume (P<0.01), with increase in urine electrolyte excretion of sodium and potassium. (24)
• Antiallergic / Anthelmintic / Cytotoxic / Acute Toxicity Evaluation /Aerial Parts: Study evaluated ethanolic extract of aerial parts for antiallergic, antihelmintic, and cytotoxicity activities in mice. Phytochemical screening yielded the presence of alkaloids, phenolic compounds tannins, flavonoids, glycosides, saponins, steroids, and tritrpenoids. Pretreatment with extract significantly ameliorated the TDI-induced allergic symptoms like sneezing (p<0.05), scratching (p<0.05), swelling and watery rhinorrhea. The extract caused dose dependent decrease in relative index of paralysis and death of H. contortus and P. cervi parasites. In brine shrimp lethality bioassay, the extract showed an LC50 of 44.57 µg/mL indicating promising cytotoxicity, with standard drug vincristine sulfate showing LC50 of 0.43 µg/mL. Acute toxicity testing showed no mortality in Swiss albino mice at highest dose of 3 g/kg. (27)
• Antimicrobial / iNOS Inhibitory Activity of Endophytic Fungi: Study showed endophytic fungi associated with A. ilicifolius var. xiamenensis can be a potential source of novel natural active substance. Extracts of 28 isolates were found to have bioactivities against one of the following microorganisms: bacteria B. subtilis, S. aureus, and E. coli and fungi C. albicans and C. neoformans. An anti-inflammatory study of culture extracts of the isolates showed a high iNOS inhibition and low viability of cells. (28)
• Thrombolytic / Anti-Inflammatory / Leaves: Comparative study eComparative study confirmed the thrombolytic and anti-inflammatory activities of methanol leaf extracts of Blumea lacera and Acanthus ilicifolium. Acanthus ilicifolius showed 38.25% clot lysis compared to 4.6% water as negative control and 69.34% streptokinase as positive control. Inhibition of protein denaturation of ME of A. ilicifolius was significant at 45.27% with acetyl salicylic acid as standard. (30)
• Silver Nanoparticles / Antimicrobial: Study reports on the green biosynthesis of silver nanoparticles using an aqueous solution of A. ilicifolius as reduction material. The AgNPs showed strong antibacterial activity against selected bacteria i.e. S. aureus, B. cereus, E. coli, and P. aeruginosa. (31)
• Antibacterial / Benzoate and Phenylethanoid Derivatives / Leaves: Study evaluated the antibacterial activities of column chromatography fractions of various extracts against 24 bacterial pathogens. The extracts yielded derivatives 6-hydroxy-benzoxazolinone, (Z)-4-coumaric acid 4-O-ß-D-glucopyranoside and 3,5-dimethoxy-4-hydroxymethyl benzoate. (32)
• Hepatoprotective in CCl4-Induced Toxicity / Alkaloid B: Acanthus ilicifolius alkaloid A (4-hydroxy-2[3H]benzoxazolone, HBOA) is a naturally occurring compound separated from Acanthus ilicifolius. This study undertook to synthesis HBOA and two of its derivatives, specifically, 4-acetoxy-2(3H)-benzoxazolone [AcO-BOA) and 3-acetyl-4-acetoxy-2-benzoxazolone (TC-3) and evaluated its hepatoprotective potential. Results showed HBOA and its acyl derivatives were able to significantly alleviate the hepatotoxicity induced by CCl4 in mice. (33)
• Anticancer / MCF-7 and PA-1 Cell Lines / Leaves and Roots: Study evaluated the anticancer activity of ethyl acetate leaf and root extracts of A. ilicifolius against MCF-7 and PA-1 cell lines. The ethyl acetate extract showed statistically significant inhibition of MCF-7 and PA-1 cell line, highest at 100 µg/mL (34)
• Anthelmintic / Leaves: Study evaluated the anthelmintic activity of various extracts of Acanthus ilicifolius leaves extract against Ascaridia galli and Pheretima posthuma using parameters of time to paralysis and time to death of worms. Ethanol, aqueous and n-hexane extracts of leaves showed anthelmintic activity in a dose-dependent manner. Phytochemical screening of the extracts yielded alkaloids, flavonoids, tannins, saponins, and steroids. (35)
• Chemopreventive / Azoxymethane-Induced Aberrant Crypt Foci: Study evaluated the chemopreventive effect of A. ilicifolius extract against AOM-induced colonic aberrant crypt foci (ACF) in rats. Extract treated rats with doses of 250 mg/kg and 500 mg/kg showed a decrease in ACF by 65% and 53%, respectively. There was also a significant decrease in multiplicity of ACF formations compared with control group, along with a significant decrease in lipid peroxidation MDA levels. RT-PCR showed a change in regulation of apoptosis related genes expression. Results also suggest a potential alternative approach for prevention of AOM-induced ACF in rat colon. (37)

Availability
Wild-crafted.