Gen info
- Falcataria is a genus of flowering plants in the family Fabaceae. The genus has three species previously classified in the Falcataria section of the genus Paraserianthes. The species are: Falcataria falcata (formerly F. moluccana), F. pullenii, and F. toona. (4)
- Falcate means "curved like a sickle", referring to the leaflets.
Botany
Falcataria moluccana is a fast growing medium to large deciduous tree attaining a height of to 30 meters or more, with a massive trunk and an open crown. Trunk is straight, cylindrical, and unbuttressed. Bark is , light gray, the inner bark smooth and pink. Leaves are alternate, bipinnately compound, 20 to 40 cm long with 4 to 15 pairs of pinnae; each pinnae 5 to 10 cm long with 8 to 25 falcate leaflets, 10 to 20 mm long and 3 to 6 mm wide, dull green above, paler below. Flowers are large, bell-shaped, in paniculate axillary racemes, about 20 cm in diameter.; corolla creamy- white to greening-white. Pods are narrow and flat, densely pubescent or glabrous, green and turning brown on maturity, 10 to 13 cm long and 2 cm wide, dehiscent. Seeds are 15-20 per pod, flat, transversely arranged, reniform to oblong, flat, dark brown, about 6 mm long, 3 mm wide. (5)
Distribution
- Introduced.
- Cultivated.
- Native to Bismark Archipelago, Maluku, New Guinea, Santa Cruz Is., Solomon Is. (1)
- Species has spread to Southeast Asia, from Myanmar to the Philippines.
- Grows primarily in the wet tropical biome.
- Introduced locally in tropical Africa and America.
- Considered invasive in natural lowland humid forests on Pacific and Indian Ocean Islands. (5)
Constituents
- Phytochemical analysis of sawdust yielded alkaloids, anthraquinones, flavonoids, saponins, steroids, tannins, and triterpenoids. (see study below) (8)
- Bark yields syringaresinol. (9)
- Phytochemical screening of methanol extract of twigs yielded phenolics, flavonoids, steroids, terpenoids, saponins, and tannins. GC-MS analysis showed highest abundance of α-terpinolic from the terpenoid group with a retention time of 6.776 minutes and percentage area of 25.85%. Total phenolic content was 145.21 mg GAE/g, total flavonoid was 95.39 mg QE/g. (see study below) (10)
Properties
- Considered the fastest growing tree in the world.
- Dust from machining or sawing may be irritating . (see study below) (7) (8)
- Studies have shown phytoremediative and asthma inducing properties.

Parts used
Bark, whole plant.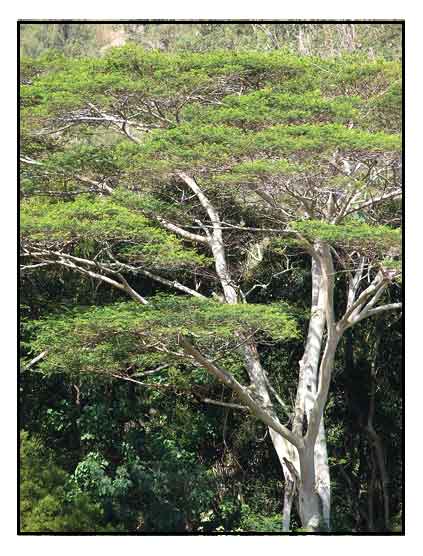 Uses
Edibility
- Pods reportedly edible. (Soerianegara and Lemmens,1993) .(5)
Folkloric
- Decoction, infusion, or extract of dried bark used to wash tropical ulcers.(3)
- Whole plant extract drunk to help induce sleep. Used to treat venereal diseases. d
- Bark eaten to relieve chest congestion.
- In Papua Island, Indonesia, bark used for traditional treatment of malaria. (11)
Others
- Agroforestry: Pure strands help prevent erosion.
- Wood / Fuel: Soft, not durable, prone to attack by termites and beetles. Used for fuel and charcoal production despite low density and energy value. (3)
- Paper / Pulping: Suitable for pulping and papermaking. (3)
- Construction / Commerce: The soft wood is suitable for light construction, furniture, cabinetry, pallets, chopsticks, toys, wooden shoes, tea boxes, matchsticks, etc. Wood trunk are carved for making canoes. Source for making veneer, plywood, particle board. (3) (4)
- Fodder: Leaves used as feed for chicken and goats. Also used as green manure. (5)
- Tanning: Bark yields 'kino' which has tanning properties; also sometimes used as soap. (5)
Studies
• A Case of Occupational Asthma: Study reports on a case of occupational asthma on a 72-yr old man who developed difficulty breathing while cutting Falcata. Confirmatory tests included a bronchial provocations test. (7)
• A Toxic Wood Species / Toxicological Analysis of Sawdust: Albizia falcataria has been reported as a causal agent of upper respiratory health problems through occupational exposure to sawdust. Phytochemical analysis showed sawdust compounds were not volatile, suggesting route of exposure as direct ingestion or physical contact. Toxicological screening using Vibrio fischeri exposed to aqueous extracts of A. falcataria showed a mean EC50 greater than 9800 mg/L for 5-30 min exposure. Microscopic analysis showed irregular sawdust morphology that can lead to irritation and exacerbate health effects due to wood cell bound chemical exposure. Results suggest A. falcataria be handled as a toxic wood species. (8)
• Mycorrhizal Phytoremediation of Lead and Cadmium on Oil Sludge: Study showed Cladosporium and Albizia mycorrhiza can reduce the levels of Cd on oil sludge 30% and 35%. On the comparative, colonization of AMF (Arbuscular Mycorrhiza Fungi) in Albizia root reached 100% in all treatment along the decrease of lead and cadmium. (9)
• Antioxidant / Phytochemicals / Twig: Study evaluated methanol extract of Falcataria moluccana for phytochemical content and antioxidant activity. Antioxidant activity by DPPH assay showed IC50 of 12.60 ppm. (see constituents above) (10)
Availability
Wildcrafted.
Cultivated.