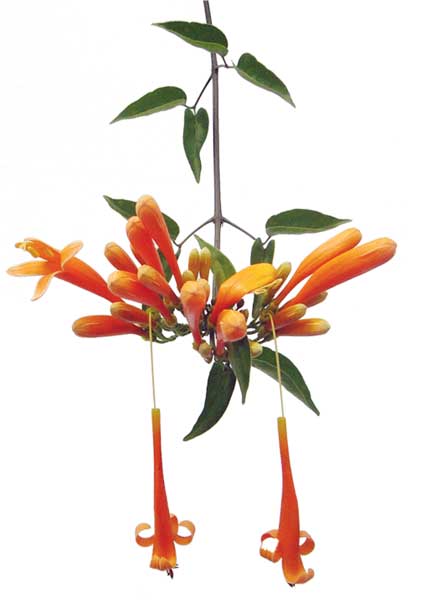 Etymology
"Pyrostegia" is Greek derived: pyro meaning 'fire' and stege meaning 'covering.' names: Species name venusta means pleasing. beautiful, graceful, or charming.
Botany
Flame flower is a climbing shrub with 6 to 8 ribbed branchlets. Leaves are compound, with 2 or 3 leaflets, bearing 3-parted terminal tendrils. Leaflets are ovate, acuminate, up to 5 centimeters long. Flowers are reddish orange, in terminal panicled cymes, up to 5 centimeters long with reflexed corolla lobes. Fruit is a capsule, up to 30 centimeters long.
Distribution
- Recently introduced.
- Grows well in the Baguio area.
- Native to Brazil and Paraguay.
Constituents
- Phytochemical screening yielded terpenoids, alkaloids, tannins, steroids, and saponins.
- Phytochemical studies yield chemical constituents from the roots: allantoin, beta-sitosterol, 3b-O-beta-D glupyranosylsitosterol and hesperidin.
- Study of ethanol extract of roots isolated allantoin, beta-sitosterol, 3-beta-O-beta-D-glupyranosylsitosterol, and hesperidin. (20)
Properties
- Considered antimicrobial, antioxidant, tonic, and vulnerary.
- Studies have shown antioxidant, anti-inflammatory, antinociceptive, anthelmintic, hyperpigmentant, antibacterial, antifungal, antigenotoxic, wound healing properties.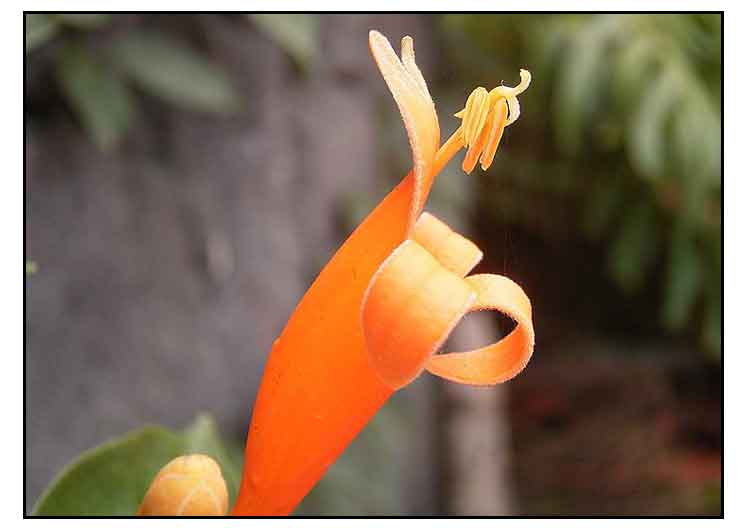 Parts used
Roots, flowers.

Folkloric
• No recorded folkloric use in the Philippines.
• In Iracambi, used as a tonic and antidiarrheal.
• In Brazil, used as general tonic to treat any inflammatory disease; also for diarrhea, dysentery, leucoderma and vitiligo, and common diseases of the respiratory tract, such as bronchitis, flu, and cold.
Others
• Dye: Flowers yield a dye. (see study below) (22)
Studies
• Antioxidant: Phytochemical screening of P venusta showed the presence of carotenoids, steroids, terpenoids and anthraquinones in pet ether extract and flavonoids and tannins in the methanolic extracts. Results showed antioxidant activity due to the flavonoids and b-carotene, and a potential source of natural antioxidation. (1)
• Antioxidant / Flowers and Roots: Study evaluated the antioxidant potential of P. venusta using DPPH, ABTS, and FRAP assays. Results showed P. venusta is a natural source of antioxidants. The extracts of flowers and roots contained significant amounts of phytochemicals with antioxidative properties to serve as inhibitors or scavengers of free radicals. (4)
• ACE Inhibition: One of the plant extracts studied for angiotensin-converting enzyme inhibition. (3)
• Attenuation of Behavior Changes Induced by Lipopolysaccharide: Extract of P. venusta attenuated the depressive-live and exploratory behaviors induced by lipopolysaccharide. Results support the usefulness of the plant in traditional therapies for disorders like flu and cold, that induce sickness behaviors. (5)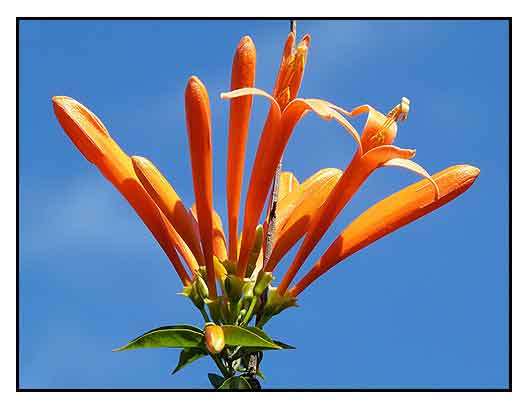 • Anti-Inflammatory / Antinociceptive / Flowers: Study of a hydroethanolic extract in Swiss mice demonstrated anti-inflammatory activity. PvHE reduced paw edema induced by carrageenan and inhibited leukocyte recruitment into the peritoneal cavity. Extracts showed antinociceptive activity in acetic acid-induced writhing and formalin tests. The anti-inflammatory actions were attributed to the presence of acacetin-7-O-B-glucopyranoside. (6)
• Antimicrobial / Wound Healing / Flowers: Study of flower extract showed potent wound healing capacity as shown by wound contraction and increased tensile strength. Induction in cytokine production may be one of the mechanisms involved in the wound healing acceleration. A PvE also showed moderate antimicrobial activity against B subtilis, S epidermis, S pyogenes, S aureus, E coli, M luteus, P aeruginosa, C albicans among others. (7)
• Genotoxicity Evaluation: Study evaluated the genotoxic effect of extracts of P. venusta in mice using micronucleus (MN) and chromosone aberration (CA) tests. Pyrostegia venusta did not show genotoxicity activity. (10)
• Hyperpigmentant Activity for Vitiligo / Melanogenic / Flowers and Leaves: Study evaluated the melanogenic activity of hydroalcoholic extracts from leaves and flowers of P. venusta on B16F10 melanoma cells. Results showed both extracts stimulated B16F10 melanogenesis at very low concentrations. Findings support the folk medicine use of P. venusta on the treatment of hypopigmentation diseases, such as vitiligo. (11)
• Vitiligo Treatment / Leaves: Study evaluated the anti-inflammatory and hyperpigmented activities of hydroethanolic extract of leaves in Swiss mice model of vitiligo induced by croton oil and monobenzone. Only tropical treatment with HE extract of P. venusta altered melanin specific marker in hair follicles. Topical and oral administration of P. venusta showed significant anti-inflammatory and hyperpigmented effects demonstrated topical and systemic effects in two animal models. (12)
• Prevention of Dental Biofilm / Dental Caries: Study evaluated the antibacterial and biological activities of P. venusta in the treatment of dental caries and periodontal disease. Crude extracts, ethyl acetate, and Nunn-butanol fractions showed antibacterial activity. The EA fraction showed the highest inhibition against adherence of S. mutans and C. albicans. Results suggest a potential for the prophylaxis and treatment of caries or periodontal disease. (13)
• Anthelmintic: Study of chloroform and methanol extracts of P. venusta showed anthelmintic activity against Pheretima posthuma. Piperazine citrate was used as standard reference. The chloroform extract showed more effective anthelmintic action compared to the methanol extract. (14)
• Antitumor Activity / Apoptosis Induction: Study investigated the antitumor activity of P. venusta extracts against melanoma. The cytotoxic activity and tumor induced cell death of heptane extract from P. venusta flowers was evaluated against murine melanoma B16F10-Nex2 cells in in-vivo and in-vitro models. Results showed components of the heptane extract, mainly octasane and triacontane, showed cytotoxic activity against murine melanoma cells in vitro and promising antitumor protection against subcutaneous melanoma in vivo. (15)
• Anticandidal / Antioxidant: Study of flower extracts for in vitro anticandidal and antioxidant activities yielded one flavonoid (quercetin-3-O-α-L-rhamnopyranosyl-(1→6)-β-D-galactopyranoside) and two phenylpropanoid glycosides (verbascoside and isoverbascoside). The extracts were evaluated against five Candida strains viz., C. albicans, C. krusei ATCC 6258, and clinical isolates strains of Candida sp: C albicans, C. krusei, C. tropicalis, C. parapsilosis and C. guilhermondii. Semi-purified fraction and verbascoside showed similar activity to amphotericin B. (16)
• Anti-Inflammatory / Analgesic / Stems: Study of methanolic and petroleum ether extracts of stems showed anti-inflammatory and analgesic effects using carrageenan-induced paw edema and hot plate method, respectively. The extracts showed no mortality in mice even at dose of 5000 mg/kbw, and may be considered relatively safe. (17)
• Benefit for Inflammation and Metabolic Dysfunction Caused by High Carbohydrate Diet: Study evaluat3d the effects of a hydroalcoholic extract of flowers (PvHE) supplementation for the treatment of inflammatory and metabolic dysfunction induced by high-r3find-carbohydrate (HC) diet in BALB/c mice. PvHE supplementation decreased adiposity and adipocyte area, improved glucose tolerance, reduced serum triacylglycerol levels and systemic inflammatory cells, and reduced some inflammatory mediators levels in adipose tissue and liver. Results suggest benefit in treatment of inflammation and metabolic dysfunction induced by HC diet. (18)
• Toxicological / Antioxidant / Genotoxic Studies: Study evaluated ethanolic extract of flowers for toxicological, antioxidant, and genotoxicity properties. The extract did not exhibit reproductive toxicity and genotoxic effects. The extract of the species did show antigenotoxic and antioxidant potential, probably attributable to the different flavonoid compounds in the extract. (19)
• Natural Melanogenesis Stimulator: Various dermatological disorders i.e., vitiligo, albinism and loss of hair, the tyrosinase stimulators induce cellular melanin biosynthesis, up-regulating CREB phosphorylation and expression of MITF, tyrosinase, TRP-1 and TRP-2, and tyrosinase. These suggest melanogenesis stimulators may be used for the treatment of hypopigmentation related disorders. This study suggests that purified tyrosinase possesses a skin darkening potential, which could be useful as a safe melanogenic agent for the treatment of hypopigmentation disorders or Virgilio. (21)
• Dye / Potential for Cosmetic Use / Flowers: Study reports on the extraction, purification and stability of Pyrostegia venusta dye from its flowers. The dye is reported to have good thermal stability, strong resistance to oxidation and reduction, stable in weak base and weak acid conditions. It was also stable to allergy agent, antioxidant and preservatives. Results suggest potential use in cosmetics. (22)

Availability
- Ornamental cultivation.