Botany
Solanum wrightii is an evergreen shrub or tree. Trunk is light gray with a fissured bark and sharp, curved thorns. Branch tips are covered with hairs. Leaves are broadly ovate, about 30 cm long and 15-20 cm wide, with wavy margins, with long, straight thorns on the bottom side of the midrib and petiole. Flowers are five-lubed, star-shaped, 6.5 to 7.5 cm wide, with long bright pollen-bearing yellow anthers. Petals are initially dark purple, becoming light purple to white over a few days. Fruits are round and fleshy berries, 3 to 4 cm wide. Seeds are many, reddish to dark-brown, obovoid or orbicular, 3 by 2.5 mm, rounded, flattened and deeply reticulate. (2)
Distribution
- Introduced.
- Native to Brazil, Bolivia.
- Frequently cultivated as an ornamental tree for its showy flowers.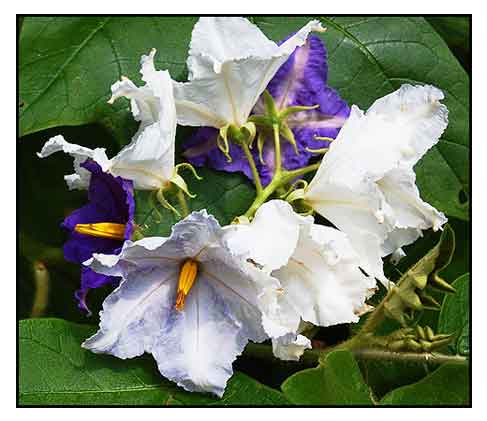 Constituents
- Phytochemical study of leaves, stem bark , roots and fruits of solanum macranthum yielded alkaloids, steroidal nucleus, saponins, tannins, cardiac glycosides, flavonoids, reducing sugars and anthraquinones. (see study below) (3)
- GC-MS study of fresh leaves and fruits for volatile oils obtained 0.10% yield. The leaf and fruit oils yielded 34 components representing 91.1 and 99.4% of total oil composition, respectively. Significant constituents in the leaf oil were diterpenoid, (E)-phytol (29.0%) and fatty acids of pentadecanal (28.1%) pentadecane (7.7%) and ethyl palmitate (5.7%). Fruit oil yielded most sesquiterpene hydrocarbons, with α-humulene (36.5%), (ß)-caryophyllene (17.8%), ethyl palmitate (9.4%) and methyl salicylate (8.2%) as main constituents. (see study below) (4)
- Study of unripe fruits of S. wrightii Benth. yielded solasonin, solamargine, free solasodine and a saponin which afforded chlorogenin by acid hydrolysis. (5)
- Phytochemical estimation total alkaloid content of fruit showed a high of 13.6 g/100 g of extract. Total phenolics and flavonoids content were 115.5 mg/GAE and 142 mg/QE, respectively. (see study below) (7)
Properties
- Studies have suggest antimicrobial, antioxidant, and anticancer properties.

Parts used
Fruits, leaves.

Uses
Folkloric
- No reported folkloric medicinal use in the Philippines.

Studies
• Antimicrobial / Leaves, Stem Bark, Roots, and Fruits: Study evaluated leaves, stem bark, roots, and fruits of Solanum macranthum for secondary metabolites and in vitro antimicrobial activity. In vitro antimicrobial activity was evaluated by agar well diffusion technique against six clinical human pathogenic strains: two gram positive, two gram negative bacteria and two fungi. The various plant extracts showed high inhibitory activity against S. aureus, P. aeruginosa,and E. coli, with gentamicin as reference drug. Fungi C. albicans and A. niger were moderately inhibited. (see constituents above)  (3)
• Cytotoxicity / Antimicrobial / Volatile Oils from Leaves and Fruits: Study evaluated fresh leaves and fruits for volatile oils, cytotoxic and antimicrobial activity. S. macranthum fruit oil displayed considerable cytotoxic activity on Hs 578T (human breast ductal carcinoma cells) cell line (79.39%). Fruit essential oil showed promising antibacterial and antifungal activities with potent inhibitory effect on both S. aureus and A. niger. (see constituents above) (4)
• Cytotoxic / Antioxidant / Fruits: Study evaluated the antioxidant property of S. macranthum fruit methanol extract and its in-vitro cytotoxic effects on breast cancer MDA-MB-231 and mice embryo-fibroblast (MEF-L929) cell line. Antioxidant effect of the methanol extract by H2O2 assay showed high scavenging activity with 99.6% at 400 µg/ml; FRAP assay showed reducing power estimated at 39.1% at 400 µg/ml; and DPPH assay showed 47.9% at 400 µg/ml. EC50 value of anti-inflammatory assay was 112.96 µg/ml. Anticancer study showed IC50 of 373..77 µg/ml against MDA-MB-231 breast cancer cell line, while showing negligible cytotoxic effect against normal cells indicating a cancer specific effect. (see constituents above) (7)
Availability
Wildcrafted.