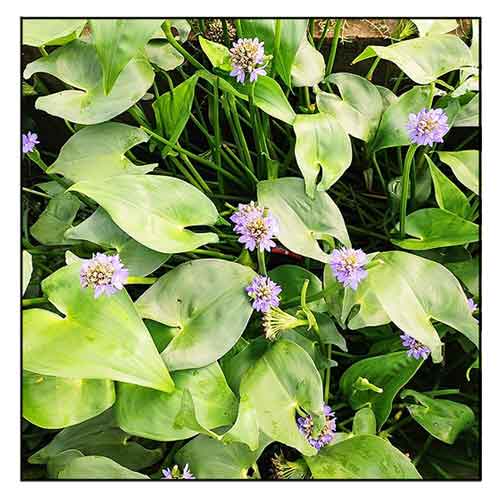 Gen info
- Monochoria was originally a genus of aquatic plants in the water hyacinth family, Pontederiacea. Currently, it has bee reduced to a subgenus of Pontederia. Pontederia subg. Monochria includes ten species, one of which is Pontederia hastata, formerly Monochria hastata. Others are Pontederia africana, P. australasica, P. brevipetiolata, P. cyanea, P elata, P. korsakowii, P. plantaginea, P. vaginalis, P. valida. (16)
Botany
Gabi-gabihan is fast-growing perennial herb. Leaves are long-petioled. Petioles are stout, up to 60 centimeters long, sheathing below. Blade is broadly ovate, 10 to 30 centimeters long, the base prominently hastate, the sinus very broad, the lobes spreading and oblong-ovate. Inflorescence is spicate, many flowered, 4 to 5 centimeters long. Flowers are blue, about 1 centimeter long, the lower ones with elongated pedicels. Fruits are ellipsoid 3-valved capsules, about 1 centimeter long. Seeds are numerous, oblong, with 8 to 12 longitudinal ridges.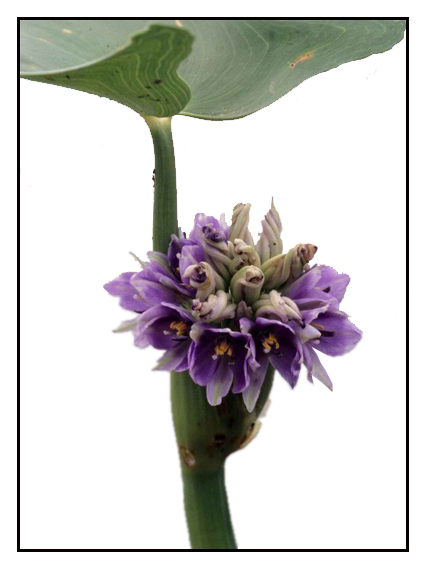 Distribution
- Native to the Philippines.
- In open wet lands, swamps, along freshwater pools, etc., at low and medium altitudes from Luzon to Mindanao.
- Also native to Assam, Bangladesh, Borneo, Cambodia, China, Hainan, Himalaya, India, Jawa, Laos, Malaya, Myanmar, Nepal, New Guinea, Northern Territory, Sri Lanka, Sulawesi, Sumatera, Thailand, Vietnam. (4)
Constituents
- Particularly rich in protein, 39.5%.
- Various fractions of leaf protein concentrate show protein content ranging from 47.4 - 89.4% of dry matter and digestibility ranging from 40.2 to 85.4% of protein.   (6)
- GC-MS analysis of methanol extract of leaves yielded major compounds of 8-hydroxymenthol, dimethyl sulfoxide, and carbohydrazide in a mole% of 22.21, 21.42 and 16.53, respectively. Phytochemical screening of extract yielded alkaloid, flavonoid, glucoside, napthoquinone, phenol, tannin, terpenoid, and other secondary metabolites. (see study below) (14)
Properties
- They live in water and wet soils.
- Alterative, cooling and tonic.
- Studies have suggested anti- and pro-lipase effect, phytoremediation, antibacterial, antioxidant, antidiabetic properties.

Parts utilized:
Leaves.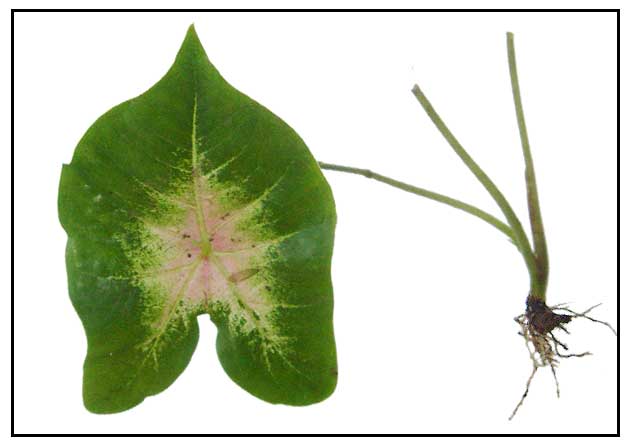 Uses
Edibility
- In Malaya and Java, the leaves are eaten as vegetable, raw or cooked.
- In Bengal, tender stalk and leaves eaten as vegetable.
- Inflorescence is edible, eaten raw or cooked as vegetable.
- In India, stems and leaves are ingredients of a special dish of the Gudak tribe.
Folkloric
- The leaves are used for poulticing boils after they have burst.
- Juice of roots used for stomach pains, asthma, toothache.
- Juice of leaves used for cough.
- Leaves used for insanity.
- Root bark used for asthma.
- Juice of leaves applied to boils.
- Rhizomes pounded in charcoal used for scurf.
- In India, used in a herbal mixture to strengthen uterine tone.
- In Bangladesh, used against diarrhea and dysentery; also, as an aphrodisiac.
- In Indonesia, rhizome is pounded with charcoal and the mixture applied to itches.
- In Ayurveda, leaves and flowers used for wounds, general edema and pimples. Considered diuretic, blood purifier, and to reduce pitta dosha. (7)
- In Assam, leaf juice (30-45 ml) mixed with honey (10-15 ml) drunk twice daily for a month to cure boils. (17)
Others
• Aquafeed: Roots and tender leaves used for grass carp fingerlings. (2)
• Phytoremediation: Pontential for phytoremediation of water bodies contaminated with heavy metals.
Studies
• Anti- and Pro-Lipase Effect: Malaysian study evaluated the effect of aqueous methanolic extracts of 98 medicinal, herbal, and aquatic plant materials for their effect on porcine pancreatic lipase (PPL) activity. The degree of inhibition was quantified as relative to orlistat activity against PPL (orlistat equivalents). Monochoria showed moderate inhibition, 43.3%. It was noted that while the leaves inhibited PPL activity, the root enhanced the activity slightly. (8)
• Phytoaccumulation of Arsenic: Phytoaccumulation study of three plant species viz., Eichhornia crassipes, Echinochloa crusgalli and Monochoria hastata showed the plants can be used as arsenic accumulator in arsenic contaminated soils. (10)
• Potential against SARS CoV-2 / ADZ: Using molecular docking and other studies, 20 compounds extracted from Monochoria hastata were screened for inhibitory efficiency against main protease (3CLpro) of SARS CoV-2. All compounds were found to bind with 3CLpro, with azelaic dihydrazie (ADZ) showing highest docking score. By MD simulation of the 3CLpro-ADZ complex, the ADZ was found to disrupt the structure of 3CLpro after 2 ns. RMSD and RMSF analysis along with sequence and binding energy analysis suggest that ADZ has potential as a drug against SARS CoV-2. (11)
• Antibacterial / Phytoremediative Potential / Aerial Parts: Study evaluated aerial parts of M. hastata for antibacterial potential, pharmacognostic characteristics, and phytoremediative potential for heavy metals like lead (Pb) and arsenic (As). Antibacterial assay by agar well diffusion method showed antibacterial activity against gastrointestinal and topical pathogens. Lead content was less than recommended upper limit while arsenic content was higher than permissible upper limit. (13)
• Antibacterial / Antioxidant / Leaves: Study evaluated the antibacterial and antioxidant efficacy of methanol extract of leaves. Antibacterial assay by agar well diffusion method showed antibacterial activity against B. cereus, B. paraflexus, and E. coli, with highest zone of inhibition of 10 mm against B. paraflexus. The extract exhibited OH radical scavenging antioxidant activity with IC50 of 0.97 mg/ml. (see constituents above) (14)
• Antidiabetic / Antioxidant / Leaves: Study evaluated the antidiabetic and antioxidant potential of various extracts of M. hastata leaves. The methanol extract showed highest phenolic content of 83.47 mg GAE/g of dry material and highest flavonoid content of 62.39 mg QE/g of DM. On DPPH free radical scavenging assay, the methanol extract showed comparable IC50 of 6.1 µg/ml against standard drug (ascorbic acid). Antidiabetic capacity was evaluated using α-amylase and α-glucosidase inhibiting assays. The ME showed better α-amylase inhibition (19.63 µg/ml) and α-glucosidase inhibition (IC50 14.29 µg/ml) comparable to standard acarbose (IC50 of 17.21 µg/ml. (15)
• Antibiofilm Activity / Aerial Parts: Study evaluated the antibiofilm activity of ethyl acetate extract of aerial parts of the plant using standard biofilm production assay protocol against gram-positive Staphylococcus epidermis (MTCC 3086) and gram-negative Vibrio cholerae (MTCC 3906). Results showed selective antibiofilm activities without any cytotoxic effect in human cell line. (18)

Availability
Wild-crafted.