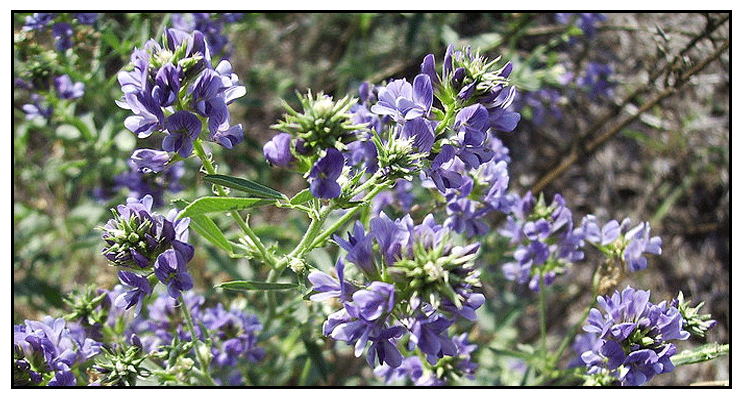 Gen info
- Etymology: Alfalfa is derived from Arabic al-fac-facah, which means "Father of all foods."
- Alfalfa is a Spanish modification of the Arabic word al-fasfasa. (24)
- Likely of oriental origin, especially from Persia. - First cultivated in ancient Iran. Introduced to Greece about 490 BC.
- The scientific name of the genus, Medicago, refers to a main tribe of the Persian people, the Medians. (25)
- Ancient Greeks and Romans used the name medica to mean a citrus fruit, believed to have come from the Medes' land. Medes is the root of the scientific name for alfalfa genus, Medicago. (24)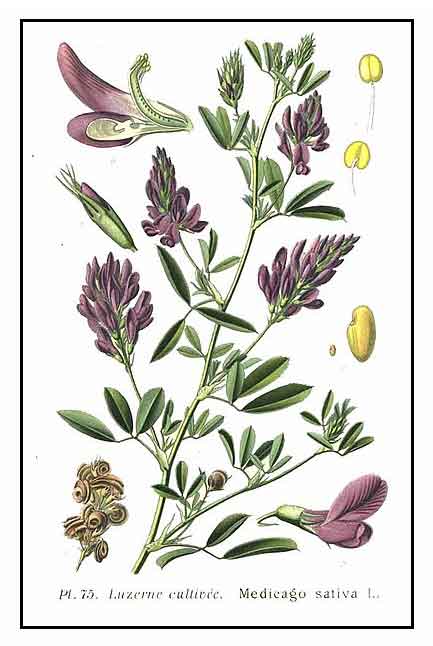 Botany
Alfalfa is a herbaceous perennial with deeply penetrating taproot. Stems are procumbent, ascending to erect, arising from a woody base. Leaf is trifoliate, stipules triangular, 5 to 15 millimeters long, pubescent on the lower surface, glabrous on the upper surface, and joined at the base, coarsely toothed. Petiole is pubescent, 5 to 30 millimeters long. Leaflets are narrow, oblong to ovate or obovate, 8 to 28 millimeters by 3 to 15 millimeters, dentate near the apex. Inflorescence are in dense racemes, containing 10 to 35 flowers, on peduncles 1 to 5 centimeters long; pedicel 1.5 to 2 millimeters long; calyx 5-lobed and 3 to 6 millimeters long; corolla purple or blue, rarely white, with yellow cultivars. Pod curled through 2 to 5 coils of 3 to 10 millimeters in diameter, indehiscent, containing 2 to 6 seeds. Seeds are yellow to brown, kidney-shaped to ovoid, 1 to 2.5 millimeters by 1.0 to 1.5 millimeters. (1)
Distribution
- Cultivated.
- Primarily native to Asia.
- Widely cultivated as forage crop in the US, Canada, Argentina, France and SW Asia.
Constituents
- Pharmaceutically active constituents in M. sativa include acids (lauric, maleic, malic, malonic, myristic, oxalic, palmitic, quinic), alkaloids (stachydrine, homostachydrine), amino acids (arginine, asparginine, cystine, histidine, isoleucine, leucine, methionine, tryptophan, valine), the non-protein aminoacid canavanine, coumarins (medicagol), isoflavonoids (coumestrol, biochanin A, genistein), saponins, steroids (campestrol, cycloartenol, β-sitosterol) and other constituents such as fructose, vitamins (A, B1, B6, B12, C, E, K), pectin, chlorophyll, minerals and trace elements. (33)
- Leaf extract yielded 37.0 ± 0.02 mg gallic acid equivalent (GAE)/ g dry matter. Total flavonoids was 12.6 ± 0.17 mg rutin equivalent/g DM. Analysis also yielded gallic acid, pyrogallol, salicylic acid, and caffeic acid as phenolics, and naringenin, apigenin, apigenin, quercitin, myrcitin and daidezin as flavonoids and isoflavonoids. (see study below) (5)
- Phytochemical screening yielded tannins, cardiac glycosides, steroids, and flavonoids. (see study below) (15)
- GC-MS study of methanolic extract of seeds yielded 54 compounds.. Major constituents were hexadecanoic acid methyl ester, n-hexadecanoic acid, 9,12-octadecadienoic acid methyl ester, 9-octadecenamide, (Z)- , squalene vitamin E. (28)
- Study of alfalfa seed (100g) yielded 33.79 g crude protein, 8.11 g crude oil, crude cellulose 7.78%. (28)
Properties
- Reported to be anti-scorbutic, aperient, ecbolic, hemostatic, nutritive, stimulant and tonic.
- Studies suggest anti-inflammatory, antioxidant, antidiabetic, neuroprotective, antifungal, antibacterial, hypolipidemic, xanthine oxidase inhibitory, estrogenic, iron-chelating, anxiolytic, cardioprotective properties.

Parts used
Leaves, roots, sprouts.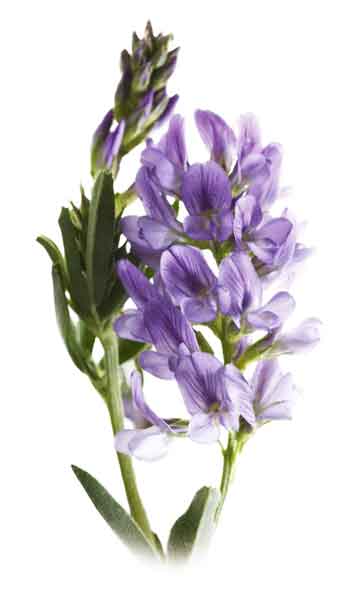 Uses
Culinary / Nutrition
- Alfalfa sprouts are a common ingredient of South Indian cuisine. (24)
- High in vitamins (B, A, D, E, and K) and minerals (biotin, folic acid, iron, magnesium, potassium).
- Brewed as a tea drink.
- Dried alfalfa is considered as good, if not better, than fresh alfalfa.
Folkloric
- No reported folkloric medicinal use in the Philippines.
- Decoction used to boost energy.
- Anecdotal reports on use as diuretic, treatment of bladder problems, diabetes, dyspepsia, and asthma.
- In South American traditional medicine, used for diuresis, kidney and vesicular swelling, and lung ailments.
- In Morocco, liquid porridge made of pounded lucerne seeds given to newly delivered mother with no milk. (25)
- In China, used to treat fever; in India to treat ulcers; in Iran and Turkey to treat arthritis, in the US n some natural therapies for cancer. Also used for urinary tract infections, menopause, fatigue, and asthma. (25)
Others
- Fodder: Cultivated as livestock fodder since the time of ancient Greece and Rome. (24) Primary use as feed for high-producing dairy cows, because of high energy and protein content and easily digestible fiber. Popular as livestock forage: horses, goats, sheep, cattle.
- Plant serves as a commercial source of chlorophyll and carotene. (6)
- Ethnoveterinary: Plant extracts applied topically to aid healing of skin lesions. (33)
Concerns
- Contraindications: FDA issued an advisory for children, the elderly, and those with compromised immune systems to avoid eating alfalfa sprouts because of frequent bacterial contamination (S. enterica, E coli and Salmonella). (6) (29)
- Pregnancy: Avoid use as it may cause uterine stimulation. (6)
- Interactions: May cause decreased anticoagulant effect of warfarin and lowered prothrombin time. Also theorized as possibly interference with immunosuppressive action of corticosteroids or cyclosporine. (6)May increase serum urate and urea levels. Because of high purine content, should be avoided by patients with gout. (29)
- Side effects: Increased fecal volume and frequency, loose stools and diarrhea, abdominal discomfort and flatulence or gas have been reported with alfalfa supplementation. (29)
- Toxicities / Lupus: Alfalfa tablets have been associated with reactivation of systemic lupus erythematosus (SLE). In rats, changes in intestinal cellular structure have been reported. (6) Alfalfa contains canavanine, an amino acid known to aggravate symptoms of lupus. Excess intake can also cause breakdown of RBCs. (7) Reactivation of quiescent SLE in humans has been associated with the ingestion of alfalfa tablets which were found to contain canavanine on analysis. Alfalfa seeds may contain substantial amounts of canavanine (8.33 to 13.6 mg/kg), while the herb contains only minimal amounts. (33) Medscape provides a long list of medicines and supplements that may potentially interact with alfalfa. (8)
- Livestock concerns: Although considered a fodder plant, large quantities may be poisonous. It has been reported to cause jaundice in horses.

Studies
• Antioxidant / Anti-Inflammatory / Xanthine Oxidase Inhibitory Activities: Study evaluated the phenolics and flavonoids content of M. sativa leaves extract, together with antioxidant, anti-inflammatory, and xanthine oxidase (XO) inhibitory activities. Results showed antioxidant activity by DPPH and FRAP assays, although lower than standard BHT and α- tocopherol. Extract showed moderate anti-inflammatory activity on NO inhibition assay and 51.6% inhibition of XO at concentration of 250 µg/ml. (see constituents above) (5)
• Antioxidant / Neuroprotective: Study investigated the neuroprotective effect of a methanol extract of MS on ischemia and reperfusion induced cerebral injury in mice. Results showed treatment with MS enhances antioxidant defense against BCAO (bilateral carotid artery occlusion)-induced global cerebral ischemia and exhibits neuroprotective activity. (9)
• Anti-Inflammatory / Inhibition of Liposaccharide Induced Inflammation: In vitro study showed alfalfa sprouts ethyl acetate (ASEA) extract significantly reduced IL-6 and IL-1ß production and the NF-kB trans-activation activity of mitogen-stimulated RAW264.7 cells. Results suggest ASEA supplementation can suppress production of pro-inflammatory cytokines and alleviate acute inflammatory hazards. (10)
• Antidiabetic / Effects on Oxidative Stress and Hepatic Renal Functions: Study evaluated the potential of an ethanolic leaf extract of M. sativa in combating diabetic hyperglycemia in adult albino rats with alloxan induced diabetic. Results showed effective glycemic control with potency that is better than metformin. Effect was attributed to the promotion of increased insulin secretion, and possibly, some extra pancreatic mechanism mediating an antihyperglycemic effect. Diabetic induced increase in lipid peroxidation and renal and hepatic markers of dysfunction were normalized by MSE treatment. (11)
• Antioxidant / Free Radical Scavenging: Study evaluated an alcoholic extract of M. sativa for in vitro antioxidant activity using various assays. Results showed a significant correlation between extract concentrations and percentage inhibition of free radicals, metal chelation or inhibition of lipid peroxidation. The activity may be related to polyphenols and flavonoids present in the extract. Results indicate activity against free radical mediated disease. (12)
• Antidiabetic / Free Radical Scavenging: Study evaluated the ability of seed extract of fenugreek (Trigonella foenum graecum) and lucerne extract to modulate post-challenge carbohydrate metabolism in type 2 diabetes animal model. Results showed decrease in postprandial glycemia in type 2 diabetes and non-diabetic rats, probably through enhancement of insulin secretion. (13)
• Improved Motility and Vigor in Ram Semen: The addition of homeopathic medicine Medicago sativa at 12CH, added to GGL diluent, resulted in decreased loss of motility and vigor compared with Aloe vera, coinciding with fertility in ram semen manipulated and evaluated in a farm field. (14)
• Antibacterial: Study evaluated various solvent extracts for antibacterial activity against seven important bacterial strains (S. aureus, S. pyogenes, E. coli, P. mirabilis, P. aeruginosa, S. typhi, and K. pneumonia). A methanol extract showed significant activity against all tested bacteria, followed by chloroform and ethanol extracts. (see constituents above) (15)
• Estrogenic: Estrogenic activity has been reported in ruminants fed large amounts of alfalfa as fodder, probably associated with the coumestrol and isoflavone constituents of alfalfa. In humans, consumption of seeds has been reported to be lactogenic and to affect the menstrual cycle. (16) Study showed three treatments of guayus (Ilex guayusa Loes) and alfalfa (Medicago sativa) extracts produced estrogenic effects in rats as evidenced by estradiol levels and weights of reproductive organs. (23)
• Iron Chelating: Study showed the protective effect of M. sativa and A. porrum against iron overload in a rat model. Results showed significant decrease in serum ferritin and iron concentration in iron overload in rats induced by iron dextran. (17)
• Hypoglycemic / No Nephropathy Effect: Study evaluated the effect of aqueous extract of M. sativa on blood sugar and kidney histopathological changes in Wistar rats with streptozotocin induced diabetes. Results showed that although there was a significant reduction in blood sugar, there was no distinct effect on nephropathy side effects in this short term study. (18)
• Inhibition of Liposaccharide-Induced Inflammation: Study evaluated the anti-inflammatory potential of alfalfa and the mechanisms involved. The chloroform extract of alfalfa aerial parts inhibited lipopolysaccharide (LPS)-stimulated immune responses betters than ether, butanol, or water soluble extracts. Cinnamic acid derivatives and fatty acids were found to be active constituents of the extract. The anti-inflammatory activity of the extract suggests a potential as a functional food for the prevention of inflammatory disorders. (19)
• Roots as Substitute for Streptolysin O in ASO Diagnostic Test: Study evaluated the application of alfalfa root extract instead of SLO as a routine test in post-streptococcal infection diagnosis. Study showed the hemolytic effect of roots extracts is similar to SLO and ASO. There is significant similarity in antigenic properties in both alfalfa extract and SLO. The purified extract of alfalfa has potential as alternative suitable reagent instead of SLO for ASO testing. (20)
• Anxiolytic Effect : Study evaluated various extracts of aerial parts for anxiolytic activity. Only the methanol extract exhibited significant (p<0.05) anti-anxiety activity as evidenced by average time spent, and number of entries in open arms at dose of 100 mg/kg in mice. (21)
• Cardioprotective Effect / Stems: Study evaluated the cardioprotective effect of an ethanolic extract of MS stems on isoproterenol induced myocardial infarction in Wistar albino rats. In ISO induced rats, pretreatment with the extract reversed lipid profile levels to near normal reverted to near normal the significantly increased liver marker and cardiac marker enzymes in ISO induced rats. (22)
• Nutraceutical Potential for Beverage Preparations: Study assessed the nutritional composition, amino acid profile, and antioxidant capacity (AOC) of freeze-dried juice (FDJ) and fibrous residual material, two new alfalfa derived products (ADPS) launched as ingredients for beverage preparations. Results showed a high content of proteins (23-30g/100g FDJ and 13-17 g/100 RM), crude fiber (29 g/100 g RM), and minerals (sodium, calcium, iron and zinc). The products exhibited interesting AOC by DPPH and FRAP assays. Results suggest nutraceutical potential for the two new types of ADPS. (26)
• Antioxidant / Enzyme Inhibition Activity: Study showed the capability of alfalfa extracts to scavenge free radicals and enzyme inhibition activity, suggesting a potential for pharmaceutical formulations to treat various oxidative stress related chronic diseases and diabetes mellitus associated with α-glucosidase and brain degenerative disease related with cholinesterase inhibition. (27)
• Lucerne / Phytotherapy for Prevention of Various Diseases / Review: This review paper suggests that lucerne's ability to lower cholesterol, control blood pressure, reduced LDL and triglyceride, and improve blood glucose and HDL might contribute in preventing or treating metabolic disorders related to cardiovacular diseases, oxidative stress, diabetes, and cancer. (30)
• Antifungal / Saponin-Rich Fractions / Candida albicans / Aerial Parts and Roots: Study evaluated the antifungal activity of saponin-rich fractions (SFs) from Medicago sativa aerial parts and roots and Saponaria officinalis against Candida albicans reference and clinical strains. Results showed the ability of saponin-rich extracts of M. sativa and S. officinalis to inhibit C. albicans germ tube formation, limit hyphal growth, reduce yeast adherence and biofilm formation, and eradicate mature Candida biofilm. Also, M. sativa SFx exhibited low cytotoxicity against mouse fibroblast line L929. Results suggest potential for the plant derived SFs as novel antifungal therapeutics to support classic drugs or as ingredients of disinfectants. (31)
• Hypolipidemic / Aerial Parts: Study evaluated aerial parts of M. sativa for phytoconstituents. Two compounds were isolated for the first time and identified as soysaponin I and azukisaponin V. The compounds were found to have hypolipidemic activity. (32)
• Antifungal / Root Saponins: Study of alfalfa roots yielded nine triterpene glycosides. Six of the saponins were identified as glycosides of medicagenic acid, two of hederagenin, and one of soya- sapogenol B. Activity against fungus Trichoderma viride was determined for each of the saponin. (32)

Availability
- Cultivated.
- Capsules, leaf tinctures, and extracts in the cybermarket.