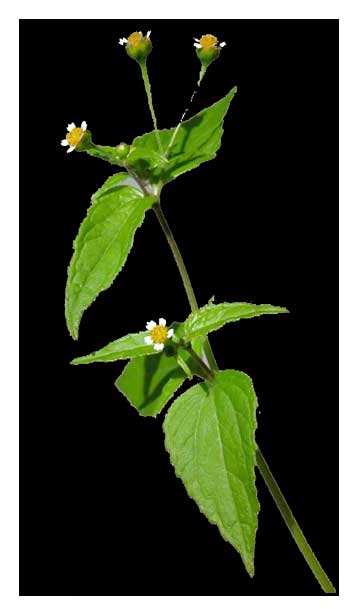 Etymology
Name derives from Ignacio Mariano Martinez Galinsoga, an 18th century Spanish physician. (The English name 'Gallant Soldier' could be a corruption of the 'galinsoga.') Parviflora is Latin referring to "small flowers."
Botany
Galinsoga is a leafy, upright annual. Leaves are oval yellowish-greenish, pointed, opposite and toothed with hairs on the leaf margins and stems. Flowers are small with five white petals, three-lobed at the tips, with yellow central disc florets.
Distribution
- Introduced.
- An invasive weed in waste places, arable land, pavements, etc.
- Native to tropical America.
Constituents
- Nutritional analysis yield per 100 gm of plant: 3.2 g protein, 1.1 g fiber. It is high in calcium (284 mg/100 g), vitamin A, beta carotene, magnesium, potassium, zinc, thiamin, riboflavin, niacin, and ascorbic acid.
- Extracts yielded flavonoids (patulitrin, quercimeritrin, quercitagetrin) and phenolic acids (caffeic and chlorogenic acids). In the tested extracts, the dominant compounds were caffeoylglucaric acids. (2)
Properties
- Aprolific seed producer, a single plant capable of producing thousands of seeds per plant and competing a life cycle in about 50 days. Plant produces viable seeds when plant is only a few centimeters high.
- Considered astringent, anti-inflammatory and vulnerary.
Caution
- Reported to be poisonous to goats.

Parts used
Leaves, flowers.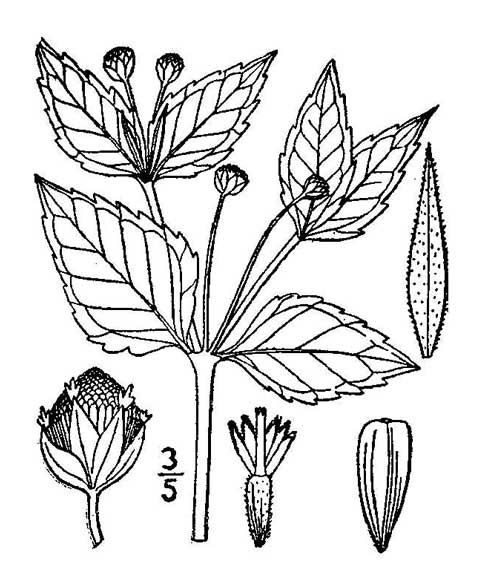 Uses
Culinary
- Used as pot herb in some parts of the world.
- An essential ingredient in Bogota chicken and potato stew/soup called ajiaco. (1)
- Young leaves, stems and flowers used as ingredient in smooties, salads, stews or juices. (1)
- Can be dried into powder to be used as soup flavoring.
Folkloric
- Used for neutralizaing sting of nettles. Used to coagulate bleeding from cuts and wounds. (1)
- In Manipur, India, salted extract of leaves given for diarrhea, fever, and vomiting. Leaves mixed with those of Ageratum conyzoides, Drynaria cordata, and ginger and made into a paste and used as remedy for snake bites.
- Extracts applied topically to treat eczema, lichens, and poorly-healing wounds.
- Taken orally for colds and flu.
- In Columbia, decoction of leaves used for excess stomach acids.
- In China, whole plant used as hemostatic and anti-inflammatory.
Studies
• Wound Healing: Study evaluated n-hexanic and ethanolic extracts of 12 plants used in traditional South Brazilian medicine for wound healing using NF-kappaB DNA binding, p38alpha MAPK, TNF-alpha release, direct elastase inhibition and release. Fibroblasts migration to and proliferation into the wounded monolayers were evaluated in the scratch assay, the agar diffusion test for antibacterial and the MTT assay for cytotoxic effects. The hydrophylic extracts from Galinsoga parviflora along with four other plants showed the most active wound healing activity.(4)
• Antioxidant / Anti-Inflammatory: Study investigated the antioxidant activities of extracts and fractions from Galinsoga parviflora and G. quadriradiata. Results showed both plants possess dose-dependent free radical scavenging activity against DPPH and superoxide radicals, as well as inhibitory effects on linoleic acid peroxidation comparable to gallic acid. Active fractions yielded flavonoids, patulitrin, quercimeritrin, quercitagetrin and caffeoyl derivatives. Results suggest potential for use in inflammatory diseases due to their ability to prevent free radical-induced deleterious effects. (5)
• Antihypertensive / ACE Inhibition Activity: In a South African study entitled ACE Inhibitiory Activity of Nutritive Plants in Kwa-Zulu Natal, ACE inhibitor activity of 16 plants was evaluated using organic and aqueous extracts from dried leaves. An !C50 of the conventional ACE inhibitor captopril was used to determine the test the sensitivity of the assay. Galinsoga parviflora was one of 8 of 16 plants that demonstrated significant ACE inhibition activity in both extract forms. (6)
Availability
- Wild-crafted.
- Herbal teas and supplements in the cybermarket.