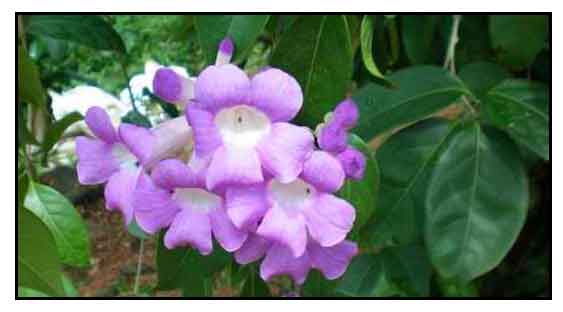 Botany
Pachyptera alliacea is a shrubby vine, with numerous woody vines from the roots tht grow 2 to 3 meters to a shrub-like appearance. Leaves are ovate, up to 15 centimeters long, with acute tip, leathery, dull to bright green. Flowers are in clusters, borne at the axils of leaves. Petals are usually deep lavender, with a white throat that fade to a pale lavender, then to almost white.
Distribution
- Naturalized in the Philippines.
- Native to the Amazon rainforest.
- Grown as ornamental in towns and cities.
Constituents
- Leaves and flowers yield beta sitosterol, stigmasterol, daucosterol, and fucosterol.
- As in garlic, sulfur compounds are also found - alliin and various allyl sulfides.
Properties
- Leaves when crushed emit an odor of garlic, with a hint of onion.
- Considered analgesic, anti-inflammatory, anti-rheumatic, febrifuge, antitussive.

Parts used
Bark, roots, leaves.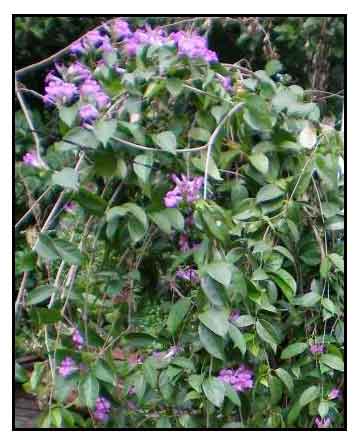 Uses
Edibility / Culinary
- In the tropics and Amazon rainforest, leaves are used as condiment or spice for its garlic flavor and odor.
Folkloric
- No reported folkloric medicinal use in the Philippines.
- Elsewhere, a common remedy for pain and inflammation of arthritis.
- Decoction or infusion of leaves used for colds, flu, fever.
- Cold maceration and tincture of roots used as whole body tonic.
- In the Amazon, bark poultice used on bumps, inflammatory swellings. Infusion of bark or leaves used for rheumatism, arthritis, colds, uterine disorders, inflammation and epilepsy. Root prepared in cane alcohol tincture used as whole body tonic. The Amuesha use a leaf tea to aid fertility.
- Stem and leaf decoction for baths to treat fever, influenza, rheumatism, and colds. Decoction of stem fragments used as external wash to treat fatigue, lameness, and lumbago.
- In Venezuela, used as an emetic.
- In Suriname, used for colds, fever, rheumatic complaints, vermifuge, and as tonic in the last month of pregnancy. Decoction and infusion of bark used for general weakness.
Others
- Ritual: Mayans used it in rituals. Used for good luck and to drive evil spirits away. Used by fishermen for purification, to ensure a good catch. Also used in baths to attrach wealth and prosperity. Shamans use it as an ingredient in hallucinogenic potions.

Studies
• Antibacterial: P. alliacea was one of nine common plants studies in India for antimicrobial activity. Eight of 9 plants, including P. alliacea inhibited the growth of the test microorganisms (Aspergillus niger, Staphylococcus aureus and Escherichia coli).
• Apoptosis / Anti-Breast Cancer: Methanol extract of A. alliaceum flowers was evaluatedfor growth inhibitory activity on estrogen receptor positive and estrogen receptor negative breast cancer cells by MTT assay. Results showed inhibition of both cancer cells through apoptosis induction, and suggests a potential pharmaceutical source of potent secondary anticancer metabolites.
Availability.
Wild-crafted.
Ajos sacha capsules.
Ingredient in herbal formulations for cold, flu, pain and inflammation.