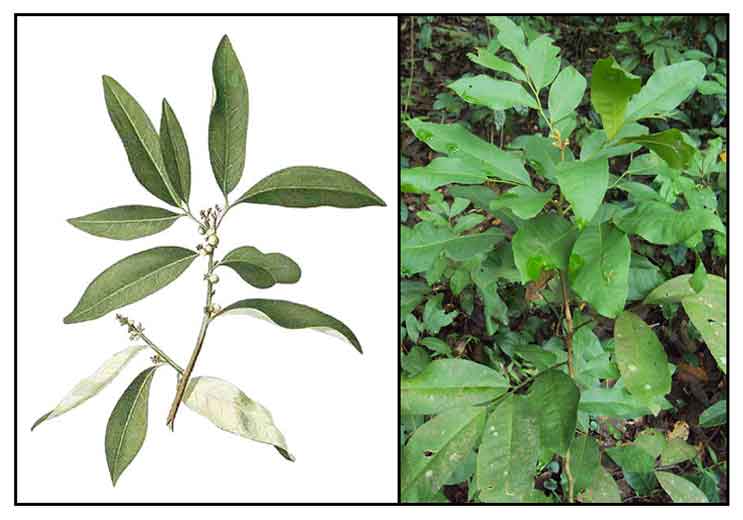 Botany
Gingging is a shrub growing 1 to 5 meters high. Leaves usually have 3 to 5 pinnately arranged leaflets, though these are sometimes reduced to one or two, all forms being often found on the same plant. Leaflets are oblong-lanceolate to lanceolate, 5 to 18 centimeters long, and 2 to 7 centimeters wide. Flowers are small, white, about 6 millimeters in diameter, borne in axillary, solitary or paired, interrupted, narrow, cymose panicles which are 5 centimeters long or less. Fruit is fleshy, pink or reddish, rounded, 1 centimeter in diameter, and contains a single nearly spherical seed which is about 4 millimeters in diameter. Mesocarp is fleshy and sweet.
Distribution
- In thickets and secondary forests at low and medium altitudes, ascending to 1,100 meters, from northern Luzon to Palawan and Mindanao, in most if not all islands and provinces.
- Also occurs in India to Indo-China and Malaya.
Constituents
- Study yielded carbohydrates, alkaloids, flavonoids, tannins and phenolic acids.
- Contains the active principle, glycosmin, a crystalline glucoside, present in traces throughout the plant, its greatest concentration found in the new leaves and buds where it reaches 0.2 per cent; in the mature leaves, it varies from 0.08 to 0.1 per cent.
- Leaves also yield a tannin, a phlobaphene, traces of salicin, and about 2.1 per cent of sugars (reducing and non-reducing).
- From the leaves, study isolated glycolone, a quinolone alkaloid. (2)
- From the root bark, study isolated carbazole and 3-methylcarbazole. (3)
- Stem extract yielded a new naphthoquine, glycoquinone, and a new acridone alkaloid, glycocitrine-III along with 12 known compounds. (15)

Properties
Glycosmin is slightly bitter.
Considered astringent, vermifuge, anti-inflammatory and expectorant.

Parts used
Stems, roots, bark and leaves.

Uses
Folkloric
- Bitter juice of leaves used for fevers, liver complaints and intestinal worms, especially in children.
- Stems and roots of plant used on ulcers.
- Paste of leaves, with a bit of ginger, applied to eczema and other skin diseases; also, applied over the navel for worms and other bowel disorders.
- Infusion of leaves given to women after delivery to induce appetite.
- Wood is used for snake bites.
- Used for cough, jaundice, inflammation, rheumatism and anemia.
- In Bangladesh, used to reduce blood sugar and to relieve pain.
- In traditional Indian medicine, used for jaundice and other liver afflictions.
Others
Toothbrush: In eastern Bengal, stems used as toothbrushes for its fibrous nature and slightly astringent and bitter quality.

Studies
• Anthelmintic: Study showed extracts from G pentaphylla roots showed potent anthelmintic activity on the earthworm, Pheretima posthuma, the methanolic extract with greater activity than the chloroform extract. (1)
• Hepatoprotective: Study evaluating the hepatoprotective activity of plant materials on Swiss albino rats with liver damage induced by CCl4 showed G. pentaphylla, B orellana, C caja, and C equisetifolia exhibited moderate dose-dependent protective effect evidenced by lowering of serum enzymes and supported by histopathological studies of liver tissue. (4)
• Antibacterial: Study of the methanol extracts of seven medicinal plants, including Glycosmis pentaphylla, showed moderate activity against all the tested organisms. (5)
• Sulfur-Containing Amides / Cytotoxicity: Chloroform extracts of G citrifolia and G elongata yielded a triterpene, four sulfur-containing amides (E-dambullin, Z-dambullin, E-methyldambullin and Z-methyldambulin) and two alkaloids (skimmianine and arborinine). The amides were strongly cytotoxic against a T-lymphoblastic leukemia cell line. (6)
• Antioxidant: Study showed the extract of leaves of G. pentaphylla and Bauhinia variegata inhibited free radical scavenging activity. The effect was attributed to flavonoids, phenolics and other phytochemical constituents. (7)
• Antipyretic: Study of ethanolic extracts of B. variegata and Glycosmis pentaphylla exhibited significant antipyretic activities in Brewer's yeast induced pyrexia in rats. Activity was attributed to inhibition of prostaglandin synthesis in the hypothalamus. (8)
• Antidiabetic / Analgesic: Study evaluated an ethanolic extract for antihyperglycemic and analgesic effects in Swiss albino male mice. Results showed an antihyperglycemic effect with blood sugar reduction more significant at 120 minutes, comparable to that induced by metformin. The extract also exhibited an analgesic effect comparable to diclofenac sodium. (12)
• Apoptosis Inducing Effect / Hepatocellular Carcinoma Cell Line: Study evaluated the in vitro anticancer and apoptosis inducing activity of G. pentaphylla in hepatocellular carcinoma cell line, Hep3 B. Results showed concentration and time dependent induction of apoptosis. (13)
• Anti-Diabetic / Anti-Arthritic / Stem Bark: Study evaluated the antidiabetic and anti-arthritic potential of an ethanolic extract of stem bark of G. pentaphylla. Results showed significant reductions in fasting glucose levels and inflammation observed in diabetic and arthritic animals. Observed increase in insulin levels was attributed to pancreatic ß cell regeneration. There was also significant improvement of hematologic parameters, including ESR. (14)
• Antinociceptive / Anti-Arthritic / Stem Bark: Study investigated a methanolic extract of leaves for anti-nociceptive activity. The extract produced an antinociceptive effect with significant inhibition of late phase formalin induced pain and significant decrease in the number of writhing. (16)
• Antimicrobial / Antioxidant / Cytotoxic / Leaves and Stems: A methanolic extract of stems showed moderate antioxidant activity, probably due to polyphenolic content. Both stem and leaves extracts showed moderate antimicrobial activity. The stems extract showed showed potent cytotoxic activity. Several antitumor alkaloids were identified. (17)
Availability
Wild-crafted.