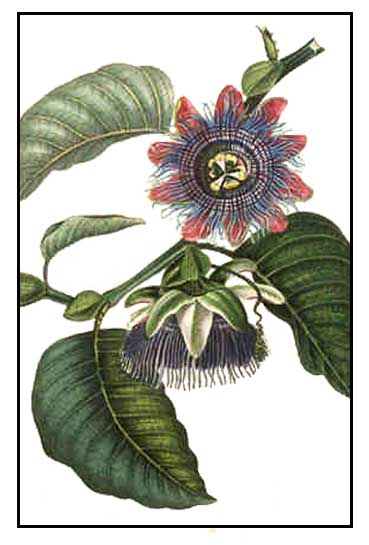 Gen info
When the Spanish missionaries invaded the New World, they saw the unusual Passiflora flower as a sign from God, a symbol of the mystery and passion of Jesus Christ. The friars names it flos passionis or Passion Flower. (12)
Botany
Granadilla is a stout, smooth, herbaceous vine, reaching a length of 10 to 15 meters. Stems are four-angled and narrowly winged. Leaves are entire, ovate to elliptic, 10 to 15 centimeters long, with pointed tip and broadly rounded base. Stalks bear scattered glands. Flower is large, solitary and fragrant; petals are reddish, the corona-filaments are violet. Fruit is large, fleshy, edible, ellipsoid, 15 to 20 centimeters long.

Distribution
- Cultivated in the Philippines for its fruit and as an ornamental vine.
- Introduced from tropical America.
- Now pantropic.

Constituents
- Phytochemical screening yielded alkaloids, glycosides, and flavonoids.
- Leaves produce hydrocyanic acid, 0.009 - 0.20 %, therefore poisonous.
- Contains flavonoids, essential oil in trace amounts, gynocardin (a cyanogenic glycoside), ß-carboline alkaloids, and a tri-substituted benzoflavone.
- Fruit and unripe seeds also contain hydrocyanic acid.
- Whole plant reported to contain norepinephrine and 5-hydroxytryptamine; the leaves, a cyclopropane triterpene glycoside, quadranguloside. Also, an angiotensin converting enzyme inhibitor and aldose reductase enzyme inhibitory. (8)
- Nutrient analysis per 100 g of edible portion ( analyses made in El Salvador) yielded: moisture 94.4 g, 78.4 g; protein 0.112 g, 0.299 g; fat 0.15 g, 1.29 g; crude fiber 0.7 g, 3.6 g; ash 0.41 g, 0.80 g; calcium 13.8 mg, 9.2mg; phosphorus 17.1 mg, 39.3 mg; iron 0.80 mg, 2.93 mg; carotene 0.004 mg, 0.019 mg; thiamine 0.003 mg (arils and seeds); riboflavin 0.033 mg, 0.120 mg, niacin 0.378 mg, 15.3 mg; ascorbic acid 14.3 mg (thick flesh); thick flesh and aril and seeds, respectively. (10)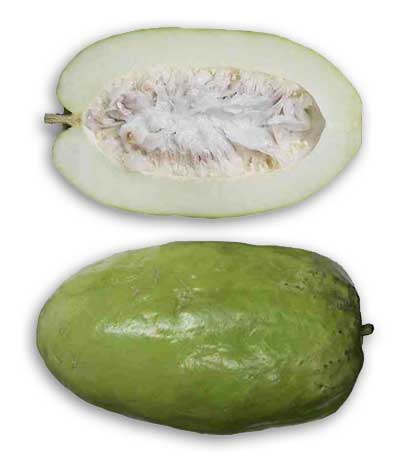 Properties
- Passion fruit is considered antispasmodic, sedative, narcotic.
- Considered analgesic, antiscorbutic, antispasmodic, astringent, diaphoretic, hypnotic, narcotic, sedative, and vasodilating.
- Root thought to be narcotic.
- Leaves considered poisonous because of its hydrocyanic acid.

Parts used
Roots, bark, flowers, fruit.
Toxicity
- Leaves, skin, and immature seeds contain a cyanogenic glycoside. Pulp contains passiflorine, which can cause lethargy and somnolence on excessive consumption. Raw roots reported to be emetic, narcotic, and poisonous. (10)
Uses
Edibility / Nutrition
- Eaten green as boiled vegetable; ripe, iced and sugared.
- Fruit contains vitamin C, citric and malic acids.
- High in niacin.
- Flowers cooked as a vegetable or made into syrup.
- Fruit wall is often candied.
- Used as ingredient in fruit salads, together with papaya, pineapple, and bananas.
- Used for making fruit juice.

Folkloric
- Skin of the fruit , bark of root, used for intestinal tapeworms and parasites.
- Used by traditional healers for snakebites. (6)
- Root used for narcotic properties.
- Used for bronchitis, asthma, and whooping cough. Also used as anthelmintic.
- In Mauritius, used as diuretic and emetic.
- In Guiana, used as vomitive and taeniacide.
- Indigenous tribes in the Amazon have long used the leaves for its sedative and pain-relieving properties; also, as a heart tonic and for coughs.
- In Brazil, several species of genus Passiflora (maracuja) have widespread use as sedative and anxiolytic.
- In Brazil, fruit is valued as antiscorbutic and stomachic. Flesh prescribed as sedative for nervous headache, asthma, diarrhea, dysentery, neurasthenia, and insomnia. Leaf decoctions used as vermifuge and used in bathing for skin afflictions. Leaf poultices used for liver complaints. Root use as diuretic, emetic, vermifuge. (10)
- In the Amazon, tea made from leaves of tumbo used as narcotic and sedative. (12)
- The Garifuna of Eastern Nicaragua use decoction of leaves of fever, rashes, and sores. In Columbia, leaf and branch decoction used in external baths for snake bites and extract of branches and leaves used for neutralizing effect against Bothrops atrox venom. (13)
- In Saint Lucia, leaves of babadinn crushed in water are used as good bath for the skin. In cases of fos couch, patients wrapped in blanket sit over a pan of boiling water to absorb the vapor, then babadinn mixed with lard is applied to the skin. (14)
Others
- Homeopathic medicine: Used for treatment of insomnia, epilepsy, tetanus and muscle spasms.

Studies
• Hemolysin / Cholesterol-Dependent Hemolytic Activity / Leaves: Hemolysins and cytolysins found in some plants are potential sources of bactericidal and anticancer drugs. Study demonstrated for the first time the presence of hemolysin in the leaves of P quadrangularis. The hemolysin was heat stable, resistant to trypsin, with dose-dependent hemolysin activity. Passiflora hemolysin is a saponin, with cholesterol-dependent membrane susceptibility, forming a stable complex with cholesterol, with rapid erythrocyte lysis kinetics. (3)
• Induction of Flavonoid Production by UV-B Radiation: Study evaluated the possible role of UV-B irradiation and elicitation on production of glycosyl flavonoids (orientin, isoorientin, vitexin, isovitexin) in Passiflora species (P. edulis, P. incarnata, and P. quadrangularis) in callus cultures. Among them, P quadrangularis showed a faster growth rate and more friable texture, and chosen for testing with elicitors. Callus-treated cultures showed more enhanced flavonoid production and higher antioxidant activity compared to untreated calluses. (4)
• Anxiolytic Effect: Study evaluated aqueous and hydroalcoholic extracts of P. quadrangularis for anxiolytic activity in rats using the elevated plus-maze, open field and holeboard tests. Results on the hydroalcoholic extract suggested anxiolytic activity. No positive results were seen with the aqueous extract. (5)
• Venom Neutralization: In a study of plants for neutralization of Bothrops atrox venom, Passiflora quadrangularis (leaves and branches) was one of 19 species, which in mixture, showed moderate neutralization (21-72%). When the extracts were independently administered by oral, IV or IP route, either before of after an i.d. venom injection, neutralization dropped below 25% for all extracts. (7)
• Antibacterial / Antioxidant / Leaves and Stems: Study evaluated the antioxidant and antibacterial activities of leaves and stems of Passiflora quadrangularis, P. maliformis, and P. edulis using petroleum ether, acetone, and methanol solvents. The methanol extract of P. quadrangularis showed the highest phenolic content and strongest antioxidant activity. Moderate inhibition was observed from the methanol and acetone extracts of P. quadrangularis against s. aureus and B. cereus. (11)

Availability
Wild-crafted.
Cultivated for its fruit and ornamental vine.
In the cybermarket: seeds, teas, infusions, tinctures and extracts.