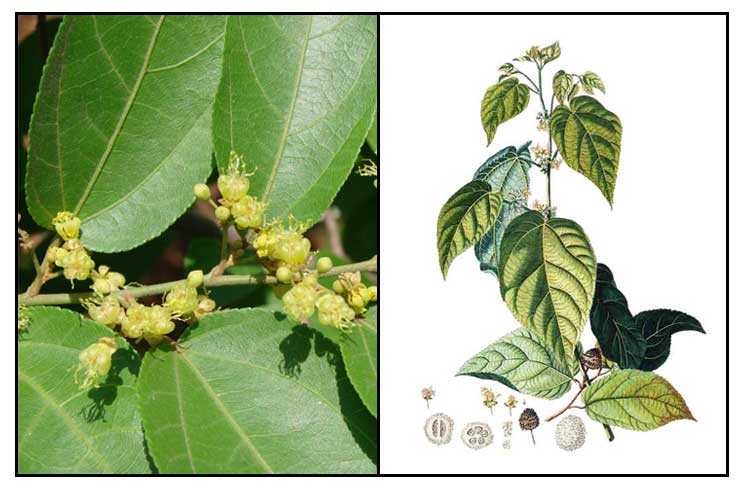 Botany
Guazuma is a tree growing to a height of 10 or more meters. Leaves are oblong to broadly ovate, 4 to 16 centimeters long, with pointed tip, rounded to heart-shaped base, and toothed margins. Flowers are small, yellowish-green or whitish, sweet-scented, and borne in axillary cymes. Fruit is a woody capsule, nearly spherical or oval, 2 to 4 centimeters long, covered with black tubercles resembling those of a mulberry, and imperfectly 5-valvate at the apex. Seeds are numerous in each cell.
Distribution
- Recently introduced into the Philippines.
- Garden cultivation.
Constituents
- Study yielded proanthocyanidins.
- Roots yielded a new dicoumarol, 3,3'-methylenebis(4,6-dihydroxycoumarin) along with known metabolites β-sitosteryl stearate, n-tetracosanoic acid, friedelin, friedel-1-en-3-one, β-sitosterol, 29-norcycloartanol, oleanolic acid, 3-O-acetyloleanolic acid, 6-methoxy-7,8-methylenedioxy coumarin, and methyl-3-acetyloleanolate.
Properties
- Bark is considered emollient, sudorific and astringent.
- Fruit is considered pectorant.

Parts used
Bark, fruit and other plant parts.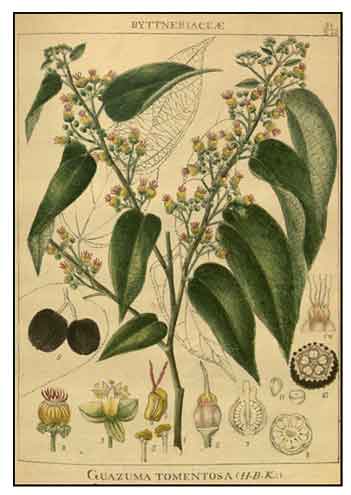 Uses
Edibility
- Seeds are edible, fresh or cooked.
- In some parts of India, capsules reportedly eaten as famine food.
Folkloric
- Bark and other plant parts used for malaria, cutaneous and syphilitic affections, elephantiasis, afflictions of the chest and leprosy.
- In Martinique, infusion of the old bark is considered sudorific and used for chest and cutaneous diseases.
- In the West Indies, the inner bark is used for elephantiasis; also as a sudorific.
- In the Antilles, the bark is mucilaginous and used for astringent applications.
- Fruit is considered pectorant and used for bronchitis.
- Beverage of crushed seeds soaked in water used for diarrhea, dysentery, cold, coughs, contusions and venereal disease. Also, used as diuretic.
- Used as topical remedy for hair loss and baldness.
- Reported use by Latino healers in NYC for uterine fibroids.
Others
Fodder: In many countries, an important source of livestock fodder.
Wood: Used for posts, general carpentry, light construction and charcoal.
Rope: Tough, fibrous bark and young stems used for making rope and twine.

Studies
• Anti-Diabetes: In a study in hyperglycemic rabbits of 28 medicinal plants, eight - including Guazuma ulmifolia - significantly decreased the hyperglycemic peak and/or the area under the glucose tolerance curve. (3)
• Radical Scavenging / Anti-Inflammatory / Gastroprotective: Study evaluated the gastroprotective effects of an aqueous suspension of an ethanolic extract of leaves and flowers of G ulmifolia in a diclofenac-induced acute gastric ulcer model. Pretreatment with GU or omeprazole decreased the ulcerated area in a dose-dependent manner. Results conclude the aerial parts of GU protect gastric mucosa from the injurious effects of NSAIDS mainly by anti-inflammatory and radical-scavenging mechanisms. (4)
• Antibacterial: A study evaluated 21 extracts from 7 herbal drugs, including G ulmifolia bar, for their antibacterial properties against E coli, P aeruginosa, S aureus and E faecalis. Almost all the extracts were able to inhibit growth of one or more bacterial strains, except that of E faecalis. (5)
• Proanthocyanidins: Proanthocyanidins from the bark has been shown to inhibit the activity of cholera toxin. (6)
• Hypotensive / Vasorelaxant: Study investigated the in vivo and in vitro cardiovascular activity of a procyanidin fraction (PCF) from the acetone extract of G ulmifolia. Results conclude that G ulmifolia bark possesses long-lasting antihypertensive and vaso-relaxing properties linked to endothelium-related factors where nitric oxide is involved. (7)
Availability
Wild-crafted.
Seeds, powders, teas, tinctures in the cybermarket.