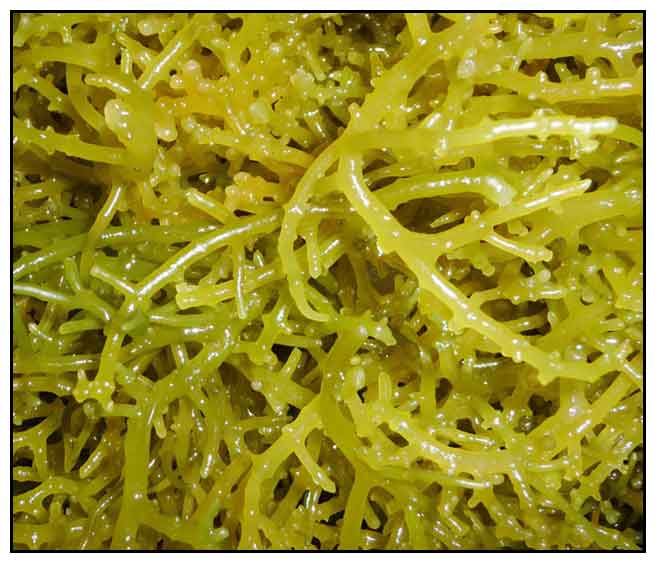 Botany
Gracilaria lichenoides is one of the most common edible alga, 15 to 25 centimeters high, rising from a peltate holdfast. Fronds are elongated, cylindrical, 2 to 3 centimeters in diameter at their thickest, gradually diminishing upwards, soft or subcartilaginous, smooth and irregularly and dichotomously branched. Color is purplish with a tinge of green when fresh, becoming yellowish white when dry. Branches are rather fastigiate, bare below, divided above with tapering branchlets, which are often forked at the apex with short divaricate segments. Fructications consist of small, stalkless, more or less spherical, slightly elongated bodies.
Distribution
- Common in the Philippines.
- Plentiful on rocks and sandy places.
- Also reported on the coast of the Indian Ocean, Burma, the Malay Archipelago, Java, and Australia.
Constituents
- Plant yields gelose, 60%; protein, 2.3%; fat, 0.1%; carbohydrate, 72.5%; galactose; fructose; pentose; iodine, 0.05%.
- Dried alga contains salts, such as sulfate and chloride of soda, and sulphate and phosphate of lime, and contains wax and iron.
- Study of elemental content yielded: calcium 3.33 mg/g, Mg 1.73 mg/g, Na 29.08 mg/g, K 4.46 mg/g, F 40.97 mg/g and carbohydrate 116.23 mg/g. (5)

Properties
- Pectoral and antidysenteric, emollient, demulcent and alterative.

Parts used and collection
- Entire plant.
- Two ways of collecting the alga: (1) by diving and (2) by picking them from shallow water at low tide.

Uses
Edibility
- Members of the genus are highly prized as foodstuff or for the agar content.
- One of the most common edible algae.
- Food: Blanch the entire plant and eat as salad. In Japanese cuisine, called ogonori or ogo.
- As decoction or jelly, used as a light and readily digestible for invalids and children.
Folkloric
- Used by Malays for cough and consumption.
- Poultice used for swollen knee joints and sores.
- Mucilaginous decoction and jelly extracted from the alga are used as pectoral and antidysenteric.
- In India, used as emollient, demulcent, and as alterative.
- Extracted jelly from strained mucilaginous decoction used for constipation.
- Used for intestinal and bladder difficulties, bladder irritation, menorrhagia,and leucorrhea.
- In China, used for treatment of chronic constipation with intestinal atony, tuberculosis of lymph node, tumor of thyroids, abdominal mass, edema, beriberi, testicular swelling.
- With its iodine content, useful in goitre, scrofula, etc.
- Good substitute for ising-glass.
- Decoction given for dysentery and diarrhea.
- Useful for pulmonary complaints.
Other
- Commercial agar-agar: Used in manufacture of commercial agar-agar.
Studies
• Pharmaceutical Biology of Seaweeds: Study showed grown seaweeds exhibited greater antibacterial activity than the green and red ones. In elemental composition, green seaweeds had higher Ca, Cr, and Pb; green seaweeds with highest Co, Cu, Fe and Zn; and red seaweeds highest in Cd, K, Mg and Na. (1)
• Chemical Structure of Agar Fraction: The chemical structure of the agar fraction of Gracilaria compressa, determined by C-NMR spectroscopy, consists of agarobiose, pyruvate agarobiose, and a low concentration of 6-O-methylated agarobiose repeating units. (3)
• Bioactivities: In various bioassay models, Gracilaria lichenoides exhibited an antihypertensive effect in rats and Gracillaria compressa showed allelopathic activity. (4)

Availability
- Wild-crafted.
- Sold in markets in sun-dried state.
- Capsules, powders, supplements in the cybermarket.