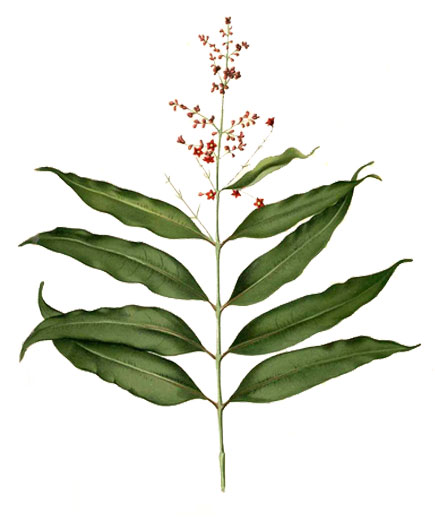 Botany
Guyong-guyong is a smooth, branched, small- to medium-sized tree, up to 20 meters high. Leaves are opposite, ovate, oblong or oblong-elliptic, 5 to 15 centimeters long, 3 to 7 centimeters wide, smaller at the apex, entire, pointed at the apex, blunt or rounded at the base. Petioles are very short. Flowers are red and small, borne on terminal or axillary panicles, 5 to 7 centimeters long. Fruit is smooth, dark reddish-brown, ellipsoid, about 1 centimeter long, subtended at the base by a persistent calyx, dehiscing apically into 3 parts, containing numerous small, thin, brown, winged seeds, each 5 millimeters long.
Distribution
- In thickets and secondary forests at low altitudes.
- Widespread in Luzon; Babuyan Islands, Catanduanes, Palawan, Masbate, Panay, Negros, Bohol, Leyte, Samar, Basilan, Mindanao.
- Endemic species.
- Cratoxylum sumatranum species is indigenous to Southeast Asia, including Burma, Indochina, Thailand, Malaysia, Sumatra, Java, Lesser Sunda Islands, Bornea, Philippines, and Sulawesi. (3)
Properties
- Considered galactagogue and abortifacient.

Parts used
Bark and leaves.

Uses
Folkloric
- Crushed leaves placed on the forehead and breast for colds.
- Internally, decoction of bark and leaves used as abortifacient.
- Decoction of bark used as galactagogue
Others
- Wood: C. sumatranum wood is used for interior construction and implements.
- Fuel: Wood used for fuel; also makes a good charcoal. (6)

Studies
• Note: No specific studies found on C. sumatranum subs. blancoi. Studies below are on Cratoxylum sumatranum and C. sumatranum subsp. neriifolium.
• Sumatraxanthone / Antioxidant / Rot Bark: Study of rot bark isolated a new xanthone, sumatranaxanthone A. Preliminary study showed antioxidative activity with ascorbic acid as standard.   (1)
• Xanthones and Vismione B: Study of leaves, twigs, and stem bark yielded six new xanthones, cratoxyarborenones A-F, along with known compound, vismione B, active constituents by fractionation using KB human cancer cell line cytotoxicity assay. (2)
• Cytotoxic Prenylated Xanthones: Study isolated six new xanthones, cratoxyarborenones A-F from the leaves, twigs, and/or stem bark of C. sumatranum along with known compound, visimone B, active constituents by bioassay-directed fractionation using the KB human cancer cell line cytotoxicity assay. (see constituents above) (5)
• Benzophenones and Xanthone / Antibacterial / Antioxidant / Roots and Twigs:Study of roots and twigs isolated two new benzophenones (1 and 2) and four new xanthones (4-6 and 17) along with 24 known compounds (3, 7-16 and 18-30). Compounds 5 and 26 showed antibacterial activity against Micrococcus luteus and Staphylococcus epidermis with MICs ranging from 4 to 8 µg/mL, while compounds 7, 20, and 26 showed selective activities against S. aureus, S. typhimurium, and P. aeruginosa. Compounds 11 and 21 showed potent activity against DPPH with IC50 of 7.0 ± 1.0 and 6.0 ± 0.2 µM, respectively. (7)
Availability
Wild-crafted.