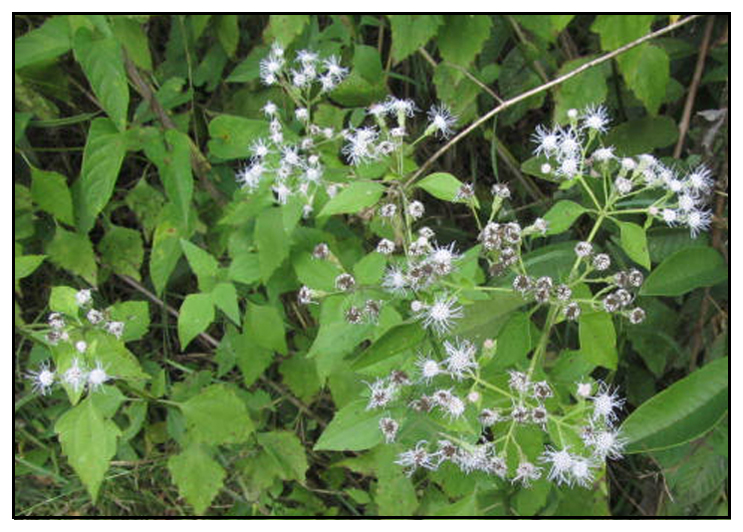 Botany
Hagonoy is a bushy herb or subshrub with long rambling branches, spreading into tangled dense thickets up to 2 meters high. Base of the plant is hard and woody while the branch tips are soft and green. Leaves are arrohead-shaped, 5 to 12 centimeters long and 3 to 7 centimeters wide, with three characteristic veins in a pitchfork pattern, growing in opposite pairs along stems and branches. Flowers are in clusters of 10 to 15, tubular, pale pink-mauve or white, 10 millimeters long, at the end of the branches. Seeds are dark, 4 to 5 millimeters, narrow and oblong, with a parachute of white hairs which turn brown as the seeds dry. (1)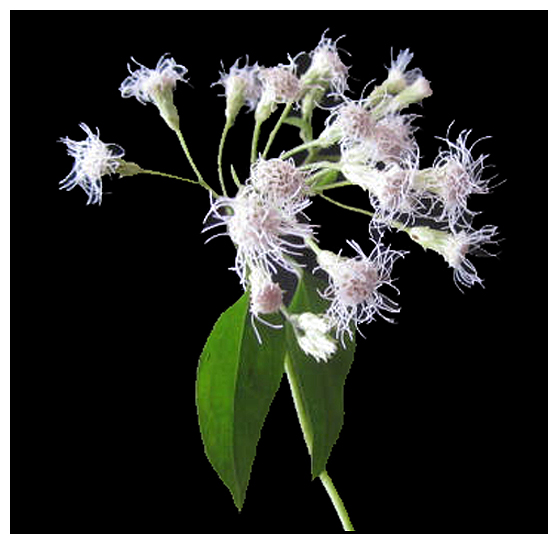 Distribution
- Introduced.
- Native to North America.
- Introduced to tropical Asia, west Africa, and Australia.

Constituents
- Aqueous and methanolic extracts of leaves yielded carbohydrates (1.10%), protein (24.08%), lipid (14%), fiber (50%), ash (10.98%), with an enery content of 220.20 kcal. Leaves were also a rich source of mineral elements such as Ca, Na, K, Fe, Mn, Zn, Cu, P, and Mg. Leaves also yielded alkaloids, flavonoids, saponins, cyanogenic glycosides, tannins, and phytic acid. (See study below) (2)
Properties
- Leaves are emit a pungent odor when crushed.

Parts used
Leaves, flowers.

Uses
Folkloric
- In the Philippines, crushed leaves used for "kulbebra," boils and tumorous inflammatory conditions.
- Concoction of juices of leaves and fruits of hagonoy, kalamansi, dilaw, dahon ng sili, mixed with apog (lime) and pulot (honey), used for skin diseases and boils.
- In many tropical countries, used to stop bleeding and wound healing.
- In Indonesia, young leaves are used to treat wounds.
- In Vietnam, aqueous extract of leaves used for the treatment of soft tissue wounds, burn wounds, and skin infections.
- In the Antilles, juices extracted from pounded leaves, mixed with honey, castor oil, and olive oil, used for colds and flu. Tea of leaves used for bles. (7)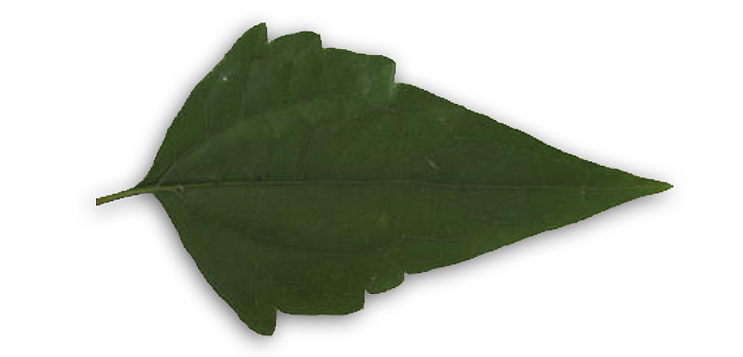 Studies
• Antimicrobial / Leaves / Food Supplement: Study of aqueous and methanolic extracts of leaves showed antibacterial effects against Bacillus subtilis, K. pneumonia, S. aureus, and antifungal activities against Candia albicans, Aspergillus Saccharomyces cerevisiae and Rhizopus sp. Results showed leaves could be a useful source of antimicrobial drugs as well as food supplement. (See constituents above) (2)
• Wound Healing : Study evaluated the molecular mechanisms for its wound healing and hemostatic activities. The weed extract promoted Balb/c 3T3 fibroblast migration and proliferation. Results showed accelerated hemostatic and wound healing activities by altering the expression of genes, including HO-1, TXA, and MMP-9. (3)
• Antioxidant / Leaves: Study of ethanolic and methanolic extract of leaves showed significant free radical scavenging activity against nitric oxide and hydroxyl radical. (4)
• Wound Healing / Eupolin: Study evaluated the effect of Eupolin extract on hydrated lattice contraction by human dermal fibroblasts, an in vitro model of wound contraction. Preliminary results showed the inhibitory effect of Eupolin extract on collagen contraction. It was postulated that synergistic properties of components of the natural extract contributed to the positive effects on various wound healing mechanisms. (5)
• Egg Yolk Colorant: Study evaluated the potentials of Chromolaena odorata leaf meal as possible egg yolk colorant and its effect on egg quality characteristics. Results suggest potential utility of C. odorata as possible egg yolk colorant for laying eggs, providing a possible alternative of subtle cultivation rather than eradication. (6)
• Antibacterial and Antioxidant / Leaves and Roots: Study of methanol and aqueous extracts of Eupatorium odoratum by GC-MS analysis yielded 17 major and 26 minor compounds with significant antibacterial, antioxidant, and other prophylactic activities. All fractions of leaf and root showed significant inhibitory activity against all bacterial pathogens tested, while flowers and stems did not show any activity. (7)
• Anti-Inflammatory / Leaves: Study evaluating an aqueous extract in rats using the carrageenan-induced edema, cotton pellet granuloma and formalin induced methods showed anti-inflammatory activity. (8)
• Antibiotic Synergism against ß-Lactamase Producing Bacteria: Study showed C. odorata exhibited in vitro interactions between penicillin G and the extracts with synergism against E col, while antagonism was seen in cephalosporin against Pseudomonas aeruginosa and Proteus vulgaris. Study evaluated the synergism of the extract and some antibiotics on resistance enzyme cleavage of ß-lactam rings mechanism in an effort to explore new bioactive molecules. (9)
• Anti-Inflammatory / Fatty Acids: Study evaluated the inhibitors of nitric acid production and NF-kB activity from Chromolaena odorata. Aerial parts yielded six fatty acids (S)-coriolic acid (1), (S)-coriolic acid methyl ester (2), (S)-15, 16-didehydrocoriolic acid methyl ester (4), linoleamide (5) and linolenamide (6). All compounds inhibited NO production; Compound 2 was the most active The fatty acid components in C. odorata with NF-kB inhibitory activity could explain the anti-inflammation property of this plant in traditional medicine. (10)
• Cytotoxicity: Study evaluated Chromolaena odorata, Lantana camara, and Euphorbia hirta for cytotoxicity.. Results showed potent concentration-dependent activity brine shrimp lethality. The observed lethality indicated the presence of potent cytotoxic and probably antitumor components. (11)

Availability
Wild-crafted.