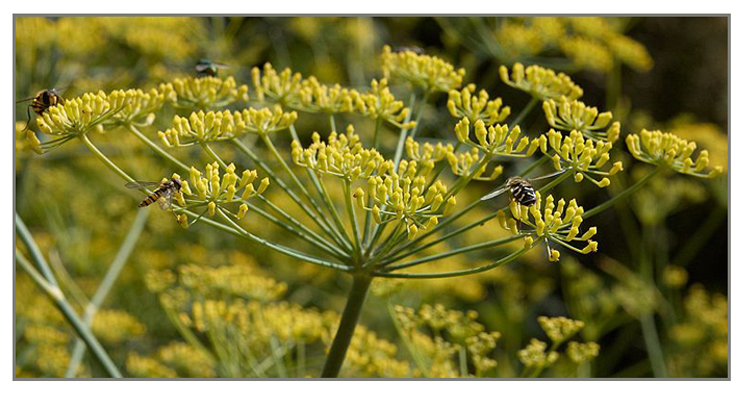 General info
- Fennel is an ancient seasonal herb, known to ancient Egyptians, Romans, Indians, and Chinese.
- Foeniculum vulgare is the oldest valid name within the genus Foeniculum. (33)
- Raw fennel has a pronounced and distinct taste, close to anise or licorice. In olden times, fennel has been used both as an appetite suppressant and digestive aid, to counter witchcraft, as a culinary garnish, and varied medicinal uses.
Botany
Haras is a biennial plant with a thick rootstock, erect, much-branched, smooth, often 1 meter or more in height. Leaves are 2-, 3-, or 4-pinnate and about 20 centimeters long; the segments are filiform and 2 to 4 centimeters long. Umbels are 5 to 10 centimeters in diameter; the rays number 8 to 15, about 2 to 3 centimeters long, but longer in fruit, each with 20 to 30, pedicelled, yellow flowers. Fruit is ridged, very aromatic, oblong or ellipsoid, about 5 millimeters long. Seeds are somewhat dorsally compressed.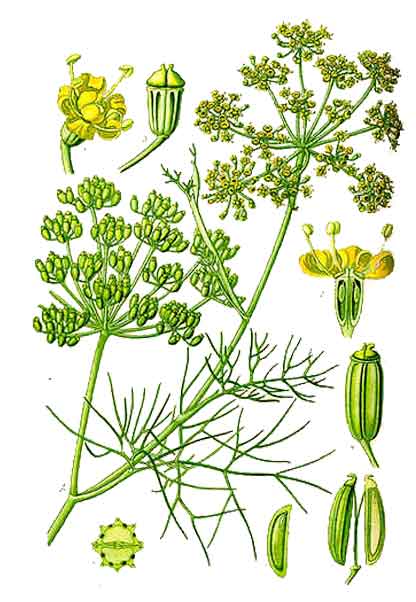 Distribution
- Planted here and there about houses.
- Nowhere spontaneous.
- Native of Europe.
- Now cultivated in all warm countries.
Properties
• Considered analgesic, anti-inflammatory, aromatic, emmenagogue, expectorant, hallucinogenic, stomachic.
• Warming, carminative, stomachic, antispasmodic, antidepressant, a weak diuretic, and a mild stimulant, galactagogue.
• Infused fruit considered carminative.
• Roots considered aperative and purgative.
• Shoots of young plants considered carminative and respiratory.
• Considered energizing, tranquilizing and anti-spasmodic.
• Studies have suggested antioxidant, cytotoxic, anti-inflammatory, antimicrobial, bronchodilatory, estrogenic, diuretic, emmenagogue, antithrombotic, hypotensive, gastroprotective, hepatoprotective, memory enhancing, and antimutagenic properties.
Constituents
• Fruit yields a volatile oil, 2.9% to 6%, 50 to 60 % of which is anethol; fixed oil, 8.9%; pectin, 1.3%; pentosan, 5.12%.
• The oil of fennel includes 50 - 60% anethol, also the chief constituent of anise oil and 18-22 percent fenchone. (Rodale's Encyclopedia of Herbs)
• Volatile oil yielded 35 components, the major component of which was trans-anethole (70.1%). An acetone extract yielded nine components (68.9%) with major components of linoleic acid (54.9%), palmitic acid (5.4%), and oleic acid (5.4%). (See study below) (16)
• The essential oil of fruits yields d-α pinene, camaphene, d-α phellanderin, dipentene, trans-anethole, d-fenchone, estragolefoeniculin, anisaldehyde and several alkaline compounds which cause its peculiar smell. (30)
• Study identified twenty-one fatty acids from leaves, inflorescences, stems and shoots: caproic acid, caprylic acid, capric acid, undecanoic acid, lauric acid, myristic acid, myristoleic acid, pentadecanoic acid, palmitic acid, heptadecanoic acid, stearic acid, oleic acid, linoleic acid, α-linolenic acid, arachidic acid, eicosanoic acid, cis-11,14-eicosadienoic acid, cis-11,14,17-eicosatrienoic acid + heneicosanoic acid, behenic acid, tricosanoic acid, and lignoceric acid. (33)
• In nutritional analysis of different fennel parts (shoots, leaves, stems, and inflorescence), carbohydrates are the most abundant macronutrients in all parts, ranging from 18.44 to 22.82 g/100g. Proteins varied between 1.08 g/100g in stems and 1.37 g/100 g in inflorescences. (33)
• The essential oil has been reported to yield more than 87 volatile compounds. The content of essential oil decreases with increasing maturity. A total of 28 components of essential oil were identified, accounting for 98.0% of the total oil. Principal compounds were trans-anethole (72.2%). estragole (7.6%), d-limonene (6.8%), and fenchone, that is, 3.9%. (33)
• GC-MS analysis for chemical composition of essential oils of fennel yielded hydrocarbons, alcohols, ketones, aldehydes, ethers, esters, other volatile oils, among others. Essential oil yielded 32 compounds, with high percentages of T-anethol, a-pinene, D-limonene, a-fenchone, and fenchol. (see study below) (39)
• Phytochemical study of Foeniculum vulgare subsp. piperitum hexane extract identified fatty acids, hydrocarbons, and sterols. A methylene chloride extract yielded furocoumarins imperatorin, psoralen bergapten, xanthotoxin, and isopimpinellin. An ethyl acetate extract yielded flavonoids isorhamnetin 3-O-a-rhamnoside, quercetin, and kaempferol. A methanol extract yielded quercetin 3-O-rutinoside, kaempferol 3-O-rutinoside, and quercetin 3-O-ß-glucoside. (see study below) (52)
• Phytochemical screening of leaves yielded alkaloids, tannins, saponins, terpenoids, flavonoids, and steroids. (see study below) (60)

Parts used
Whole plant, roots, seeds, oil of seed.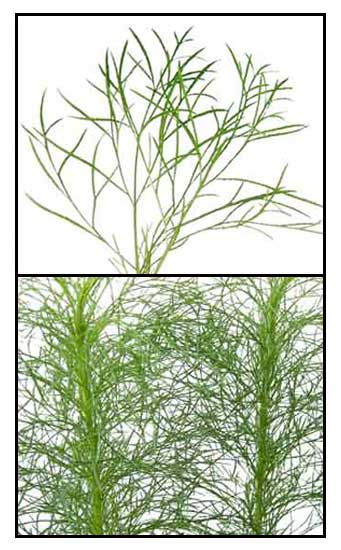 Uses
Culinary
- The fruit, seeds and young leaves are used for flavoring sweets, dishes and dainties.
- The young leaves, raw or cooked, used as flavoring.
- The seeds have an anise-like flavor; used in the preparation of salted meats.
Folkloric
- In the Philippines, infused fruit is carminative.
- Roots employed as aperative; also as purgative.
- Crushed fruit is inhaled to counter faintness.
- Infusion of fruit used for flatulence.
- Shoots of young plant used as carminative and respiratory.
- Juice of fruit used to improve eyesight.
- Decoction is gargled as a breath freshener or applied as an eyewash.
- Decoction of seeds help regulate menses.
- Used as diuretic and emmenagogue.
- Poultice has been used to relieve breast swelling in nursing mothers.
- Infusion of seeds used for stomatitis, abdominal cramps, colic, flatulence.
- Fennel water (aqua foeniculi) used for colic and flatulence in children.
- Hot infusion of fruit used for amenorrhea and suppressed lacteal secretion.
- Infusion of roots given for toothaches and postpartum pains.
- Hot infusion of roots given for amenorrhea
- Infusion of seeds used for flatulence in babies.
- Infusion of root used for urinary disorders.
- Oil used for flatulence.
- Oil of seeds used for intestinal deworming in 3-4 ml doses.
- Paste of seeds or fruit used in cooling drinks for fevers.
- Also used for increasing breast milk production, easing childbirth, soothing cough.
- Used to enhance libido.
- An ingredient of "gripe water" used for infantile colic.
- In Madras, fruits used for venereal diseases.
- In Mexico, decoction is used as galactagogue.
- In Antilles, used as a stimulant.
Cosmetic
- Infusion of ground seeds as a steam facial.
- Used as mouthwash and toothpaste.
- Used in skin-care products.
- Anticellulite massage oil: In a dark bottle, 8 drops of fennel, 8 drops of juniper, 10 drops of grapefruit, 5 tsps of sweet almond oil and 5 drops of jojoba oil; massage to affected area daily. (Illustrated Encyclopedia of Natural Remedies: C. Norman Shealy, MD)
Others
- Insect repellent.
- Crushed leaves used for dog fleas.

Preparation of infusion
• Infusion: Pour a cup of boiling water into 1-2 tsp of crushed seeds; cover and infuse for 10 minutes. For flatulence, take a cup, half an hour before meals.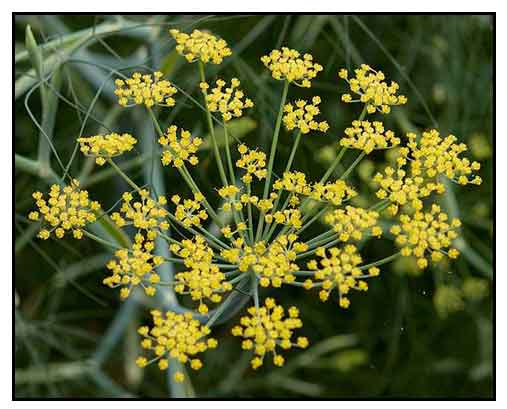 Studies
• Repellent: Mosquito repellent isolated from Foeniculum vulgare fruit: The fennel oil and E-9-octadecenoic acid are used as insect repellent components due to its lack of human toxicity. (2)
• Anti-Infantile Colic: A randomized, placebo-controlled study evaluated the effect of fennel (Foeniculum Vulgare) seed oil emulsion in infantile colic. Fennel seed oil reduced intestinal spasms and increase small intestinal motility. Study on fennel seed emulsion was superior to placebo in decreasing intensity of infantile colic. (3)
• Bronchodilator Effect: Relaxant effect of Foeniculum vulgare on isolated Guinea pig tracheal chains: Study showed bronchodilator effects of the ethanol extract and essential oil from FV. (4)
• Hepatoprotective / Fixed Oil: Study investigation the hepatoprotective effect of Foeniculum vulgare fixed oil in rats: Results indicate that FV fixed oil has a potential hepatoprotective action against induced liver fibrosis in rats. (5)
• Hepatoprotective / Carbon Tetrachloride Hepatic Damage / Essential Oil: Study evaluated essential oil of Foeniculum vulgare in hepatotoxicity in chronic carbon tetrachloride induced liver fibrosis model in rats. Histopathological findings suggested F. vulgare essential oil prevents development of chronic liver damage. (7)
• Anti-Dysmenorrhea: Study results suggest Foeniculum vulgare extract can be effective in reducing the severity of dysmenorrhea. (6)
• Oculohypotensive Activity / Glaucoma: Aqueous extract of Fv possess significant oculohypotensive activity, comparable to timolol. Further studies are warranted before Fv finds its place in the arsenal of antiglaucoma drugs. (9)
• Leaf and Seed Comparison: Comparative analysis of leaves and seeds of F. vulgare for bioactive compounds showed the leaves contained higher concentrations of fat and flavonoids, whereas the seeds were higher in saponins, proteins, amino acids, total minerals, and other organic compounds. (10)
• Antioxidant: The antioxidant potential of the herb might explain some of its empirical uses in folk medicine. The study found the shoots to have the highest radical-scavenging activity and lipid-peroxidation capacity in agreement with the highest phenolic and ascorbic acid contents in this part. The shoots also showed a high concentration of tocopherols and were the only part plants found to have flavonoids. (11)
• Anti-Hirsutism / Toxicity Studies: Idiopathic hirsutism is the occurrence of excessive male pattern hair growth in women with normal ovulatory menstrual cycle and normal levels of serum androgens. A double-blind placebo controlled study evaluated the clinical response of idiopathic hirsutism to topical Fennel extract. A 2% fennel cream showed better efficacy than 1% cream, and was more potent than placebo. (12)
• Antimicrobial: Study evaluated the antimicrobial effect of organic and aqueous leaves extracts of Foeniculum vulgare against S. aureus, P. aeruginosa, Enterococcus hirea, E. coli, and Candida albicans. All the extracts showed antimicrobial activity. The aqueous extract was more effective on Candida albicans.  (14) 
• Anti-Thrombosis / Essential Oil / Anethole: F. vulgare essential oil, and its main component anethole, showed safe antithrombotic activity that may be due to its broad spectrum of antiplatelet activity, clot stabilizing effect and vasorelaxant action. (15)
• Antifungal / Antioxidative: Volatile oil yielded 35 components, the major component of which was trans-anethole (70.1%). An acetone extract yielded nine components (68.9%) with major components of linoleic acid (54.9%), palmitic acid (5.4%), and oleic acid (5.4%). Both volatile oil and extract showed strong antioxidant activity. The volatile oil showed strong inhibition against Aspergillus niger, A. flavus, Fusarium grainearum and F. monoliforme. (16)
• Anti-Obesity / Fruits: Study evaluated F. vulgare fruit extracts in high fat diet fed albino rats for possible role in obesity and associated cardiovascular disorders. Results showed promising action against obesity and cardiovascular disorders. Results provide scientific rationale for folkloric use of F. vulgare in the treatment of obesity. (17)
• Anti-Obesity / Fruits: Study evaluated an aqueous extract of F. vulgare in experimental (PCOS) polycystic ovary syndrome in female rats. Results showed the extract had beneficial effect on renal function in PCOS rats. (18)
• In-Vitro Cytoprotection / Anti-Tumor: Study evaluated the in-vitro activity of methanolic extract of F. vulgare and Helicteres isora against human blood lymphocytes and antitumor activity against B16F10 melanoma cell line. F. vulgare showed good antitumor activity at 200µg/ml. F. vulgare can be considered to be both antitumor and cytoprotective to normal cells. (19)
• Anti-Diabetic / Essential Oil: Study evaluated the essential oil of Foeniculum vulgare for hypoglycemic effect and antioxidant activity in streptozotocin-induced diabetic rats. Essential oil corrected the hyperglycemia and pathological abnormalities in STZ-induced diabetic rats, partly through its antioxidative effect and restoring of redox homeostasis. (20)
• Volatile Secondary Metabolites: Study of root and schizocarp essential oils and diethyl ether extracts yielded 89 different components. The most abundant were phenylpropanoids (69.5-85.5%) and monoterpenoids (11.7 to 26.9%). Dominant volatile metabolites of the schizocarps were fenchone and (E)-anethole; the roots, terpinolene and dillapiole. (21)
• Herb/Drug Interactions / Pregnancy Concerns: Because of inhibition of cytochrome P450 3A4 (CYP3A4), pharmacokinetic parameters of drugs metabolized by this isoenzyme may be affected. A significant interaction between ciprofloxacin and F. vulgaris has been demonstrated. Also, because of estrogenic effect, use during pregnancy is not advised. (23)
• Decreased Oxidative Stress: Study of fennel extracts showed it can decrease the serum level of oxidative factors in female mice and can be introduced as a novel medicine for treatment of infertility.   (24)
• Infantile Colic / Seed Oil: A Randomized, placebo-controlled study evaluated the effectiveness of fennel seed oil emulsion in infantile colic. Results showed the use of fennel oil emulsion eliminated colic, according to the Wessel criteria, in 65% (40/62) of infants in the treatment group. No side effects were reported in the trial. (25)
• Anxiolytic / Fruit: Study investigated the anxiolytic activity of ethanolic extract of F. vulgare fruit by elevated plus maze, rota rod, open field, and hole board test models. Results suggest anxiolytic activity. There was also a skeletal muscle relaxant effect on the rota rod testing. (26)
• Apoptotic Induction / Cervical Cancer Line / Leaves: Study evaluated the apoptotic activity of crude methanolic extract of leaves in cervical cancer cell lines (HeLa). Results suggest apoptosis on cervical cancer cell line and inhibition of cell proliferation through DNA fragmentation. (27)
• Antioxidant / Immunomodulatory / Hematological Effects: Study evaluated the effect of a hydroalcoholic extract on some hematological indices in male rats. Results showed increased red and white blood cells probably due to the presence of polyphenols and antioxidant activity and reduced negative effect of free radicals on blood cells. (28)
• Pharmacological Effects / Fruits: Study showed the ethanol extract of ripe fruit contained ingredients that were active as diuretic, analgesic, antipyretic, antibacterial, and mitodepressive, with an active principle that enhanced bile flow. (29)
• Decreased Hair Thickness in Idiopathic Hirsutism in Women: A randomized, placebo-controlled clinical trial evaluated the effect of 3% fennel gel in decreasing hair thickness in idiopathic mild to moderate hirsutism in women. Results showed the 3% fennel gel was effective in treating idiopathic hirsutism and did not have notable side effects. The mechanism of action could be due to an anti-androgenic effect of trans-anethole and di-anethole. (30)
• Osteoprotective / Osteogenesis Effect: Study evaluated the effect of F. vulgare extract on proliferation and osteogenesis progress in human mesenchymal stem cells. Results showed the extract has osteoprotective effects through a positive affect on cell proliferation and mineralization. (31)
• Galactogenic Effect: F. vulgare has been used for millenia to increase milk secretion. Its main constituent, anethole, which has structural similarities to dopamine, seems to be responsible for its galactogenic activity. Dopamine inhibits the secretion of milk-producing hormone prolactin. (33)
• Potential Treatment for Female Infertility / Effect on Estrogen, Progesterone and Prolactin: Study evaluated the effects of fennel extracts on serum level of estrogen, progesterone,, and prolactin in female virgin albino mice. Data analysis showed a significant difference in mean levels of the hormones (p<0.001) compared with the control group. Results showed increase in serum levels of estrogen, progesterone and prolactin and suggest potential as novel medicine for treatment of infertility. (35)
• Effect on Folliculogenesis in Female Mice: Study evaluated the effects of F. vulgare extract on folliculogenesis in female albino mice. FVE induced folliculogenesis in female mice ovary and increased the number of growing ovarian follicles. The estrogenic compound of FVE, diosgenin, may be responsible for the effect. (36)
• Essential Oil / Antibacterial: GC-MS analysis of essential oil yielded yielded 32 compounds, with high percentages of T-anethol (15.1), a-pinene (11.4), D-limonene (5.6), a-fenchone (4.4), estragol (4.5), fenchyl acetate (4.7), and cis-anethol 7.5), among others. Aqueous extract of fennel showed antibacterial activity against Escherichia coli, Bacillus subtilis, and Pseudomonas aeruginosa, with no antifungal activity. (see constituents above) (39)
• Activity Against Spoilage Fungi / Seed: Study evaluated aqueous and alcoholic seed extracts of F. vulgare for antifungal activity against Alternaria alternata, Mucor rouxii and Aspergillus flavus. The aqueous extract of fennel seeds was found very effective against A. alternata, the alcoholic extract adequately effective against M. rouxii, and both were ineffective against A. flavus. Results suggest potential for the development of environmentally safer alternatives to protect spoilage of food products from pathogenic and lipolytic fungi. (40)
• Drug Interactions: (1) Birth Control Pills / Estrogen: Fennel might have some effects as estrogen, although not as strong as estrogen in birth control pills. Taking fennel with birth control pills might decrease the effectiveness of birth control pills. (2) Ciprofloxacin: Fennel might decrease how much ciprofloxacin the body absorbs. Fennel should be taken at least one hour after ciprofloxacin. (3) Tamoxifen: Fennel might decrease the effectiveness of tamoxifen (Nolvadex). (41)
• Management of Menopausal Symptoms: Fennel is often used in women's health care to treat dysmenorrhea, increased milk supply, and symptoms of menopause. Review reports on the current evidence on the efficacy of fennel for the management of menopausal symptoms. (42)
• Toxico-Pathological Studies / Aerial Parts: Study aimed to determine the LD50 of aerial parts of F. vulgare in albino mice, together with its toxico-pathological effects. Results showed an LD50 of Foeniculum vulgare juice was 9.772 mg/kbw. Histopathological changes included hepatocytic degeneration and necrosis, perivascular mononuclear cell infiltrations and peribiliary mononuclear cell aggregations, degenerated renal tubular epithelial cells, peribronchial congestion, among others. Results suggest F. vulgare juice is toxic to mice when administered in a dose of 9.772 mg/kbw. The recommended dose for treatment could be less than 0.98 ml/kbw (1/10 of LD50) of FV juice. (43)
• Effect on Behavioral Motor Disorders of Parkinson's Disease / Essential Oil: Study evaluated the effects of various doses of F. vulgare essence on behavioral motor dysfunction in reserpine-induced model of Parkinson's disease (PD) in ovariectomized and non-ovariectomized rats. Various doses of E) (50, 100, 200 mg/kg) significantly increased amounts of estrogen. Motor disorders of the treated groups were reduced. Results affirmed that essential oil of fennel improve Parkinson's in animal models. Author suggests further studies for effect of fennel EO on individuals with PD and postmenopausal women. (44)
• Effect of Feed Additive on Egg Quality: Study evaluated the effect of fennel as feed additive on egg quality of laying hens under heat stress. Results showed fennel fruit influenced egg yolk cholesterol and triglyceride contents, and because of antioxidant properties, it may alleviate the adverse effects of heat stress on laying hens. (45)
• Hepatoprotective / Seeds: Study evaluated the hepatoprotective activity of fennel seed extracts in 3-month old male Wistar rats. Results showed hepatoprotective effect as evidenced by reduction in increased levels of enzyme markers. Hexane extract showed more effectivity than methanol seed extract. A significant genotypic variation was observed in fennel genotypes for essential and fatty oil, constituents and phenolic contents. (46)
• Male Anti-Fertility Effect / Seeds: Study evaluated the anti-fertility effect of fennel seed extract in male rats. Results showed significant decrease in spermatogonia. The number of spermatocytes and sperm count decreased significantly, along with thickening of basement membrane, cell apoptosis, and irregular arrangement of the germinal epithelium. Study suggest the hydroalcoholic fennel seed extract can reduce reproductivity and has antifertility activity in male rats. (47)
• Immunomodulatory / Apoptosis Inducing Effects: Study evaluated the immunomodulatory and apoptosis-inducing effects of various fractions of F. vulgare. The dichlormethane fraction of F. vulgare showed capability of inducing apoptosis in activated lymphocytes, while the butanol fraction reduced cell activation and cytokine secretion. Results suggest further studies for its potential benefits on immune-mediated diseases. (48)
• Potential in Irritable Bowel Syndrome: Ancient writings have reported on the use of F. vulgare seeds in the treatment of IBS and other functional bowel disorders. IBS is the 2nd important cause of work absenteeism after common colds. In this study five patients were selected for FV treatment, using sugar coated FV seeds to chew and swallow after meals. Results showed marked improvement in measures of decreased visits, abdominal pain and spasm, excessive bloating and dependence on pain medications. Fennel seed extracts contain essential oils like trans-anethole and fechone which exhibit its spasmolytic effect through plant based Ca-channel blocker. It also has estrogenic and an adrenalin like effect. Study suggest fennel seeds has potential as adjunct therapeutic modality in refractory cases of IBS with significant overall improvement in quality of life. (49)
• Histological Study on Effect of Fennel on Mammary Glands: Study evaluated the effect of fennel on female Norwegian white rats' mammary glands in three physiological conditions i.e., virgins, pregnant, and lactating. Results showed increase in number of alveoli and slight expansion in cavities of alveoli's mammary glands for virgin and pregnant rats, expansion in cavities of alveoli's mammary glands for lactating rats, and slight increase in secretory substances for pregnant and lactating rats. (50)
• Effect of Fennel Seed Herbal Tea on Breast Milk and Growth Parameters of Infants: Study evaluated the effect of herbal tea containing fennel seed on breast milk sufficiency and growth parameters of Iranian infants. After four weeks, fennel significantly increased weight, head circumference, number of wet diapers, frequency of defecation, and number of breastfeeding times. There was no effect on height. Results suggest herbal tea containing fennel seed improved breast milk sufficiency signs. (51)
• Secondary Metabolites / Anti-Inflammatory / Antinociceptive: Crude hexane, methylene chloride, ethyl acetate and methanol extracts of Foeniculum vulgare subsp. piperitum showed antinociceptive and anti-inflammatory activity. (see constituents above) (52)
• Anticancer / Antibacterial: Study evaluated Foeniculum vulgare, J. adhatoda and U. dioica for antibacterial activity and anticancer effect against MCF-7 cell line. Ethanol extracts of the three tested plants exhibited growth inhibitory effect against K. pneumonia, S. marcescens, and Methicillin-resistant S. aureus. The ethanol extract of FV exhibited significant inhibition of cancer cell proliferation. (53)
• No Hypoglycemic or Hepatoprotective Effect / Seed Fixed Oil: Study evaluated Foeniculum vulgare fixed oil for hypoglycemic effect in mice and hepatoprotective effect on carbon tetrachloride induced injury in rats. Results showed no potent hepatoprotective or hypoglycemic action in the test animals. The LD50 of the seed fixed oil was 5.52 mL/kg. (54)
• Effect on Obesity and Cardiovascular Disorders / Fruits: Study evaluated F. vulgare fruit extracts in high fat diet fed albino rats for their possible role in obesity and associated cardiovascular disorders. Maximum activity was noted with the methanol fraction of the drug which contained maximum amount of phenolic (48.37 mg/g) and flavonoidal (21.44 mg/g) contents. The antioxidant compounds may play a vital role in management and control of obesity via their effects in natural antioxidant defense and lipid metabolism. However, other mechanisms may be involved in the observed activity. (55)
• Effect on Serum Estrogen, Progesterone and Prolactin / Seed: The seed has been used to promote menstruation, alleviate menopausal symptoms, and increase the number of ovarian follicles. Study showed the fennel extract can increase the serum levels of estrogen, progesterone and prolactin in female mice, and suggests a potential as a novel medicine for the treatment of infertility. (56)
• Antihyperglycemic / Analgesic / Seeds: Study evaluated the antihyperglycemic and analgesic properties of seeds of F. vulgare by OGTT and decreased abdominal writhings in intraperitoneally acetic acid-induced pain model in mice. Results showed dose-dependent reduction in blood glucose levels, with glibenclamide as standard. In analgesic testing, the extract significantly reduced the number of abdominal constrictions, with aspirin as standard. (57)
• Wound Healing: Study evaluated the wound healing activity of an aqueous extract of F. vulgare on Sprague-Dawley rats using an excision wound model. Vaseline was used as control, and Mupirocin as standard. Results showed significant decrease in wound area and % wound contraction. The ointment form showed healing property in 2% and 7% concentration. The wound healing effect may be due to reduction of inflammatory phase and reduction in reoccurrence of infection, along with the presence of tannins. (58)
• Blood Glucose Reduction / Comparison with Estradiol / Essential Oil: Study in rats compared the hypoglycemic effect of water-distilled essential oil and Estradiol valerate. Results showed FV essential oil at 250 mg/kg reduced blood glucose more than 500 mg/kg EO and Estradiol. Results suggest estrogenic activity and dose dependent effect. The effect of the essential oil on blood glucose may be due to trans-anethole. (59)
• Antioxidant / Antimicrobial / Leaves: Study evaluated various extracts of leaves for total phenolic content, total flavonoid content, antioxidant and antimicrobial activities. An aqueous:methanol (20:80) extract showed highest TPC (24.3 ± 0.99 mg GAE/g) and TFC (18.92 ± 0.34 µg CE/mg, along with highest DPPH radical scavenging activity (IC50 69.68 ± 2.28 µg/mL) and strongest reducing ability (0.82 ± 0.06 nm). A chloroform extract exhibited highest total antioxidant capacity. Of the extracts, the aqueous/methanol extract showed highest inhibition zone (8.74 ± 0.12 mm) against Bacillus megaterium. Results suggest a potential source of natural antioxidants in food preservation, as well as prevention of oxidative stress mediated human disorders. (60)

Availability
- Wildcrafted.
- Capsules, fennel oil, capsules or teas in the cybermarket.