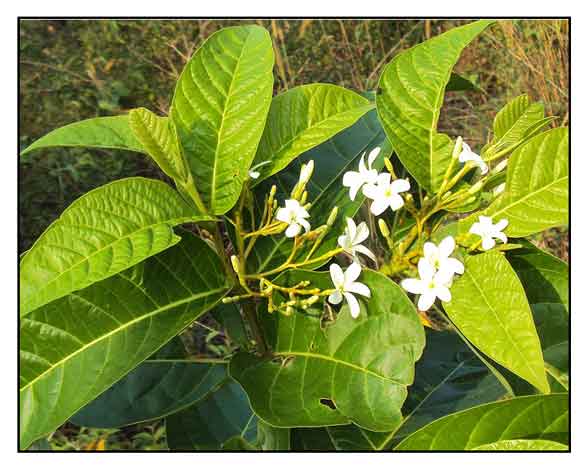 Botany
- Holarrhena antidysenteria is a deciduous shrub or small tree, growing to a height of up to 13 m., with a milky latex. Bark is gray to pale brown, peeling off in flakes. Leaves are o10 cm long and 4 to 10 cm wide, opposite, subsessile, elliptic, shiny on the upper surface, dull and hairy on the underside. Flowers are white, in terminal corymbose cymes, 2 to 3 cm high, 5-petaled, and mildly fragrant. Fruits are cylindrical, dark gray with white specks, occurring in pairs. Seeds are light brown, 0.5 to 1.5 cm. (28)
Distribution
- Introduced.
- Found in Asia, Africa, Madagascar, India and the Philippines. (3)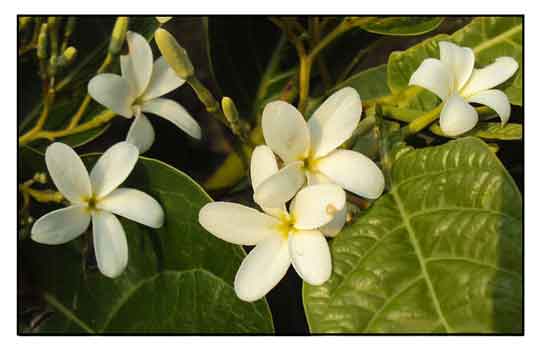 Constituents
- Phytochemical analysis revealed active ingredients in the bark: total phenols (7.51 ±0.12%), total flavonoids (0.19 ± 0.09%), total alkaloids (2.25 ± 0.06%) and tannins (8.61 ± 0.10%), which were higher than other plant parts studied. (3)
- Bark contains 2% alkaloids, namely conessine, conkurchine, kurchine, holarrhemine, holarrhenine, kurchicine, and conkurchinine. (4)
- Leaves yield alkaloids kurchiphyllamine and kurchiphylline.
- Phytochemical study of bark and seed yielded alkaloids, carbohydrates, amino acids, phenols, tannins, cardiac glycosides, saponins, flavonoids, terpenoids, steroids, fixed oils, and fat. Main bioactive compound was conessine. (18)
- GC-MS analysis of ethanolic extract of bark yielded 22 phytochemicals with dominant compounds of pregn-16-en-20-one, 3,18, bis(acetyloxy) (15.86%), 1-triethylsilyloxyheptadeccane (3.88%), 2H,6H-pyrano[3,2-b]xanthen-6-one,5,9,10 (3.17%), dlalpha-toccopherolsuccinate (4.06%). (28 )
- Qualitative phytochemical study of roots yielded carbohydrates, alkaloids, proteins and amino acids, tannins and phenolics, steroids, saponins. (29)
- Study of seeds isolated three known pentacyclic triterpenoids, namely: lupeol, betulinaldehyde, and betulinic acid and a steroidal compound, stigmasterol. (31)
- Study of bark isolated four steroidal alkaloids, namely: conessine (1), isoconessimine (2), conessimine (3), and N-3-methylholarrhimine (4), along with one coumarin, scopoletin (5). (see study below) (37)
- Study of bark yielded three compounds, pubadysone [11 alpha-hydroxy-18,20-oxido-3-oxo-pregna-1,4,17(20)-triene] (1), puboestrene [3-acetoxy-17-oxo-1,3,5(10)-estratrienel (2) and pubamide [3,18-dioxo-11 alpha-hydroxycona-1,4-diene] (3). (38)
- Bioassay directed fractionation of ethanolic extract of H. pubescens isolated steroidal alkaloids i.e., holamide and pubescinine. (see study below) (41)
- Phytochemical screening of ethanolic extract of leaves yielded alkaloids, steroids, terpenoids, tannins, flavonoids, saponins, glycosides, carbohydrates, phytosterols, and proteins. (see study below) (42)
Properties
- Bark is considered astringent, anthelmintic, antidontalgic, stomachic, febrifuge, diuretic.
- Studies have shown antioxidant, anti-inflammatory, antimicrobial, antidiabetic, antihyperlipidemic, gut stimulant and relaxant, antidiarrheal, antidysenteric, antimalarial, analgesic, antiurolithiatic, wound healing, anticancer properties.

Parts used
Bark, seeds, leaves, flowers.



Uses
Edibility
- Flowers used by tribal community in Jawhar; boiled and cooked as vegetable. (16)
Folkloric
- Bark used as astringent, anthelmintic, stomachic, febrifuge, diuretic. Used for piles dyspepsia, chest infections, amoebic dysentery. (3)
- In India, seeds are used as antidiabetic remedy. In Uttar Pradesh, bark used for gastric problems. In Andhra Pradesh, stem bark used for skin diseases. (4) Decoction of bark used for treatment of diabetes. (39)
- Fresh bark used to treat acute dysentery. Roots boiled in milk used as antidote to snakebite and to treat venereal disease. Infusion of roots used to stimulate milk production. In Southern Africa, infusion of powdered roots used for constipation, abdominal pains, asthma, infertility, and as aphrodisiac and abortifacient. Powdered toots and leaves used to arrest postpartum bleeding and nosebleeds. In India bark and leaves topically applied to piles, boils, ulcers, and scabies.(13)
- In Kenya, leaves pounded in water used for stomachaches. (13)
- In Mozambique, roots macerated in water or decoction drunk for stomachaches, vomiting and venereal disease; applied locally for earaches.. (40)
Others
- Ritual: In the Odisha state of India, during the Nabanna festival, leaves of the plant along with rice is a traditional offering.. (9)
- Agroforestry: Quickly invasive. May have potential use for reforestation of deforested land. In India, plant used for inter cropping with field crops. (24)
- Dye: Leaves yield a dye similar to henna. (24)
- Wood: Wood is moderately soft and white, turning yellow or pinkish with age, fairly durable. Used for turnery, carving, making small items such as combs, picture frames, boxes, toys, walking sticks. Wood may be used as mordant. (24)
- Seeds: Floss from seeds used for stuffing pillows. (24)

Studies
• Antidiabetic / Antihyperlipidemic / Seeds: Studies of aqueous, petroleum ether and methanolic extracts of Holarrhena antidysenterica seeds have shown anti-hyperglycemic and anti-hyperlipidemic activities at dosage of 250 mg/kbw in rats. In another study in rats, a methanolic extract of seeds moderately protected against STZ-induced diabetes. The antidiabetic property was attributed to quercetin. (4)
• Acute Oral Toxicity / Leaves, Seeds: Study for acute oral toxicity showed all extracts of seeds were found to be safe up to 2000 mg/kbw in rats. Leaves were found safe up to 2000 mg/kg single dose in rats. (4)
• Sustainable Bark Reharvesting: The high worldwide demand for the bark has led to destructive harvesting and depletion of a valuable source for medicinal plants. Study reports on bark regrowth factors of site differences, season and microclimate. Sustainable bark reharvesting can be done after every 18 months by extracting opposite strip of the trunk bark. Sustainable bark harvesting techniques can conserve and sustainably utilize the resources. (5)
• Gut Stimulant and Relaxant Activities: Study evaluated a hydroalcoholic crude extract of Holarrhena antidysenterica and fractions in various gastrointestinal isolated tissue preparations. Results showed gut stimulant and relaxant activities possibly mediated through activation of histamine receptors and Ca)++) channel blockage, respectively.. Study provides mechanistic background for its usefulness in gut motility disorders such as constipation, colic, and possibly diarrhea. (7)
• Antidiarrheal and Antidysenteric Activities / Inhibition of Binding to VP6 Capsid Protein: Ethnographic and pharmacological studies indicate that H. antidysenterica may be effective for treatment of diarrhea and dysentery and other enteric pathogens. Molecular docking studies of three plant phytochemicals i.e., conessine, holarrhenine, and kurchessine, show they can bind to VP6 Capsid Protein of rotavirus and possibly inhibit entry in human cells. Rotavirus is a major causative agent of diarrhea in Bangladesh. (8)
• Antimalarial / Plasmodium berghei: Study evaluated the antimalarial effects of two plants i.e., Holarrhena antidysenterica and Viola canescens, plants traditionally used against malaria in the Garhwal region of northwest Himalaya. The chloroforms extracts of HA and the petroleum ether extract (PE) of VC significantly reduced parasitemia in Plasmodium berghei infected mice. The HA extracts showed in-vitro anti-plasmodial activity with IC50 of 5.5 µg/ml using pLDH assay and ED50 of 18.29 mg/kg in P. berghei infected Swiss albino mice. (10)
• Analgesic / Leaves: Study evaluated various extracts (petroleum ether, chloroform, ethanolic) of H. antidysenterica for analgesic activity in albino mice using acetic acid induced writhing method. The ethanolic extract showed significant analgesic activity comparable to standard drug aspirin. (11)
• Antihyperglycemic / Seeds / Case Study: This case study of a newly diagnosed diabetic with severe hyperglycemia with post-prandial blood sugar >500 mg/dl treated with 10 gm of Indrayava (H. antidysenterica. Results showed reduction of fasting and post prandial blood sugar with glycosylated hemoglobin after 48 hours administration of HAS, along with reduction of elevated triglyceride. The seed extract may have potentiating action on ß cells of islets of stimulation of blood glucose uptake by peripheral tissue or inhibition of endogenous glucose production or activation of gluconeogenesis in the liver and muscles. A randomized controlled clinical trial was suggested. (12)
• Antibacterial / Bark, Seed, Callus: Study evaluated the antibacterial effects of bark, seed, and callus extracts of H. antidysenterica. All three extracts exhibited nearly similar potential for antibacterial activity against test pathogens viz. Staphylococcus aureus, Salmonella typhimurium and Escherichia coli. (14)
• Restoration of Antibiotic Efficacy / Steroidal Alkaloids and Conessine: Study evaluated the efficacy of combinations of steroidal alkaloids and conessine from H. antidysenterica with antibiotics against Pseudomonas aeruginosa strains possessing different efflux pump-mediated multidrug-resistant (MDR) phenotypes in a Galleria mellonella infection model. Alone, the steroidal alkaloids had not inhibitory action. Combination therapies of conessine or steroidal alkaloids with levofloxacin restored the efficacy of the antibiotic in vivo against mellonella larvae. (15)
• Antibacterial / Stem Bark: Study evaluated various extracts of H. antidysenterica stem bark for antibacterial activity against E. coli, S. aureus, and S. typhi. Staphylococcus aureus was more susceptible to the water and ethanol extracts. (17)
• Antiurolithiatic / Purified Polyphenols: Study screened four plant species (Holarrhena antidysenterica, A. sessilis, S. nigrum and C. asiatica) for polyphenolic content and effect on the formation of renal calculi. Studies showed significant nucleation inhibition of all types of crystals. A substantial dissolution of CaOx and CaP kidney stones were observed in the PAEs and chromatography eluates of Holarrhena antidysenterica and Solanum nigrum. Results showed significant antiurolithiatic activity of purified polyphenols present in HA and SN. (19)
• Antioxidant / Leaves: Study evaluated the antioxidative potential of methanolic leaf extract of H. antidysenterica using hydroxyl radical, superoxide anion scavenging, and reducing power assays. Results showed antioxidant activity that increased in a concentration-dependent manner. Extract showed significant reactive oxygen species (ROS) scavenging activity in all the in-vitro assays and contained high total phenolic content. (20)
• Antimicrobial / Anti-Enteric against MDR Salmonella typhi: Study screened 54 plant extracts (methanol and aqueous) for activity against multi-drug resistant Salmonella typhi. Methanol extract of Holarrhena antidysenterica was one of those that showed strong antibacterial activity. (21)
• Analgesic / CNS Depressant / Stem: Study evaluated various extracts of H. antidysenterica for analgesic and central nervous system depressant effects. Analgesic effect was evaluated using acetic acid induced writhing and hot plate methods and CNS depressant effects by open field, hole cross and head deep tests. All extracts showed significant (p<0.01, p<0.001) analgesic and CND depressant effect. (22)
• Endophytic Pestalotiopsis / Antihypertensive / Antibacterial: Pestalotiopsis species were the most dominant endophytic species isolated from four medicinal plants viz. Holarrhena antidysenterica, T. arjuna, T. chebula, and A. indica. Pestalotiopsis extracts exhibited anitoxidant, antihypertensive, and antibacterial activities. Results suggest potential for studies as therapeutic targets. (23)
• Antidiarrheal / Seeds: Study evaluated an ethanolic extract of seeds for antidiarrheal effect against castor oil and Escherichia coli induced diarrhea. Results showed significant (p<0.05) reduction of severity of castor oil induced diarrhea, with effectiveness similar to loperamide. An antidiarrheal effect in the E. coli model suggests the HA extract is effective against noninfectious as well as infectious diarrhea. (25)
• Antidiabetic / Antioxidant / Stem Bark: Study evaluated various extracts of stem bark of H. pubescens for antidiabetic and antioxidant potential. A methanolic and water extract showed strong antioxidant activity with greater than 90% inhibition of DPPH free radicals. The methanol extract showed significant hypoglycemic activity partly attributed to flavonoids and phenolic components. (26)
• Antidiabetic / Hypolipidemic / Amelioration of Oxidative Stress / Leaves: Study evaluated the antihyperglycemic activity of a flavonoid -rich ethyl acetate fraction of HA leaves in STZ-nicotinamide induced type2 diabetes in rats. There was a significant decrease in fasting blood glucose and glucose tolerance, lipid profile, total proteins and serum albumin, along with significant improvement in glycosylated Hb, oxidative stress parameters of the kidney and liver. Histopath studies of kidney and pancreatic tissues showed structural improvement. (27)
• Antidiabetic Effect / Toxicity Study / Seeds: Study evaluated the efficacy of ethanolic extract of HA seeds in STZ-induced diabetic rats. In acute toxicity study using OECD/OCED guideline 425, no toxic symptoms were observed up to 3000 mg/kg. Oral administration of the extract for 28 days exhibited highly significant (p<0.01) hypoglycemic activity. (30)
• Antibacterial / Enteropathogenic E. coli / Bark: Study of methanolic bark extract showed antibacterial activity against enteropathogenic Escherichia coli (EPEC) with MIC of 2.0 gm/10cc. (32)
• Inhibition of Human Oral Squamous Cell Carcinoma Cells Growth and Osteoclastogenic Activity / Bark: Oral squamous cell carcinoma (OSCC) often invades mandibular bone. Treatment with • methanol extract of H. antidysenterica bark inhibited cell viability and BrdU incorporation and induced apoptotic cell death in Ca9-22 gingival and HSC-3 tongue SCC cells. The bark extract showed inhibitory activity on growth of OSCC cells and antiosteoclastogenic activity. Results suggest a promising alternative and complementary agent for preventing and treating OSCC. (33)
• Diuretic Activity / Seeds: Study evaluated crude extract of seeds and fractions for diuretic activity in Wistar rats. The crude extract caused dose-dependent (30 mg and 100 mg/kg) increase in urine output, along with increased urine Na and K, suggesting a diuretic effect mediated through increased electrolyte secretion. None of the fractions exhibited diuretic effect similar to the crude extract. (34)
• Conessine / Resistance-Modifying against Drug-Resistant A. baumannii: The emergence and spread of antibiotic-resistant Acinetobacter baumannii has become a major public health concern. Study evaluated the efficacy of HA extract and its major steroidal alkaloid conessine as resistance modifying agent (MMA) on the susceptibility of A. baumannii to novobiocin and rifampicin. Study showed a significant synergistic activity of both extract and conessine with novobiocin or rifampicin with fractional inhibitory concentration index of ≤0.5. Results suggest potential for HA and conessine as RMA to restore antibiotic susceptibility in extensively drug-resistant A. baumannii. (35)
• Monoherbal Formulation compared with Mesalamine in Chronic Ulcerative Colitis Patients / Clinical Study: This randomized single blind parallel group study compared monoherbal formulation of H. antidysentrica extract with Mesalamine in chronic ulcerative colitis patients with emphasis on side effects and relapse. Treatment with herbal tablet alone and in combination with Mesalamine significantly reduced stool infection. Patients treated with the drug alone did not report any side effects, relapse, or complications while 50% of Mesalamine treated patients exhibited relapse with diarrhea and flatulence after drug withdrawal. Monoherbal formulation alone or with Mesalamine was more efficacious than Mesalamine alone. (36)
• Acetylcholinesterase Inhibitory / Anti-Inflammatory / Bark: Study of bark isolated four steroidal alkaloids and one coumarin. Subjected to acetylcholinesterase inhibitory testing, the steroidal compounds showed inhibitory activity with IC50s in range of 0.12 to 20.08 µM while the coumarin showed an IC50 of 73.50 µM. Steroidal alkaloids 3 showed best activity with IC50 of 0.12 ± 0.03 µM. Compound 2 showed 43.6% inhibition of NO production, with cytotoxicity of murine macrophage at concentration of 100 µM. All compounds showed no antioxidant activity. (see constituents above). (37)
• Hypotensive Alkaloids / Holamide and Pubescinine: Bioassay directed fractionation of ethanolic extract of H. pubescens isolated steroidal alkaloids i.e., holamide and pubescinine. In anesthetized rats, the compounds caused a fall in blood pressure in a dose-dependent manner.. Pretreatment with atropine abolished the hypotensive response of acetylcholine but did not abolish the hypotensive effect of holamide and pubescinine. Results suggest the compounds mediated a hypotensive response through a mechanism different to that of acetylcholine. (41)
• Wound Healing / Herbal Gel / Leaf: Study evaluated the wound healing effect of an ethanolic extract of leaves using an excision wound model in rats. Results showed faster rate of wound healing. Povidone-iodine ointment (5% w/w) was used as reference standard. (42)
Availability
- Wild-crafted.
- Seed extracts, bark powder, tinctures in the cybermarket.