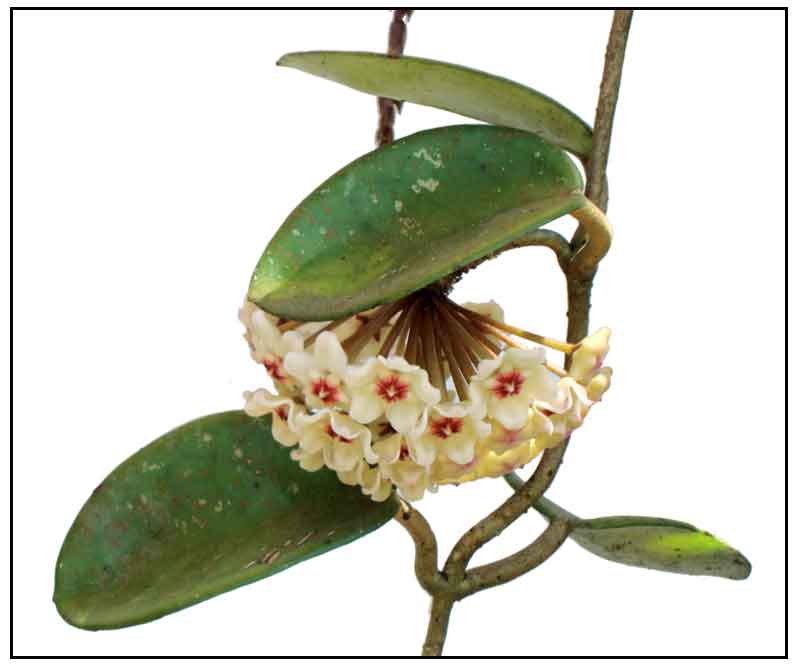 Gen info
- A total of 17 Hoya species are reported to occur in the island of Lawanda Philippines of which 11 are endemic. (15) In the Mindoro Island 18 species were reported, 15 of which are endemic. (16)
- Hoya carnosa has been in cultivation for more than 200 years, with many cultivars that vary in foliage form or flower color.
- The genus Hoya was named by Robert Brown, a Scottish botanist and paleobotanist.
- A genus of about 200-300 species, Hoya was earlier placed in the milkweed (Asclepiadaceae) family. Current taxonomy place the genus under the dogbane (Apocynaceae) family. (12)
- In 2017, it was given the UK Royal Horticultural Society's Award of Garden Merit. (10)
Botany
Hoya is a semi-woody, succulent perennial climbing vine. Leaves are glossy, waxy, succulent and grayish green, elliptic to broad-oval, up to 20 centimeters long. Flowers are heavily fragrant, in umbels, 3 to 5 inches in diameter, pinkish-white with a red star-shaped crown. Pods are long and thin, opening to release seeds similar to dandelion.
Distribution
- Indigenous to Australia, China and the Philippines.
- Ornamental cultivation.
- Popular as a hanging pot plant.

Constituents
• Flowers yielded volatile compounds, viz., methyl butanal, ethylbenzene, o-xylene, p-xylene, benzaldehyde, 6-methyl-5-heptan-2-one, benzyl alcohol, linalool, 2-nonen-1-ol, phenylethylalcohol and 2-(E)-noneal.
• Stem yielded oligosaccharides A, B, and C (1-3) established as 6-deoxy-3-O-methyl-β-allopyranosyl(1-->4)-β-cymaropyranosyl (1-->4)-β-cymaropyranosyl(1-->4)-β-cymaronic acid δ-lactone (compound 1) and 6-deoxy-3-O-methyl-β-allopyranosyl(1-->4)-β-oleandropyranosyl+++(1-->4)-β-cymaropyranosyl(1-->4)-β-cymaronic acid δ-lactone (compound 2). Compound 3 was the sodium salt of compound 2. (6)
Properties
- Fragrance of flowers increase at night. (see study below: 13)
- Flowers may produce excess nectar that may drip.
- Studies have suggested anti-aging, air-purifying, antibacterial properties.
Uses
Folkloric
• No reported folkloric medicinal use in the Philippines.
Others
• Perfume: Scented flowers reportedly used in making perfume.
• Air-purifying plant: See study below. (1)
• Food: Leaves used by caterpillar as pod source.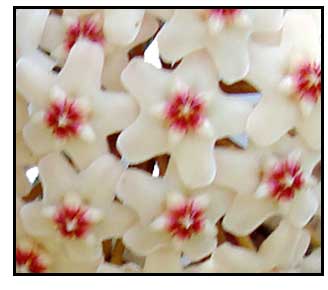 Studies
• Volatile Compounds: Study isolated volatile compounds from the flowers of Hoya carnosa: methyl butanal, ethylbenzene, o-xylene, p-xylene, benzaldehyde, 6-methyl-5-heptan-2-one, benzyl alcohol, linalool, 2-nonen-1-ol, phenylethylalcohol and 2-(E)-noneal. (2)
• Air-Purifying Plant: In a University of Georgia study, Hoya carnosa was shown to be good at absorbing VOCs. VOCs are volatile organic compounds, contaminants emitted by various common household items. More than 300 have been identified – carpets, wood panels, paints, pets, formaldehyde, benzene and toluene from old books, newspapers, waxes and adhesives. (1)
• ADPglucose Pyrophosphorylase: ADPglucose pyrophosphorylase from Hoya carnosa and Xerosicyos danguyi were partially purified for their regulatory and kinetic properties. The ADPglucose synthesized by the enzymes was found to be the most effective donor of the glucosyl portion to alpha-glucan primer in starch synthase reaction observed in CAM plants. (1)
• Hemolytic Crises Caused by H. Carnosa in G6PD Deficiency: Study reports a hemolytic crises caused by contact with Hoya carnosa in a 45-year old woman with G6PD deficiency. (7)
• Use for Anti-Aging Benefits / Patent: Patent application relates to the incorporation of Hoya carnosa extracts and their use to reduce fine lines and wrinkles, improve sagging skin, enhance lifting, and improve skin tone and to improve overall appearance by increasing epidermis thickness and stimulating collagen, and/or inducing lipogenesis. (9)
• Nectar Secretion: Study describes a continuous sampling of nectar secreted in single flowers of Hoya carnosa. Sampling at 3-hour intervals over several days revealed an oscillating secretion with maximum around midnight. Study suggests the rhythmicity of nectar secretion in H. carnosa is a manifestation of the biologic clock. (11)
• Circadian Rhythmicity of Flower Fragrance Emission: Flowers of Hoya carnosa exhibits nocturnal emission of fragrance according to an endogenous circadian rhythmicity, demonstrated by rhythmical emission for two to three cycles under conditions of permanent illumination. (14)
• Antibacterial / Leaves: Study evaluated the antibacterial activity of Hoya carnosa leaves extract, 1% Chloramphenicol and Ciprofloxacin against Staphylococcus aureus and Pseudomonas aeruginosa. Based on inhibition zones and MIC values, Ciprofloxacin showed the most powerful antibacterial activity with mean rank of 13. Chloramphenicol showed a mean rank of 8, and H. carnosa leaf extract showed a mean rank of 3. (13)
Counterpoint
- Can plants control indoor air pollution? Recent reports in the media and promotions by the decorative houseplant industry characterize plants as "nature's clean air machine", claiming that National Aeronautics and Space Administration (NASA) research shows plants remove indoor air pollutants. While it is true that plants remove carbon dioxide from the air, and the ability of plants to remove certain other pollutants from water is the basis for some pollution control methods, the ability of plants to control indoor air pollution is less well established. Most research to date used small chambers without any air exchange which makes extrapolation to real world environments extremely uncertain. The only available study of the use of plants to control indoor air pollutants in an actual building could not determine any benefit from the use of plants69. As a practical means of pollution control, the plant removal mechanisms appear to be inconsequential compared to common ventilation and air exchange rates. In other words, the ability of plants to actually improve indoor air quality is limited in comparison with provision of adequate ventilation.
• While decorative foliage plants may be aesthetically pleasing, it should be noted that over damp planter soil conditions may actually promote growth of unhealthy microorganisms. (4)
Availability
Ornamental cultivation.