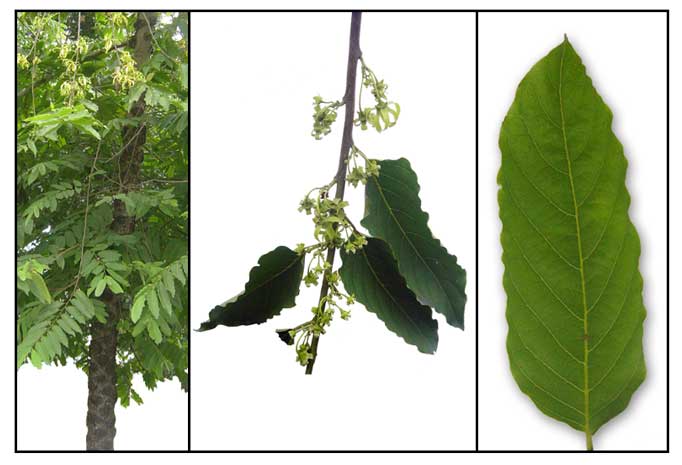 General info
Ylang ylang means "flowers of flowers."
A variety, Cangana odorata macrophylla (Cannagium odoratum macrophylla) yields Cananga oil, also used in the manufacture of cosmetics and soap, flavoring of foods as gelatins and puddings.
Botany
Ilang-ilang is a medium-sized tree growing 10 to 30 meters in height, with pendulous branches, with drooping, leafy twigs. Flowers are fragrant, axillary, in umbellate hanging clusters, with three sepals and six petals, twisted when young and drooping when mature. Leaves are dark green, up to 20 centimeters in length, alternate, simple, entire. Fruit is black in color, 1.5 to 2 centimeters in length, in axillary clusters, fleshy and olive-like, with six to 12 seeds in each fruit.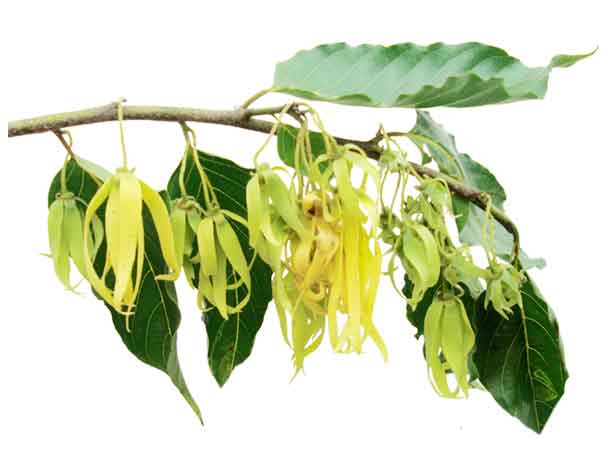 Distribution
- Cultivated for ornamental purposes.
- Introduced.

Constituents
• The oil extracted from fresh flowers has a floral fragrance.
• The oil is distilled from freshly harvested flowers.
• Fractionation of essential oil isolated 17 compounds. From the volatile, oxygenated and hydrocarbon fractions, 52 compounds were identified, among them: (alpha)-cedrene, (alpha)-amorphene, (gamma)-gisabolene and cadinols.
• From the leaves and branches, two unusual lactones were isolated: one already known, isosiphonodin; and the other, canangone, a new terpenoid spirolactone.
Properties
• Sedative, antidepressant, and nervous system tonic.
Distribution
Cultivated for ornamental purposes.

Parts used
Flowers, bark, oil.
Uses
Folkloric
- Oil Used for a variety of infectious and skin diseases, acne and scalp conditions.
- Sedative and antidepressant.
- Reduces sebum in oily skin.
- Use for insect bite.
- Reportedly used to decrease blood pressure.
- In Tonga and Samoa, bark used to treat stomach ailments and as a laxative.
- In Java, flowers used for malaria, and fresh flowers, pounded into a paste, used for asthma.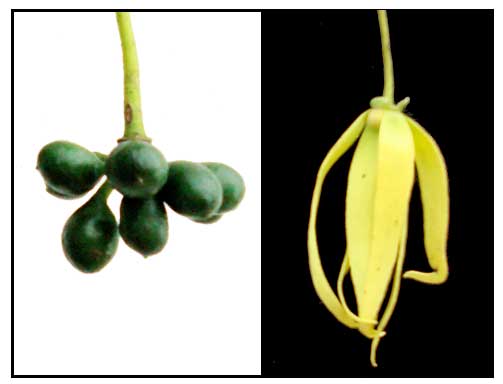 Others
• Oil / Fragrance: (1) Primary commercial product is the oil distilled for the perfume industry. Oil is used as a fragrance for cosmetics (1% in perfumes), soaps, shampoos, creams and lotions. (2) Oil also used as flavoring agent for beverages, ice cream, candies and baked goods.
• Aromatherapy: Essential oil used in aromatherapy, with claims of usefulness for depression, breathing problems, hypertension, and anxiety..
• Also regarded as an aphrodisiac. In some Asian countries, the flowers are laid out in matrimonial beds.
• An ingredient in motion sickness medicine, MotionEaze.
• Ornamental: Fragrant flowers used in making lei and headdresses.
• Wood: Wood is used in making small canoe parts, furniture, fuelwood and cordage. (11)
Studies
• Cytotoxic / Anticancer: Cytotoxic constituents of the Fruits of Cananga odorata: A new guaipyridine sesquiterpene alkaloid, cananodine, and two new eudesmane sesqiuiterpenes were isolated from the fruits of CO and were evaluated for cytotoxicity against two human hepatocarcinoma cell lines.
• Antibacterial and cytotoxic compounds from the bark of Cananga odorata: Isolated compounds from the bark showed antibacterial activities, as well as antifungal and cytotoxic activities.
• Relaxing Effect / Aromatherapy: Using human physiological parameters and self-evaluation after transdermal absorption In a study of 40 healthy volunteers, ylang ylang oil caused a significant decrease of blood pressure and increase of skin temperature with subjective ratings of being calmer and more relax than in the control group. Study suggests some evidence of usage of the ylang ylang oil in aromatherapy for relief of depression and stress in humans.
• Antifertility / spermatotoxic: (1) The study of ethanol extract of Cananga odorata possesses antifertility effects with statistically significant alterations in sperm morphology as well as activity of HMG CoA reductase and G6PD activities and serum testosterone. (2) Study of 50% ethanolic extract of root bark of C odorata resulted in spermatotoxic effects, ie, decreased epididymal sperm motility and sperm count in male albino rats.

Safety / Allergy concerns
- Probably safe in the amount found in foods.
- No known interactions with herbs and other dietary supplements.
- In cosmetics, used in moderation, the oil is non-toxic and a non-irritant. However, the oil is considered as an allergen, and has been removed from some cosmetics. (11)

Availability
Wild-crafted.
Cultivated for ornamental use.
Essentials oils from the cybermarket.