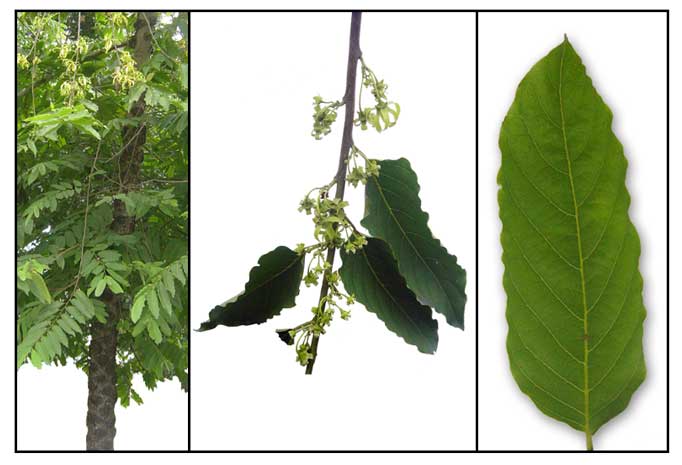 General info
Ylang ylang means "flowers of flowers."
A variety, Cananga odorata macrophylla (Cannagium odoratum macrophylla) yields Cananga oil, also used in the manufacture of cosmetics and soap, flavoring of foods as gelatins and puddings.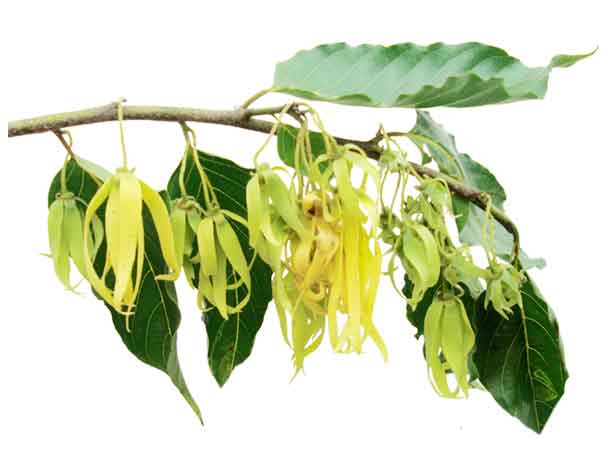 Botany
Ilang-ilang is a medium-sized tree growing 10 to 30 meters in height, with pendulous branches, with drooping, leafy twigs. Flowers are fragrant, axillary, in umbellate hanging clusters, with three sepals and six petals, twisted when young and drooping when mature. Leaves are dark green, up to 20 centimeters in length, alternate, simple, entire. Fruit is black in color, 1.5 to 2 centimeters in length, in axillary clusters, fleshy and olive-like, with six to 12 seeds in each fruit.
Distribution
- Cultivated for ornamental purposes.
- Native to Cambodia, China, Comoros, Cote d'Ivoire, India, Jamaica, Madagascar, Reunion, Seychelles, Sri Lanka. (20)

Constituents
• The oil extracted from fresh flowers has a floral fragrance.
• The oil is distilled from freshly harvested flowers.
• Fractionation of essential oil isolated 17 compounds. From the volatile, oxygenated and hydrocarbon fractions, 52 compounds were identified, among them: (alpha)-cedrene, (alpha)-amorphene, (gamma)-gisabolene and cadinols. (5)
• From the leaves and branches, two unusual lactones were isolated: one already known, isosiphonodin; and the other, canangone, a new terpenoid spirolactone. (6)
• Study of stem bark extract reported liriodenine, anonaine, roemerine, ushinine, and canangine, which was later reported as eupolauridine. (see study below) (14)
• Phytochemical study of leaves yielded four compounds, viz., two steroids: ß-sitosterol and stigmasterol, and two oxoaporphine alkaloids: liriodenine and lysicamine. (15)
• Study of essential oil of leaves yielded a total of 23 components. The principal compounds were linalool (21.08%), linalool acetate (16.14%) α-pinene (12.73%), eugenol (8.86%), and α-terpineol acetate (7.71%), with isobornyl acetate (3.56%), c-terpineol (3.46%) and camphor (3.23%). (see study below)   (16)
• Phytochemical analysis of various leaf extracts yielded alkaloids, carbohydrates, glycosides, saponins, phenols, tannins, flavonoids, proteins and amino acids, steroid, and coumarin. (23)
• Study for volatile compounds from flower essential oil yielded limonene, linalool, benzyl acetate and ß-caryophyllene, while leaf essential oils yielded α-pinene and ß-caryophyllene. (25)
• GC-MS analysis of fresh flower essential oil yielded main constituents of α-humulene (7.1%), germacrene D (8.1%), (E,E)-α-farnesene (12.6%), (E,E)-farnesol (5.6% and benzyl benzoate (3.8%). Major constituents of the oil were linalool (8.7%) and ß-caryophyllene (26.8%). (30)
Properties
• Essential oil considered antidepressant, antiseborrheic, antiseptic, aphrodisiac, nervine and sedative.
• Studies have suggested antioxidant, antimicrobial, antibiofilm, anti-inflammatory, antivector, antidiabetic, antimelanogenesis, cytotoxic, antifertility, insecticidal properties.

Parts used
Flowers, bark, oil.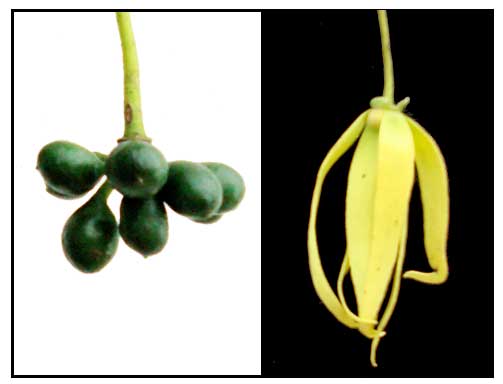 Uses
Folkloric
- Oil Used for a variety of infectious and skin diseases, acne and scalp conditions.
- Sedative and antidepressant.
- Reduces sebum in oily skin.
- Use for insect bite.
- Bark decoction used for rheumatism, ophthalmia, ulcers and fevers.
- In Java and Vietnam, dried flowers used to treat malaria.
- In Indonesia, oil used to enhance euphoria during sex and to reduce sexual anxiety.
- Reportedly used to decrease blood pressure.
- In India, used topically to relieve itching and also to treat dandruff.
- In Tonga and Samoa, bark used to treat stomach ailments and as a laxative.
- In Papua New Guinea, bark decoction used to treat gout.
- In Tonga and Samoa, bark decoction used as laxative.
- In Java, flowers used for malaria, and fresh flowers, pounded into a paste, used for asthma.
Others
• Oil / Fragrance: (1) Primary commercial product is the oil distilled for the perfume industry. Oil is used as a fragrance for cosmetics (1% in perfumes), soaps, shampoos, creams and lotions. (2) Oil also used as flavoring agent for beverages, ice cream, candies and baked goods.
• Aromatherapy: Essential oil used in aromatherapy, with claims of usefulness for depression, breathing problems, hypertension, and anxiety.
• Also regarded as an aphrodisiac. In some Asian countries, the flowers are laid out in matrimonial beds.
• An ingredient in motion sickness medicine, MotionEaze.
• Ornamental: Fragrant flowers used in making lei and headdresses.
• Wood: Wood is used in making small canoe parts, furniture, fuel wood and cordage. (11)
• Fiber: In Indonesia, ropes made out of beaten bark. (20)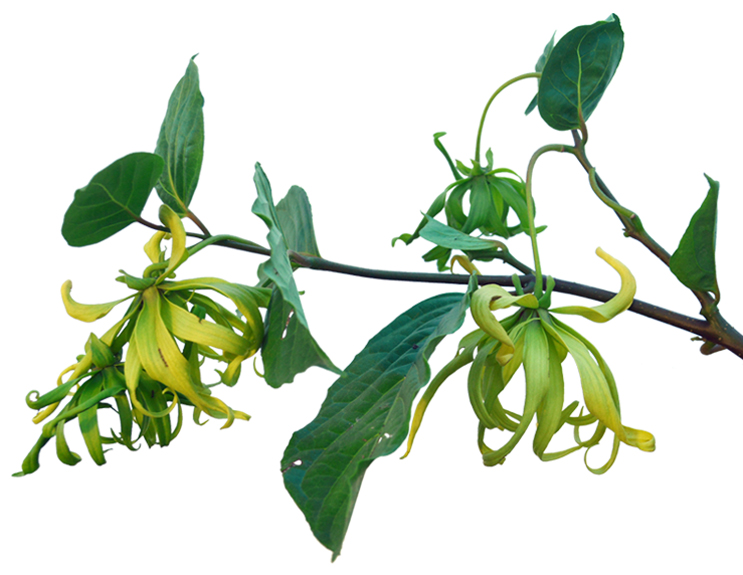 Studies
• Cytotoxic / Anticancer / Fruits: Cytotoxic constituents of the Fruits of Cananga odorata: A new guaipyridine sesquiterpene alkaloid, cananodine, and two new eudesmane sesqiuiterpenes were isolated from the fruits of CO and were evaluated for cytotoxicity against two human hepatocarcinoma cell lines. (1)
• Antibacterial and cytotoxic / Bark: Isolated compounds from the bark showed antibacterial activities, as well as antifungal and cytotoxic activities. (2)
• Relaxing Effect / Aromatherapy: Using human physiological parameters and self-evaluation after transdermal absorption In a study of 40 healthy volunteers, ylang ylang oil caused a significant decrease of blood pressure and increase of skin temperature with subjective ratings of being calmer and more relax than in the control group. Study suggests some evidence of usage of the ylang ylang oil in aromatherapy for relief of depression and stress in humans. (4)
• Antifertility: The study of ethanol extract of Cananga odorata possesses antifertility effects with statistically significant alterations in sperm morphology as well as activity of HMG CoA reductase and G6PD activities and serum testosterone. (7)
• Spermatotoxic / Root Bark: Study of 50% ethanolic extract of root bark of C odorata resulted in spermatotoxic effects, i.e., decreased epididymal sperm motility and sperm count in male albino rats. (8)
• Antimicrobial / Leaves: Study evaluated the antimicrobial effect of various leaf extracts of Cananga odorata on bacterial cultures including Staphylococcus aureus, Salmonella typhi, E coli, Vibrio cholerae and fungus Epidermophyton floccosum., M. gypseum, and T. mentagrophytes. Among extracts tested, methanol was more effective than chloroform and petroleum ether. (12)
• Effects of Aroma on Blood Pressure and Heart Rate in Healthy Men: Study showed YYA (ylang-ylang aroma) caused a reduction of HR and BP, and a relief of the arousal level in healthy men. Results suggest a sedative effect of YYA, and provides evidence of usage as a medicinal agent. (13)
• Sampangine / Alkaloid / Leaves: Study of stem bark extract by Cave and co-workers reported liriodenine, anonaine, roemerine, ushinine, and canangine, which was later reported as eupolauridine. This study of a chloroform extract reports the isolation of two alkaloids, A (new and named sampangine) and B. (14)
• Insecticidal / Essential Oil: Study evaluated the chemical composition and insecticidal activity of the essential oil of C. odorata leaves against maize weevils (Sitophilus zeamais). The essential oil showed strong contact toxicity against S. zeamais. The essential oil also showed fumigant toxicity against the grain storage insect. (see constituents above) (16)
• Volatile Organic Compound Emissions from Stages of Flower Development: Study evaluated the volatile organic compounds (VOCs) of the different flower development stages of Cananga odorata for the evaluation of floral volatile polymorphism as a basis to determine the best time of harvest. Ninety-two compounds were identified over the flower life. The VOCs were largely hydrocarbons, esters, alcohols, aldehydes, phenols, acids, ketones and ethers. The main compound was ß-caryophyllene; others were β-cubebene, D-germacrene, benzyl benzoate, and α-cubebene. (17) The chemical composition of oils extracted from flowers at different stages of development differed both qualitatively and quantitatively. Generation of total volatile metabolites increased markedly during flower maturation. (21)
• Essential Oil Constituents of Varieties at Different Flowering Stages: Study of three varieties of essential oils showed the odor quality was related to the variety, contents of esters, alcohols and phenolic ethers; and the greater the sesquiterpenes and sesquiterpenols, the worse the odor quality. The quality of the oil was also better when obtained from the flowers when the flower color changed from green to yellow than oil obtained from green flowers or flower buds. (22)
• Spermatotoxic Effects: Study of 50% ethanolic extract of root bark showed spermatotoxic effects in male albino rats. Results showed decreased epididymal sperm motility and sperm count, suppression of testosterone production and increase in its catabolism, with alteration in micronutrients of the testis causing deficiency in nutrients for the proper maturation and function of sperms. (24)
• Antioxidant / Antibacterial / Flower Essential Oil: Essential oil from C. odorata flower and leaf showed antioxidant activity, especially in inhibiting lipid peroxidation. Flower EO inhibited growth of bacterial strains tested, and flower and leaf EO showed antifungal activity against fungal strains tested.    (25)
• Anti-Inflammatory: Study evaluated the anti-inflammatory activity of ethanolic extract of C. odorata using carrageenan-induced paw edema in Wistar albino rats. Results showed highly significant anti-inflammatory activity, higher than standard drug aspirin in the studied doses. (26)
• Aromatherapy / Pilot Study for Anxiety and Self-Esteem: Pilot study on 34 professionals from a nursing group evaluated the of ylang ylang essential oil by cutaneous application or inhalation for effects on anxiety and self-esteem perception and physiological parameters such as blood pressure and temperature. Results showed a significant difference in self-esteem; however, there were no differences in analysis for anxiety and physiological parameters. (27)
• Mosquito Insecticidal Potential / Essential Oil: Study of the essential oil of C. odorata flowers for oviposition-deterrent, ovicidal, insecticidal, and repellent activities against three mosquito species: Aedes aegypti, Anopheles dirus, and Culex quinquefasciatus showed potential for use as a botanical insecticide. (28)
• Analgesic: Insecticidal Potential / Essential Oil: Study of ethanolic extract of CO showed central and peripheral analgesic activity by Tail Flick method and Acetic Acid Induced Writhing tests in Swiss albino mice. (29)
• Effect of Picking Time on Essential Oil: Study evaluated the optimal harvesting time for ylang-ylang flowers to maximize essential oil yield. Results showed stages and sizes of flowers affected essential oil yield. Main constituents of flower essential oil were as follows: geranyl acetate (18.28%), benzyl benzoate (14.42%), germacrene D (10.92%), trans-caryophyllene (10.71 %), geraniol (8.44%) and eugenol (6.65%). (31)
• Antimicrobial / Flowers: Study evaluated the antibiotic property of eight different selected flowers against various human bacterial pathogens. Extracts during blossoming time were found to be more effective. Canaga odorata flowers showed stronger antibacterial activity. (32)
• Vapor Aromatherapy in Chemotherapy-Induced Anxiety State among Breast Cancer Patients: A randomized controlled trial evaluated the short-term, immediate effect in reducing chemotherapy-induced anxiety state among 34 stage II and III female breast cancer patients. Results showed reduction of anxiety state among patients with moderate anxiety. (33)


Safety / Allergy concerns
- Probably safe in the amount found in foods.
- No known interactions with herbs and other dietary supplements.
- In cosmetics, used in moderation, the oil is non-toxic and a non-irritant. However, the oil is considered as an allergen, and has been removed from some cosmetics. (10)

Availability
- Wild-crafted.
- Cultivated for ornamental use.
- Extracts and essentials oils in the cybermarket.