Botany
Cryptostegia grandiflora is a stout, woody vine. Leaves are oblong-ovate to elliptic-ovate, 6 to 10 centimeters long, pointed at the tip, rounded at the base. Cymes are short. Sepals are green, about 8 millimeters long. Corolla is pale purple, about 4 centimeters long, and often wider than it is long. Woody follicles are 10 to 12 centimeters long.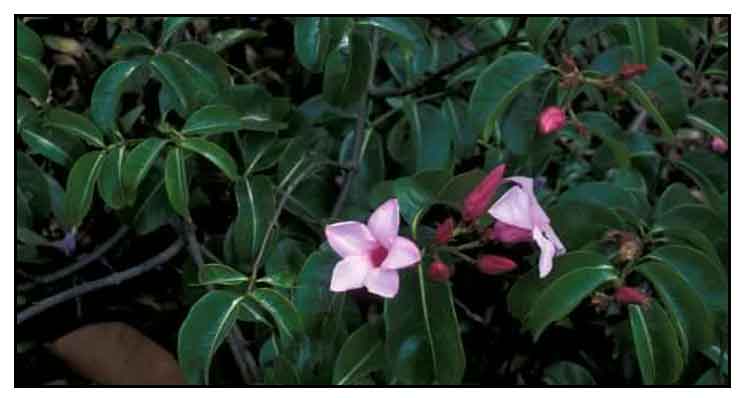 Distribution
- Recent introduction to the Philippines.
- Planted for ornamental purposes.
- Now, pantropic.
- Native of India.
Constituents
- Phytochemical studies of flowers yielded two cardenolides, oleandrigenin and gitoxigenin, as well as, two flavonoid glycosides, hyperoside and astragalin, and their aglycones, quercetin and kaempferol. (6)
- Latex of fresh unripe fruits yielded b-amyrin, lupeol, a-amyrin, b-sitosterol and b-sitosterol–3-O-b-D-glucoside, in addition to a phenolic glucoside 2,4,6-trihydroxy benzophenone-2-O-b-D-glucopyranoside. (6)
- Hexane and ethyl acetate extracts yielded a mixture of phytosterols and triterpenoids, lanosterol, B-sitosterol, stigmasterol, campesterol, friedelin, lupeol, ursolic acid, and B-amyrin.
Properties
- Plant considered an irritant and poisonous.
- Leaves are toxic. (see study below) (12)

Parts used
Leaves

Uses
Folkloric
- No reported folkloric medicinal use in the Philippines.
- In Madagascar, reportedly used for criminal purposes and against vermin.
- Powdered leaves, mixed with water, when swallowed can cause persistent vomiting after half an hour; death in 15 hours.
- In Madhya Pradesh, root paste is applied externally on chest to cure asthma. (10)

Studies
• Antiviral: In a study of medicinal plants for its antiviral activity, Cryptostegia grandiflora showed partial activity at higher concentrations. (1)
• Cardiac glycosides: Study of the leaves of C. grandiflora yielded four news cardiac glycosides: crptostigmin I to IV together with two known cardenolides.(2)
• Antibacterial: Study of the different extracts of Cryptostegia grandiflora was done for antibacterial potential against Pseudomonas cepacia, B megatorim, S aureus, E coli B subtilis. Almost all extracts produced significant antibacterial activity against all the microorganisms, comparable to standard antibiotic tetracycline hydrochloride. The petroleum ether extract showed maximum efficacy. (3)
• Latex Pro-Inflammatory Activity: Study investigating the pro-inflammatory activity of the latex of C grandifolia was investigated. Results showed the soluble proteins of the latex induced strong inflammatory activity, enlarged vascular permeability and increased myeloperoxidase activity locally in rats. It concludes that the latex of CG is a potent inflammatory fluid and implicates lactifer proteins in that activity. (4)
• Antimicrobial: Study isolated compounds from hexane and ethyl acetate extracts isolated a mixtures of phytosterols and triterpenoids. Lanosterol, a triterpenoid, was most active against E. coli and campesterol had greater activity against Candida albicans. (7)
• Analgesic / Leaves: Study in mice evaluated the analgesic property of a methanol leaf extract of Cryptostegia grandiflora. The extract did not show any toxicity up to 5000 mg/kbw. All three test doses showed significant analgesic activity, although less than standard acetylsalicylic acid in the writhing test. (8)
• Molluscicidal / Latex: Study of latex aqueous solution of C. grandiflora showed a significant increase of snail amoebocytes, a component of the internal defense system, decreasing its compatibility to Schistosoma mansoni. Results suggest Cg may be useful for snail control. (9)
• Toxicity Manifesting as Hyerpkalemia, Heart Block and Thrombocytopenia: Study reports a case of toxicity associated with consumption of extract of leaves of C. grandiflora which led to gastrointestinal, cardiac, electrolyte, and hematological disturbances. Indian rubber vine contains cardiac glycosides responsible for the digitalis-like toxicity on consumption of leaves. (12)
• Anti-Inflammatory / Leaves: Study evaluated the effect of total extract and primary fractions of CG leaves using in vivo and in vitro models of inflammation. Results showed anti-inflammatory activity contributed to by its antioxidant activity and inhibition of MPO (myeloperoxidase) activity, and PGE2 and NO production. (13)
• Anti-Oxidative and Proteolytic Activities: Study evaluated the proteolytic, chitinolytic and anti-oxidative activities of proteins extracted from three plants. C. grandiflora latices showed strong anti-oxidative activity of superoxide dismutase and strong proteolytic activity. (14)

Availability
Wild-crafted.