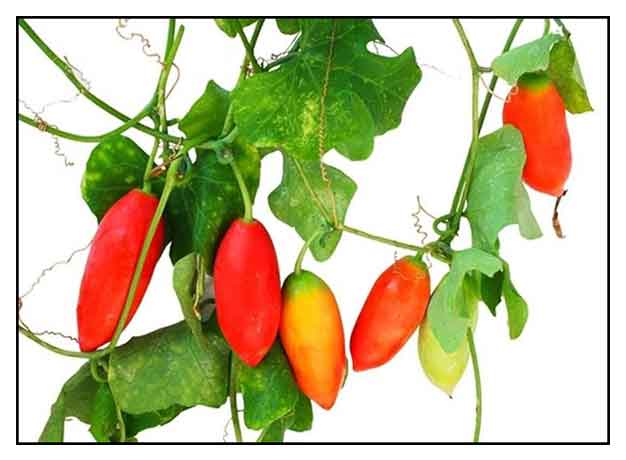 Gen info
- The Cucurbitaceae family is commonly known as gourd, melon, and pumpkin family, Cucurbitaceae comprises about 960 species, mostly annual vines and predominantly distributed in the tropics. (6)
- The genus Coccinia is made up of about 30 species. (8)
- Etymology: Genus name Coccinia derives from Latin coccineus, meaning scarlet, referring to the fruit color.
\Botany
Coccinia grandis is a fast-growing climbing perennial vine with a tuberous rootstock, with annual stems up to several meters long, capable of forming dense mats and readily covering shrubs and small trees. Leaves are arranged alternately along the stems, broadly ovate with a basal sinus, blades 3 to 10 centimeters long and 4 to 10 centimeters wide, 5-angled to palmately 3- to 7-lobed. Leaf upper surface is hairless, the lower surface is hairy. Flowers are large white, and star-shaped. Calyx has five subulate, recurved lobes, each 2 to 5 millimeters long on the hypanthium; peduncle is 1-5 centimeters long. Corolla is white, campanulate, 3-4.5 centimeters long, deeply divided into five ovate lobes. Staminate flowers are solitary, rarely in axillary clusters of 2-3, with pedicels 15 to 50 millimeters long. Fruit is red, ovoid to elliptical, 25 to 60 millimeters long, 15 to 35 millimeters in diameter, glabrous, hairless on stalks. Seeds are 6 to 7 millimeters long, tan-colored, with thickened margins. (6) (8)
Distribution
- Its native range extends from Africa to Asia, including India, the Philippines, Cambodia, China, Indonesia, Malaysia, Myanmar, Thailand, Vietnam, eastern Papua New Guinea, and the Northern Territories, Australia. (40)
- Invasive in Hawaii and the Mariana Islands.
- Also considered a vigorous pest in parts of Australia, Saipan, Texas, and Florida.
- An aggressive vine that can quickly smother nearby plants or structures like a blanket. Once established, it is not easily killed, persisting if even one rooted stem is missed by herbicide application. (8)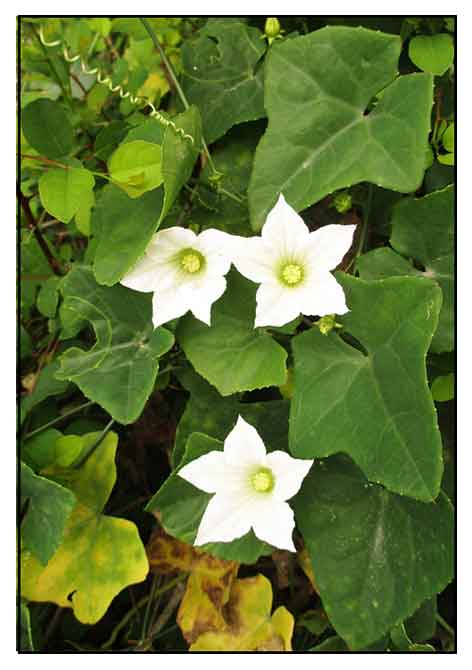 Constituents
- Studies of aerial parts have yielded heptacosane, cephalandrol, ß-sitosterol, alkaloids, cephalandrins A and B. Fruits have yielded ß-amyrin acetate, lupeol, cucurbitacin B, taraxerone, taraxerol, ß-carotene, lycopene, cryptoxanthin, xyloglucan, carotenoids, ß-sitosterol, stigma-7-en-one. Roots yielded resin, alkaloids, starch, fatty acids, carbonic acid, triterpenoid, saponin coccinoside, flavonoid glycoside, lupeol, ß-amyrin, ß-sitosterol, taraxerol. (Deokate et al, 20011) (6)
- Ethanol and aqueous extracts of instant fruit juice powder yielded flavonoid, tannin, phytosterol, and glycosides. (see study below) (12)
- Methanolic extract of leaf, stem and fruit yielded the presence of alkaloids, flavonoids, terpenoids, phenols, saponins, and carbohydrates. (20)
- A polyphenolic rich fraction (CG50) from a 50% aqueous/methanol extract of leaves yielded the presence of six flavonoids presence of six flavonoids, namely quercetin-hexoside deoxyhexoside (rutin), quercetin-hexoside deoxyhexoside (quercetin-3-O-neohesperidoside), kaempferol-hexoside deoxyhexoside (kaempferol-3-O-rutinoside), kaempferol-hexoside deoxyhexoside (kaempferol-3-O-neohesperidoside), kaempferol-3-O-glucoside, and kaempferol-hexoside in addition to the presence of two secoiridoids which are oleuropein and ligstroside. (see study below)  (24)
- GC-MS analysis of leaf essential oil yielded 23 different constituents. Major constituents were n-tetracosane (39.18%), n-eicosane (30.04%), tetratriacotane (2.97%), 7-octadecanal (2.81%), and tricosane (2.31%). (see study below)  (38)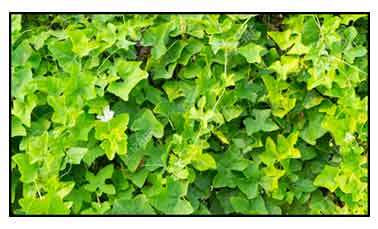 Properties
- Studies have suggested antioxidant, antibacterial, antifungal, antihyperglycemic, anti-obesity, mosquito larvicidal, analgesic, antipyretic, anti-inflammatory, anticancer, antimalarial, antileishmanial, antitussive, hepatoprotective, mast stabilizing, antihistaminic, wound healing, antiulcer, antiurolithiatic, anticancer properties.

Parts used
Leaves, roots, stems,

Uses
Edibility
- In Southeast Asia, cultivated for its edible young shoots and fruits.
- Young leaves and long tender stem tops are cooked and eaten as potherb or added to soups. (8)
- Leaves blanched, boiled or stir-fried.
- Young and tender green fruits are eaten raw in salads or cooked and added to curries. (8)
- The ripe scarlet fruit is eaten raw. (8)
Folkloric
- In Sri Lankan traditional medicine, G. grandis preparations are used for treatment of diabetes mellitus, urinary tract infections, bronchitis ulcers, and itchy skin eruptions. (3)
- Juice of roots and leaves used in treatment of diabetes. Poultice of leaves used for treating skin eruptions. Plant used as laxative. Internally, use in treatment of gonorrhea. (8)
- In India, used by indigenous people for treatment of asthma and cough. (11)
- Juice of stems dripped into the eyes to treat cataract.
- Infusion of leaves drunk by women when birth is overdue. (14)
- Poultice of crushed plants applied to area of headache or rheumatism. (14)
- In Malaka, West Timor, leaves used for treatment of malaria. (35)
- The Gumuz people of Mandura Woreda, Ethiopia, use oral decoction of roots and twigs for treatment of malaria and liver disease. (37)

Studies
• Antibacterial / Antioxidant / Cell Proliferative / Fruits: Study evaluated the antibacterial, antioxidant, and cell proliferative properties of various extracts of C. grandis fruits. Both hot and cold ethanol and acetone extracts showed some degree of bacterial growth inhibition against S. aureus, E. faecalis, E. coli and P. aeruginosa, with acetone extracts showing higher antibacterial activity. Ethanol extracts showed antioxidant property compared to Trolox. All four test extracts showed cell proliferation activity, with acetone extracts exhibited greater cell proliferative properties. (2)
• Antihyperglycemic Effect / Toxicological Studies / Leaves: Study evaluated the oral antihyperglycemic effect of aqueous leaf extract of C. grandis and its toxicological effects in alloxan induced diabetic and healthy Wistar rats. The aqueous leaf extract at dose of 0.75 g/kg showed optimum effectiveness in antihyperglycemic activity in alloxan induced diabetic Wistar rats. Acute toxicity study showed safety up to a dose of 2000 mg/kg. Dose of 0.75 g/kg for 30 days was not associated with adverse effects in measure of body weight, biochemical and hematological parameters and histopathological evaluation. (3)
• Blood Sugar Lowering Effect / Clinical Trial / Leaves: A double-blind phase 1 clinical trial involving 61 healthy volunteers evaluated the efficacy of leaves as a hypoglycemic agent using glucose-tolerance test. Results showed overall blood sugar levels was lower in the experimental group compared to the control group (p<0.05). (4)
• Anti-Obesity / Suppression of Adipocyte Differentiation / Root: Study evaluated the effects of various extracts of ivy gourd leaf, stem, and root on adipocyte differentiation in a cell culture model. Extracts were applied to 3T3-L1 pre-adipocytes upon induction with a mixture of insulin, 3-isobutyl-1-methylxanthine and dexamethasone, for anti-adipogenesis assay. Of the three ivy gourd extracts, the root extract exhibited an anti-adipogenic effect. Results suggest ivy gourd root may prevent obesity based mainly on ability of active constituent/s to suppress adipocyte differentiation in vitro. The effect is mediated by at least down-regulating the expression of PPARy-the key transcription factor of adipogenesis in pre-adipocytes during their early differentiation processes. (5)
• Antimalarial: Extract of Coccinia grandis showed excellent antiplasmodial activity against Plasmodium falcifarum (Sundaram et al. 2012). C. grandis extract significantly reduced Plasmodium berghei parasite count in mice (Samanta et al, 2011). (6)
• Antioxidant / Ethanol-Induced Cerebral Oxidative Stress / Leaves: Study evaluated the effect of various fractions of hydromethanol extract of leaves against ethanol-induced cerebral oxidative stress in rats. Ethanol induced a significant elevation in serum enzymes, uric acid, and lipid levels, along with significant increase in levels of malonaldehyde and lipid hydroperoxides and a reduction in activities of enzymatic and nonenzymatic antioxidants in the brain. Administration of fractions prevented the enzymatic leakage and rise in uric acid and lipid levels. Fractions prevented the peroxidative damage caused by ethanol, evidenced by improved antioxidant potential. Among the fractions, the chloroform fraction exhibited appreciable antioxidant property comparable with standard vitamin E (9)
• Antileishmanial Effect / Pro-Inflammatory Response / Leaves: Study evaluated the antileishmanial efficacy of C. grandis leaf extract with its immunomodulatory property against Leishmania donovani in an invitro experimental model. The extract significantly reduced intracellular L. donovani parasite load with IC50 of 193 ± 0.78 µg/ml, with lower cytotoxicity on murine RAW 264.7 macrophage cell line. Results demonstrated antileishmanial property via targeting of Leishmania serine protease resulting protection of host cells with Th1 cytokine expression. Results suggest leaf extract has potential as new lead for an alternative novel therapeutic against visceral leishmaniasis. (10)
• Bioactive Alkaloid / Analgesic / Anti-Inflammatory / Fruit: Study of methanolic extract and fractions of leaf of C. grandis using carrageenan induced rat paw edema and acetic acid induced models showed significant anti-inflammatory and analgesic activity at dose of 100 mg/kbw. Activities were compared with diclofenac sodium and aspirin. The bioactive alkaloid compound isolated from the methanol extract was found to be 1-tert-butyl-5,6,7-trimethoxyisoquinolene, a natural alkaloid, which showed better analgesic and anti-inflammatory activity. (11)
• Antitussive / Induced Cough Models / Fruit: Study evaluated the antitussive effect of methanol extracts of fruits in cough models induced by irritant aerosol in guinea pigs and sulfur dioxide gas in mice. Results showed significant reduction of cough frequency comparable to prototype antitussive agent codeine phosphate. (12)
• Antibacterial / Antifungal / Fruit Juice Powder: Study evaluated the antibacterial and antifungal activity of C. grandis instant juice powder prepared from pulp. Results showed significant activity against bacterial and fungal strains, with 2 to 5.1 mm zone of inhibition in the aqueous and solvent extract. (13)
• Analgesic / Antipyretic / Leaves: Study evaluated a methanol extract of leaves in rats and mice using acetic acid induced writhing, tail immersion and hot plate models for analgesic activity and yeast induced pyrexia model for antipyretic activity. Results showed significant and dose dependent inhibition of acetic acid induced writhing without significant effect on tail immersion and hot plate models. The extract showed significant reduction in pyrexia. (15)
• Mast Cell Stabilizing / Anti-Inflammatory / Antihistaminic / Fruits: Study evaluated an ethanol extract of fruit of mast cell stabilizing, antianaphylactic, and antihistaminic activity using egg albumin induced mast cell degranulation in mice, passive cutaneous anaphylaxis in rats and clonidine induced catalepsy in mice. Results showed prevention of egg albumin induced degranulation of mast cells and reduction of blue dye leakage in passive cutaneous anaphylaxis in a dose dependent manner. Treatment also inhibited clonidine-induced catalepsy in a dose dependent manner.. (16)
• Antioxidant / Anti-Inflammatory / Fruit Powder: Study evaluated C. grandis fruit powder for anti-inflammatory and antioxidant activities. Almost all fractions showed anti-inflammatory activity with induced protein denaturation method, with n-hexane and petroleum ether showing highest activity. Percentage antioxidant activity using phosphomolybdenum and reducing power assays were in the order of methanol>ethanol>petroleum ether>chloroform>n-hexane. The IC50 for both antioxidant and anti-inflammatory activity was 140 µg/ml (methanol extract) and 100 µg/ml (n-hexane extract), respectively. (17)
• Lipid-Lowering / Anti-Obesity / Roots: Study evaluated the anti-obesity effects of a hexane fraction of ivy gourd root extract in high-fat diet (HFD) induced obese mice. The extract caused a decrease of serum triglycerides (TG) and non-esterified fatty acid concentrations as well as hepatic TG and total cholesterol (TC) levels. There was increase in fecal excretion of TG and TC along with a decrease in activity of hepatic lipogenesis-related enzymes. Results suggest a potential as an anti-hyperlipidemic agent for obesity prevention and/or management. (18)
• In-Vitro α-Amylase and α-Glucosidase Inhibition / Leaf and Stem: Study evaluated aqueous leaf and stem extracts of C. grandis for in vitro α-amylase and α-glucosidase inhibitory activities using measures of maltose and p-nitrophenol generated in the reactions, respectively. The leaf extract exhibited a mixed inhibition against α-amylase, while the stem extract inhibited the enzyme in an uncompetitive manner. The leaf and stem extract exhibited inhibitory activity against α-glucosidase enzyme. Both extracts acted as enzyme inhibitors against α-glucosidase. (19)
• Antiurolithiatic in Induced Urolithiasis / Leaves: Study evaluated the antiurolithiatic property of a leaf extract of C. grandis against ammonium chloride and ethylene glycol induced urolithiasis in albino rats. Extract treatment reduced urinary calcium, phosphate oxalate, uric acid and creatinine. It also increased urine volume and reduced the tendency of crystallization and histopathological study showing reduced crystal deposition. (21)
• Anti-Inflammatory / Leaf and Stem: Study evaluated aqueous extracts of C. grandis leaves and stems in chemically induced inflammation rodents model. Results showed significant inhibition of formaldehyde-induced paw edema in rats. Inhibitions were statistically significant (p<0.05, 0.01, 0.001) compared to control. Aqueous extract of leaves showed highest activity. (22)
• Analgesic / Aerial Parts: Study of ethanol extract of aerial parts at 500 mg/kg exhibited significant (p<0.001) inhibition of writhing reflex by 60%, compared to standard diclofenac at 76% at dose of 25 mg/kbw. Phytochemical screening yielded alkaloids, reducing sugar, and saponins. (23)
• Wound Healing / Antimicrobial / Metabolic Profiling / Leaves: A polyphenolic rich fraction (CG50) from a 50% aqueous/methanol extract of leaves yielded the presence of six flavonoids, along with two secoiridoids which are oleuropein and ligstroside. A CG%0 hydrogel showed pronounced inhibition of bacterial growth in wounds infected by Bacillus cereus in rats. The antimicrobial activity of the hydrogel was close to that of fucidin. The remarkable healing with CG50 hydrogel was evidenced by clear formation of scars with obvious reduction in wound size together with appearance and regrowth of hair. (see constituents above) (24)
• Antidiabetic / Saponins / Unripe Fruit: Recent study confirmed that ivy gourd has antidiabetic properties. Extracts showed significant impact on several markers of diabetes. Extract slowed the rise of blood glucose following a meal and decrease protein glycation thereby decreasing blood advanced glycation end products (AGEs).The same study correlated high antioxidant capacities of the gourd extracts with antidiabetic properties. Saponins detected may be linked to the hypoglycemic and antioxidant properties of ivy gourd. (25)
• Ameliorative Effect on Liver Enzyme Markers and Lipid Profile / STZ-Induced Rats:: Study evaluated the effect of C. grandis extract of serum and liver marker enzymes (ALT, AST, ALKP, and LDH) and lipid profile in STZ-induced diabetic animals. Treatment resulted in restoration of marker enzymes and lipid profile to near normal levels. (26)
• Antiulcer / Indomethacin-Induced Gastric Ulcer Model / Leaves: Stud evaluated the antiulcer activity of C. grandis leaves against indomethacin induced gastric ulcer model in Wistar rats. Results showed an ulcer index score (2.12 ± 0.21) and percentage protection (67.71%) that was comparable with standard drug omeprazole (1.76±0.11 and 74.85%), respectively. (27)
• Herb-Drug Interaction: Ivy gourd can decrease blood sugar levels. Caution is advised on patients taking antidiabetic medications to lower blood sugar Patients are advised to inform their physicians. (28)
• Immunomodulatory / Leaves: Study evaluated the immunomodulatory effect of ethanolic extract of ivy gourd leaves against the immune response in BALB/c mice. The extract was tested on Salmonella typhimurium infected mice. Results showed immunomodulatory and immunostimuatory activity as evidenced by significant increase (p<0.05) in phagocytic index in the carbon clearance test. Delayed type hypersensitivity test showed increase of mice footpad thickness, increase in primary and secondary antibody production. Treatment also showed repair of damaged liver of S. typhimurium infected mice.     (29)
• Hepatoprotective / Carbon Tetrachloride Toxicity / Fruits: Study evaluated the hepatoprotective activity of alcoholic extract of C. grandis fruits in carbon tetrachloride induced toxicity in rats. At dose of 250 mg/kg, the extract significantly (p<0.05) decreased the activities of serum enzymes (SGOT, SGPT, and ALP) and bilirubin which were comparable to standard silymarin. (30)
• Antibacterial / Leaves and Stems: Study evaluated the in-vitro antibacterial activity of extracts of leaves and stems by agar well disc plate method. A crude extract showed broad spectrum of antibacterial activity against both gram positive and gram negative bacteria. Highest activity was observed with with the ethanol stem extract with an inhibitory concentration below 50 µg/ml. (31)
• Anticancer / Leaves and Stems: Study of ethanolic extract showed anticancer activity as evidenced by all in-vivo and in-vitro parameters against Ehrlich Ascites Carcinoma cells on mice. Ethanol extract and reference drug vinblastine were injected intraperitoneally. The ethanol extract produced significant reduction in viable cell count and increase in the number of non-viable cell count. (32)
• Hepatoprotective / DEC (Diethylnitrosamine) Toxicity / Fruit: Study evaluated the hepatoprotective and antioxidant activities of fruit extract of C. grandis against diethylnitrosamine (DEN) induced liver injury in rats. Results showed significant improvement in antioxidant levels, reduced oxidative stress and a reversal of abnormal liver parameters. Activity was comparable to standard hepatoprotective drug silymarin. (33)
• Antileishmanial Activity / Indian Kala-azar / Leaves; Study evaluated the antileishmanial activity of ethanolic extract of leaves of C. grandis against both Sodium Stibo Gluconate (SSG) sensitive and resistant and Miltefosine (MIL) sensitive and resistant isolates of Leishmania donovani. Results showed antilesihmanial activity. In both sensitive and resistant promastigotes, the leaf extract stimulated reactive oxygen species generation and apoptosis. Parasites infected macrophages showed enhanced nitric oxide production. Treatment also led to mitochondrial membrane damage and DNA fragmentation in promastigotes. Results show promising antileishmanial activity against both SSG and MIL drug resistant clinical isolates of Indian KA. (34)
• Gold Nanoparticles / Catalytic Activity / Leaves; Study reports on the fabrication of spherical gold nanoparticles (AuNPs) using Coccinia grandis as reducing and stabilizing agent. The AuNPs effectively showed catalytic activity for reduction of environmental pollution-causing methylene blue dye. Results suggest nanoparticles can be considered environmental protectants due to its potent catalytic activity.   (36)
• Larvicidal Against Three Mosquito Species / Essential Oil / Leaves; Study evaluated the chemical constituents and larvicidal activity of C. grandis leaf essential oil against three mosquito species viz., Anopheles stephensi, Aedes aegypti and Culex quinquefasciatus. The essential oil from leaves exhibited significant larvicidal activity against An. stephensi with LC50 and LC90 values of 39.41 ppm and 123.24 ppm, respectively, followed by Ae. aegypti and Cx. quinquefasciatus with LC50 and LC90s of 48.20 ppm, 131.84 ppm 52.80 ppm and 135.48 ppm, respectively, after 24 hours of exposure. Results suggest a cost-effect, ecofriendly, region specific strategy for control of mosquito vectors. (38)
• Comparative Diabetic Activity / Leaves, Fruits, Roots and Aerial Parts: Study evaluated the antidiabetic activities of methanolic extract of leaves, fruit, root, and aerial parts of Coccinia grandis in alloxan induced diabetic mice. The antidiabetic effect was compared to Glibenclamide. Results showed all tested parts exhibited varying degrees of blood sugar reduction. (39)

Availability
- Wildcrafted.
- Cultivated.
- Seeds in the cybermarket.