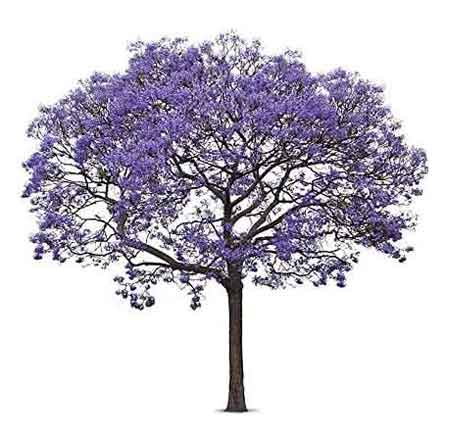 Gen info
- Jacaranda is a genus of 49 species of flowering plants in the Bignoniaceae family.
- Thirteen of the 49 distinguished species are reported to have ethnobotanical use or phytochemically investigated. (3)
- Etymology: The genus name "Jacaranda" derives from the neo-Latin version of the word "jakara'na", which the South American Tupi called the tree. The word mean fragrant, aromatic or scented. The species name "mimosifolia' derives from the Latin words "mimosa" and "folia." Mimosafolia literally means "Mimosas leaves."
- Jacaranda has many cultural references, in folk songs and legends, contemporary social references like "purple panic" to "exam tree".
- Pretoria, the administrative capital of south Africa, is popularly and poetically called Jacaranda City or Jakrandastad in Afrikaans, with its large number of trees that turn the city blue come springtime. (2)
- Amazonian myth: In the Amazon legend, a beautiful bird Mito, landed on top of a Jacaranda tree bringing with him a lovely woman. The woman, a priestess of the moon, descended and lived among the villagers. and shared with them knowledge and ethics. She returned to the tree while in bloom and ascended to the heavens to unite with the soul mate, the son of the sun. (11)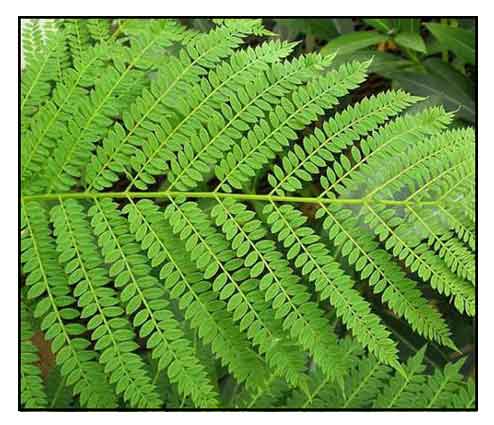 Botany
Jacaranda is a tree that grows to a height of up to 20 meters. Bark is thin and gray-brown, smooth when young, becoming finely scaly as it ages. Twigs are light reddish-brown, slender and slightly zigzagging. Leaves are large, up to 45 centimeters long, compound, bipinnate, alternately arranged, with several pairs of leaflets. Leaflets are oblong ellipsoidal with parallel venation, an acute apex, and entire margins, i centimeters long. Flowers are tubular shaped, up to 5 centimeters long, grouped in 30 centimeters panicles, in a variety of colors: blue, blur-purple, lilac purple, lavender blue or mauve. Pods follow the flowers, about 5 centimeters in diameter, with numerous, flat and winged seeds, 5 to 6 millimeters long and 4 to 4.5 millimeters wide.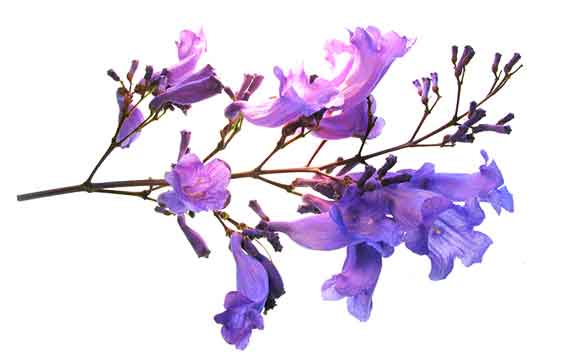 Distribution
- Introduced.
- Ornamental cultivation.
- Cultivated in almost all parts of the world where there is no risk of frost.
- Grows well in the Baguio area.
- Regard as invasive in some parts of South Africa and Australia.
- IUCN listed as vulnerable.
Constituents
- Phytochemical studies have revealed the presence of triterpenes, flavonoids, acetosides, quinines, derived phenylpropanoid, fatty acid and anthocyanins. (10)
- Phytochemical screening of leaf extract yielded carbohydrate, flavonoids, cardiac glycosides, tannins, saponinds, and steroids, with absence of alkaloid. (see study below) (12)
- Phytochemical screening yielded flavonoids, alkaloids, tannins, and polyphenols. (see study below)     (13)
- Phytochemical study of leaves and flowers isolated a new phenylethanoid glucoside (1) along with jacaranone (2). (see study below) (15)
- Study of ethyl acetate fraction of flowers isolated a flavonol glycoside, isoquercitrin, (18)

Properties
- Studies have suggested cytotoxic, antioxidant, antimicrobial, antilipoxygenase, anticancer properties.

Parts used
Leaves, flowers, bark, roots.

Uses
Folkloric
- No reported folkloric medicinal use in the Philippines.
- Almost all plant parts are used medicinally. Flowers, leaves are bark are used for the treatment of neuralgic, varicose veins, and general infections. (3)
- Bark and roots used for treatment of syphilis. Leaves used for wound healing. (4)
- Flowers, leaves, and bark used for treatment of hepatitis. Leaf baths used to treat wounds and skin infections. Bark decoction used to purify the blood. (5) Also used for treatment of acne.
- In Eritrean folk medicine, roots used for evil eye and diarrhea. (13)
Others
- Decorative: Pods used to decorate Christmas trees.
- Wood: Wood is soft and knot-free, drying without difficulty. Used in wet or green state for turnery and bowl carving. Used for making tool handles poles, and carvings..
- Agroforestry: Used for reforestation. Used as a shade tree, screen, or windbreaker. (4)

Studies
• Cytotoxic / Colorectal Cancer Cells: Study evaluated J. mimosifolia for anticancer cytotoxic phytochemical compounds and its mechanism of action against HCT-15 colon cancer cell line. A pure compound isolated was identified as 4-hydroxypenntan-2-one, which showed an IC50 of 100 µg/ml against HCT-15 cell lines. The pure compound inhibited the K-Ras protein and showed the least binding energy of 5.22 Kcal/mol with inhibition constant of 148.80 µM and 6 hydrogen bonds were formed during the interaction. (6)
• Antioxidant / Antimicrobial / Cytotoxic / Antilipoxygenase / Leaves: Study evaluated methanol crude extract and various fractions of leave for bioactive metabolites. The methanol extract showed highest total phenolic and flavonoid content, flavonols, tannins and ortho-diphenols, and showed highest antioxidant activity with a EC50s of 48, 45, 42, and 46 µg/ml based on DPPH, H2O2, hydroxyl radical and superoxide radical assays, respectively. The TPC and TFC showed strong and significant correlation with antioxidant activities. On LOC assay, the ME also showed anti-inflammatory potential with IC50 of 1.3 µg/ml. The ME also showed maximum antibacterial and antifungal potential against test pathogens. Strongest cytotoxic effect, EC50 10.7 and 27.3 µg/ml was exhibited against human hormone dependent prostate carcinoma (LnCaP) and human lung carcinoma (LU-1) cell lines. (7)
• Zn Nanoparticles / Antibacterial / Flowers: Study reports on the green synthesis of ZnO nanoparticles using J. mimosifolia flower extract. Oleic acid was the capping agent. The ZnO NPs enhanced antibacterial activity against pathogenic strains of Escherichia coli and Enterococcus faccium. (8)
• Bioactivity against Acanthoscelides obtectus / J. mimosifolia and Bougainville Leaves: Acanthoscelides obtectus is a common insect pest that attack stored beans and causes major losses to farmers. Study evaluated the bioactivity of Bougainvillea spectabilis and J. mimosifolia leaf powder against adult A. obtectus. J. mimosifolia first showed mortality potential against the study insects after 48 hours. Results suggest both plant powders are active against bean weevils. (9)
• Antimicrobial / Leaves: A methanol leaf extract showed activity against clinical isolates of E. coli, Salmonella typhi, B. cereus and S. aureus. (see constituents above) (12)
• Larvicidal / Culex quinquefasciatus / Leaves:Study evaluated the larvicidal effects of ethanol leaf extracts of Jacaranda mimosifolia, Tamaris aphylla, and Lavandula angustifolia extracts on Culex quinquefasciatus. LC50 and LC90 (mg/ml) on 3rd stage larvae were 13.61 and 18.94, respectively, and for 4th stage larvae, 8.35 and 13.38, respectively. Results suggest all three extracts can be used effectively as an ecofriendly, biodegradable and economical larvicide in integrated mosquito control programs. (14)
• Antioxidant / Phenylethanoid Glucoside and Jacaranone / Leaves and Flowers: Study of leaves isolated a new phenylethanoid glucoside a long with jacaranone. Total antioxidant activity of the purified compounds (1 and 2) were detected by DPPH-TLC method. (15)
• Antibacterial / Leaves: Study of a methanol leaf extract of J. mimosifolia showed antibacterial activity against clinical isolated of Escherichia coli Salmonella typhi, Bacillus cereus, and Staphylococcus aureus using agar well diffusion method. Ciprofloxacin was used as positive control. Phytochemical screening yielded carbohydrate, flavonoids and cardiac glycosides, with absence of anthraquinones and alkaloids. (16)
• Antibacterial / Stem Bark: Study evaluated the stem bark of J. mimosifolia and Kigelia africana for for antibacterial activity against Gram negative E. coli, P. aeruginosa and S. typhi and gram positive bacteria S. aureus. Phytochemical analysis yielded 17 known compounds including seven terpenoids, four quinones. The extracts and pure compounds exhibited antibacterial activity with zone inhibition diameters ranging from 0.0 to 11.0 mm. Compound 17 showed best MIC against four strains. (17)

Availability
Wild-crafted.
Seeds in the cybermarket.