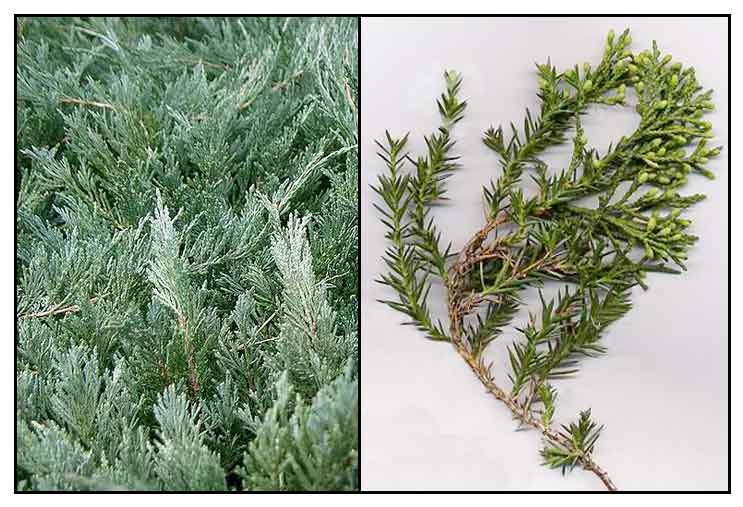 Botany
Juniper is a dioceious evergreen tree growing to a height of 15 to 20 meters. Leavers are opposite and obtuse, dark green, needle-like and spiny when young, adult ones are scale-like. Female cones are subglobose, 5 centimeters in diameter, with 2 seeds.
Distribution
- Cultivated and grows well in Baguio gardens.
- Does not thrive well the in lowlands.
- Widespread in temperate countries.
- Native to northeast Asia. Found in China, Mongolia, Japan, and Korea.
Constituents
-Studies have yielded sterols (sitosterol, campesterol), lignins, polyprenols (buttuprenol), hydrocarbons, polyphenols, essential oils (sabinyl acetate, bornyl acetate), monoterpenes, and fatty acids.
- Study of leaf volatile oil yielded thirty-three components. Major components were sabinene (19.8%), elemol (18.6%), bornyl acetate (17.5%), and limonene (14.2%).
- An n-BuOH fraction of heartwood yielded quercetin, naringenin, taxifolin, aromadendrin, and isoquercitrin. (see study below) (6)
- Heartwood yielded a bisnorditerpene, 14 diterpenes, and 12 sesquiterpenes, together with a new diterpene (15-hydroxylabda-8(17),11E,13E-trien-19-oic acid), and three new sesquiterpenes (cedr-3-en-15-01, junipercedrol and cc-longipinen-12-01).
- Leaves yielded umbelliferone, 13 lignans, and an unusual compound 2-(3,4 methylenedioxyphenyl) propane-1,3-diol.
- Study of heartwood yielded five new cis-Himachalane-type sesquiterpenes from J. chinensis var. tsukusiensis: ar-hi- machalene (1), 2-himachalen-6-ol (2), 3-himachalen-6-ol (3), 2a,6a-epoxy-3-himachalene (4), 2a,6a-epoxyhi- machalan-3b-ol (5), and chinensiol (6).
- GC-MS analysis evaluated the essential oil constituents of needles, twigs, and berries of J. chinensis from Korea. Essential oil yield by steam distillation were 0.34, 0.11, and 0.12% v/w, respectively. The plant parts yielded 36 different compounds, which were mostly monoterpene hydrocarbons (42.05-49.15%), followed by oxygenated monoterpenes (28.53-39.92%). Of the 36 components, 17 were identified in all three essential oils, of which major components were bornyl acetate (2.85 - 20.70%), sabinene (10.23 - 18.13%), α-pinene (5.80 - 16.26%), terpinen-4-ol (5.98 - 31.10%), limonene (3.98 - 6.96%), β-pinene (3.05 - 4.39%), γ-terpinene (2.24 - 8.36%), α-elemol (1.74 - 4.77%) and α-cadinol (2.49 - 3.39%). (15)
- Study of bark yielded a new labdane-type diterpene, methyl 14,15-dihydroxy-8(17),12E-labdadien-19-oate (1a), along with nine known compounds, trans-communic acid, cis-communic acid, 15,16-bisnor-13-oxo-8(17),11E-labdadien-19-oic acid, sandaracopimaric acid, 7-oxosandaracopimaric acid, sugiol, 7-oxototarol, α-cedrol and β-sitosteryl-1-O-β-glucopyranoside. (16)
Properties
- A popular Korean folk medicine considered anti-tumor, antibacterial, antifungal, abortifacient, anti-platelet, vasorelaxant, and antiviral.
- Studies have suggested antiobesity, antioxidant, antiproliferative, apoptotic activities.

Parts used
Stems, fruits, leaves, roots.

Uses
Folkloric
- No reported folkloric medicinal use in the Philippines.
- In China, used for common colds, pulmonary tuberculosis, urinary infections, rheumatic arthritis. Liquor brewed from fresh leaves is used as tonic and to treat coughs with bleeding.
- In Korea, used for dysentery, hemorrhage, leukorrhea.
- Stems used in treatment of parasitic skin problems.
- Fruit used for convulsions, excessive sweating and hepatitis.
- Root used for burns and scalds.
- Resin, mixed with resin of Pinus species, used as resolvent on tumors.

Studies
• Anti-Metastatic / Galectin-3 Inhibition: Study evaluated the anti-metastatic effect of J. chinensis extract in a mouse model bearing colon 26-M3.1 lung carcinoma. The extract showed significant anti-metastatic activity. Results show J. chinensis to be a potent inhibitor of galectin-3 expression, and presents a promise for use in inhibiting metastases induced by elevated expression of galectin-3. (3)
• Anti-Obesity Effect: Study evaluated the protective effect of J. chinensis hot water extract against high fat diet-induced obesity and its molecular mechanisms in the visceral adipose tissue of rats. Results showed an anti-obesity effect in the rodent model with HFD-induced obesity through an enhanced gene transcription of the uncoupling protein as well as elected AMPK protein expression and phosphorylation in the visceral adipose tissue.(4)
• Leaf Volatile Oil: Study of leaf volatile oil yielded thirty-three components representing 94.8% of the oil. Major components were sabinene (19.8%), elemol (18.6%), bornyl acetate (17.5%), and limonene (14.2%).
• Free Radical Scavenging: Study evaluated the antioxidant activity of J. chinensis heartwood using DPPH assay. A methanolic extract of heartwood showed strong antioxidant activity, with a BuOH soluble fraction showing stronger antioxidant activity. (6)
• Widdrol / Anti-Cancer / Antiproliferative / Apoptotic: Study reported the cytotoxic activity and the apoptotic activity of widdrol extracted from J. chinensis against the human colon adenocarcinoma cell line HT29. Treatment of HT29 cells with various concentrations of widdrol showed inhibition of growth and dose-dependent induction of apoptosis. (9)
• Natural Dye / Treatment of Atopic Dermatitis / Heartwood: Study evaluated the potential of the methanol extract of Juniper chinensis heartwood as natural dye for the treatment of atopic dermatitis induced in NC/Nga AD mice model by topical administration of DNCB. The heartwood extract improved skin lesions as evidenced by decreased epidermal thickness and mast cell count. Results suggest potential application as natural dye for treatment of AD. (13)
• CBT-143-S-F6F7 / Antiangiogenic / Antihepatocellular Carcinoma: A screening study of a panel of plants found that J. chinensis exhibited antiangiogenic and anti-HCC activities. The active ingredient CBT-143-S-FgF7 was investigated both in vivo and in vitro. Results showed significant antiangiogenic activity in various assays, including HUVEC tube formation and migration, CAM, and Matrigel plug assays. In vivo assays showed significant repression of subcutaneous Huh7 tumor growth and prolonged survival of .tumor bearing mice. Study suggests further evaluation of CBT-143-S-F6F7 as a new anti-HCC drug. (14)
• Antimalarial: Study investigated the anti-malarial activity of J. chinensis by in vitro and in vivo systems using Plasmodium falcifarum chloroquine-sensitive (3D7) and PF chloroquine-resistant (S20) strains. According to cytotoxicity test on NIH 3T3 cells, the EtOH and EtOAc fraction and aqueous fraction possessed significant antimalarial activity against both 3D7 and S20 strains with IC50s of 37 + 2 µg/ml and 36 ± 6 µg/ml. In animal testing using PF infected human erythrocytes, the EtOAc fractions significantly inhibited parasitaemia in mice in a dose dependent manner. (18)
• Tick and Aedes aegypti Larvae Repellent / Wood Oil: Study of J. chinensis wood oil yielded cuparene (11.3%) and delta-pinene (27.0%) as major components. The oil showed repellency against lone star tick, Brambly americanum (0.917 mg oil/cm2) and mild ability to kill Ae. aegypti larvae at 80 and 100% at 125 and 250 ppm, respectively. (19)
Availability
- Wild-crafted.
- Cultivated.
- Seeds in the cybermarket.