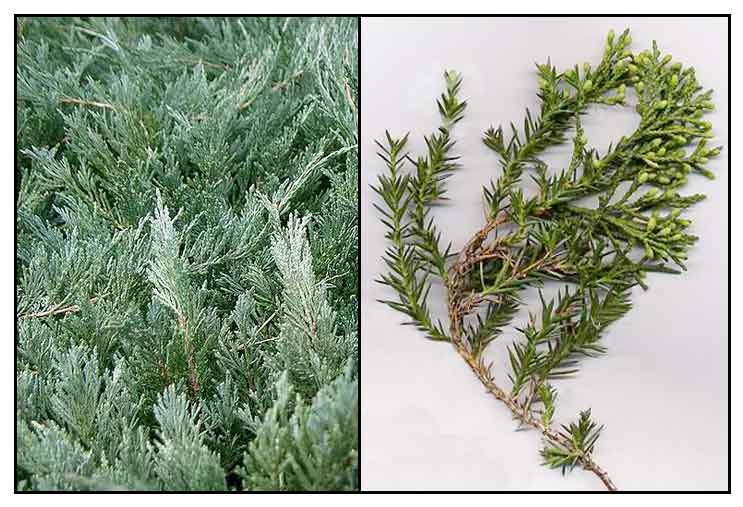 Botany
Juniper is a dioceious evergreen tree growing to a height of 15 to 20 meters. Leavers are opposite and obtuse, dark green, needle-like and spiny when young, adult ones are scale-like. Female cones are subglobose, 5 centimeters in diameter, with 2 seeds.
Distribution
- Cultivated and grows in Baguio gardens.
- Does not thrive well the in lowlands.
- Widespread in temperate countries.
- Native to northeast Asia. Found in China, Mongolia, Japan, and Korea.
Constituents
-Studies have yielded sterols (sitosterol, campesterol), lignins, polyprenols (buttuprenol), hydrocarbons, polyphenols, essential oils (sabinyl acetate, bornyl acetate), monoterpenes, and fatty acids.
- Study of leaf volatile oil yielded thirty-three components. Major components were sabinene (19.8%), elemol (18.6%), bornyl acetate (17.5%), and limonene (14.2%).
- n-BuOH fraction yielded quercetin, naringenin, taxifolin, aromadendrin, and isoquercitrin.
- Heartwood yielded a bisnorditerpene, 14 diterpenes, and 12 sesquiterpenes, together with a new diterpene (15-hydroxylabda-8(17),11E,13E-trien-19-oic acid), and three new sesquiterpenes (cedr-3-en-15-01, junipercedrol and cc-longipinen-12-01).
- Leaves yielded umbelliferone, 13 lignans, and an unusual compound 2-(3,4 methylenedioxyphenyl) propane-1,3-diol.
- Study of heartwood yielded five new cis-Himachalane-type sesquiterpenes from J. chinensis var. tsukusiensis: ar-hi- machalene (1), 2-himachalen-6-ol (2), 3-himachalen-6-ol (3), 2a,6a-epoxy-3-himachalene (4), 2a,6a-epoxyhi- machalan-3b-ol (5), and chinensiol (6).

Properties
- A popular Korean folk medicine considered anti-tumor, antibacterial, antifungal, abortifacient, anti-platelet, vasorelaxant, and antiviral.

Parts used
Stems, fruits, leaves, roots.

Uses
Folkloric
- No reported folkloric medicinal use in the Philippines.
- In China, used for common colds, pulmonary tuberculosis, urinary infections, rheumatic arthritis. Liquor brewed from fresh leaves is used as tonic and to treat coughs with bleeding.
- In Korea, used for dysentery, hemorrhage, leukorrhea.
- Stems used in treatment of parasitic skin problems.
- Fruit used for convulsions, excessive sweating and hepatitis.
- Root used for burns and scals.
- Resin, mixed with resin of Pinus species, used as resolvent on tumors.

Studies
• Anti-Metastatic / Galectin-3 Inhibition: Study evaluated the anti-metastatic effect of J. chinensis extract in a mouse model bearing colon 26-M3.1 lung carcinoma. The extract showed significant anti-metastatic activity. Results show J. chinensis to be a potent inhibitor of galectin-3 expression, and presents a promise for use in inhbiting metastases induced by elevated expression of galectin-3.
• Anti-Obesity Effect: Study evaluated the protective effect of J. chinensis hot water extract against high fat diet-induced obesity and its molecular mechanisms in the visceral adipose tissue of rats. Results showed an anti-obesity effect in the rodent model with HFD-induced obesity through an enhanced gene transcription of the uncoupling protein as well as elected AMPK protein expression and phosphorylation in the visceral adipose tissue.
• Leaf Volatile Oil: Study of leaf volatile oil yielded thirty-three components representing 94.8% of the oil. Major components were sabinene (19.8%), elemol (18.6%), bornyl acetate (17.5%), and limonene (14.2%).
• Free Radical Scavenging: Study evaluated the antioxidant activity of J. chinensis using DPPH assay. A methanolic extract of heartwood showed strong antioxidant activity.
• Widdrol / Anti-Cancer / Antiproliferative / Apoptotic: Study reported the cytotoxic activity and the apoptotic activity of widdrol extracted from J. chinensis against the human colon adenocarcinoma cell line HT29. Treatment of HT29 cells with various concentrations of widdrol showed inhibition of growth and dose-dependent induction of apoptosis.
Availability
Wild-crafted.
Cultivated.
Seeds in the cybermarket.