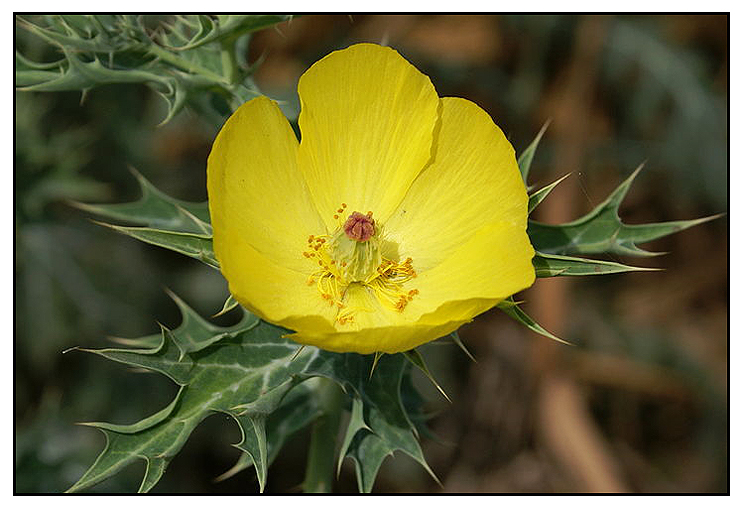 Gen info
A plant used as "nourishment for the dead" by the Aztecs. The plant latex is collected into a pliable mass and fashioned into an image of an Aztec god. In a sacrifice ritual, the "god" image is killed and its "flesh" distributed among the worshipers. Its became cemented into the culture of poppy when Chinese residents in Mexico extracted from the latex a product with opium-effects. (1)
Botany
Kachumba is an erect, rather stout, branched annual herb, about 1 meter high. Leaves are 5 to 11 centimeters long, more or less blotched with green and white, glaucous, broad at the base, half-clasping the stem, prominently sinuate-lobed, and spiny. Flowers are terminal, yellow, scentless, 4 to 5 centimeters in diameter. Capsule is spiny, obovate or elliptic-oblong, about 3 centimeters in length. Seeds are spherical, shining, black and pitted.
D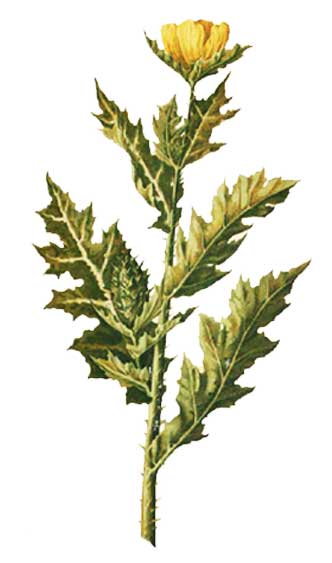 istribution
- Weed in waste places, widely scattered in the Philippines, in and about towns.
- Native of tropical America.
- Introduced, now pantropic.
Constituents
- Phytochemical screening yielded the presence of reducing sugars, flavonoids, sterols/terpenes, tannins and alkaloids.
- Seed analysis yielded 36% oil, 49% carbohydrate and albumin, 9% moisture and 6% ash.
- Seed study yielded an alkaloid similar to morphine in all its important reactions. A subsequent critical study found no trace of morphine, but reported berberine and protopine.
- Seeds contain a pale yellow non-edible oil, 22-36%, called argemone oil or katkar oil, which contains the toxic alkaloids sanguinarine and dihydrosanguinarine.
- Plant contains alkaloids berberine, protopine, sarguinarine, optisine, chelerytherine, among others.
- Seed contains myristic, palmitic, oleic, linoleic acids.
- Phytochemical screening of extracts of flowers yielded secondary metabolites: alkaloids, flavonoids, glycosides, saponins, tannins, phenol, lignin, sterols. (17)
- Study isolated six alkaloids from aerial parts, viz. 13-oxoprotopine, protomexicine, 8 methoxydihydro-sanguinarine, dehydrocorydalmine, jatrorrhizine, and 8-oxyberberine. (see study below) (33)
- Phytochemical screening of chloroform (C), ethyl acetate (EA) and ethanol (Et)seed extracts yielded alkaloid (C,Et,EA), flavonoid (E), glycoside (CE), polyphenol (E), phenolic (E), oil (C), steroid (C,EA,Et), terpenoid (CE), fatty ester (EA) and free acid (EA)
Properties
- Considered analgesic, antispasmodic, antitussive, demulcent, emetic, expectorant, hallucinogenic, purgative and sedative.
- Berberine is a bitter yellow substance with an effect on circulation. A study reported an overdose of berberine to be possibly fatal from paralysis of the central nervous system. Protopine was reported to be narcotic. However, another subsequent studies on the seeds did not show an emetic or narcotic influences.
- Root is considered alterative, anthelmintic.
- Leaves considered narcotic and sedative.
- Flowers considered pectoral and sedative.
- Seeds considered laxative, emetic, nauseant, expectorant and demulcent.
- Seeds reported to have a cannabis-like effect, and the herb juice and flowers reputed to be narcotic. (see fringe use, below) (36)

Parts used
Root, stems, leaves.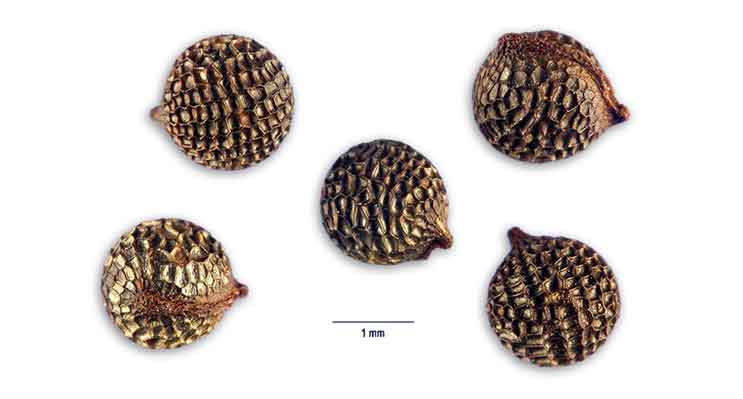 Uses
Folkloric
- Yellow juice of the plant used to treat "fissures of the cornea.+
- Infusion of roots is given to women at the start of parturition pains.
- Roots given for various chronic skin diseases.
- In La Reunion roots given for blenorrhagia.
- In French Guinea, decoction of roots or stems given for vesicular calculus. Decoction also used as an eye-wash and a lotion used for inflammatory swellings. Also, used as a mouthwash for toothaches and taken internally for gleet.
- Powdered root used for tapeworm.
- In French Guinea, stem used as diuretic.
- In Gambia, infusion of leaves used for coughs.
- Leaves used as narcotic and sedative.
- Latex with slightly corrosive property, applied to warts, chancres, etc. Also used for eczema.
- Yellow juice of the plant used for dropsy, jaundice, cutaneous affections.
- Used as a diuretic, relieves blisters, heals excoriations and indolent ulcers.
- Used as externally application for conjunctivitis.
- In Konkan, juice is given with milk for leprosy.
- In Jodhpur, the yellow juice is used for eye affections and rubbed on the body to relieve rheumatic pain.
- In the West Indies, used as a substitute for ipecacuanha.
- In Senegal, root decoction used to treat gonorrhea. (44)
- Seeds used for catarrhal affections of the throat, cough, pertussis and asthma.
- In Mexico, used as an antidote to snake venom.
- In French Guinea, used as a cathartic and emetic. Also, flowers considered narcotic.
- In Delhi, smoke from burning seeds used to relieve toothaches; also, for preventing dental caries.
- Oil is aperient, used for herpetic lesions and other skin diseases.
- In Delhi and Sindh, oil is used on indolent ulcers and eruptions and as an external application for headaches.
- Oil of seeds is considered purgative.
Others
- Fringe Uses: In many "fringe" and tribal cultures, leaves are smoked or made into tea, for its sedating and psychoactive properties. Euphorant and aphrodisiacal properties have been reported. Also, used as tea for its beneficial effects as a smoking-cessation aid.
- Cold remedy: Leaf extracts being recommended as new-age cold remedy.
- Seed oil: In India, popularly known as Satyanashi oil, used as illuminant, lubricant, ingredient in soap making, and protection against termites. (37)
Studies
• Antibacterial: Study on the extracts of seeds and leaves of A. mexicana all showed activity against S aureus, B subtilis, E coli and P aeruginosa; the methanol extract showed maximum inhibition. (2)
• Toxicity / Neuro-entero-hepato-nephropathy: Rats receiving seed, seed oil and ethanolic extracts of A. mexicana suffered hyperesthesia, inappetence, intermittent diarrhea, emaciation and decrease body weight, with hepatorenal lesions and increase in BUN and SGOT. Results suggest that the seed and seed extract toxicity in rats are more of neuro-enterohepatonephropathy. (4)
• Epidemic Dropsy / Toxicity Report: Four cases manifesting epidemic dropsy following massage with contaminated mustard oil was reported. The oil was found adulterated with Argemone mexicana oil, and the diagnosis confirmed a transcutaneous route of absorption of the toxin with the presence of sanguinarine in the serum and urine of all four cases. (5)
• Anti-Malarial: A study compared the Argemone mexicana decoction versus artesunate-amodiaquine (artemisinin combination therapy [ACT]) for the management of malaria. In view of the low rate of severe malaria and good tolerability, AM may also constitute a first-aid treatment when access to other antimalarials is delayed. (7)
• Larvicidal / Insecticide: Study showed the crude methanol extract of P minima and the methanol leaf and flower extract of Argemone mexicana might be used as larvicide and insecticide.
• Effect on Ileum Contraction: Study showed CHCl3/MeOH and MeOH extracts dose-dependently reduced the contractions of isolated guinea-pig ileum. The effects were attributed to the active compounds identified as protopine, allocryptopine and berberine. (8)
• Phytochemical Screening: Phytochemical screening yielded reducing sugars, flavonoids, sterols / terpenes, tannins and alkaloids. Its biological active compounds could serve as a potential source of vegetable drugs in herbal medicine.
• Anti-Stress / Antiallergic / Anti-Asthma: Study of various extracts showed the aqueous extracts of Argemone mexicana stems caused a significant decrease in leucocytes and eosinophils, results suggesting a usefulness as antiallergic in asthmatic conditions. (10)
• Neurotoxicology of Argemone Oil / Neuroprotective Extract: Argemone oil shows acute and subacute as well as dose-dependent toxicity in whole brain as well as discrete areas of the brain. Oral supplementation of aqueous extract of A mexicana stem and leaves showed a protective effect on the brain and liver. (11)
• Bacteriostatic / Enteropathogenic Bacteria: Study evaluated the bacteriostatic efficacy of 16 crude extracts from different parts of A. mexicana on enteropathogenic bacteria such as Klebsiella oxytoca, Vibrio damsella, E. aerogenes and E. coli. Results confirmed a broad-spectrum antibacterial property, with the leaf and seeds as principle sources of active ingredients with bacteriostatic potential. (13)
• Wound Healing / Leaves: Various extracts of leaves were evaluated for wound healing activity in rats using excision, incision, and dead space wound models. Animals treated with methanol and aqueous extracts showed faster wound healing. The wound healing effects were attributed to phytoconstituents like alkaloids, triterpenoids, tannins, and flavonoids. (14)
• Repellent / Leaves: Study evaluated the repellent activity of an aqueous extract on S. oryzae and T. castaneum adults. Results confirm the extracts of leaves as a biologic control against insects/pests of stored grain. (15)
• Analgesic / Leaves: Study evaluated an ethanolic extract of leaves for peripheral analgesic in mice. Results showed very good peripheral activity and significant analgesic activity in comparison to Aspirin. Flavanoids may be contributory to the analgesic activity. (16)
• Cytotoxicity / Benzophenanthridine and Benzylisoquinoline Alkaloids: Study of aerial parts isolated two benzophenanthridiine-type alkaloids and three bnezylisoquinoline-type alkaloids, together with six known non-alkaloidal compounds. Chelerythrine, angoline, and (+)-argenaxine showed activity against one or both cell lines--HONE-1 (human nasopharyngeal carcinoma) and NUGC (human gastric cancer) cell lines. (18)
• Antibacterial / Antioxidant: Study of a 50% methanolic extract of fruits showed potent antibacterial activity against Gram positive and Gram negative bacteria and good antioxidant activity. (19)
• Anxiolytic / Sedative / Analgesic: Study evaluated methanolic and ethyl acetate extracts of whole plant for CNS related activities in mice. In acute toxicity study, both extracts showed to be safe up to 2500 mg/kbw. Results showed analgesic, anxiolytic, and sedative effects. (20)
• Biodiesel from Seed Oil: Study explored the possibility of biodiesel production from A. mexicana seed oil and an efficient catalyst crystalline manganese carbonate. Optimum conditions for the conversion of the seed oil to its methyl ester by transesterification required 1% manganese carbonate as catalyst with alcohol to oil ratio 5:1 at 60°C to yield biodiesel of 99.99% purity. (21)
• Anti-Cancer / Leaves: Study evaluated a methanolic extract of leaves for anticancer activities against HeLa and MCF-7 cells. An IC50 of 1.35µg/µl to 1.2µg/µl was found. Activity was through apoptosis rather than necrosis. Activity could be related to flavonoid content. (22)
• Toxicity / Epidemic Dropsy / Sanguinarine / Oil: Four cases with characteristics of epidemic dropsy was reported following body massage with contaminated mustard oil. Oil used for the body massage was adulterated with Argemone mexicana oil. Transcutaneous absorption of toxin (sanguinarine) was suspected, and established by the presence of the same in urine and serum of all four cases. (23)
• Antiulcer / Aerial Parts: Study evaluated extracts of aerial parts of A. mexicana on duodenal ulceration model induced by cysteammine hydrochloride. The aqueous extract showed dose dependent increased healing of gastric ulceration and prevented development of experimentally induced duodenal ulceration in rats. Ranitidine was used as standard drug. (25)
• Analgesic / Anti-Inflammatory / Leaves: Study evaluated the anti-inflammatory and analgesic properties of a lyophilized leaf extract of Argemone mexicana on an animal model. Results showed significant dose-dependent anti-inflammatory activity using the carrageenan induced paw edema method and significant analgesic activity by hot plate method. (26)
• Antimicrobial: Study evaluated the potential of extracts of various plant parts (stem, leaf, and fruit) of Argemone mexicana as an antimicrobial plant. All extracts showed showed considerable antimicrobial activity against all test microorganisms (B. subtilis, S. epidermis, S. aureus, E. coli, P aeruginosa and Candida albicans) with the chloroform extract showing to be most effective. The ethanol extract of stem and leaves showed maximum activity against S. aureus and C. albicans. Acetone extract of leaf showed good activity against P. aeruginosa. (27)
• Corrosion Inhibition of Mild Steel / Leaves: Study evaluated the corrosion inhibition potential of A. mexicana leaf extract on mild steel in 0.5 M H2S04. Results showed AMLE inhibited mild steel corrosion in sulfuric acid solution. (28)
• Anthelmintic / Aerial Parts: Alcoholic and aqueous extracts of aerial parts of A. mexicana showed significant anthelmintic activity on Indian adult earth worms Pheretima posthuma compared to standard drug albendazole. (29)
• Antioxidant / Roots: Study of A. mexicana roots showed significant antioxidant activity using various antioxidant assay, viz. DPPH, ABST, and H202 scavenging method. (30)
• Hypoglycemic / Aerial Parts: Study evaluated the hypoglycemic activity of hydroalcoholic extract of aerial parts on STZ-induced hyperglycemic rats. Results showed hypoglycemic potential. The test dose of 400 mg/kg for 14 days showed similar effect to that of standard drug metformin. (31)
• Oviposition Altering and Ovicidal Efficacy against Ae Aegypti / Roots: Study of various extracts of roots showed potential oviposition deterrent and ovicidal agent against Ae. aegypti. The petroleum ether extract was the most potent. (32)
• Cytotoxicity / Human Colon Cancer Line / Alkaloids / Aerial Parts: Study evaluated the potential cytotoxic effects of alkaloids isolated from aerial parts of A. mexicana on SW480 human colon cancer cell line. Some alkaloids showed varying degrees of cytotoxicity. Jatrorrhizine and 8-methoxydihydrosanguinarine were most potent (∼95–100%) in inhibiting the human colon cancer cell proliferation showing complete reduction in cell viability. Results suggest potential for development of a chemotherapeutic drug. (see constituents above) (33)
• Immunomodulatory: Study evaluated the immunomodulatory effects of leaves of Ocimum sanctum and Argemone mexicana plants in a chicken model. Results showed the T cell suppressive impact of hot aqueous extract of A. mexicana and stimulatory effects of O. sanctum. (34)
• Gold Nanoparticles / Cytotoxicity in MCF-7 Breast Cancer Cells: Study evaluated the cytotoxic properties of new AuNPs synthesized from an aqueous leaf extract of A. mexicana on MCF-7 breast cancer cells. Exposure to AuNPs resulted in dose-dependent cytotoxicity in MCF-7 cells that is closely related to increased oxidative stress. The induction of apoptosis in MCF-7 cells by gold nanoparticles warrants further research to determine in vivo AuNPs application. (35)
• Thrombolytic / Antioxidant: Study evaluated leaf extracts of Argemone mexicana for phytochemical constituents, antioxidant and thrombolytic activities. All extracts showed antioxidant activity. In DPPH and nitric oxide scavenging assay, n-hexane extracts showed highest IC50 values of 73.73 µg/ml and 152.73 µg/ml. All extracts showed significant % of clot lysis effect (p<0.001) using streptokinase as positive control. (38)
• Antibiotic Effect / Mastitis Pathogens in Dairy Cattle / Seeds: Oil cakes extracted from cooked and raw seeds and fresh plant juice extract showed strong inhibition of bacterial growth against bacteria (E. coli > S. aureus > S. aglaciatae) isolated from milk of cows infected by mastitis. (39)
• Effect against Lithium-Pilocarpine Induced Status Epilepticus: Study evaluated the effect of an ethanol extract of Argemone mexicana on lithium-pilocarpine induced status epilepticus and oxidative stress in male albino rats. Severity of status epilepticus was significantly reduced. The extract also exhibited in vivo and in vitro antioxidant activities. (40)
• Antifungal / Anticancer / Stems and Leaves: Study evaluated cold aqueous and methanol extracts of A. mexicana stems and leaves for antifungal and anticancer activities. Both extracts of stems and leaves showed strong antifungal activity with inhibition of growth of Mucor indicus, Aspergillus flavus, A. niger, and Penicillum notatum, comparable to Amphotericin B. The extracts showed cytotoxic effect on A549, SiHa, and KB cell lines similar to berberine. (41)
• Benzylisoquinoline Alkaloids: Argemone mexicana accumulates benzylisoquinoline alkaloids, derived from tyrosine. Its antimicrobial, antiparasitic, antimalarial, pesticidal, cytotoxic and neurological properties find various treatment applications. Effects are attributed to the presence of different types of BIAs, such as benzophenanthridines (sanguinarine, chelerythrine), protoberberines (berberine) and protopines (protopine, allocryptopine). The review chemical basis of effects and its relation to the occurrence of different types of alkaloids and its synthesis. (42)
• Prevention of CP-Induced Micronucleus Formation in Bone Marrow Cells / Fruits: Study the dose-dependent preventive effect of A. mexicana fruits extract against cyclophosphamide-induced micronucleus formation in Swiss mouse bone marrow cells. (43)
• Antifungal / Alkaloids: Alkaloids dehydrocorydalmine and oxyberberine, isolated from A. mexicana showed antifungal activities against come fungal strains such as Helminthosporium sp., Curvularia sp., Alternaria cajani, Bipolaris sp. and Fusarium udum (Singh et al., 2009) (45)
• Antiurolithiatic: Study evaluated the inhibitory potency of crude methanol extracts of Argemone mexicana, Cissus javana and Garcinia pendunculata on the formation of calcium phosphate and on the growth of calcium oxalate monohydrate (COM) crystals in vitro. Argemone mexicana showed the highest inhibition of CP formation in the urinary medium while G. pendunculata showed highest inhibition in the formation of COM. (46)
• Analgesic / Anti-Inflammatory / Roots: Study evaluated the analgesic and anti-inflammatory activities of ethanolic extract of roots of Argemone mexicana using acetic acid induced writhing in mice and hind paw edema in rats. Results showed dose-dependent antinociceptive activity and slight anti-inflammatory activity. Intraperitoneal LD50 of the extract was 368.00 mg. (47)
• Insecticidal / Chrysoperla carnea: Study evaluated the effect of ingestion of plant extract with a base of A. mexicana on biological parameters and parameters of the life table of C. carnea under laboratory conditions. Argemone mexicana slightly affected biological parameters without affecting the intrinsic rate of growth. Mortality increased during susceptible stages of the predator which suggested stage of development would be affected when the predator consumed prey treated with A. mexicana. Results suggest a potential natural alternative management of agricultural pests. (48)
• Diuretic / Laxative / Leaves: Study evaluated an aqueous extract of leaves for diuretic and laxative potential using metabolic cage apparatus and and flame photometer. The extract showed significant diuretic activity at 250 mg/kg dose when compared to standard furosemide. The extract also showed significant increase in fecal output with significant increase in the weight of feces. (49)
Availability
- Wild-crafted.