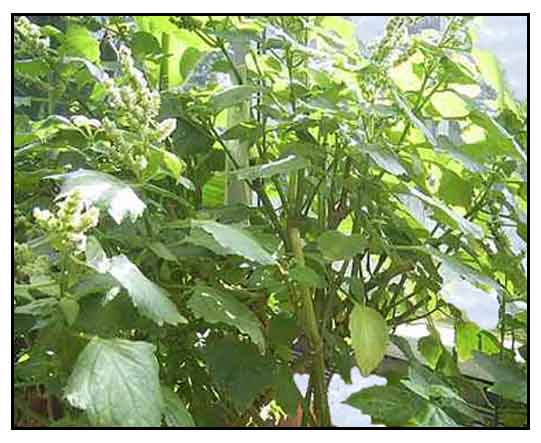 Gen info
About 40 species of genus Pogostemon are found in the China and Indonesia regions. Of these 40 species, two are sources of the pungent, dark amber-colored Patchouli oil - P. cablin and P. heyneanus. However, oil from P. heyneanus is considered inferior to P. cablin.
Botany
Kadlum is an erect or ascending, branched, hairy herb 30 to 60 centimeters in height. Leaves are very aromatic, like those of kablin, somewhat smooth, ovate, 5 to 11 centimeters long, toothed in the margins. Flowers are white, and borne in whorls on terminal and axillary spikes which are 6 to 25 centimeters long. Bracts are ovate or lanceolate, and equal to the calyx or a little shorter.
Distribution
- Found in Palawan, Panay, and Mindanao, in thickets, coconut groves, old clearings, and among small streams in forests at low altitudes.
- Probably introduced.
- Also occurs in India, Indonesia, the Malay Peninsula, Thailand, Vietnam.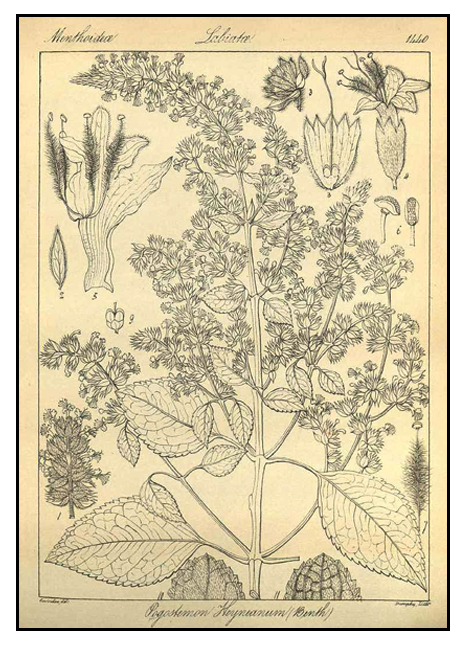 Constituents
- Analysis of volatile oil of leaves yielded twenty-six components representing 96.0% of the oil, with major components identified as: acetophenone (51.0%), beta-pinene (5.3%), (E)-nerolidol (5.4%), and patchouli alcohol (14.0%).
- In a study of essential oil components of leaves and twigs, the main component was patchouli alcohol 21.9%.
- GC0MS analysis of various solvent extracts of leaves yielded 46 phytocompounds. Major compounds included carvacrol (37.7$), tetracontane (16.6%), squalene (15.6%), tetrapentacontane (13.7%), and phytol (12.8%). (see study below) (11)
- Leaves yielded essential oil, light yellow to brown, 1.5-2% w/w. Active principle of the EO was patchouli alcohol with EO content of 1.0-1.5% v/w, total ash of 12-13 w/w/, acid soluble ash less than 1% w/w, absence of mucilage, and chemical composition of α-pinene, ß-pinene, nerolidol, ß-patchouline, α-patchouline, ß-caryophyllene, α- guaiene, delta guaieene seycheline, α-gurjunene. (12)
Properties
- Repellent
- Considered by some as anti-depressant and aphrodisiac.

Parts used
Leaves and roots.

Uses
Folkloric
- Malays used a root decoction for dropsy.
- Decoction also drunk for coughs and asthma.
- Poultice of leaves used for boils, headache, jaundice, bilious fevers.
- In Ayurveda, used for pyorrhea, halitosis, anorexia, dyspepsia, flatulence, diarrhea, vomiting, abscesses, urinary tract diseases, abscesses, and heart disease. (13)
- In Malaya, lotion made from roots used for rheumatism.
- In Sri Lanka, powdered leaves used like snuff as sternutatory.
- The Kuruma tribes of Kerela, India, ash of whole plant mixed with mustard oil is applied on wounds. (8)
Others
- Ornamental: Sakai make garlands worn by women around the waste; also stick bits in earrings.
- Repellent: In India, dried leaves used as insect repellent for stored clothing.
- Perfume: In Malaysia, used as source of perfume. Essential oil used in perfumery and cosmetics.

Studies
• Volatile Oil / Leaves: Study of the volatile oil of leaves yielded 26 components representing 96% of the oil. The major components were acetophenone (51.0%), beta-pinene (5.3%), (E)-nerolidol (5.4%), and patchouli alcohol (14.0%). Although 13 sesquiterpenes and oxygenated sesquiterpenes were detected in both P heyneanus and P. cablin, acetophenone, benzoyl acetone and (E)-nerolidol were not detected in patchouli oil. (3)
• Synergistic Mosquito Repellent Activity: Study evaluated the synergistic mosquito-repellent activity of Curcuma longa, P. heyneaus and Zanthoxylum limonella essential oils. Results showed a synergistic repellent activity which presents a potential alternative to synthetic repellents for personal protection against mosquitoes. (4)
• Anti-Candidal Activity: An ethanolic extract of P. heyneanus leaves showed significant activity against Candida glabrata. (6)
• Anticancer / Breast Cancer Cell Lines / Leaves: Study evaluated crude leaf extracts of Pogostemon heyneanus and Plectranthus amboinicus for cytotoxicity in two breast cancer cell lines (MCF-7 and MDA-MB-231) by MTT assay and antioxidant activity by DPPH and H2O2 assays. Both P. heyneanus and P. amboinicus were effective against MCF-7 cells. The chloroform extract of P. heyneanus was more effective than P. amboinicus against MDA-MB-231. The cytotoxic activity of chloroform extract of PH against both cancer cell lines was attributed to rich steroid and saponin content. (9)
• Essential Oil: Study evaluated different parts i.e., stems, leaves, and roots, for essential oils, total antioxidant capacity (TAC), total phenolic content (TPC), and total flavonoid content (TFC). Essential oil composition was quite varied in all three parts of the plant. Patchouli alcohol in the leaf, stem, and root yielded 44.56, 20.72, and 5.76%, respectively. Caempferol was the main component in roots (80.49%). Significantly higher TPC, TFC, and TAC were observed in leaf extracts, suggesting the value of the leaf for the development of effective drugs instead of roots and stems. (10)
• Antimicrobial / Antioxidant / Leaves: Study evaluated different solvent extracts of leaves for anitoxidant and antimicrobial effects. A methanol extract showed highest total phenolic content (94.37 ± 1.25 mg GAE/g) and flavonoid contents (26.90 ± 1.36 mg RE/g) and exhibited the highest DPPG scavenging activity (90.13 ± 3.32%). The ME also showed highest antimicrobial activity against all tested pathogens i.e. B. subtilis, MRSA, P. aeruginosa, E. coli and Candida albicans. (see constituents above) (11)
• Contact Insecticidal Activity: Study evaluated extracts of two Indian medicinal plants, Nigella sativa and Pogostemon heyneanus, for laboratory activity as contact insecticides against stored-product pests Sitophilus oryzae, Stegobium paniceum, Tribolium castaneum, and Callosobruchus chinensis. Both extracts were toxic to the pests. (14)
• Synergistic Mosquito Repellent Activity / Essential Oils: Study evaluated the synergistic mosquito-repellent activity of Curcuma longa, Pogostemon heyneanus, and Zanthoxylum limonella essential oils. At optimum concentration of 20%, the EO provided protection times (CPTs) of 96.2, 91.4, and 123.4 min, respectively, against Aedes albopictus mosquitoes in the laboratory. The 1:1:2 mixture of the EO provided 329.4 and 391.0 min of CPT in laboratory and field trials, respectively. The synergism may be useful in developing safer alternatives to synthetic repellents for personal protection against mosquitoes. (15)
• Antibiofilm Activity / Essential Oil: Studies of essential oils of Pogostemon cablin and Pogostemon heyneanus exhibited antibiofilm activity against strains of S. pyogenes that are responsible for pharyngitis. (16)

Availability
- Wild-crafted.
- Seeds, oil and lotions in the cybermarket.