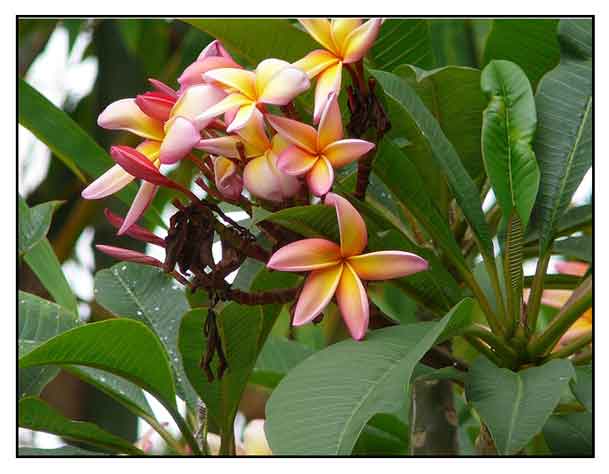 Gen info
- Revised taxonomy: The genus Plumeria of the Apocynaceae family was revised to contain P. rubra, P. obtusa, and their hybrids. Plumeria acuminata, P. acutifolia, and P. lutea, previously species names, are now recognized as botanical forms of P. rubra. (29)
- Study reports on the key to 40 major plumeria cultivars grown in Hawai'i, which is based on the most prominent color in the petal: reds, pinks, yellows, white, and blends.       (29)
- Etymology: The genus name is in honor of 17th-century French botanist and Catholic monk, Charles Plumier. The common name "Frangipani" derives from the 16th-century marquis of an Italian noble family who claimed to have invented a plumeria-scented perfume, although it was a synthetic perfume resembling the odor of fragrant flowers.(26)
- In some parts of South East Asia, the tree and flower are considered sacred. Balinese Hindus use the flowers as temple offerings. (26)
- The two Plumeria species in this compilation are Plumeria rubra (P. acuminata, P. acutifolia, Kalachuchi) and P. obtusa (white kalachuchi, Kalatsutsing-puti). P. obtusa leaves are pointed and oval, up to 18 centimeters long, with tubular flowers. P. rubra produce fragrant flowers with five spreading petals, yellow to pink, with oval or lance-shaped leaves 20 to 30 centimeters long.
- The frangipani is the national tree of Laos, called dak lampa, and where it is regarded as a sacred tree. It is also the national flower of Nicaragua.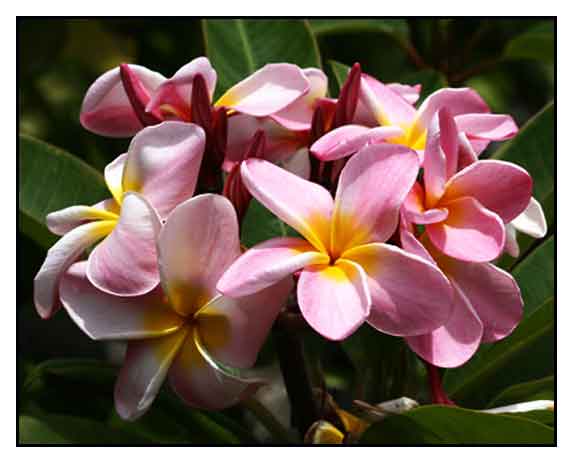 Botany
Kalachuche is a small, deciduous tree, 3 to 7 meters high, with a crooked trunk, smooth and shining stems, succulent, with abundant sticky, milky latex. Bark has a smooth, papery outer layer which is grey, shining, and constantly exfoliating in small flakes. Wood is yellowish-white and soft. Branches are thick, fleshy, swollen and leafy at the tips. Leaves are crowded at the terminal end of the branch, commonly oblong in shape, 20 to 40 centimeters long, 7 centimeters wide, spirally arranged at the ends of the branches. Flowers are numerous, fragrant and large, the upper portion whitish, while the inner lower portion yellow, 5 to 6 centimeters long. Fruits are linear-oblong or ellipsoid follicles, with a pointed tip, 15 to 20 centimeters long, 1.5 to 2 centimeters in diameters. Seeds are numerous and winged.
Distribution
- Usually cultivated for ornamental purposes.
- Nowhere established.
- Introduced from Mexico by the Spaniards.
- Now pantropic.

Constituents
- Flowers suppose to be source of perfume known as "Frangipani."
- Bark contains a bitter glucoside, plumierid (2%).
- Latex contains resins, caoutchouc and calcium salts of plumieric acid: cerotinic acid and lupeol.
- Leaves contain a volatile oil.
- Phytochemical screening of methanol extract yielded steroids, flavanoids, tannins, alkaloids, and glycosides.
- Powdered leaf yielded alkaloids, cyanogenic glycosides, phenolic compounds, flavonoids, terpenoids, tannins, and saponins.
- Preliminary phytochemical screening of chloroform (C), petroleum ether (PE) and methanol (M) extracts of flowers yielded tannin (M), carbohydrate (PE), steroid (PE, M), glycoside (C, PE, M) and flavonoid (M), with absence of gum, protein, and alkaloid. (32)
- GC and GC-MS study evaluated flowers for volatile constituents. Altogether 31 constituents, representing 94.0% of flower essential oil and 89.2% of steam volatile extract were identified. Major classes of constituents were benzyl esters (49.0%, 41.4%), aliphatic alkanes (25.8%, 7.2%), oxygenated monoterpenes (0.1%, 27.1%), oxygenated sesquiterpenes (9.5%, 8.8%), and diterpene (9.4%, 0.2%). Major constituents were benzyl salicylate, benzyl benzoate, geraniol, (E,E)-geranyl linalool, tricosane, linalool, nonadecane, (E)-nerolidol, and pentacosane. (34)
- Study of ethyl acetate extract of leaves and bark yielded tannins, alkaloids, balsam, cardiac glycosides, phenols, terpenes, and steroids, with absence of flavonoids, saponins and resins. (see study below) (36)
- Study of dichloromethane extract of white flowers of P. rubra yielded a mixture of lupeol (1), α-amyrin (2) and ß-amyrin (3) in about 8:2:1 ratio. (37)
- Phytochemical investigation on the leaves of Plumeria acutifolia Poir. isolated three triterpenes (lupeol, uvaol and ursolic acid), one iridoid (15-demethylplumieride) [1], and a new alkaloid (1) with an iridoid-like skeleton for which the name plumerianine was adopted. (44)
- Phytochemical analysis of latex yielded alkaloids, flavonoids, phenolics, tannins, terpenoids, and glycosides, with absence of saponins and steroids. (45)

Properties
- Tree latex is irritating to the skin.
- Seeds considered hemostatic.
- Plumeria flowers are most fragrant at night to lure sphinx moths to pollinate them. (However, the plant yields no nectar.) (26)
- Considered anti-inflammatory, antipyretic, diuretic, emmenagogue, febrifuge, purgative, rubefacient.
Toxicity concerns and side effects
- The milky sap can be a skin irritant, causing rashes or blistering.
- Ingestion of the sap or bark can cause vomiting and diarrhea.
- While some blogs report edibility of flowers, some advise caution and concern. (see edibility below)
Parts utilized
Bark, leaves and flowers.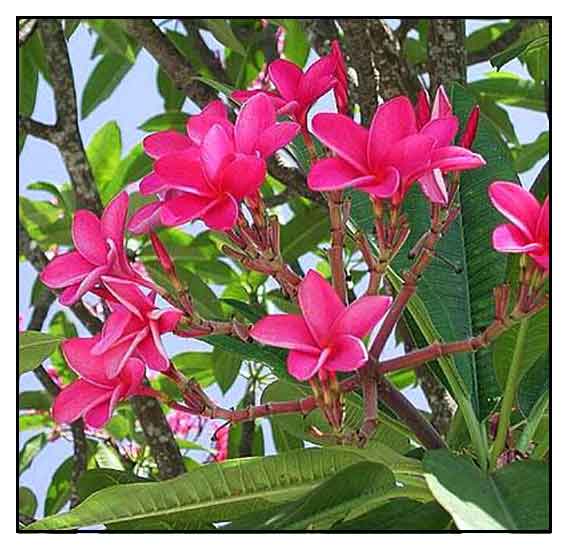 Uses
Edibility
· Caution / Toxicity: While some blogs have reported Plumeria flowers to be edible (eaten raw in salads or steep in tea), many advise against ingestion. All parts are considered toxic. The sap can cause a rash in sensitive people. The alkaloid content makes the plant extremely bitter, Ingestion may cause stomach pains and cramping. (30)
Folkloric
· Decoction of bark is used as purgative, emmenagogue, and febrifuge. Latex is similarly employed.
· Preventive for heat stroke: the material may be taken as a cooling tea.
· Root-bark taken internally as a strong purgative.
· Root bark and fruit used as abortifacient.
· Root bark used as remedy for gonorrhea and venereal sores.
· Bark decoction used as antiherpetic.
· Used in treatment of ulcers, herpes, scabies.
· Bruised bark use as plaster over hard tumors.
· Bark latex mixed with coconut oil used for itching.
· In India, bark used as purgative. Bark also used as application for abscesses.
· In Java and Madera, bark decoction used for gonorrhea, dropsy, and dysuria due to venereal disease.
· In Yucatan, latex is used for toothache.
· In Persia, bark is employed against blenorrhagia.
· In Cameroon, used for anemia.
· For dysentery, diarrhea during summer season: use 12 to 24 gms of dried material in decoction.
· Arthritis, rheumatism, pruritic skin lesions: Mix the latex (sap) with coconut oil, warm, and apply to affected area.
· Decoction of the bark is used as a counterirritant on the gums for toothache.
· The latex mixed with coconut oil is used for itching.
· The juice is rubefacient in rheumatic pains, and with camphor, is also used for itching.
· A poultice of heated leaves is beneficial for swellings.
· Decoction of leaves for cracks and eruptions of the soles of the feet.
· Infusion or extract from leaves is used for asthma. Leaves also used as cigarettes to inhale in asthma.
· In Puerto Rico, in emulsion, the milk produces abundant, bilious, watery stools.
· In Mexico, decoction of flowers used in diabetes.
- In the Caribbean, leaves are used as poultice as healing wraps for bruises and ulcers. Latex used as liniment for rheumatism. (28)
· The Aztecs used P. rubra for treating wounds. It is now used by the Amatian to treat discolorations on the skin due to sun exposure. (41)
· In Mexican traditional medicine, used for treatment of gonorrhea, warts and minor wounds. (42)
Others
· Decorative: In some Pacific Islands, such as Tahiti, Fiji, Hawaii, Samoa, New Zealand, plumeria flowers used for making leis.
· Oils / Perfumery: Essential oil used as ingredient in cosmetics, candles, potpourri, massage oils, and aromatherapy.
· Social indicator: In modern Polynesian culture, women use the frangipani as social indicator: over the right ear signals seeking of a relationship, and over the left if taken. (28)
· Rituals: In Sri Lankan tradition, Plumeria is associated with worship: One of the heavenly damsels in the frescoes of 5th century rock fortress Sigiriya holds a 5-petalled flower, likely plumeria. In India, the flowers are found in many temples and used in wedding rituals.

Studies
• Cytotoxic / Antitumor: In Indonesia, six cytotoxic constituents were isolated from the bark of P rubra. The substances demonstrated cytotoxic activity with panel of murine lymphocytic leukemia cell lines and a number of human cancer cell-types (breast, colon, fibrosarcoma, lung, melanoma, KB). (1)
• Cytotoxic / Antibacterial / Molluscicidal: From the heartwood, study yielded plumericin and isoplumericin which molluscicidal, cytotoxic and antibacterial activity.
• Antibacterial: Plumeria rubra was one 41 plants extracts from 18 species that showed antibacterial activity. (3)
• Essential Oils : Comparative study of the essential oils of genus Plumeria Linn. from Malaysia showed the oil of P. acuminata (white flower) was predominantly of benzyl salicylate, benzyl benzoate, trans-nerolidol, neryl phenylacetate and linanlool. (4)
• Phytochemical / Antimicrobial: Study yielded the presence of tannins, phlobatannins, saponins, flavonoids, steroids, terpenoids, cardiac glycosides and reducing sugar from the crude extract. The antibacterial assay showed the methanol extract to inhibit growth of 14 indicator bacteria. The extract of the flower was more active against B cereus. (5)
• Antioxidant / Hypolipidemic: Study of a flavone glycoside isolated from P rubra produced a significant reduction of serum triglycerides in alloxan-induced hyperglycemic rats. Antioxidant activity was confirmed through in vitro studies. (7)
• Antioxidant / Free Radical Scavenging Activity: A methanol extract showed dose-dependent antioxidant activity using a DPPH radical, superoxide anion radical and hydroxyl radical scavenging assays. (16)
• Antimutagenic: Study of ethanol extract of green leaves yielded 4 isolates; three were elucidated a stigmast-7-enol, lupeol carboxylic acid, and ursolic acid. A1 reduced the number of MPCE induced by mutagen, mitomycin C. (9)
• Antimycotic: Study evaluated the antimycotic activity of four medicinal plant extracts: kalachuchi bark (P. acuminata), atsuete bark (Bixa orellana), akapulko leaves (C. alata), and neem leaves (A. indica) compared to standard clotrimazole treatment of otomycosis. Of the four, only kalachuchi bark extract exhibited antifungal activity against Aspergillus and Aspergillus niger. (13)
• Antifungal / Otomycosis: Study evaluated a kalachuchi ointment made from a bark extract on patients diagnosed clinically and microbiologically to have otomycosis. Results showed Kalachuchi extract ointment may be a promising antifungal ointment. Cure rate was 75% compared to 87.5% for clotrimazole cream. (14)
• Antipyretic / Antinociceptive / Leaves: Study of a methanol extract of P. acuminata leaves in several experimental models showed the antipyretic and antinociceptive activity. Results were attributed to phytoconstituents isolated on preliminary screening: alkaloids, flavonoids, tannins, terpenes, and steroids. (15)
• Antitumor / Antioxidant: Study evaluated the antitumor and antioxidant properties of P. acuminata crude methanol extract of leaves against Ehrlich Ascites Carcinoma (EAC) bearing Swiss albino mice. Results showed an antitumor effect through modulation of lipid peroxidation and augmentation of antioxidant defense system. (18)
• Anti-Inflammatory / Leaves: A methanol extract of P. acuminata exhibited significant anti-inflammatory activity on acute and chronic experimental animal models. The effect was comparable to that of indomethacin, a nonsteroidal anti-inflammatory agent. (17)
• Comparative Phytochemicals / Flowers of P. alba and P. rubra: Study of flower extracts yielded steroid, flavonoid, and alkaloid in P. alba and tannin, carbohydrate, glycosides, steroids and flavonoid in the flowers of P. rubra. (19)
• Antimutagens / Leaves: Study of ethanol extract of green leaves yielded three antimutagens viz. stigmast-7-enol, ursolic acid and lupeol carboxylic acid. The mechanism of action was proposed as a reaction of the oxygen of the hydroxyl group with the C-10 of Mitomycin C to form mono-or difunctional adducts. In addition, changes in membrane permeability which could prevent Mitomycin C from entering into the cell and reacting with the DNA. (20)
• Anticancer / Saponins: Study investigated the cytotoxic and apoptotic effects of saponins from Plumeria acuminata Ait on oral squamous carcinoma cells. Results showed cytotoxic and apoptotic effects with a potential as anticancer agent for OSCC. (21)
• Plumerin R / Anti-Inflammatory and Wound Healing: Study investigated the anti-inflammatory and wound healing activities of the protease, Plumerin R, isolated from the latex of P. rubra Linn. Results showed anti-inflammatory activity by reduction in carrageenan-induced paw edema. Plumerin-R showed significant (p<0.05) wound healing closure and epithelization time compared with control. (23)
• Hepatoprotective / Seeds: Study of methanol extract of C. maxima and L. siceraria seeds against paracetamol induced hepatotoxicity showed significant hepatoprotective activity. (25)
• Herbal Soap Formulation / Adjunct in Treatment of Common Bacterial Skin Infection: A randomized controlled trial of 50 patients in an ER and OPD setting evaluated the efficacy of a herbal soap formulation consisting of Gliciridia septum (Madre de cacao), Plumeria acuminata (kalachuchi) with VCO as an adjunct to Cephalexin in the treatment of common bacterial skin infections in children. Wilconxon rank-sum test showed that patients treated with the Cephalexin and the herbal soap had faster healing of the skin lesions with significantly higher PGA (p<0.0003/day 3, p<0.0001/day 7) compared to with group treated with Cephalexin and hypoallergenic soap. Activity was attributed to herbal soap constituents with antibacterial, anti-inflammatory and moisturizing properties. (26)
• Gastroprotective / Latex Proteins: Study evaluated the gastroprotective potential of a protein fraction isolated from the latex of P. rubra (PrLP) against ethanol-induced gastric lesions. Pretreatment with PrLP prevented ethanol-induced gastric lesions in mice after single IV administration. Mechanism was associated with the involvement of prostaglandins and balance of oxidant/antioxidant factors. Also, the NO/cGMP/KATP pathways and activation of capsaicin-sensitive primary afferents were part of the mechanism of activity. (31)
• Anxiolytic / Flowers: Study of an ethanolic extract of P. rubra and butanolic fraction using elevated plus model of anxiety showed significant anxiolytic potential (Chatterjee M Verma, R Lakshmi et al, 2012). (33)
• Hypothermic / Bark: Study of evaluated a methanolic extract of bark for antipyretic activity using typhoid vaccine (TAB( and Prostaglandin E (PGE1) induced pyrexia in rabbits. Results showed significant reduction in body temperature. The hypothermic activity was comparable to paracetamol (TAB) and aspirin (PGE1). (35)
• Antimicrobial / Leaves and Stem Bark: Study evaluated ethyl acetate extracts of leaves and bark for antifungal and antibacterial activity. Results showed broad spectrum of antimicrobial activity against gram positive and gram negative bacteria, more pronounced with the latter especially Proteus mirabilis. The extract was also effective against Pseudomonas aeruginosa which is usually resistant to most antimicrobial agents. Extracts were also effective against fungi Candida albicans. (see constituents above) (36)
• Antinociceptive / Anti-Inflammatory / Bark: Study evaluated the analgesic and anti-inflammatory effects of ethanolic bark extract on experimental models in Swiss albino mice. .Analgesic activity was tested using of hot plate, acetic acid induced writhing and formalin induced writhing methods, while anti-inflammatory activity was evaluated using carrageenan induced rat paw edema method. Results showed highly significant (p<0.001) dose-dependent analgesic activity. Extract also significantly (p<0.001) inhibited inflammatory response induced by carrageenan in a dose-dependent manner. The central and peripheral analgesic activity and anti-inflammatory activity was attributed to the presence of tannins, alkaloids, flavonoids, or terpenoids. (38)
• Antidiabetic: Study evaluated the antidiabetic activity of aqueous extract o P. rubra in alloxan induced diabetic model in experimental animals. Results showed significant reduction (p<0.001) in fasting blood glucose levels in normal and alloxan induced diabetic mice, with significant differences in serum lipid profiles and glycosylated hemoglobin, along with histopathological evidence of reduced injuries on pancreas, liver and kidney. (39)
• Antioxidant / Hypolipidemic / No Cytotoxicity on Colon Cancer Cell Line / Flowers: Study evaluated methanolic flower extracts of Plumeria rubra and P. alba for in-vitro antioxidant potential, cytotoxicity, and hypolipidemic activities. P. rubra showed 72% DPPH inhibition, with total phenolic content of 167.3 µg/ml, with significant free radical scavenging activity of 1.67 mg/ml. P. rubra showed highest hypolipidemic activity (60%) in the anti-cholesterol assay. in the MTT assay using HCT-116 cells lines, P. rubra failed to control the proliferation of colon cancer cells. (40)
• Silver Nanoparticles / Antimicrobial / Flowers: Study reports on the simplified and efficient green synthesis of silver nanoparticles using P. rubra flower extract. The biosynthesized AgNPs showed broad spectrum antimicrobial activity with effective inhibitory activity against E. coli and Bacillus sp. (43)
• Antiulcer / Leaves: Study evaluated the antiulcer activity of ethanol and chloroform extracts of P. rubra leaves in pylorus ligated and ethanol induced ulceration in albino rats. Results showed significant antiulcer activity in parameters of gastric volume, pH, total acidity, free acidity, protein assay, mucin assay, antioxidant estimation and ulcer index. (46)

Superstition
- In some regions, it is not planted in the immediate vicinity of habitation, believed to cause difficulties with personal relationships and separations.
- Also, a commonly planted in cemeteries; often associated with ghosts and graveyard stories.
- The plumeria's fragrance is associated with the kuntilanak. an evil vampiric spirit of a dead mother in Malaysian-Indonesian folklore. (26)

Availability
- Wild-crafted.
- Cultivated for ornamental use.
- Plants, oil, extracts, seeds, cuttings and graftings in the cybermarket.