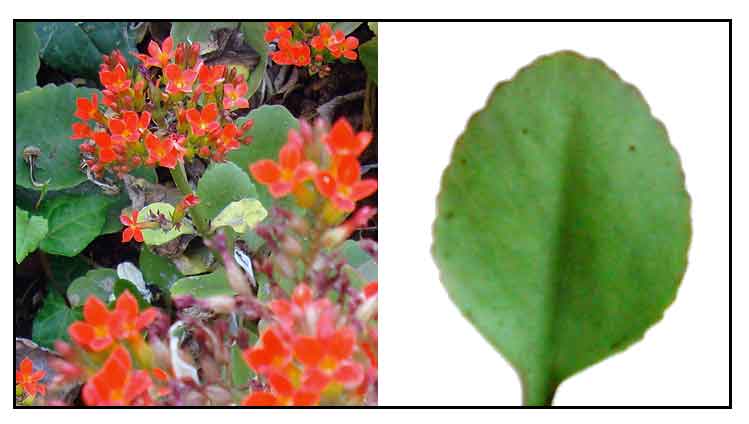 Botany
Kalanchoe is a succulent, compact herb, growing to a height of 30 to 45 centimeters. Leaves are opposite, obovate, fleshy, sessile, glossy-green, 5 to 10 centimeters long, with slightly crenate or entire margins. Leaf veins are absent or indistinct. Inflorescences are terminal, borne by peduncles higher than the foliage. Flowers are many, red and small, with four petals, grouped in flower heads, borne on long stems, each head having between 20 to 50 flowers.
Distribution
- Common garden plant.
- Ornamental cultivation.
Constituents
• Study shows citronellol and geraniol can be obtained from KB.
• Study yielded flavonoids in flowers of 16 Kalanchoe blossfeldiana varieties.
• Phytochemical screening of methanol and water extracts yielded alkaloids, glycosides, flavonoids, tannin, saponin, resin and phenols.
• Methanol extract of leaves yielded (1) neophytadiene; (2) palmitic acid; (3) phytol; (4) dihomo-gamma-linoleic acid (DGLA); (5) stearic acid; (6) delta- Tocopherol; (7) beta- Tocopherol; (8) gamma- Tocopherol; (9) vitamin E; (10) dihydrobrassicasterol; (11) γ- sitosterol; (12) lupenyl acetate; (13) friedeland; (14) Trilinolein. (see study below) (9)
Properties
• Considered antiviral, antiseptic, disinfectant.
• Studies have shown antiviral, antimicrobial, antiplasmodial, antioxidant, air-purifying properties.

Uses
Folkloric
- No reported folkloric medicinal use in the Philippines.

Studies
• Anthocyanin: Methyl jasmonate stimulates the formation and the accumulation of anthocyanin in Kalanchoe blossfeldiana.
• Antiviral: Antiviral activity of representatives of the family Crassulaceae: A study of antiviral properties of the juice of 11 species of the orpine family, 8 of them belonging to the genera Kalanchoe, showed a high virus neutralizing activity of the juice from 4 Kalanchoe species, including K. blossfeldiana. (3)
• Flavonoids in Flowers: K blossfeldiana varieties with orange, pink, red and magenta flowers yielded 3,5-O-B-D-diglucosides of pelargonidin, cyanidin, peonidin, delphinidin, petunidin and malvidin. Pink, red and magenta varieties had relatively high amounts of quercetin based flavonols. (2)
• Antiplasmid Potential Against MDR Pseudomonas aeruginosa: Methanolic and aqueous crude extracts of Kalanchoe blossfeldiana were used as medicinal plant for curing agent for reduction of antibiotic resistance genes of P. aeruginosa isolate P9. The effect of MIC of methanolic extract caused a reduction of resistance from 44-100% white the aqueous extract revealed decreasing of resistance from 36-86%. (5)
• Antimicrobial / Quorum Sensing-Mediated Bacterial Biofilm Formation: Study investigated the antimicrobial properties of K. blossfeldiana with particular reference to quorum sensing (QS)- mediated biofilm formation. Methanol extract of KB reduced the secretion of virulence factors (protease and pyoverdin). Results showed KB interefered with AHL production which may be responsible for down-regulating QS-mediated production of biofilm and virulence. (7)
• Air-Purifying Property / Benzene: In a study of six plants evaluating their ability to remeove benzene, trichloroethylene (TCE) and toluene from the air, Kalanchoe blossfeldiana appeared to take up benzene selectively over toluene. (8)
• Antioxidant / Leaves: Study evaluated the antioxidant potential of plant leaf extracts of Kalanchoe blossfeldiana by DPPH and FRAP assays. Methanol and ethanol extracts yielded total phenols (39.99±1.52 and 63.21±0.62 µg gallic acid equivalents/mg extract) and flavonois (6.47±0.16 & 6.64±0.15 µg quercetin/mg extract), respectively. (9)
• Antiplasmodial / Leaves: Study evaluated various extracts of leaves for antiplasmodial activity against Plasmodium falcifarum. Study isolated a phenolic compound, namely 3,3',4',5,7-pentahydroxyflavone or quercetin (1), and displayed antiplasmodial activity with IC50 3.97x10-2 nM. (10)
Availability
- Ornamental garden cultivation.