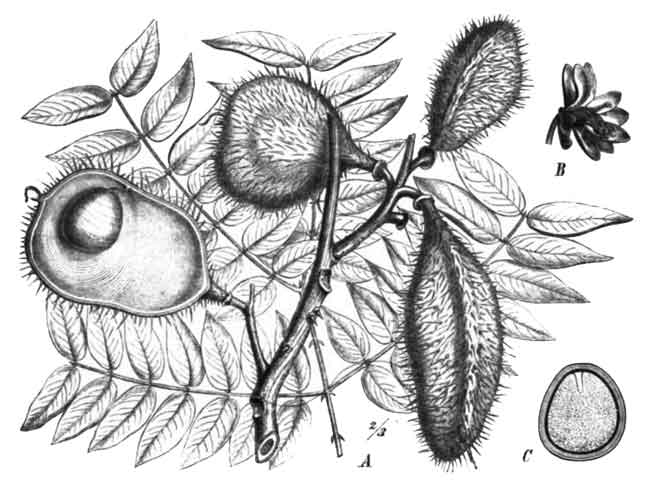 Botany
Kalumbibit is a prickly shrub or woody vine reaching a length of 10 meters or more. Leaves are bipinnate, often nearly 1 meter long, with the rachis armed with stout, sharp, recurved spines. Pinnae usually number about 10 pairs and are about 20 centimeters long with a pair of short, sharp spines at the point of attachment of each pair of leaflets. Leaflets also number about 10 pairs and are oblong, 2 to 5 centimeters long and somewhat hairy. Flowers are yellow, borne in axillary, simple or panicled racemes and about 1 centimeter long. Calyx is deeply cleft, the disk basal, the lobes imbricate, the lowest one larger than the others. Petals spreading, usually clawed, the uppermost smaller than the others. Stamens, 10, free, declinate, anthers versatile. Ovary few-ovuled. Fruits are pods, oblong 5 to 7 centimeters in length, inflated and covered with slender spines and contain one or two seeds. The seeds are large, somewhat rounded or ovoid, hairy, gray and shiny.

Distribution
- In thickets along and near the seashore throughout the Philippines.
- Pantropic.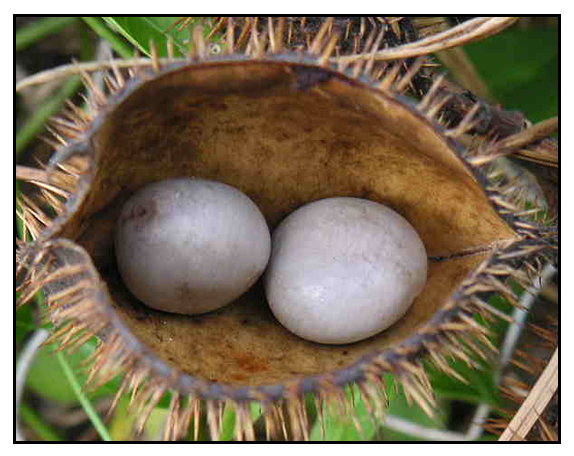 Constituents
- Seeds yield a bitter, resinous principle, named bonducin.
- Fatty oil yields glycerides of palmitic, stearic, lignoceric, oleic, and linoleic acids, two phytosterols and a hydrocarbon similar to heptacosane.
- Study isolated four known cassane-type diterpenes and three new norcassane-type diterpenes.
- Phytochemical studies of seeds have revealed alkaloids, flavonoids, glycosides, saponins, tannins and triterpenoids.
- Study yielded ten new furanocassane-type diterpenes, caesalpinins H-P (1-9) and norcaesalpinin F (10) from seed kernels, together with 13 known diterpenes. (16)
- Petroleum ether extract of seeds yielded saponins, glycoside, starch, sucrose, proteins, sterols, and reported constituents like homoisoflavone (bonducillin) and a non alkaloid bitter principle (natin). (see study below) (21)
- Various seed extracts yielded bioactive molecules including oils, sterols, saponins, alkaloids, glycosides, phenols, tannins, flavonoids, and resins. (see study below) (32)
- Physiochemical screening of seeds yielded foreign matter 0.97%, loss on drying 8.83%, total ash 3.37%, solubility in water 28.8%, and extractive value in water 6.7%. Phytochemical study yielded alkaloid 0.12 mg/g-1, phenol 0.60 mg g, flavonoid 0.33 mg g, tannins 4.90 mg g, and lignin 74.7 mg g. Nutrient analysis yielded carbohydrate 18.4 mg/g-1, proteins 17.6 mg, fat 3.6 mg, fiber 3.3 mg, and energy value 73.6 kcal. (see study below) (37)
- Bioassay guided fractionation isolated seven flavonoids viz., 7-hydroxy-4'-methoxy-3,11- dehydro-homoisoflavanone (1), 4,4'-dihydroxy-2'-methoxy-chalcone (2), 7,3'-dihydroxy-3,11- dehydrohomoiso-flavanone (3), Luteolin (4), quercetin-3-methyl ether (5), Kaempferol-3-O-β-D-xylopyranoside (6) and Kaempferol-3-O-α-L-rhamnopyranosyl-(1→2)-B-D-xylopyranoside (7). (see study below) (27)
- Study of aerial parts yielded a new compound, caesanol 1, and a known diterpene 6ß, 7ß-dibenzoyl-oxyvoiacapen-5-α-ol. (49)
- Study of roots isolated four cassane furanoditerpenes: bonducellpins A, B, C, and D. (56)
- Phytochemical analysis of leaves powder of C. bonducella yielded terpenoids and phenolics (4.490%), alkaloids (0.085%), alkaloids and N-oxides (25.745%), fats and waxes (8.850%) and fibers (60.050%). (see study below) (61)
- Phytochemical screening of roots powder yielded tannins, flavonoids, anthocyans, leucoanthocyans, mucilage, saponosides, anthracemic, heterosids, alkaloids, and quinons. (see study below) (62)
- Phytochemical screening of seeds yielded steroids and terpenes in the petroleum ether extract, flavonoids, alkaloids, glycosides and tannins in the ethanol extract. GC-MS analysis of saponified matter of PE extract yielded fatty acid viz. hexadecanoic acid and 9-methyyl-8-tridecen-2-ol acetate. (68)
- A new rearranged furanoditerpene, caesalpinin B, was isolated from the roots of C. bonduc. (74)

Properties
- Bitter tasting, cooling.
- Considered anti-contusion, analgesic, antipyretic, anti-diarrheal, antidote, antinociceptive, anxiolytic, diuretic, anthelmintic, and tonic.
- Leaves are deobstruent and emmenagogue.
- Bark considered rubefacient.
- Seeds considered tonic, febrifuge, purgative.
- Studies have shown antimalarial, antioxidant, radical scavenging, antidiabetic, anxiolytic, antitumor, analgesic, anti-inflammatory, antipyretic, immunomodulatory, nootropic, antifertility, anticonvulsive, antiplasmodial, nephroprotective, diuretic, anthelmintic, hepatoprotective properties.
Parts utilized
Leaves, seeds, root and bark.

Uses
Folkloric
· In the the Philippines, seeds used for stomach troubles and as a mild purgative. Powdered seeds used as febrifuge and regarded as tonic.
· Acute and chronic gastritis, gastric ulcer, carbuncle, furuncle.
· Pounded fresh material may be applied as poultice on carbuncle and furuncle.
· Leaves and seeds used as external applications for dispersing inflammatory swelling.
· Bark and leaves used as anthelmintic, febrifuge and emmenagogue.
· Tender leaves used for disorders of the liver.
· Ointment made from seeds, mixed with castor oil, used as external application to hydrocoeles, acute orchitis and glandular swellings.
· Oil expressed from seeds used for convulsions, palsy, and a variety of nervous complaints; also, used as embrocation in rheumatism.
· Seeds, roasted and powdered, internally administered for hydrocoele and leprosy.
· Fixed oil from the seeds used as emollient and as embrocation to remove freckles, and to stop ear discharges.
· Decoction of roasted seeds used for consumption and asthma.
· In Ayurveda, sprouts and root bark used to treat tumors. The juice of leaves for elephantiasis, worms. Paste of leaves used for pain and edema. Internally, used for abdominal pain, diarrhea, dysentery and colitis.
· In Assam, seeds are used in the treatment of diabetes.
· In Malaya, young leaves used for intermittent fevers and as vermifuge.
· In Indo-China, leaves used as deobstruent and emmenagogue.
· In traditional Indian medicine, used as antipyretic, antiperiodic, anticonvulsant and antiparalytic.
· In some part of Vidharbha region, seed kernels used as crude learning and memory enhancer.
· In French Guiana root decoction used as febrifuge.
· In French Guiana. roots used for gonorrhea. Dried seeds used as anthelmintic. In Guyana, whole plant used for syphilitic diseases. Crushed fresh seeds used as febrifuge and to treat snake bites. Dried seeds are pounded and used as dropsy medication. (70)
· In South Africa seeds used for treatment of diarrhea; leaf infusion used for cerebral hemorrhage and infantile convulsions. Pounded leaves are used as vesicant.
· In Ceylon young leaves applied to toothaches; also used for worms in children.
· Decoction of leaves used as gargle for sore throat.
· Bonducin, as a pill, used in the treatment of malaria.
· In the Southwestern part of Nigeria, young twigs and leaves used as antimalarial decoction in combination with other medicinal plants. (27)
· In Benin plant used to enhance male sexual activity.

Studies
• Antimalarial: Study isolated 44 casssane- and norcassane-type diterpenes. Most of the tested diterpenes showed antimalarial activity; norcaesalpinin E showed the most potent activity, more than the drug chloroquine. (1) In a study of six plants used in traditional medicine for malaria, C. bonducella and Cassia abbreviata leaf ethanol extracts were the most promising for further studies. (12)
• Radical Scavenging Activity: Ethyl acetate extract showed a maximum of 49% free radical scavenging activity at the end of 1 hr. Although it may help in diabetes-linked oxidative stress, it does not necessarily contribute to its hypoglycemic activity.
• Antidiabetic / Hypoglycemic: Study showed the seed kernel of Caesalpinia bonducella has significant antidiabetic and hypoglycemic effects. Activity may be partly due to a positive effect on glycogen synthesis in the liver, skeletal muscle and heart muscle due to an insulin-like action of its constituents and partly due to stimulatory action on insulin release. (3)
• Antidiabetic / Seed Extracts: Study of ethanolic and aqueous extracts showed significant blood sugar lowering effect of C. bonducella in the type 2 diabetic model. (7)
• Oral Antidiabetic Activity / Seed Extracts: Study of aqueous extract of C. bonducella seed shell showed very significant blood sugar lowering in glucose loaded, STZ and alloxan diabetic models. (4)
• Antidiabetic: Study in STZ-induced diabetic rats showed blood sugar lowering attributed to increase of insulin release from the pancreatic cells.
• Antifilarial / Seed Kernel: Study showed the C. bonducella seed kernel extract and fractions showed microfilaricidal, macrofilaricidal and female-sterilizing efficacy against L. sigmodontin and microfilaricidal and female-sterilizing efficacy against B. malayi in animal models, suggesting a potential for its use in new antifilarial drug development. (5)
• Anxiolytic Activity: Study of seed extract of C. bonducella showed a significant and dose-dependent anxiolytic activity. (6)
• Antitumor / Antioxidant Activity: Study of methanol extract of C. bonducella showed significant antitumor and antioxidant activity in Ehrlich ascites carcinoma (EAC)-bearing mice. (8)
• Analgesic Activity: Study of flower extract of C. bonducella showed significant antinociceptive effect in the inflammatory phase of formalin-induced pain and acetic-induced parietal pain. (10)
• Analgesic / Antipyretic / Anti-Inflammatory / Seed Oil: Study showed the seed oil of C. bonducella could be a potential source of an anti-inflammatory, antipyretic and analgesic agent. (11)
• Immunomodulatory / Seeds: Study of the aqueous extract of C. bonducella seeds on cell mediated and humoral components of the immune system in rats produced an increase in hemagglutinating antibody titer and a change in delayed-type hypersensitivity suggesting that the extract could be a promising immunostimulatory agent. (13)
• Anti-Amyloidogenic / Alzheimer's Disease: Abeta (amyloid beta) is a major etiological factor in Alzheimer's disease. Study showed C. crista aqueous extract could inhibit the Abeta(42) aggregation from monomers and oligomers and able to disintegrate the preformed fibrils.
• Nootropic / Memory Enhancer: Study evaluated the potential of dried seed kernels of C. crista extract as a learning and memory enhancer. Results suggest CC can be beneficial in improving cognition in disorders like dementia and other neurodegenerative disorders.
• Antipyretic / Analgesic / Seed Kernel: Ethanolic extract of seed kernel of C. bonducella was tested for antipyretic and antinociceptive activities in adult albino rats or mice. Results showed significant central analgesic activity and marked peripheral analgesic effect. (17)
• Genotoxicity Amelioration:Alcoholic extracts significantly reduced chromosomal aberration due to methyl methane sulfonate. There was also reduction of chromatid exchanges, enhancement of replication index. The extracts also reduced the number of aberrant cells and frequency of aberrations per cell in vivo. The ameliorating potential was dose and duration dependent. (18)
• Anthelmintic / Leaves / Seeds: Various extracts of leaves of C. bonducella were investigated for anthelmintic activity against Perionyx excavates and Amplostoma caninum. All four hexane extractives showed significant death time and paralysis time. (19) Study evaluated crude extracts of seeds for anthelmintic activity against Pheretima posthuma and Ascardia galli. Results showed all extracts significantly demonstrated paralysis and caused death of worms at higher concentration 15% w/v as compared to standard drug piperazine citrate. (53)
• Female Reproductive System Effects / Antifertility Efficacy: Study evaluated an ethanolic seed extract on the reproductive system in Wistar female albino rats. There was significant dose-dependent decrease in the principal hormones viz. LH, FSH, estradiol, and progesterone. Results showed estrogen antagonistic effects mediated through a direct effect on the reproductive organs possibly by suppression of follicular growth in the ovary and/or disruption of hormonal balance in the hypothalamo-hypophysial ovarian and uterine axis. (20)
• Anti-Convulsant / Seed: Various extracts of powdered seed kernels were evaluated for anticonvulsant activity using PTZ, MES, Strychnine, and Picrotoxin induced convulsion models. .It was found to be non toxic up to dose level of 3000 mg/kg (LD50). A petroleum ether extract showed significant anticonvulsant activity, which was attributed to the presence of phytoconstituents such as saponins, proteins, homoisoflavone (bonducillin), carbohydrates and sterols. (21)
• Sperm Effect: Study of graded doses of alcoholic seed extract of C. bonducella showed morphological changes in the sperm of albino rats. The effect can be due to general disturbances in proteins and alteration in the cauda epididymal milieu, probably due to androgen deficiency secondary to C. bonducella treatment. (22)
• Hypoglycemic / Antidiabetic / Seeds: Study evaluated seed extracts for antidiabetic effect in Wistar albino male rats. Results showed reduction of blood glucose, improvement in body weight, and rejuvenation of damaged pancreas, comparing favorably with reference drug, glibenclamide. (24)
• Antioxidant: Study of ethanol and methanol leaf extracts of C. bonduc showed antioxidant activity using DPPH, FRAP, superoxide radical scavenging, NO, and hydrogen peroxide scavenging assays. Its antioxidant activity may also contribute to the cytotoxic nature of the plant. (25)
• Diuretic / Seeds: Study evaluated the aqueous and methanol extracts of dried seeds for diuretic effect. Results showed significant increase in urine volume, with increased excretion of sodium and potassium.(26)
• Antiplasmodial / Twigs and Leaves: Study evaluated the in vitro antiplasmodial activity of crude extract, solvent fractions and compounds from C. bonduc using chloroquine sensitive strains of Plasmodium falcifarum FCR-3 . Ethyl acetate and petroleum ether extracts of C. bonduc showed moderate antiplasmodial activity with IC50 values of 16 and 18 µg/ml. Bioactive fractionation isolated seven flavonoids. Compound 2 exhibited moderate antiplasmodial activity with EC50 and SI of 33 µM and 0.33, respectively. Moderate antiplasmodial activity by solvent fractions may be mediated by 4,4'-dihydroxy-2'-methoxy-chalcone. (see constituents above) (27)
• Hepatoprotective / Nephroprotective / Gentamicin Induced Toxicity: Study evaluated the protective effect of methanolic extract of leaves on gentamicin-induced hepatotoxicity and nephrotoxicity in rats. Results showed pretreatment significantly attenuated the physiological and histopathological alterations induced by gentamicin. (28)
• Hepatoprotective / Paracetamol Toxicity / Carbon Tetrachloride Toxicity: Study evaluated the hepatoprotective effect of aqueous ethanolic leaf extract of C. bonduc against paracetamol induced hepatic damage in albino rats. Results showed a hepatoprotective effect which may be due to normalization of impaired membrane function activity. C. bonduc may act as a free radical scavenger of radicals involved in paracetamol metabolism by microsomal enzymes. (29) Study evaluated the hepatoprotective effect of aqueous extract of CB in carbon tetrachloride induced hepatotoxic rat model. Results showed both preventive and curative effects. (41)
• Immunostimulating / Gluco-Arabinan / Seeds: A water-soluble gluco-arabinan (PS-II) was isolated from alkaline extract of seeds of Caesalpinia bonduc. Comparison studies of immunostimulating properties between gluco-arabinan (PS-II) and arabinan (PS-I) were carried out. (30)
• Acute and Subacute Toxicity Studies / Leaves / Seed Kernel: Study evaluated acute and subacute toxicity of ethyl acetate extract of leaves in albino mice. LD50 of the extract was higher than 2000 mg/kg with no changes observed in any behavioral parameters in mice. However, there was a slight change in cellular architecture in liver histology. (31) Study of ethanolic extract of seed kernel showed the LD50 of the extract to be higher than 2000 mg/kbw with no changes observed in behavioral parameters. Doses of 5 to 2000 mg/kbw were administered orally for one day for the acute model and 14 days for the sub-acute model. (44)
• Antifungal / Seeds: Study of ethyl acetate and aqueous extracts of C. bonducella seeds exhibited high to moderate antifungal effect against Aspergillus niger, Candida albicans, Fusarium oxysporum and Alternaria solani. (32)
• Antipsoriatic / Leaves: Study evaluated C. bonduc decoction and hydroalcoholic extract for antipsoriatic activity. Of the samples tested, only the water fraction of hydroalcoholic extract showed good activity in the mouse tail test, antiproliferant activity in HaCaT cells and lipoxygenase inhibition assay. Results support the traditional use of CB leaves for psoriasis treatment. (33)
• Anti-Ulcer / Leaves: Study of C. bonducella leaves showed significant anti-ulcer activity against aspirin plus pylorus ligation induced gastric ulcer, water immersion stress induced ulcer, and HCl-Ethanol induced ulcer models in rats and mice. (34)
• Antidiarrheal / Antibacterial / Cytotoxic / Leaves: Study of C. bonducella ethyl acetate fraction of leaves showed significant dose dependent antidiarrheal properties, moderate cytotoxicity in the brine shrimp bioassay compared to standard drug vincristine sulfate. A chloroform fraction showed maximum activity against almost all tested bacteria, especially Staphylococcus aureus and Pseudomonas aeruginosa. (35)
• Anti-Inflammatory / Antioxidant / Seeds: Study evaluated the phytochemical, physiochemical and nutritive properties of seeds of C. bonducella. An aqueous extract (1000 µg mL-1) exhibited anti-inflammatory activity in terms of protein denaturation, inhibition of protease activity, and HRBC membrane stabilization. An aqueous extract showed strong antioxidant activity on DPPH radical scavenging (90%) and lipid peroxidation (99.69%) assays. (see constituents above) (37)
• Vedanasthapana (Analgesic) Property: Study evaluated the Vedanasthapana (analgesic) property of the drug Latakaranja in experimental model of albino mice using Hot Plate method. Results showed the Ayurvedic compound acts for a longer duration than standard drug ibuprofen. (38)
• Anti-Inflammatory / Analgesic / Seed Coat: Study evaluated the anti-inflammatory and analgesic activity of C. bonduc seeds using various test methods. Results showed the seed coat extract decreased induced inflammation in the carrageenan model and egg albumin model in rats. Antinociceptive evaluation showed analgesic effect as evidenced by increase in pain threshold and reduction of pain factor. (39)
• Cytotoxicity / Seed Powder and Callus: Study evaluated the cytotoxic nature of seeds and callus using Daphnia cultures. Results showed both powder extract and callus expressed cytotoxic activities. However, seed powder extract was more effective than the callus extract. (40)
• Antitumor / Antiproliferative and Apoptotic: Study evaluated a methanol extract of Caesalpnia bonducella for anti-proliferative and proapototic effect on Ehrlich ascites tumor (EAT) mode in-vivo. MECB increased the rate of apoptosis. There was increase in mice survival time. Death of MECB treated cells was due to apoptosis rather than necrosis. Analysis for molecular mechanism showed MECB decreased the level of anti-apoptotic Bcl-2 expression while increasing pro-apoptotic Bax level. Results suggest a potential for therapeutic drug development for cancer therapy. (42)
• Anti-Inflammatory / Anticancer / Stem Bark: Study evaluated the anti-inflammatory and in vitro anticancer activities of a total ethanolic extract of C. bonduc stem bark. Results showed in vitro and in vivo anti-inflammatory effect which increase in a dose dependent manner. In vitro study in Daltons Ascites Lymphoma, TEE exhibited 100% cytotoxicity even at 100 µg/ml concentrations. Results suggest the activities may be due to the presence of high quantities of phenolics and flavonoids in the stem bark. (43)
• Antioxidant / Iron Chelating: Study evaluated the ameliorating effect of C. crista Linn. extract on iron-overload liver injury induced by intraperitoneal administration of iron dextran into mice. CCME attenuated the percent increase in liver iron and serum ferritin levels. There was dose-dependent inhibition of lipid peroxidation, protein oxidation, and liver fibrosis. Further, CCME exhibited DPPH radical scavenging and protection against Fe2++ mediated oxidative DNA damage. Results confirmed the hepatoprotective effect of CCME against model hepatotoxicant iron overload. Activity was attributed to potent antioxidant and iron-chelating property. (45)
• Comparative Anthelmintic Activity: Study evaluated the anthelmintic activity of methanolic extracts of Acacia catechu, Euphorbia heterophylla, Corallocarpus epigaeus and Caesalpinia bonducella plant parts against earthworm, Pheretima posthuma. All plants showed significant dose dependent anthelmintic activity. C. epigaeus showed highest activity with death time of 9 min at 100 mg/ml concentration, with Caesalpinia at 18 ming at 100 mg/ml. (46)
• Anthelmintic / Leaves / Seeds: Study of leaf extract of Caesalpinia bonducella showed anthelmintic activities against Hymenolepis diminuta cestode and Syphacia obvelata nematode. (47)
Study evaluated the anthelmintic activity of Caesalpinia crista seed kernel and Chenopodium album whole plant against mature Haemonchus contortus and their eggs in adult motility assay and egg hatch test. Both plants exhibited dose- and time-dependent anthelmintic activity by causing mortality of worms and inhibition of egg hatching. C. crista (LC50 0.134 mg/mL) was more than than C. album (LC50 0.449 mg/mL) in egg hatch test. (81)
• Antimycobacterial and Antibacterial / Leaves, Stem Wood and Bark: Study evaluated various extracts from stem wood, stem bark and leaves of C. bonduc for antimicrobial activity against S. aureus, E. coli, and P. aeruginosa and antimycobacterial activity against two non-pathogenic mycobacteria species, M. indicus pranii and M. madagascariense. Extracts with high activity had MIC of 2.5 mg/mL while low activity extracts showed MIC of 5.0 mg/ml. Results suggest a potential for bioactive metabolites as leads for development of antimicrobial agents. (48)
• Antihyperlipidemic / Seeds / Fruits: Study evaluated the hypolipidemic property of alcoholic seed extract of C. bonducella in alloxan induced diabetic male albino mice. Oral supplementation of ASECB for 21 days resulted in significant (p<0.05) decrease in TC, TG, LDL, VLDL and a significant (p<0.05) elevation in HDL. There were no side effects noted with higher doses. (51) Study evaluated the hypolipidemic effect of various fruit extracts in high-fat diet induced hyperlipidemia in male Sprague-Dawley rats. Results showed improvement in lipid profile as evidenced by significant inhibition in HFD induced serum TG, TC, LDL,C, and VLDL, together with an increase in HDL-C. Results suggest potential for C. bonducella as preventive and curative agent against hyperlipidemia. (65)
• Antispermatogenic / Seeds: Study evaluated the antispermatogenic effect of C. bonduc seeds on male albino rats. Twenty-one days of orally administered aqueous extract of seeds resulted in significant reduction of sperm density and concentration dependent increase in antispermatogenic activity. Results suggest potential for a safe and effective male contraceptive. (52)
• Anti-Inflammatory / Adjuvant Induced Arthritis / Flower Extract: Study of C. bonducella flower extract showed significant anti-inflammatory activity in adjuvant induced arthritis using carrageenan-induced inflammation, cotton pellet induced chronic granulomatous inflammation and autocoids-induced inflammation. (54)
• Anxiolytic / Seeds: Study of seed extract of C. bonducella showed various levels of anxiolytic activity in various experimental mice and rat models viz., Stair-case, EPM, Hole-board, LDT, OFT and Mirror-chamber models. (55)
• Wound Healing / Roots: Study evaluated the wound healing activities of C. bonducella and Cyclea peltata extracts on experimentally induced excision wounds in diabetic rats. Both extracts exhibited wound healing activity as evidenced by moderate granulation with marked epithelial enclose and moderate hyperplasia in groups treated with high dose (100 mg/kbw) of methanolic extract of aerial part of C. peltata and root of C. bonducella. (57)
• Antidiabetic / Antihyperglycemic / Antioxidant / Seed Kernel: Study evaluated the effect of C. bonducella seed kernel extract on STZ-induced hyperglycemia and oxidative damage in rats. Results showed a significant decrease in blood glucose, HbA1c, free amino groups, along with an increase in serum insulin, liver glycogen contents, and a significant improvement in glucose tolerance. Study suggests the seed kernel extract improves antioxidant defense under hyperglycemic condition and exhibited strong dose-dependent anti-hyperglycemic effect. (58)
• Natural Antifeedant Against Tobacco Cutworm: Study showed C. bonducella can be a potent source of natural antifeedant, oviposition deterrent, ovicidal and larvicidal agent against field pest, tobacco cutworm Helicoverpa armigera. (59)
• Dechitinizing / Larvicidal / Cx. quinquefasciatus / Leaves: Study exposed 4th instar larvae of Cx. quinquefasciatus to petroleum ether and ethanolic extracts of leaves of C. bonduc. Results showed prominent larvicidal activity and 100% mortality at 1% concentration of both extracts. Furthermore, both extracts caused thinning of chitin of the larvae exposed, which may be cause of larval mortality. (60)
• Antimicrobial / Leaves: Study evaluated the phytoconstituents and antimicrobial properties of leaf extracts of C. bonducella. Results showed antimicrobial activities against B. subtilis, S. aureus, E. coli, K. aerogenes, A niger, and P. chrysogenum. (see constituents above) (61)
• Aphrodisiac / Effect on Sexual Behavior / Roots: Study evaluated the effect of aqueous and ethanol extracts of C. bonduc roots on sexual behavior of male wistar rats. The ethanolic extract exhibited accelerator effect by decreasing the latent time of goes up while the aqueous extract increased the frequency of goes up. Results suggest C. bonduc roots could potentially induce aphrodisiac activities. (see constituents above) (62)
• Anti-Ulcer / Pylorus-Ligation Induced Ulcers / Dry Nut: Study evaluated the effect of C. bonducella dry nut extract on a pylorus-ligation ulcer model in Wistar rats. Treatment with the extract significantly decreased the gastric volume, total and free acids, and significant decrease in the ulcer index. (63)
• Silver Nanoparticles / Stem Bark: Study reports on the ecofriendly, safe, and economical method for silver nanoparticles synthesis using stem bark of C. bonducella. An antibacterial assay was done on gram-positive bacteria (S. aureus, B. subtilis) and gram-negative bacteria (E. coli). (64)
• Antioxidant / Comparative Flavonoid and Phenolic Content of Various Plant Parts: Study evaluated the total flavonoid and total phenolic content and antioxidant activity of ethanolic extract of root, stem, leaves, and seed kernel of C. bonduc. Phytochemical screening yielded flavonoid and saponin in all samples. Total flavonoid content was highest in leaf and lowest in seed kernel. DPPH free radical scavenging activity was highest in the leaf extract followed by root, stem and seed kernel. (66)
• Anticancer / Root Bark: Study evaluated the root bark of C. crista for possible anticancer activity against Ehrlich Ascites Carcinoma (EAC) tumor model. Results showed increased survival time and life span, together with restoration of hematological parameters altered by tumor inoculation and significant reduction of solid tumor mass. (67)
• Hepatoprotective / CCl4-Induced Hepatotoxicity / Liver Fibrosis / Leaves: Study evaluated the anti-hepatotoxic and anti-fibrotic effect of aqueous leaf extract of C. bonduc on CCl4-induced chronic hepatotoxicity/fibrosis in Wistar rats. Results showed the hepatoprotective effect and suggest potential for a novel and alternative approach for treating chronic hepatotoxicity/liver fibrosis. (69)
• Serine Proteinase Inhibitor CbTI-2 / Antimalarial Activity / Seeds: Study highlights structural and functional features of a strong serine PI from the seeds of C. bonduc (CbTI-2). Initial studies indicated CbTI-2 is a potent antiplasmodial agent with high toxicity towards growth, schizont rupture process and erythrocytic invasion of Plasmodium falcifarum. (71)
• 90-Day Oral Toxicity Study / Roots: Study evaluated the toxicity of ethanolic root extract of C. bonduc given by oral gavage at doses of 31.25, 125, and 500 mg/kbw for 90 days to male Wistar rats. Results showed no death or abnormal clinical signs, no significant changes in body weight, urinary parameters, no changes in necropsy and histopathology findings of vital organs associated with extract treatment.` High doses caused changes in some indices i.e., erythrocytes, total cholesterol, aspartate amino transferase, along with decreased food intake and prostate relative weight. Results suggest the ethanolic root extract does not cause significant adverse effects and has a tolerability of up to 500 mg/kg for daily administration for 90 days. (72)
• Antimicrobial / Bondenolide / Seeds: Study evaluated the antibacterial and antifungal activities, along with phytotoxicity test of the newly isolated diterpene bondenolide (1) from C. bonduc. (73)
• Adaptogenic / Seeds: Study evaluated seed extracts of C. bonduc for adaptogenic activity using cold stress model and swim endurance model. The seed coat as well as kernel extracts showed significant antistress activity at 300 mg/kg po. The extracts significantly increased swim endurance time. The extract also showed significant effect in overcoming imbalances in stress induced animals such as hypoglycemia, depletion of serum cortisol and increased total leukocyte count, along with control of hyperlipidemia due to stress. (75) α
• Antidiabetic / α-Amylase and α-Glucosidase Inhibitory Activity / Seeds: Study evaluated the inhibitory activity of hydro-ethanolic extract pf C. bonduc, Pluchea lanceolata, and Alhagi pseudalhagi against α-amylase and α-glucosidase enzymes. Results showed all three extracts antidiabetic activity. (P. lanceolata showed the most potent activity.) (76)
• Enhancement of Male Sexual Activity / Aphrodisiac Potential / Roots: Study evaluated the potential effect of root extracts on sexual behavior of male Wistar rats. Enhancement in sexual behavior was observed in ethanolic extract treated rats, with an significant increase in mount frequency and intromission, along with reduction in mount latency and intromission latency. There was also improvement in testosterone level, relative testes weight, and histological architecture. Results demonstrate the aphrodisiac potential of C. bonduc roots and lend support to its folkloric use as an aphrodisiac. (77)
• Glutathione S-Transferase Inhibiting Constituents / Bark: Glutathione S-transferase inhibition assay-guided fractionations of ethanolic bark extract isolated a new sterol, 17-hydroxy-campesta-4,6-dien-3-one (1), along with four known compounds, 13,14-seco-stigmasta-5,14-dien-3a-p-ol (2), 13,14-seco-stigmasta-9(11),14-dien-3a-ol (3), caesaldekarin J (4), and pipataline (5). Compounds 1-5 were isolated on basis of their inhibitory activity against glutathione S-transferase. an enzyme implicated in the resistances during treatment of cancer and parasitic infections. (78)
• Up-Regulation of Insulin Secretion / Inhibition of JNK Signaling Pathway / Polyphenol Extract: Study evaluated the potential and mechanism of polyphenol extract of C. bonduc in alloxanized diabetic rats. HPLX/MS confirmed the presence of considerable amounts of phenolics in the extract. Results showed the extract reduced oxidative stress in pancreatic ß-cells by restoring free radical scavenging potential, reduction of mRNA expression of Mapk-8, Traf-4, and Traf-6, and increasing the Pdx-1, Ins-1, ngn-3, GLUT-4, and IRS-1 expression ensuing regeneration of ß-cells and subsequent insulin release from pancreas. Findings suggest a promising restorative therapeutic agent for diabetes mellitus. (79)
• Butenolide Hemiketal Diterpenes / Anticancer: Study isolated two new cassane butenolides, caesalpinolide A (1) and B (2), epimeric at the hemiketal position. Compounds 1 and 2 were found to inhibit MCF-7 breast cancer cell lines with IC50s of 12.8 and 5.1 µM, respectively, along with inhibition of endometrial and cervical cancer cell lines. (80)
• Anticancer Flavonoids / Twigs and Leaves: Tyrosine kinase (TK), vascular endothelial factor (VGEF), and matrix metalloproteinases (MMP) are important cancer therapeutic target proteins. Study isolated phytochemicals from young twigs and leaves of C. bonduc. Seven phytochemicals were isolated viz., 7-hydroxy-4'-methoxy-3,11-dehydrohomoisoflavonone (1), 4,4'-dihydroxy-2'-methoxy-xhalcone (2), 7,4'-dihydroxy-3,11-dehysrohomoisoflavonone (3), luteolin (4), quercetin-3-methyl (5), kaempferol-3-O-ß-D-xylopyranoside (6), and kaempferol--3-O-a-L-rhamnopyranosyl-(1-->2)-ß-D-xylopyranoside (7). Molecular docking analysis showed strong interactions with the proteins compared with their respective drug inhibitors. Results suggest promising pharmacokinetic and pharmacodynamic properties with potential as lead compounds for development of new anti-cancer drugs. (82)
• Antibacterial / Antifungal / Antispasmodic / Ca++ Antagonistic Effects: Study evaluated crude extract of C. bonducella and its fractions for antibacterial, antifungal, antispasmodic, and CA++ antagonistic properties. Strongest antibacterial effect was shown by the n-butanol (72%) and ethyl acetate (80%) fractions. followed by crude extract (46 and 42%) against E. coli and B. subtilis, respectively. There was maximum antifungal activity against Candida glabrata and Aspergillus flavus, 80 and 70$ respectively. The extract caused concentration-dependent inhibition of spontaneous and high K+ induced contraction of isolated rabbit jejunum. (83)
• Increased Muscle Contractile Activity / Leaves: Study evaluated the mechanism through which C. bonduc extract of leaves affects gallamine-induced relaxation in rat tibial muscle contractility. Results showed stimulation of muscle contractile activity, an effect possibly due to activation of the cholinergic mechanism. (84)
• Effect on Contractile Activity of Uterine Smooth Muscle / Leaves: Study evaluated the calcium dependency and cholinergic effect of a leaf extract of C. bonduc in isolated pregnant rat myometrium preparations. The extract increased the contractile force in isolated strips in a concentration-dependent manner. Effects were comparable to acetylcholine. Results suggest the existence of cholinergic receptors sensitive to the extract, which could influence the influx of calcium (phasic contraction) and mobilization of calcium from cellular stores (tonic contraction), both of which are responsible for the increase in contractile activity and development of contracture of uterine smooth muscle. (85)
• Aldose Reductase Inhibitory Activity / Anti-Cataract / Antioxidant: Study evaluated water, ethanol, and chloroform extracts of Adhatoda vasica, Caesalpinia bonduc, Cassia fistula, and Biophytum sensitivum for rat lens aldose reductase inhibitory potential (RLAR), anti-cataract and antioxidant activities. All the extracts inhibited aldose reductase considerably and exhibited anticataract activity., Extracts also showed significant free radical scavenging activities and inhibited the activity of enzyme PPO, a model oxidizing enzyme. The plant samples showed considerable amounts of vitamin C, total polyphenols, and flavonoids. (86)
Availability
- Wild-crafted.
- Nuts in the cybermarket.