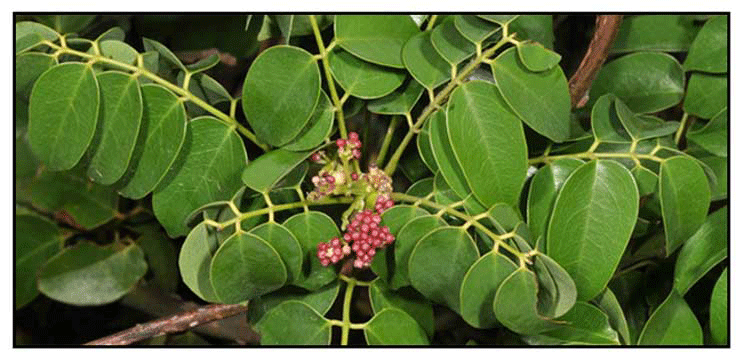 Gen info
- Rourea is a genus of plants in the family Connaraceae. They are found worldwide across the tropics and subtropics.
Botany
Kamagsa is a sprawling shrub or a suberect, woody, smooth vine attaining a height of 1 to 3 meters. Leaves are pinnately compound and 15 to 25 centimeters long. Leaflets are 12 to 20, oblong-ovate to oblong-lanceolate, 4 to 8 centimeters in length. Flowers are white or pink, very numerous, and 5 to 7 millimeters long, and grow on panicles 5 to 15 centimeters long which are borne at the axils of the leaves. Pods are red, about 1 centimeter long, somewhat curved, split down one side, and surrounded at the base by the calyx.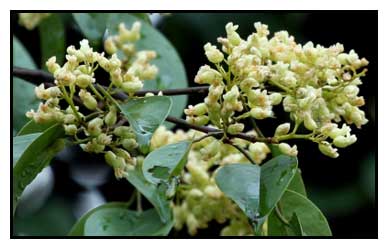 Distribution
- Native to the Philippines.
- In dry thickets and second-growth forests at low and medium altitudes from northern to central Luzon, and in Lubang, Mindoro, Cuyo, Leyte, Panay, and Bantayan, from sea level to 1800 m altitude.
- Also native to Andaman Is., Angola, Assam, Bangladesh, Benin, Borneo, Cambodia, Cameroon, Central African Republic, China, Congo, Fiji, Ghana, India, Kenya, Laos, Malaya, Maluku, Nigeria, Samoa, Senegal, Sri Lanka, Sudan, Sulawesi, Sumatera, Taiwan, Thailand, Uganda, Vietnam, Zambia, Zaire, etc. (2)
Constituents
- Fruit contains an active poison. It has been found very poisonous to dogs but without any effects on guinea pigs. Study suggests the nonpoisonous character of the plant toward herbivora. A study found the poison to be glucosidal in nature.
- Bioassay-directed fractionation of the antimalarial active CHCl(3) extract of the dried stems of Rourea minor (Gaertn.) yielded two glycosides, rourinoside (1) and rouremin (2), as well as five known compounds, 1-(26-hydroxyhexacosanoyl)-glycerol (3), 1-O-beta-D-glucopyranosyl-(2S,3R,4E-8Z)-2-N-(2'-hydroxypalmitoyl)-octadecasphinga-4,8-dienine, 9S,12S,13S-trihydroxy-10E-octadecenoic acid, dihydrovomifoliol-9-beta-D-glucopyranoside, and beta-sitosterol glucoside. (see study below) (1)
- Study isolated 23 compounds from a methanolic stem extract. Two represented new natural products: lethedocin 3′-O-β-D-glucopyranoside and 3-O-(6′-O-vanilloyl)-β-D-glucopyranosyl 4-hydroxyphenethyl alcohol. Majority of known constituents were phenolic compounds (derivatives of bergenin, catechin, and lignans) and fatty acids. Of the quantified compounds, bergenins was the most abundant (0.12%). (11)
- Study of ethyl acetate extract of stems iisolated three compounds, namely: ß-sitosterol, vanilic acid, and sitoindoside I. (13)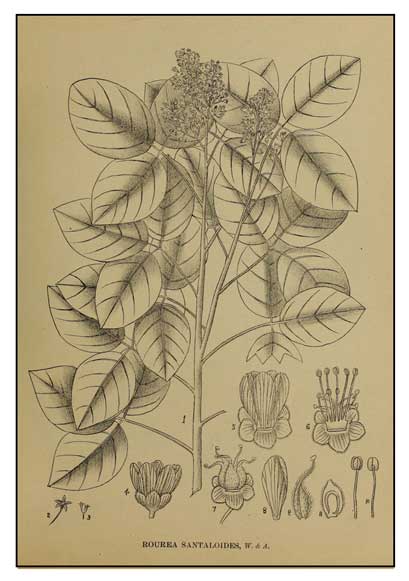 Properties
- Fruit considered poisonous.
- Plant considered aperient, emetic, depurative, tonic, sudorific and purgative.
- Studies have shown antidiabetic, antihyperlipidemic, antimalarial, antioxidant, membrane stabilizing, thrombolytic, antibacterial properties.

Parts used
Roots, leaves.

Uses
Folkloric
- Decoction of fresh or dried leaves used for gastralgia. Also, considered, absorbent.
- Plant considered sudorific and purgative.
- Decoction of roots used as uterine tonic and depurative.
- Roots and twigs used for rheumatism, scurvy, diabetes.
- Decoction of roots, at one teaspoon or less, used as emetic; exceeding this amount, it is poisonous.
- Wood of the root, pounded, boiled, and mixed with food, known to kill dogs who feed on it.
- In Peninsular Malaysia, plant used as an aperient. Decoction of wood taken for fever and as post-partum medicine. Root rubbed on sore places in the mouth of children with thrush.
- In Bangladesh, leaf infusion drunk to treat diarrhea.
- In Yunnan, China, the Hani ethnic tribe used mashed leaves as dressing in polio. (5)
- In Indo-China, stem bark and leaves used as tonic and diuretic; decoction used as post-partum tonic.   (6)
Others
- Poison: Decoction of roots, mixed with food, will kill dogs and hogs feeding on it. The animals become nauseated or swoon and die.

Studies
• Rourinoside and Rouremin / Antimalarial / Stems: Study of dried stems of Rourea minor (Gaertn.) isolated two glycosides, rourinoside and rouremin, as well as 5 known compounds. Compounds 1-3 showed weak in vitro activities against Plasmodium falcifarum. (see constituents above) (1)
• Antidiabetic / Hypolipidemic / Roots: Study evaluated the antihyperglycemic potential of Rourea minor root in normal and STZ-induced diabetic rats. Acute toxicity study showed good tolerance to single doses as high as 3 g/kg. Results showed significant reduction (p<0.001) in serum glucose level. The ethanol extract was more effective in reducing SG compared to the aqueous extract. Both extracts exhibited significant reduction (p<0.001) in all tested lipid parameters. (3)
• Antihyperglycemic / Roots: Study evaluated the anti-hyperglycemic and serum insulin augmentation property of a methanolic extract of R. minor roots on STZ-induced diabetic rats. Results showed significant (p<0.05) increment of serum insulin levels and higher reduction of hyperglycemia compared to diabetic control rats. (4)
• Antihyperglycemic / Antihyperlipidemic / Effect on Insulin Levels / Roots: Study evaluated a methanolic extract of roots of Rourea minor for effects on serum insulin augmentation and anti-hyperglycemic property on STZ-induced. The diabetes induced rats were feed plant extracts of increasing dosage of 100, 200, and 400 mg/kbw. Results showed a significant (p<0.05) increment of serum levels and higher reduction in hyperglycemic compared to control. (7)
• Antidiabetic / Lipid Benefits / Stems: Study evaluated an ethanol extract of R. minor stems for antidiabetic and antioxidant activities in streptozotocin-induced diabetic rats. Oral administration of the extract at dose of 2000 mg/kbw did not exhibit toxicity and death. The extract significantly (p<0.001) recuced elevated blood glucose, glycolated hemoglobin, creatinine, urea, LDL, AP, SGPT. SGOT, glutathione, glutathione reductase, glutathion S-transferase, and malondialdehyde. (9)
• Antibacterial / Silver Nanoparticles / Stem Bark and Roots: Study evaluated crude methanol extracts and AgNPs of Santaloides afzelii for antimicrobial activity against Klebsiella pneumonia, Escherichia coli, shigella sp., Staphylococcus aureus, and Salmonella typhi. The AgNPs showed more activity than crude extracts. (10)
• Antioxidant / Thrombolytic / Membrane Stabilizing / Leaves: Study evaluated the antioxidant, thrombolytic and membrane stabilizing actvities of crude methanolic extract of leaves and soluble fractions of Rourea minor. Total phenolic content ranged from 9.4 to 57.4 mg GAE/g of dry extracts. All extracts showed mild to moderate thrombolytic potential inhibiting clot lysis by 3.47% - 18.43%. Extracts also showed potential membrane stabilizing activity in both hypotonic and heat-induced hemolysis indicating anti-inflammatory activity. (12)
Availability
Wild-crafted.