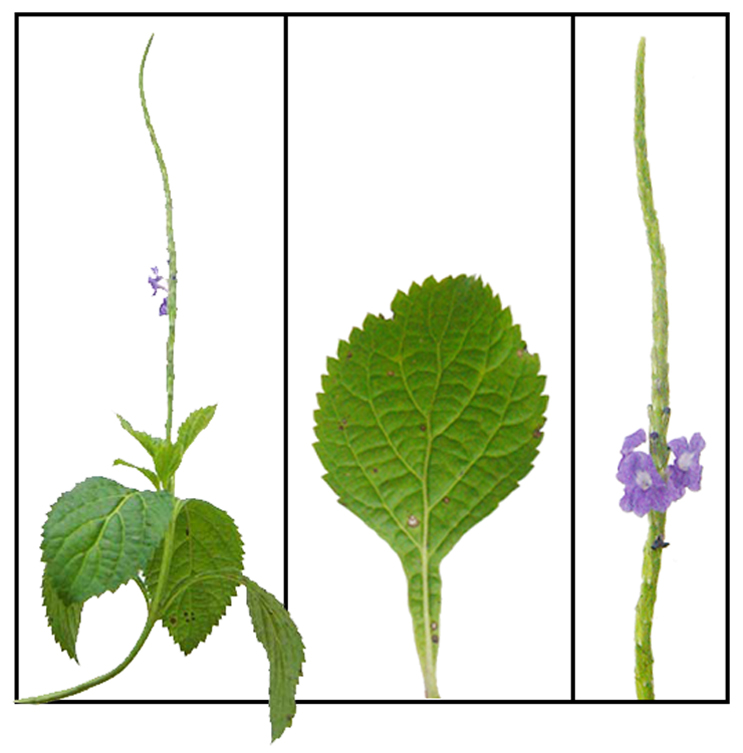 Botany
Kandikandilaan is an erect and branched half-woody plant, 1 to 1.5 meters high. Stems are terete, the younger ones slightly angled. Leaves are elliptic to oblong-ovate, 2.5 to 10 centimeters long, with pointed tips and toothed margins, the base decurrent on the petiole. The spikes are terminal, rather slender, 10 to 30 centimeters long, 3-4 millimeters thick, green and continuous. Calyx is small, oblique, and 4-toothed. Corolla is deep blue, 1 centimeter long, The fruit is enclosed in the calyx, appressed to and somewhat sunk in the rachis, smooth, oblong, and about 4 millimeters long.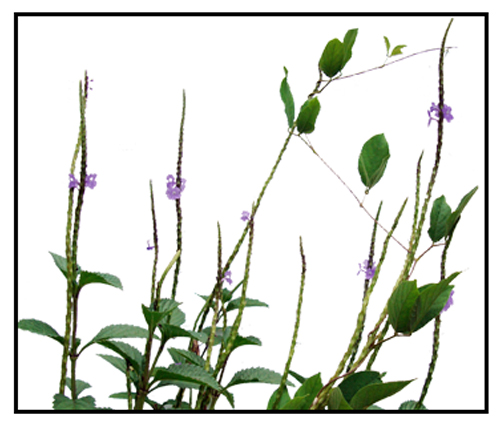 Distribution
- Common weed in open and waste places at low and medium altitudes in settled areas throughout the Philippines.
- Native of tropical America.
- Now pantropic.
Constituents
- Phytochemical studies have yielded flavonoids, triterpenes, monoterpenes, iridoids, phytosterols, aromatic acids, GABA, dopamine and alkanes.
- Phytochemicals isolated include epigenol-7-glucoronide, alpha-spinasterol, stachytarphine, scutellarein, ursolic acid, scultellarein and verbascoside.
- A glucoside, stachytarphine has been isolated from the plant.
- An iridoid glycoside, verbascoside or acetoside, has been isolated from the plant, shown to be a powerful antioxidant phytochemical.
- A flavonoid, scuttelarein, has been isolated, with cardioprotective, anti-inflammatory and antiviral actions.
- Hopidulin, another flavonoids, is reported to be bronchodilator, antispasmodic and anti-asthmatic.
- Phytoscreening yielded phenolic compounds, tannin, saponins, terpenoids and flavonoid.
- Phytochemical screening of stems yielded carbohydrates, proteins and amino acids, alkaloids, phenolic compounds and tannins, flavonoids, saponins, phytosterols, fixed oils and fats, gums and mucilages, terpenoids, glycosides. (25)
- Crude methanolic extract of leaves and fractions yielded the presence of carbohydrates, reducing sugars, alkaloids, glycosides, saponins, tannins, flavonoids, resins, proteins, steroids, and terpenoids. (see study below) (30)
- GC-MS analysis of leaf extract yielded 30 organic compounds. Most abundants components were
3,5-dihydroxy-6-methyl-2,3-dihydro-4H-pyran-4-one (13.7%), D-arabinitol (13.5%), 2-benzylidenemalonic acid (11.9%), 1,3-cyclopentadione (8.9%), α-5-ethyl-2-furylglycine (6.8%), 4,5-dihydro-5-methoxy-4-(2,3-dimethyl-2-buten-4-yl)-2(3H)-furanone (6.4%) and 3-methyl-2H-indazol-2-ol (5.8%). (see study below) (40)
Properties
- Considered emetic,, expectorant, tonic.
- Secondary metabolites display oxytoxic, neuroprotective, antiviral, antibacterial, cardioactive and antitumor effects.
- Studies have suggest antimicrobial, antiplasmodial, antidiarrheal, antioxidant, cytotoxic, hypoglycemic, analgesic, anti-inflammatory, immunosuppressant, hepatoprotective, galactogenic, hair-promoting properties.

Parts utilized
Leaves, stems, roots.

Uses
Edibility
- Tips of twigs used as pot herb or condiment.
- Green leaves chopped and cooked, eaten alone or mixed with other vegetables.
- Dried leaves used to make tea; also used to adulterate tea.
- In St. Croix, fresh leaves are consumed in bush tea as "cooling" tonic. (48)
Folkloric
- Decoction or roots are abortive.
- Decoction of leaves are vermifuge to children.
- In the Antilles, juice of fresh leaves is emetocathartic.
- Decoction of leaves in enemas used to expel intestinal worms; also used as purging vehicle for other vermifuges.
- Infusion of roots has been used for gonorrhea.
- Triturated fresh leaves used on ulcers. Used as maturative cataplasm for boils.
- Bruised leaves rubbed on sprains and bruises.
- In Brazil, used for coughs, fever, to expel worms and promote menstruation; as a diuretic and laxative. Also used for rheumatism. (•) In Brazil and other countries encompassing the Amazon rainforest, Stachytarpheta jamaicensis and S. cayennensis are interchange-ably used in folk medicine. (44)
- In the West Indies, used to expel worms.
- Creoles use the leaf tea for dysentery.
- In North Nigeria, decoction used for dysentery. Also used as vermifuge.
- In Southern Nigeria, used by women for menstrual disorders and female complaints. Leaf decoction taken after childbirth to help restore the uterus to its original position. (28)
- In Africa, used for treatment of gonorrhea, eye disorders, ear sores in children, and for heart trouble. (47)
- In Peru, used for diabetes.
- In Cuban herbal medicine, used as an abortive.
- In immigrant Haitian communities in Cuba, an infusion made from three whorls or tops of S. jamaicensis is used for children in the morning on an empty stomach as an anthelmintic.
- In traditional medicine, leaves and stem extracts used to prepare drugs for use as stomach tonic, for dyspepsia, allergies, asthma, fevers and liver problems. Externally,used for ulcers, sores, cuts and wounds.
- Leaves used to increase milk supply in lactating women. (30)
- In Jamaica, plant is used for asthma, colds, diabetes, epilepsy,and flu; and as blood purifier and vermifuge. In Taiwanese folk medicine, used for liver disease and rheumatism. (45)
- In Panama, it is a component of an herbal mix, Black Drink, along with Hyptis suaveolens, Senna spp., and juice from Citrus aurantifolia, prepared in a cast iron vessel, used to treat iron deficiency anemia.  (45) 
- In St. Croix, fresh leaves are consumed in bush tea as "cooling" tonic and blood cleanser, and to treat asthma and stomach ulcers. (48)
Others
- Rituals: In the Bahamas, called the Voodoo plant or voodoo flower.
- Fodder: In Trinidad, report of use of leaves as high protein feed for horses.
- Ethnoveterinary: Used as lactagogue. (45)

Studies
• Antidiarrheal / Antimicrobial / Leaves: Study evaluated the anti-diarrheal (castor oil and magnesium sulphate induced diarrhea in mice) and antimicrobial activity (disk diffusion method) of methanol extract of Stachytarpheta jamaicaensis leaves. Results showed significant (p<0.05) antidiarrheal activity and moderate inhibitory activity against E. coli, S. epidermis and P. aeruginosa with MIC of 5.00 µg/ml. (1)
• Antioxidant / O2-Scavenging Activity: Inhibitory effects of leaf extracts of Stachytarpheta jamaicensis (Verbenaceae) on the respiratory burst of rat macrophages: Extract showed potent O2-scavenging activity. Study suggest SJ may have potential pharmaceutical value for immunologic diseases related to oxidative stress. (2)
• Anti-Hypertensive / Bradycardic Effect: Some Cardiovascular Effects of the Aqueous Extract of the Leaves of Stachytarpheta jamaicensis L. Vahl: The aqueous extract of SJ leaves caused a dose-dependent drop in blood pressure and heart rate. The acute hypotensive effect could be partly caused by a negative chronotropic effect of direct effect on vascular smooth muscles. (3)
• Antinociceptive / Anti-Inflammatory / Leaves: Study evaluated an ethanol extract of SJ leaves for antinociceptive and anti-inflammatory effects using 3 models of nociception (acetic acid induced abdominal writhing, hot plate, and formalin induced paw licking tests) and 2 models of inflammation (carrageenan-induced paw edema and cotton pellet-induced granuloma tests) in experimental animals. Results showed significant dose-dependent nociceptive activity in all nociceptive models tested. The extract also showed significant anti-inflammatory activity in both acute and chronic models. The analgesic activity was assumed to be modulated via peripheral and central mechanisms, partly involving the activation of the opioid receptor system. (5)
• Phytochemicals / Antimicrobial / Toxicity Study: Phytochemical study yielded secondary metabolites including tannins, saponins and flavonoids. Crude aqueous extract showed activity against B subtilis, E coli, C albicans, S aureus, P aeruginosa, P vulgaris, P mirabilis. No toxicity was found even at high concentrations. (6) Acute toxicity study of aqueous extract of leaves on wistar rats showed no toxicity up to doses of 4 g/kbw. Alcoholic extract of leaf showed antimicrobial activity at high concentration against S. aureus and P. vulgaris. (24)
• Toxicity Study: A study on 20 Wistar rats on the effect of powdered SJ leaves, using serum biochemistry and ultrasonography showed no toxicity, suggesting a wide therapeutic margin of safety. (7)
• Antimalarial :The ethanolic extract of Stachytarpheta cayennensis exhibited significant schizonticidal activity comparable to that of the standard drug, chloroquine. The antiplasmodial activity confirms its folkloric use in the treatment of malaria. (8)
• Anti-Dyslipidemia / Anti-Atherogenic:The effects of Stachytarpheta jamaicensis tea on plasma lipid profile and atherogenic indices were studied in rabbits. Treatment caused significant decreases (p<0.05) in plasma total cholesterol, LDL, VLDL and triglycerides, increase (p<0.05) in HDL cholesterol, with also significant (p<0.05) decreases in atherogenic indices. The results suggest the use of TJ tea in the management of primary and secondary dyslipidemia, and possibly, reduction in the risk of cardiovascular diseases. (11)
• Steroidal Glucosides: Study reported two novel steroid glucosides from the leaves of S. jamaicensis. The occurrence of steroidal glucoside in SJ may explain the use of the plant in phytomedicine for birth control, abortion, treatment of menstrual disorders and as a lactagogue. (12)
• Antimicrobial: Study showed more antimicrobial activity with the chloroform extract against gram positive organisms like Staphylococcus aureus, Enterococcus faecalis and B. subtilis. The chloroform and alcohol extracts showed antifungal activity against C. albicans and Saccharomyces cerevisiae. (14)
• Lanostane Glycoside: Study of leaves isolated a new lanostane triterpenoid glycoside 16ß-(ß-D-glycopyranosyl-3-8,-dihydroxylanstan-5,22-diene-11-methoxy-1ß-yl-6-O-(2,3-dimethoxybenzoyl)-ß-d-glycopyranoside.
• Antimicrobial / Cytotoxic: Root extract was found to inhibit most of the bacterial growth compared to leaves and stem extracts. In the study on cytotoxic effect, leaves extracts showed the highest inhibition on the growth of Hela cancer cells compared to the root and stem extract. (15)
• Hepatoprotective / Leaves: Study evaluated the hepatoprotective activity of various extracts of shade dried leaves of S. indica on carbon tetrachloride induced toxicity. Results showed hepatoprotective activity comparable to standard drug Liv-52. Histopathological studies of pretreated animals with ethanolic extract showed minimal changes with distinct preservation of structures and hepatic cells architecture comparable to standard Liv-52. (17)
• Hypoglycemic / Leaves: Study evaluated the hypoglycemic effect of an ethanolic extract of S. indica on blood glucose level of streptozotocin induced diabetic rats. Results dose dependent hypoglycemic activity almost equal to the standard drug Metformin. (18)
• Antibacterial / Root: Study evaluated the antibacterial activity of aqueous and methanolic extracts of root. The aqueous extract showed significant antibacterial activity against E. coli, B. cereus, Pseudomonas aeruginosa and Enterobacter pathogens. (19)
• Antibacterial / Aerial Parts: Study evaluated aqueous and ethanol extracts of aerial parts. Phytochemical screening yielded alkaloids, steroids, flavonoids, glycosides, tannins, carbohydrates and saponins. The alcoholic extract showed significant activity against all species of bacteria (S. aureus, E coli, P aeruginosa and K pneumonia) comparable to standard antibiotic streptomycin. (20)
• Analgesic / Leaves: Study evaluated the analgesic activity of various extracts of dried leaves on acetic induced writing responses in Swiss albino mice. Result showed significant analgesic effect. (21)
• Wound Healing / Leaves: Study evaluated the wound healing effect of a hydroalcoholic leaf extract of S. jamaicensis on streptozotocin induced diabetic rats. Results showed significant dose dependent wound healing potential with a significant increase in percentage wound closure, tensile strength, hydroxyproline, Hexosamine, DNA and total protein content together with decrease in period of epithelization and blood glucose levels. (22) Study investigated the wound healing activity of SJ leaf extract in alloxan-induced male diabetic rats, The most effective dose that sped up wound closure was the 0.2% extract. (31) Study evaluated a crude ethanolic leaf extract of SJ for wound healing activity in an excision wound model in albino rats. External application of crude leaf extract significantly accelerated wound healing. Phytochemical screening yielded tannin, flavonoids, saponin, terpenoids, glycosides, and phenols which may contribute to the wound healing potential. (34)
• Antimicrobial / Cytotoxic: Study evaluate crude plant extracts for antimicrobial and cytotoxicity activities. It showed highest zone of inhibition on Pseudomonas aeruginosa compared to other bacteria. The root extracts showed greater inhibition of bacterial growth. On cytotoxicity study, leaf extracts showed the highest inhibition on growth of HeLa cancer cells compared to root and stem extract. (26)
• Immunomodulatory Effect: Study evaluated the immunomodulatory effect of a water extract of S. jamaicensis on male Balb/c mice using carbon clearance assay. Results showed SJ at dose of 62.5 and 250 mg/kbw had lower phagocytic index compared to Zymosan A as immunostimulant, but higher phagocytic index compared to methylprednisolone as immunosuppressant. (27)
• Hypoglycemic / Antioxidant / Leaves: Study evaluated the hypoglycemic and antioxidant activities of S. jamaicensis ethanolic extract of leaves in alloxan-induced diabetic male Sprague Dawley rats. Results showed lowering of blood glucose and improved catalase activity. The presence of genipin and linolenic acid by GCMS analysis may have contributed to the hypoglycemic and antioxidant activity. (29)
• Galactogenic / Acute Toxicity Study / Leaves: Study evaluated the effect of crude methanolic extract of fractions of SJ leaves on serum PRL levels. Acute toxicity study (LD50) of CME, HF, EF, BF, and WF were >5000 mg/kg. Results showed SJ possesses galactogenic property with a wide therapeutic index as evidenced by an appreciable dose dependent increase in serum PRL and histological findings of mammary gland development and differentiation of the lobulo-alveolar system with milk secretion within the lumen of the alveoli and ducts. (see constituents above) (30)
• Wide Safety Margin / Leaves: Study evaluated the effect of powdered SJ leaves for toxicity in 20 Wister rats using various enzyme parameters and ultrasound evaluation. Results showed no significant alteration in normal serum biochemistry and echogenic patters suggest wide therapeutic safe margin in the use of SJ. (32)
• Antifungal / Leaves: Study of an aqueous leaf extract of S. jamaicensis inhibited the growth of fungi such as Aspergillus sclerotiorum, Fusarium oxysporuum, Memnoniella echinata and Penicillium corylophilum. (33)
• Inhibitory Effect on Angiogenesis / Leaves: Study of a crude leaf extract using CAM (chorioallantoic membrane) showed a detrimental effect towards the development of chicken embryo, especially in the formation of extra embryonic vessels. Results may be useful in medical problems related to angiogenesis (new vessel formation from preexisting vessels) and its relation to tumor growth. (36)
• Hair Growth Promoter / Leaves: Study evaluated the effectiveness of S. jamaicensis leaves extract as hair growth promoter on Sprague Dawley rats. Results showed effective hair growth effect as evidenced by increase in hair length (p<0.05). The effect was attributed to palmitic acid that has antiandrogenetic alopecia property. (37)
• Inhibitory Uterine Effect on Non-Pregnant Uterus: Study evaluated the oxytoxic effect of methanol extract of S. jamaicensis on uterine smooth muscles of non-pregnant female rats. SJ exhibited significant inhibitory effects on OT (oxytocin) and CaCl2 induced uterine contractions (p<0.05). The inhibitory uterine inhibitory effects in rats appear to be unrelated to ß2-adrenergic receptor stimulation, but may be due to inhibition of calcium entry into the cytoplasm. (38)
• Antioxidant / Anti-Arthritic / Anti-Inflammatory / Bactericidal / Leaves: Study of leaf extract showed high egg albumin and BSA anti-arthritic/anti-inflammatory values between 22-80% with IC50s of 0.04 and 0.15 mg/ml, respectively. The extract exhibited activity against all tested bacteria with high zones of inhibition (14.0-25.0 mm). The total TPC, TFC, TTC, TAA, ß-carotene and lycopene values were were 1,882.80 μg/mg GAE, 29.29 μg/mg-1 QE, 126.47 μg/mg TAE, 53.75 μg/mg AAE, 0.17 mg/g and 0.14 mg/g, 1respectively. The antioxidant IC50 and AAI values of the leaf extract were 5.0 μgml-1 and 8.0. The extract was capable of scavenging free radicals in a range between 51.30-78.99%. (see constituents above) (40)
• Antioxidant / Anti-Inflammatory / Dried Leaves: Study evaluated the antioxidant effects of ethyl acetate (EAc) and n-hexane (nHE) extracts of dried leaves on reactive oxygen species (ROS) generated during respiratory burst of rat peritoneal macrophages. The EAc at concentrations between 0.4 and 40 µg/ml, inhibited extracellular release of oxygen radicals by peritoneal macrophages stimulated by PMA and showed potent scavenging activity. Study suggests the EAcE has potential in the treatment of immunopathological diseases related to oxidative stress. (41)
• Histopathologic Effects / Leaves: Study evaluated the toxicity of powdered S. jamaicensis leaves in 20 Wistar rats. Powedered leaf concentrations of 75, 50, and 25 g were mixed with 25, 50, and 75 g of normal feed mash. Results showed slight physical variations and mild histopathologic chnges in the liver, blood vessels, kidney, lung, and testis while the brain, eyes, intestines and heart tissues were normal. Study showed mild tissue specific toxicity which were not concentration dependent. (42) (read other studies on toxicity: 6 and 24)
• Anticandidal: In a study 21 extracts from 19 medicinal plants for antimicrobial activity, the ethyl acetate extract of B. balsamifera and Stachytarpheta jamaicensis showed the highest anticandidal activity with inhibition value of 39-57%. (43)
• Beneficial Plant for Butterfly Conservation: Study in Sri Lanka reports Stachytarpheta jamaicensis is an important nectar plant which attracts a diverse set of butterflies in high number during peak hours for its violet color inflorescence. The plant attracted a diverse group of butterflies from around 15 species including one endemic, two endemic subspecies, and 2 vulnerable species. Study suggests it is a beneficial exotic plant that can be used in butterfly attraction and conservation. (46)
• Hepato- and Reno-Protective / LPS-Induced Endotoxemia: Study in mice suggests supplementation with S. jamaicensis may have potential in protecting the liver and kidney from LPS (lipopolysaccharide)-induced endotoxemia by determination of lipid peroxidation and histology assessment. In histology assessment, higher doses of SJ supplementation improved hepatocyte structure and decreased congestion of central vein. In kidney tissue, there was decreased lipid peroxidation and lower SJI50 lesion score. (49)

Availability
Wild-crafted.