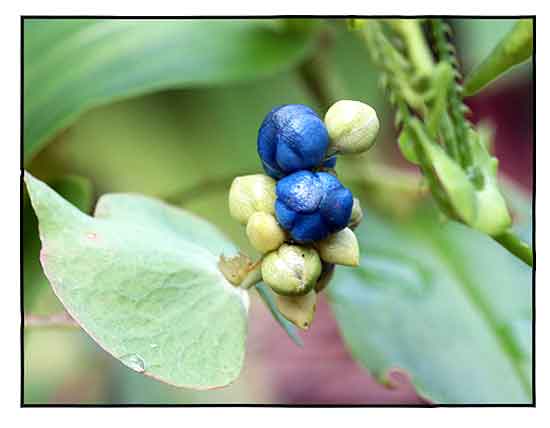 Gen info
- Polygonum perfoliatum is an ancient medicinal plant in Chinese medicine. It was first recorded in the classic medical book "Wang Bing Hui Chun" in the Ming Dynasty: to treat snakebites. (17)
- Persicaria perfoliata is a species of flowering plant in the buckwheat family, Polygonaceae.
Botany
Polygonum perfoliatum is a perennial glaucous, twining herb that may grow 3 to 3.5 meters in length. Roots are fibrous and shallow. Stems are angled, red-violet in color with hooked spines. Leaves are light green, reddish when young, alternate, distinctly triangular, 3 to 10 centimeters long; petiole peltately attached. Flowers have 5 corolla lobes, white or bluish-violet in color, oblong, gradually enlarging during fruiting time. Stamens are 8. Inflorescences are few-flowered, blooming during summer, borne on the upper part of the leaf axils. Fruits are achenes, almost globose, 3 millimeters in diameter, black when ripe, shiny; the entire infructescence enclosing the fleshy calyx.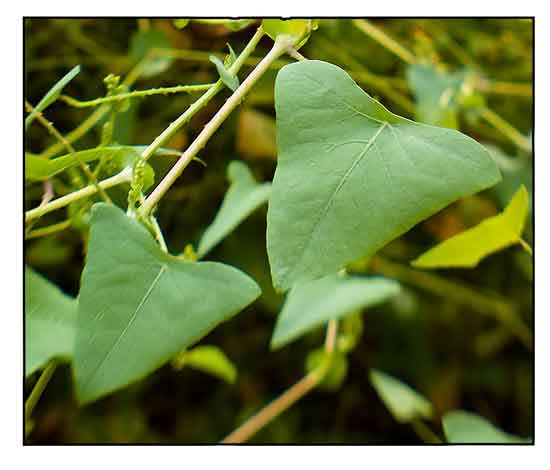 Distribution
- Native to the Philippines.
- Sprawling over thickets in ravines In high altitude areas throughout the Philippines, 1,300 to 1,600 m. - the Mountain province, Benguet, Ifugao in Luzon and Budkidnon in Mindanao.
- Also native to Amur, Assam, Bangladesh, China, Hainan, Himalaya, India, Inner Mongolia, Japan, Jawa, Khabarovsk, Korea, Malaya, Manchuria, Nansei-shoto, Nepal, New Guinea, Primorye, Sakhalin, Taiwan, Thailand, Transcaucasus, Turkey, Vietnam. (5)
- In some countries, considered an invasive weed specie with "pest-status" that threatens forest regeneration. (Link)
- In Europe, included since 2016 in the list of invasive Alien Species of Union concern (the Union List) , meaning the species cannot be imported, cultivated, transported, commercialized, planted or intentionally released into the environment in the whole of the European Union. (19)
Constituents
- Eighty chemical constituents have been isolated from P. perfoliatum, including flavonoids, which are the main active components, and anthraquinones, terpenoids, phenolic acids, phenylpropanoids, and alkaloids. (17)
- Study of whole plant yielded five diferuloyl esters of sucrose, 6'-acetyl-3,6-diferuloylsucrose (helonioside B) (1); 2',4',6'-triacetyl-3,6-diferuloylsucrose (2); 1,2',4',6'-tetraacetyl-3,6-diferuloylsucrose (3); 1,2',6'-triacetyl-3,6-diferuloylsucrose (4); and 2',6'-diacetyl-3,6-diferuloylsucrose (5), along with the 1,3,6-tri-p-coumaroyl-6'-feruloylsucroses, vanicoside A and vanicoside B. (3)
- Study yielded four neoflavonoids.
- Study isolated and elucidated 10 compounds identified as 5-hydroxymethyl2-furaldehyde (1), methyl caffeoate (2), protocatechuic aldehyde (3), quercetin (4), pinocernbrin (5), catechin (6), taxifolin (7), taxifolin-3-O-β-D-xylopyranoside (8),13-epitorulosal (9), coumarin-7-O-β-D-glucose glycosidic (10). (8)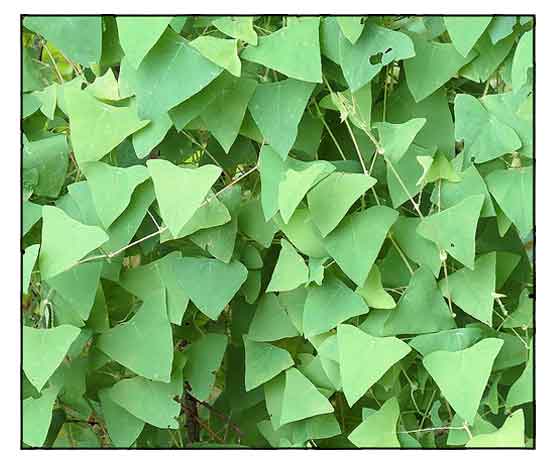 - Ethyl acetate extract yielded four compounds: pentacosanoic acid(Ⅱ), 3,4-dihydroxybenzoic acid (Ⅲ), Quercetin (Ⅳ), 8-oxo-pinoresinol (Ⅴ). Ethanol fractions yielded quercetin-3-O-ß-D-glucuronide (VI) and rutin (VIII). (see study below) (8)
- Chemical analysis yielded the presence of phenolic compound, organic acid, alkaloid, amino acids, saponin, tannin, flavone and flavonoids, anthraquinone and glucoside, cardiotonic glycoside, sugar, plant sterols, triterpenes, etc. (see study below) (10)
- Study of ethyl acetate extract yielded ten compounds identified as 5-hydroxymethyl-2-furaldehyde (1), methyl caffeoate (2), protocatechuic aldehyde (3), quercetin (4), pinocernbrin (5), catechin (6), taxifolin (7), taxifolin-3-O-beta-D-xylopyranoside (8), 13-epitorulosal (9), coumarin-7-O-beta-D-glucose glycosidic (10). (11)
- Methanol extract of tubers yielded a new lignan—8-oxopinoresinol—together with 5 known compounds viz., 3',5-dihydroxy-3,4',5',7-tetramethoxy-flavone (2), catechin (3), quercetin (4), quercetin-3-O-β-D-glucuronide (5) and rutin (6). (see study below) (12)
- Study of Polygonum perfoliatum yielded four neoflavonoids, 3,4-dihydro-4-(4'-hydroxyphenyl)-5,7-dihydroxycoumarin (1), 3,4-dihydro-5-hydroxy-7-methoxy-4-(4'-methoxyphenyl)coumarin (2), 3,4-dihydro-5-hydroxy-4-(4'-hydroxyphenyl)-7-methoxycoumarin (3), and 3,4-dihydro-5,7-dihydroxy-4-
(4'-methoxyphenyl)coumarin (4). (4)

Properties
- Acidic tasting, cooling natured, antifebrile, carminative, anti-infective, anti-dermatosis, depurative, diuretic.
- Studies have suggested anti-inflammatory, antioxidant, antitumor, antibacterial, anti-hepatic fibrosis, anticancer, anti-hepatitis, antiviral, hypolipidemic, hepatoprotective properties.
Parts utilized
· Entire plant.

Uses
Edibility
- Sour young shoots and tender young leaves are eaten raw or cooked, or mixed with other vegetables.
- Seeds, raw or cooked.
- Ripe fruit is sweet, eaten fresh.
- High potassium content.
Folkloric
- Used for colds and fever, enteritis-diarrhea, infected wounds, and snakebites.
- Used for hematuria.
- May use decoction as wash for or sprinkle dried powdered material over burns, dermatitis, eczema.
- Juice of leaves for backache.
- In Vietnam, fresh leaves are pounded and poulticed on snake-bites and boils. (22) Used to treat ear sores, otitis media, boils, snakebites, hemorrhoids, dysentery, bronchitis, eczema, ringworm, pyoderma, whooping cough. (25)
- In Chinese medicine, P. perfoliata, known as gangbangui, is used for relief of fever, jaundice, dysentery, inflammation, cough, edema, tonsillitis, herpes zoster, nephritis, snake bites, abscesses, parotitis, otitis media.
- In China, herb used to reduce swelling, control body temperature, and promote detoxification. (4) A;so used to treat sore throat, infantile cough, edema, oliguria, damp-h eat diarrhea, eczema, furuncles, and hemorrhoids. Jiangxi Herbal Medicine records use of the plant as stewed with pig large intestine and used for the treatment of hemorrhoids. (17)
- In China, dried aerial parts used for eczema, leg and finger infection, swelling and wounds.
Others
- Fodder: In China, leaves and stems used as feed for pigs, rabbits, geese, and other livestock and poultry.. In some rural areas, sun-dried P. perfoliatum is mixed with corn and coarse grins and used as cheap food. (17)
- Fiber: Used for making rope.

Studies
• Vascular Smooth Muscle Relaxation: The ethanol extract of P. perfoliata (EPP) induced relaxation of phenylephine-precontracted aorta in a dose-dependent manner, which was abolished by removal of functional endothelium. Pretreatment of aortic tissues with L-NAME inhibited the relaxation induced by EPP. EPP-induced relaxation was not blocked by pretreatment with indomethacin, glibenclamide, tetraethylammonium (TEA), atropine, or propranolol. Results suggest EPP dilates vascular smooth muscle via endothelium-dependent NO/gGMP signaling. (1)
• Quercetin-3-O-ß-D-glucuronide-methyl Ester / Anti-Inflammatory: Study evaluated the anti-inflammatory effect of quercetin-3-O-ß-D-glucuronide-methyl ester from Polygonum perfoliatum in in vivo models of acute inflammation. Results suggest a potent anti-inflammatory function in acute inflammation with a significant dose-related inhibition in xylene-induced ear swelling and acid-induced vascular permeability in mice. (7)
• Anti-Tumor / Antioxidant: Study of evaluated n-butanol extract and ethanol fractions of Polygonum perfoliatum. Flavonoids showed strong antioxidant activity on DPPH free radical scavenging assay. In vitro testing by MTT method, compound IV showed moderate anti-tumor activity against human prostate carcinoma (PC3) while compound V showed inhibition effects on human hepatocellular carcinoma (SMMC7721). (see constituents above) (8)
• Decreased Expression of Leptin / Anti-Hepatic Fibrosis / Antioxidant: Study in a hepatic fibrosis model in rats showed Polygonum perfoliatum has a good curative anti-hepatic fibrosis effect, possibly through an effect on metabolism of extracellular matrix by decreasing the expression level of leptin. (9)
• Antibacterial: Study of water extracts showed P. perfoliatum had stronger bacteriostatic effects to Staphylococcus aureus, Pasturella, Streptococcus, Salmonella, and E. coli. (see constituents above)       (10)
• Cytotoxicity / Anti-Cancer / Tubers: Methanol extract of tubers yielded a new lignan: 8-oxopinoresinol (1), together with 5 known compounds. Compound 1 showed cytotoxicity against human mammary carcinoma (Bcap-37), human colon carcinoma (RKO), human hepatocellular carcinoma (SMMC-7721), human prostate carcinoma (PC3) and human erythroleukaemia (K562) cells. (see constituents above) (12)
• Anti-HBV Effect: Study evaluated an alcohol extract of Polygonum perfoliatum on the expression of HBsAg and HBeAg in HepG2.2.15 cells. Results showed an inhibitory effect on the secretion of HBsAg and HBeAb, with a dose-response relationship between concentration and effect. (13)
• Anti-Inflammatory / Anti-Viral / Quercetin-3-O-?-D-glucuronide: Quercetin-3-O-?-D-glucuronide, isolated from Polygonum perfoliatum L. was evaluated by antiviral efficacy against influenza A virus and anti-inflammatory activity in vivo in mouse. In an in vivo study, oral administration of quercetin-3-O-?-D-glucuronide significantly suppressed ear edema induced by dimethyl benzene and peritoneal permeability induced by acetic acid in mice. It also showed inhibitory activity against influenza A virus (FLUAV). (14)
• Antitumor / Polysaccharides / Lung Cancer Cell Line: Study evaluated the antitumor activity of extracted polysaccharides from Polygonum perfoliatum on human lung cancer A549 cell line. Study showed an appropriate method for optimized PSDP extraction. Results indicate the PSDP has significant antitumor effect against A549 cells, most likely via induction of mitochondrial mediated apoptosis. (15)
• Antitumor Mechanisms: Study evaluated the antitumor mechanisms using several cell lines and xenograft models from different cancers and the underlying mechanisms of action in vitro and in vivo. The EA extract showed good anticancer activity. Fractionation yielded five active components, of which PEC showed the strongest cytotoxicities against various cancer cell lines PEC also inhibited cancer cell growth, arrested cells at the G2 phase and induced apoptosis in vitro and suppressed tumor growth and angiogenesis in vivo in a dose- and time-dependent manner, and also decreased the expression of vascular endothelial growth factor (VEGF) and micro-vascular density (MVD) in tumor tissues in vivo and promoted the proliferation of T and B lymphocytes, increased the activities of natural killer (NK) cells and cytotoxic T lymphocytes., enhanced the secretion of IL-2 by spleen cells, and raised the levels of IgG, IgG2a, and IgG2b antibodies in tumor-bearing mice in vivo. Results showed broad spectrum anticancer activities without causing host toxicity in vitro and in vivo. It presents a potential for a preventive and therapeutic agent against human cancer. (16)
• Hypolipidemic / Antioxidant / Flavonoids: Study evaluated the bioactive composition, antioxidant and hypolipidemic effects of total flavonoids extracted from P. perfoliatum on high-fat diet induced hyperlipidemic rats. HPLC analysis showed the main flavonoids were quercetin and rutin. Results showed levels of serum lipids, antioxidant enzyme activities and MDA in liver tissue of hyperlipidemc rats were restored by treatment by different doses of TFP. Results suggest the TFP from Polygonum perfoliatum demonstrated antioxidant and hypolipidemic effects in vivo in rats and has potential as herbal medicine for hyperlipidemia diseases. (18)
• Hepatoprotective: Study evaluated the hepatoprotective activity of P. perfoliatum methanolic extract against paracetamol induced toxicity in Wistar rats. Biochemical parameters were measured and histopathological evaluation were carried out. The hepatoprotective effect of 500 mg/kg/day was more pronounced than 125 and 250 mg/kg dose. However, the effect was less pronounced than standard silymarin therapy. The hepatoprotective activity was attributed to quercetin, benzoic acid, gallic acid and vitamin E constituents. (20)
• Antimicrobial / Cytotoxicity / Leaves: Study of dichlormethane soluble fraction of methanol extract of leaves isolated ß-sitosterol (1) and ß-sitosterol-D-glucoside (2). Antimicrobial screening of the crude fraction showed moderate antimicrobial activity against most of the test organisms. The hexane soluble fraction showed significant cytotoxic activity with LC50 0.64 µg/ml in brine shrimp lethality assay. (21)
• Inhibitory Effect on IgE Mediated Allergic Responses in RBL-2H3 Cells: Study evaluated the anti-allergic effect of Persicaria perfoliata water extract (PPWE) on IgE stimulated rat basoph9ilic leukemia (RBL-2H3) cell line. Results showed PPWE treatment significantly attenuated ß-hexosaminidase release in a dose dependent manner without any cytotoxicity. The PPWE dose-dependently inhibited phosphorylation of extracellular regulatory kinase (ERK) and c-Jun N-terminal kinase (JNK). The PPWE exhibited strong IgE-mediated degranulation inhibitory effect on RBL-2H3 cells. P. perfoliata ameliorated IgE-mediated allergic reaction via modulation of MAPK and NF-kB signaling pathway in RBL-2H3 cells. Study suggests potential as treatment strategy against various allergic disorders. (24)

Availability
- Wild-crafted.
- Supplements, teas in the cybermarket .