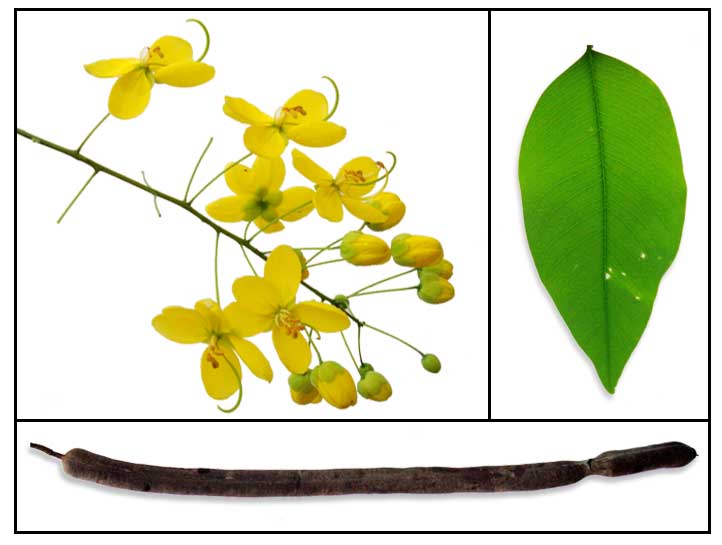 Botany
Kanya pistula is a moderate-sized, erect deciduous tree. Leaves are pinnate, smooth, 30 to 40 centimeters long. Leaflets are ovate, 8 to 16, about 10 centimeters long. Flowers are fragrant and bright yellow, borne in long, lax racemes 30 to 50 centimeters long, on stalks 3 to 5 centimeters long. Calyx is 6 to 8 millimeters long, smooth and deciduous. Petals are veined, obovate, 18 to 25 millimeters long, bright yellow, and short-clawed at the base. Stamens are all furnished with anthers, the 2 or 3 lower one being longer. Fruit is an indehiscent pod, cylindric, 30 to 60 centimeters long, about 2.5 centimeters thick, dark brown, pendulous, smooth and shiny. Seeds are numerous, 20 to 25, embedded in black, sweet pulp, completely separated by thin, transverse dissepiments, small, ovoid, slightly compressed, smooth, shining, and yellowish brown.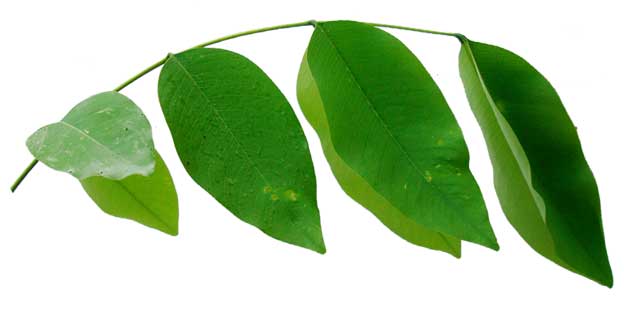 Distribution
- From northern Luzon to Mindanao.
- Cultivated as an ornamental flowering tree or sometimes planted for its medicinal properties.
- Native of tropical Asia.
- Introduced to the Philippines.
- Pantropic.

Properties
• Considered antitumor, antiperiodic, antioxidant, anti-allergic, anti-diabetic, antibacterial, antipyretic, laxative, diuretic, purgative, hepatoprotective, and hypocholesterolemic.
• Root bark is astringent in taste; the root wood, a bitter sweet flavor.
• Flowers are demulcent, purgative and laxative.

Constituents
• Tannin; saccharose, 53-66%; invert sugar; citric acid; coloring matter; pectin; anthraquinone.
• No alkaloid principle.
• Flower and leaf essential oil study yielded 44 compounds. The main components of the flower oil were (E)-nerolidol (38%) and 2-hexadecanone (17%), while the leaf oil consisted mainly of phytol (16.1%).
• Pulp analysis: 20 parts pulp yielded sugar, 12; gum, 1.35; astringent matter; gluten; coloring matter; and water.
• Pulp yields a bitter substance identical to that the cathartina found in senna.
• Root-bark and root wood yielded resins.
• Oxymethyl-anthraquinone was found in the fruit, 0.95%; fruit pulp, 1.05%; bark and twigs, 1.20%.
• Phytochemical screening of leaves yielded alkaloids, flavonoids, carbohydrates, glycosides, protein, amino acids, saponins, and triterpenoids. (29)
• Study for leaf essential oil yielded seven components viz. eugenol (25.0%), (E)-phytol (21.5%), camphor (13.5%), limonene (11.0%), salicyl alcohol (10.4%), linalool (9.9%), and 4- hydroxybenzyl alcohol (8.7%). The leaf oil showed antifungal activity against A. niger (MIC = 78 μg/mL) and C. albicans (MIC = 313 μg/mL). (see study below) (60)
• Studies of various plant parts for secondary metabolites yielded fistucacidin (3,4,7,8,4'- pentahydroxyflavan (heartwood), oxyanthraquinone, dihydroxyanthraquinone (bark), (-) epiafzelechin, (-) epiafzelechin-3-O-glucoside, (-) epicatechin, procyanidin B2, biflavonoids, triflavonoids, rhein, rhein glucoside, sennoside A, sennoside B, chrysophanol, physcion (leaves), kaempferol, leucopelargonidin tetramer (with free glycol unit), rhein, fistulin, alkaloids, triterpenes (flowers), rhein, volatile oil, waxy and resinous derivatives (fruit pulp), istulic acid, 3-formyl-1-hydroxy-8- methoxy anthaquinone, 3B-hydroxy- 17-norpimar-8(9)-en-15-one (pods), chrysophanol (seeds), rhamnetin-3-O-gentiobioside (roots, leaves, twigs, bark), proanthocyanidins, flavonoids (flowers, pods). (63)

Parts used
Leaves, roots, fruit, pods.

Uses
Edibility / Nutrition
- Flowers consumed by Santal people of India. (35) In Mizoram, flowers are fired and eaten as vegetable. In Assam the tender buds and boiled and eaten as vegetable. (62)
- Edible fruit tissue reported to be rich in potassium, calcium, iron and manganese, (Barthakur et al. 1995) (34)
Folkloric
- In the Philippines, decoction of leaves and fruit pulp used as purgative.
- Fruit pulp used as cathartic.
- Extract of fruit pulp used for habitual constipation.
- Leaves, grounded to a paste, are rubbed on ringworm and other fungal skin affections.
- Fruit pulp eaten as laxative, 4-10 segments. In children, used as a convenient purgative because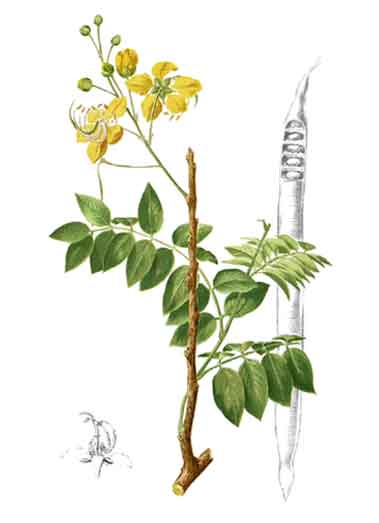 of its pleasant taste. Pulp considered a safe aperient for children and pregnant women.
- External pod provokes abortion and expulsion of placenta.
- Seeds prescribed as emetic and laxative.
- Powdered leaves are also laxative.
- Young leaves used as mild purgative.
- Roots are given as a tonic and febrifuge; also, a strong purgative. Also used in heart disease, retained excretions and biliousness.
- Roots sometimes used as laxative.
- Flowers are demulcent, laxative, and purgative. Also used for stomach affections.
- In Rhodesia, used for malaria, blackwater fever, blood poisoning, anthrax and dysentery.
- In Hindu medicine, pulp is used as cathartic.
- Arabs known to used the fruit pulp, in small doses as a mild laxative, in large doses as purgative.
- Fruit pulp also used for febrile and inflammatory affections.
- Folk remedy for burns, cancer, constipation, convulsion, delirium.
- Ayurvedic medicine considers the seed antibilious and carminative; the root used for adenopathy, leprosy, syphilis, skin diseases; the fruit for abdominal pain, constipation, fever, heart disease, and leprosy.
- Yunani use the leaves for inflammation; the flowers as purgative, fruit as antiinflammatory, antipyretic, abortifacient.
- In India used for snake bites.
- In Nepal fruit is used as antipyretic and to treat constipation; leaves used to treat jaundice, hemorrhoids, rheumatism, ulcers, insect bites.
- In Rhodesia, pulp used for anthrax, blood poisoning, blackwater fever, dysentery and malaria.
- Externally, pulp is applied to gout and rheumatism.
- In Hindu medicine, pulp used as cathartic and aperient.
- Decoction of pulp used for hoarseness.
- In the Gold Coast, pulp used as purgative.
- In the Far East, uncooked pulp of pods used for constipation.
- In Concan, young leaves used for ringworm.
- In Thai traditional medicine, long used as a laxative drug.
Others
- Ornamental: Planted as an ornamental tree.
- Fuel: In Mexico, used as fuel wood.
- Dye / Tannin: Bark used in tanning.
- Timber: Reddish wood is hard and heavy, weighing 800 kg/cu.m; strong and durable, suitable for cabinetry, posts, implements, wheels, mortar, inlay work. (35)

Studies
• Immunomodulatory / Amoxicillin Synergism: Study of the water extract of fruit of CF and its synergistic antimicrobial combination with amoxicillin showed stimulation of the immune system. (1)
• Wound healing: Wound Healing Potential of Cassia fistula on Infected Albino Rat Model: C fistula treated rats showed better wound closure and improved tissue regeneration . Study provides scientific rationale for the traditional use in wound treatments. (2) The study investigated the antimicrobial and wound healing activities of three Cassia species: C. alata, C. fistula and C. auriculata. The ethanol extracts of leaf and bark of the three species showed antibacterial and antifungal activity attributable to the presence of flavonoids, chrysophanol anthraquinones and chrysarobin. Results also show the promising wound healing activity of C. fistula in mice. (59)
• Hepatoprotective: (1) Study showed the aqueous extract of the fruit pulp of CF possesses significant hepatoprotective activity.
• Hepatoprotective / CCl4: Study concludes that herb is a potential antioxidant and attenuates the hepatotoxic effect of CCl4 by acting as an in vivo antioxidant, inhibiting the initiation and promotion of lipid peroxidation. (3) Treatment with aqueous extract of leaves and bark showed CCl4-induced liver damage can be significantly ameliorated by treatment of extracts from leaves and bark. (9)
• Hepatoprotective / INH-Rifampin: High dose of Cassia fistula ethanolic leaves extract showed hepatoprotection against INH/Rifampin induced hepatitis in rats. (21)
• Laxative: Study suggests C fistula pods can be used for laxative activity with its considerable bioactivity and very low toxicity potential in animal studies. Results suggest C. fistula pod infusion can be safely utilized as laxative drug and as a substitute for the official Senna. (4) Decoction extract of leaves containing anthraquinone glycosides which may be used as a alternative source of raw material for various laxative preparations. (12)
• Pharmacognosy: Qualitative chemical tests of the ethanol extract revealed the presence of tannins, flavonoids, steroids, glycosides and carbohydrates.
• Antitussive: C. fistula extract inhibition of cough induced by sulfur dioxide gas in mice, exhibiting significant antitussive activity comparable to codeine sulfate, a prototype antitussive agent. (7)
• Anti-inflammatory / Antioxidant: C. fistula bark extracts showed dose-dependent protective effect against lipid peroxidation and free radical generation and significant anti-inflammatory effect in both acute and chronic models. (8)
• Antibacterial: (1) A study showed antibacterial activity of the extract of C. fistula against S. aureus. (2) Study showed the alcoholic extract of leaves of C. fistula showed antimicrobial activity against S aureus, P aeruginosa, E coli and Group A strep.
• Larvicidal / Ovicidal / Antimalarial: Study showed the leaf extract of C. fistula is promising as a larvicidal and ovicidal agent against C. quinquefasciatus and S. stephensi. (13)
• Antifungal: Study of crude methanol extracts from the leaves of C alata, C fistula and C tora showed activity against M gypseum conidial germination. C alata was the most effective against T rubrum and M gypseum, while C fistula was the most potent inhibitor of P marneffei.
• Hypoglycemic / Hypocholeterolemic: Study on stretozotocin (STZ)-induced diabetes in rats showed hypoglycemic effects comparable to glibenclamide. Antioxidant and polyphenol content present in the extracts might contribute to the antihyperglycemiic and antilipidemic properties. Results suggest that C fistula barks would be effective in the treatment of diabetes and management of coronary artery disease. (16)
• Weight-Lowering Effect / Hypolipidemic: Study showed C. fistula and S. alata significant and effectively reduced the body weight and weight of parametrial fat in mice due to their tannin contents. Both plants present as potential sources of anti-obesity and hypolipidemic compounds, (17)
• Antioxidant: Study showed the hydroalcoholic extract of seeds have significant radical scavenging activity. (18)
• Antimicrobial / Seed Extracts: Study of crude extracts showed moderate to strong activity against bacterial and fungi tested comparable to standards like ampicillin, ciprofloxacin, norfloxacin and chloramphenicol for antibacterial activity and nystatin and griseofulvin for antifungal activity. (19)
• Analgesic: Study of methyl alcohol extract of C. fistula in rats and mice showed significant dose-dependent inhibition in pain response induced by thermal, mechanical and writhing stimuli. (20)
• Antibacterial / Otitis Externa: Study of extracts of flowers, leaves, and bark was done against pathogens causing otitis externa (S. aureus, P. mirabilis, E. coli, P. aeruginosa, Acinetobacter sp., and C. albicans). Results showed the organic flower and bark extracts displayed activity against all ear pathogens. Aqueous extracts failed to show antimicrobial activity. The acetonic flower extract was best against Staph aureus.(23)
• Mosquitocidal / Larvicidal: Study of extracts of Saraca indica and Cassia fistula showed moderate to high larvicidal activity at 24 and 48 hours continuous exposure and IGR activity after 72 hours. (24)
• Antibacterial / Antifungal / Fruit Pulp: Extracts of fruit pulp of C. fistula were evaluated for potential antimicrobial activity. Crude extracts exhibited moderate to strong dose-dependent activity against most of the bacterial tested (S. aureus, Strep pyogenes, E. coli, P. aeruginosa) and fungal strains (A. niger, A. clavatus, C. albicans). (26)
• Antidiabetic / Comparative Effects of Various Parts: Study evaluated the hypoglycemic effect of methanolic and aqueous extracts of whole parts in normoglycemic and STZ-induced diabetic rats. Methanolic extract of bark and leaves were more effective in causing hypoglycemia in normoglycemic rats. In STZ-diabetic rats showed reversal to normal of elevated glycosylated hemoglobin and reduced plasma insulin. Dose-dependent antidiabetic effects were seen in cohorts receiving methanolic extract of bark followed by leaves. (27)
• Antibacterial / Antifungal / Leaves: Study investigated the antibacterial and antifungal potential of leaves of C. fistula. Results showed remarkable inhibition of bacterial growth against the tested organisms. The antimicrobial activity was attributed to the presence of various secondary metabolites. (28)
• Antibacterial / Otitis Externa: Study investigated various extracts of flowers, leaves and bark for antimicrobial activity against six ear pathogens causing otitis externa. Of the three organic solvents evaluated, the acetonic flower extract was best against S. aureus, followed by bark extract and leaf extract.
(31)
• Laxative / Dried Fruit Pulp: Study evaluated sun-dried and non-sun dried fruit pulp of C. fistula for purgative action in rat and acute toxicity in mouse. Both SD and NSD treated rats showed increase in the number of defecations and fecal output. SD stimulatory effect on intraluminal fluid and intestinal motility could be due to predominant action on NO formation. A 10 g/kg oral dose (10 times the optimal effective dose) of SD did no show any acute toxic effect in mice. (32)
• Pediatric Functional Constipation / Comparison with Mineral Oil: Study compared the laxative effect of Cassia fistula emulsion (CFE) with mineral oil in a randomized clinical trial on 81 children with functional constipation (FC). The CF emulsion was more effective than mineral oil in the 3-week treatment of children with functional constipation. (36)
• Toxicity Study on Seeds: Study investigated the acute oral toxicity of C. fistula seeds extract in mice. Results showed no significant toxic effect in mice. Histopathological exam showed no adverse organ effects. Results suggest safety for utilization in pharmaceutical formulations. (37)
• Comparative Analysis of Antioxidant Activity of CF Extracts:Study of various CF extracts showed methanolic extracts of pulp and seed with the highest amount of phenolic and flavonoid content and reducing capacity. The antioxidant activity of the extracts was directly proportional to the phenolic contents. (38)
• Hepatoprotective / DEN Hepatotoxicity / Leaves: Study evaluated the hepatoprotective and antioxidant activities of a leaf extract of CF against diethylnitrosamine induced liver injury in ethanol pretreated rats. Oral administration of the extract for 30 days significantly improved the markers of hepatotoxicity and oxidative stress, with reversal of most of parameters studied, comparable to the standard hepatoprotective drug silymarin. (39)
• Anti-Inflammatory / Toxicity Study / Fruits: Study evaluated aqueous extracts of fruit for anti-inflammatory and antioxidant activity in wistar albino rats. Results showed anti-inflammatory and antioxidant properties. Acute toxicity study showed no sign of toxicity up to dose level of 2000 mg/po. (40)
• Acute Cutaneous Leishmaniasis / Leaves: Study evaluated the effectiveness of concentrated boiled and hydroalcoholic extracts of C. fistula on leishmaniasis lesions compared with intralesional injection of meglymine antimoniate (MA). Almost 40% of patients treated with C. fistula achieved complete resolution of the lesions. The efficacy of intralesional MA was significantly more than the extracts. Study recommends the evaluation of combined intralesional injection of MA and topical therapy of CF. (41)
• Mechanisms of Hypoglycemia and Anti-Diabetic Action: Study evaluated mechanism for the glucose lowering effect of a hydroalcoholic leaf extract of C. fistula. The extract increase glucose uptake in the psoas muscle, decreased glucose absorption in rat intestine, and increased the glycogen level in liver. The extract also showed good free radical scavenging activity. (42)
• Rhein / Anthraquinone: Study presents the method developed for the quantitation of biomarker Rhein. Rhein (1, 8-dihydroxyanthraquinone-3-carboxylic acid) is the major anthraquinone found in Cassia fistula. Rhein is useful for alleviating pain and fever, and is known to have anti-tumor, antibacterial, antiangiogenic properties. (43)
• Adsorbent / Congo Red Dye: Thermodynamic studies show that adsorption of Congo red onto the ash of C. fistula seeds is spontaneous and physical in nature. Results suggest C. fistula seeds has considerable potential as adsorbent of Congo red dye from aqueous solution. (44)
• Male Antifertility Effect: Study evaluated an ethanolic extract of C. fistula leaves for antifertility effect on fertile male albino rats. There was a significant decrease in sperm count, with decreased sperm vitality and motility. Results suggest potential as a male antifertility agent. (45)
• Purgation Therapy for Vitiated Pitta Dosha: Study evaluated the efficacy of C. fistula in skin diseases due to vitiated pitta dosha. Study showed purgation therapy by CF decoction has a significant effect in ameliorating skin disease due to vitiated pitta dosha. (46)
• Anti-Convulsant / Seeds : Study evaluated the anticonvulsant activity of a methanolic extract of seeds of C. fistula against pentylenetetrazol (PTZ) induced convulsions in mice. Results showed the ME of seeds significantly reduced the duration of clonic convulsions and delayed the onset of convulsions induced by pentylenetetrazol. (47)
• Cutaneous Leishmaniasis / Intralesional Meglumine Antimoniate Plus CF Fruit Gel: Study showed the efficacy of C. fistula fruit gel in increasing the cure rate of cutaneous leishmaniasis lesions achieved by intralesional meglumine antimoniate. (48)
• Biosorbent Biomass / Nickel from Industrial Effluents: Results showed C. fistula biomass has a unique high Ni(II) sorption capacity suggesting it is an excellent biosorbent for Ni(II) uptake from industrial effluents. (49)
• Anti-Venom / Dried Leaves: Hydroalcoholic extracts of dried leaves of C. gigantea and Cassia fistula were tested for hemolysis, procoagulant, edema-forming activity against cobra (Naja-Naja) venom. Results showed dose dependent neutralization of venom, C. gigantea more than Cassia fistula. (50)
• Antifungal / Rhein / Flower: Rhein (1, 8- dihydroxyanthraquinone- 3carboxylic acid) isolated from the ethyl acetate extract of flower was tested for antifungal activity. Results showed inhibition of growth of many fungi such as Tricophyton mentagrophytes, T. simii, T. rubrum, and Epidermophyton floccosum. (51)
• Anti-Psoriatic Activity: Study evaluated the efficacy of topical application of varied concentrations of C. fistula fruit extract in hydrophilic cream for psoriasiform dermatitis in a mouse model. Results showed most of the formulations containing methanol extract of CF produced significant degrees of orthokeratosis. A medication with formula incorporating 6.25% extract had the highest efficacy. Treatment with the herbal creams also produced a significant decrease in relative epidermal thickness. Results produced amelioration and prevented worsening of psoriasis. (52)
• Mosquitocidal Against Malaria Vector / Leaves : Study evaluated the methanol extract of leaves of C. fistula and ripened fruits of P. nigrum against Anopheles mosquito. Cassia fistula leaf extracts showed promising mosquitocidal efficacy against Anopheles stephensi. (53)
• Anti-Diabetic / α-Amylase Inhibition / Bark: Study evaluated the inhibitory activity against digestive enzymes related to diabetes. α-amylase is the main enzyme in humans responsible for the breakdown of starch. An ethyl acetate extract of bark showed significant α-amylase inhibition. Spectral data reveals the presence of flavonoidal moiety. Correlation of antidiabetic activity can made made with the flavonoidal compounds. Results provide scientific support for the folkloric use of C. fistula in the treatment of diabetes.  (54)
• Gold Nanoparticles / Hypoglycemic / Stem Bark: Cassia fistula stem bark was used for the preparation of aqueous extract and synthesis of gold nanoparticles to evaluate the hypoglycemic effects of the plant. Study confirms the efficacy of gold nanoparticles as promising in the treatment of diabetes. (55)
• Anxiolytic and Sleeping Time Effects / Fruit: Study evaluated the effect of C. fistula on sleeping time and level of anxiety in male albino mice. The aqueous extract of fruit increased sleeping time and decreased levels of anxiety in mice. (56)
• Lipid Effects: Study evaluated a 50% ethanolic extract of C. fistula legume on its effect on serum lipid metabolism in cholesterol fed rats. Administration of legume extract significantly prevented the rise of serum total cholesterol, LDL, triglycerides and phospholipid in a dose dependent manner. The ratio of HDL-C/TC was elevated in treated groups. (57)
• Antinociceptive / Pods : Study evaluated the anti-nociceptive activity of an ethylacetate fraction of Cassia fistula pods in various groups of animals using the acetic acid induced writhing model, hot plate test, tail immersion test, and formalin induced paw licking model. Results showed both central and peripheral anti-nociceptive effects. (58)
• Essential Oil / Antifungal / Cytotoxic / Leaves: Study of C. fistula leaf oil yielded seven components. (see constituents above). There was only marginal cytotoxicity against MCF-7 cells. The leaf oil showed antifungal activity against A. niger and C. albicans. Of the essential oil components, eugenol exhibited antifungal properties and limonene and phytol were cytotoxic. (60)
• Synergism with Fluconazole Against Candida albicans: Study evaluated the synergistic antifungal action of crude DMSO (dimethyl suphoxide) and petroleum ether leaves extract of C. fistula in conjunction with fluconazole against species isolated from Candidiasis patients. Results showed that fluconazole and Cassia fistula leaves extract exhibit synergistic fungicidal activity against Candia albicans. (61)

Availability
Wild-crafted.