Taxon info
Clerodendrum is a genus of flowering plants in the Lamiaceae family. It is a member of the subfamily Ajugoideae, one of four subfamilies transferred from Verbenaceae to Lamiaceae based on morphological and molecular phylogenetics.
Clerodendrum L. is widely distributed in the tropical and subtropical regions of the world, with more the 500 species identified, with ethnomedical use in many indigenous systems (Indian, Korean, Japanese, Thai, Chinese) for a variety of disease: syphilis, typhoid, cancer, jaundice and hypertension.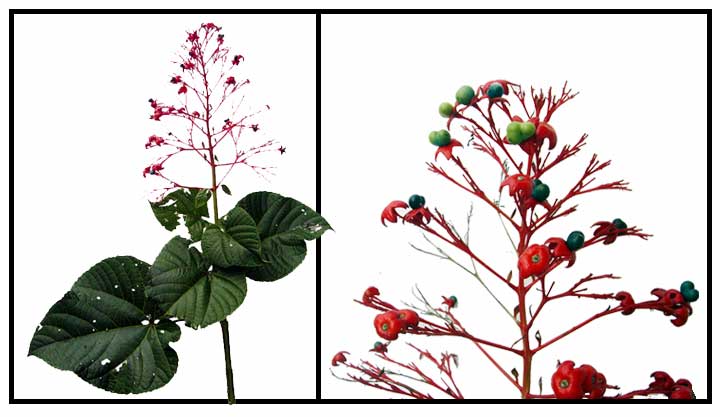 Botany
Kasopangil is an erect, branched, shrubby or half-woody plant, 1 to 2 meters in height. Stems are green, four-angled. Leaves, ovate, 9 to 20 centimeters long, with a pointed tip and heart-shaped base, and shallowly toothed margins. Flowers are odorless, bright red, slender and borne in terminal panicles in the upper axil of leaves. Corolla-tube is about 1 centimeter long; limb is spreading, somewhat oblique, subequally 5-lobed, the lobes being oblong and obtuse, and 1.5 centimeters in diameter. Stamens are 2 centimeters long, and red or purplish. Fruit is fleshy, blue, depressed-rounded, about 1 centimeter in diameter, with 3 to 4 seeds. Calyx is accrescent, red, spreading or reflexed, about 2 centimeters in diameter.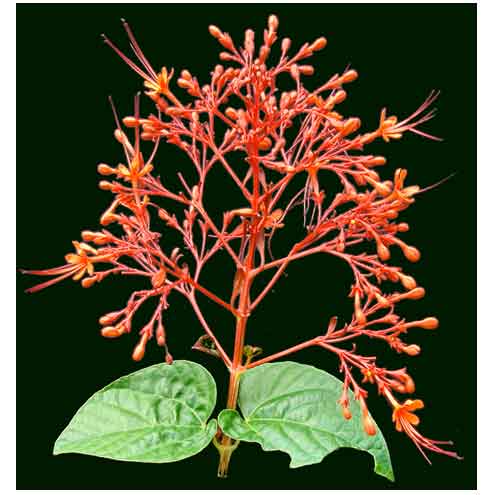 Distribution
- Common in thickets, secondary forests, and damp places, and along muddy shores and tidal streams at low and medium altitudes throughout the Philippines.
- Also occurs in Taiwan, Borneo, Celebes, and Sumatra.
Constituents
- Mature flowers tested positive for alkaloids, while young flowers (less than two months old) tested negative for alkaloids.
- Phytochemical screening yielded carbohydrates, glycosides, tannins, and phenolic compounds in methanolic and aqueous extracts, and sterols in all extracts.
Properties
- Purgative, anti-inflammatory, vulnerary.
Parts utilized
Leaves, roots.
Uses
Folkloric
· Traditional healers in Laguna use poultice of leaves for sprains and stomachache. (6)
· Leaves, whole or pounded, used as cataplasm to relieve pains after childbirth.
· Leaves pounded with a little salt, applied to mumps (beke).
· Also used for rheumatism and neuralgia.
· Plaster of leaves used for colic in children.
- Juice of steamed leaves used for colds and cough.
· Leaves, whole or pounded applied to abdomen of parturient with abdominal in difficult labor. (7)
· For colic, leaves are heated over fire, then wiped with coconut oil and applied to the stomach.
· Root used as purgative.
· In South East Asia, C. paniculatum leaf juice extracted with water used to treat sore eyes. Concentrated water extract also used for wounds.
· In Ayurveda, plant pacifies vitiated pitta, inflammation, ulcers, wounds, and skin diseases.
Studies
• Antimicrobial: Methanolic and chloroform extracts of leaves of Cp showed effective antimicrobial activity against Staphylococcus aureus, Pseudomonas aeruginosa, and Candida albicans. (4)
• Note: Above study is attributed to C. paniculatum, a questionable synonym of C. intermedium. No studies have been found attributed particularly to C. intermedium (Kasopangil), an understudied plant that is quite common in the Philippines.
Availability
Wild-crafted.