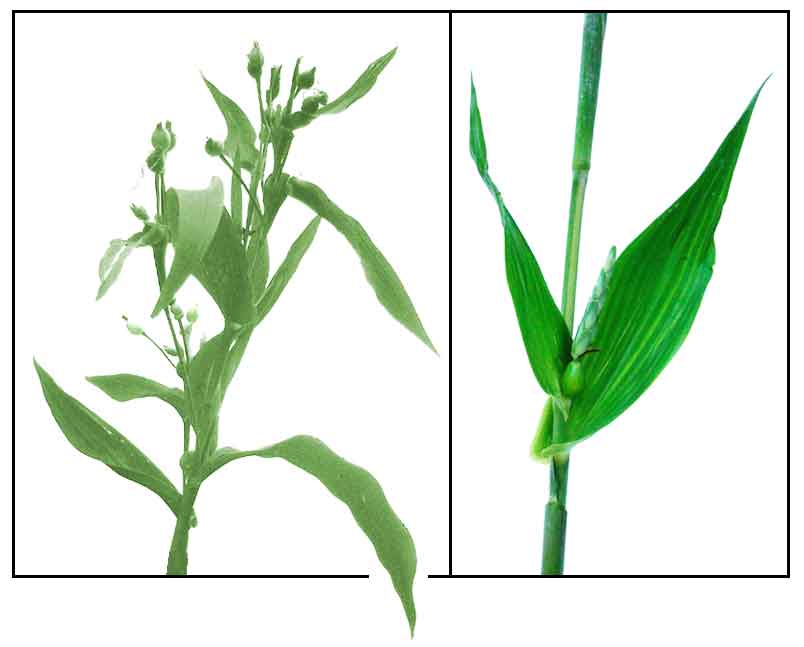 Botany
Katigbi is a plant growing 1 to 2 meters high. Stem is erect, branched and stout. Leaves are 10 to 40 centimeters long, 2.5 to 4 centimeters wide, with a broad and cordate base. Spikes are 6 to 10 centimeters long, erect, and peduncled. Male spikelets are about 8 millimeters long. Fruits are capsules, enclosing the female flowers. Grains are hard, bony, white or nearly black, shining, ovoid, about 8 millimeters long.

Distribution
- Common throughout the Philippines in settled areas, at low and medium altitudes, in most or all islands and provinces.
- Native of the Old World.
- Now pantropic.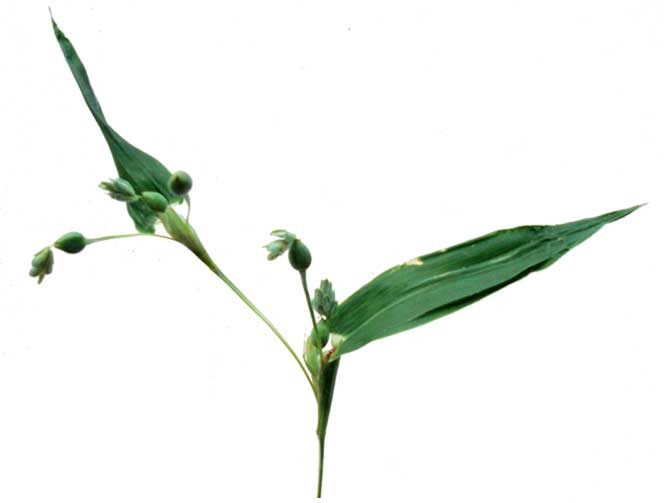 Constituents
• Adlai contains 21.27% moisture, 6.09% ash, 9.11% protein, 0.45% fat, 0.412% crude fiber, and 77.16% carbohydrates.
• The grain contains a protein, prolamin, with a high percentage of leucine, tyrosine, glutamic acid, and basic amino acids arginine, histidine, and lysine. Protein is called coicin.
• Extracts have yielded coixenolides, attributed antitumor activity.
• Study isolated 6 benzoxazinoids from the roots of CL
• Study evaluating seed phytonutrients yielded a total vitamin E content of 37.38 mg/kg, two major components were y-tocopherol and y-tocotrienol. Squalene content ranged from 31.23 to 55.00 mg/kg. Tested varieties exhibited squalene content ranging from 31.23 to 55.00 mg kg. Phytosterols content yielded campesterol 80.43, stigmasterol 131.1, and β-sitosterol 313.38. Of the six detected fatty acids, the major fatty acids were oleic (46.3%) and linoleic acids (37.4%). (19)
• GC-MS study identified dodecanoic acid, tetradecanoic acid, 2,3-dihydroxypropylester, 1,3-dioctanoin, N-methoxy-N-methyl-3,4-dihydro-2H-thiopyran- 6-carboxamide, propanamide, 5-Amino-1-(quinolin-8-yl)-1,2,3- triazole-4-carboxamide, and pyridine in the C. lacryma-jobi oil. (see study below) (42)
- Chloroform extract of leaves yielded alkaloid, carbohydrate, saponin, glycosides, flavonoids, phenols, tannins and steroids while seed extracts yielded glycosides, flavonoids, phenols and steroids. (see study below) (45)

Properties
• Grain starch is tonic.
• Fruit considered anti-inflammatory, antipyretic, antiseptic, antitumor, antispasmodic, hypoglycemic, hypotensive, vermifuge.
• Seeds considered to be nutritious, cooling, diuretic, demulcent, depurative, antihelmintic, antirheumatic, pectoral, tonic.
• Root of plant considered an excellent anthelmintic.
• Studies have suggested anti-tumor, anti-inflammatory, antiviral, cytotoxic, anti-osteoporotic, abortifacient, hypoglycemic, hypolipidemic, antioxidant, anticancer, gastroprotective, anti-allergic, anti-obesity, anti-mutagenic, skin-whitening, hypouricemic, nephroprotective, antibacterial, antihypertensive, hepatoprotective properties.

Parts utilized
Roots, seeds, stems.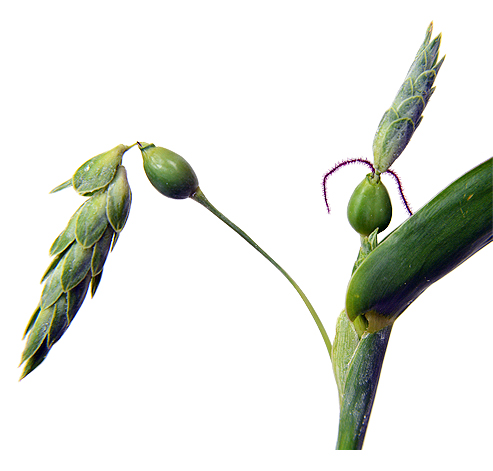 Uses
Edibility / Culinary
- Chief value of the plant is the edibility of the fruit. Grains are nutritious, with a higher content of protein compared to rice.
- Coix grain is generally polished as hulled grain or milled as flour and used in food components. (40)
- Tea from the parched seeds.
- In Korea, yulmu cha (Job's tears tea), is a thick drink made from powdered Job's tears. In Chinese cuisine, a similar drink, Yi Ren Jiang, is made by sweeting simmered whole polished Job's tears. (36)
- In China, coix seeds are used in soups and beverages.
- A South Korean liquor, okroju, is distilled from rice and grain of Job's tears. (36)
- In Japan, aged vinegar is made from the grain. (36)
- Coffee from the roasted seeds.
- Beer and wine from fermented grains.
Folkloric
- In the Philippines, decoction of the root has been used for gonorrhea.
- Roots also used as vermifuge for children.
- Starch from the grain used as tonic and as restorative in convalescence.
- Tea from boiled seeds drunk for treatment of warts. Also used for lung abscesses, appendicitis, rheumatoid arthritis, dysuria.
- Seeds are prescribed for blenorrhagia.
- In India, roots used for menstrual disorders.
- In Liberia, juice from the stem used as drops for eye irritation due to injury.
- Decoction and tincture of seeds are emollient in catarrhal affections, in bronchitis, and inflammatory conditions of the urinary tract.
- Seeds have been used as anti-inflammatory medicine.
- In Mexico, decoction or infusion of leaves used for diabetes.
- In Japan and China, spirit from seeds used for rheumatic affections.
- In China, used for cancer treatment (30-60 gm of coix, with glutinous rice as gruel, daily, year round. Used for dysfunctions of the endocrine system. Also, used for ascites secondary to liver cirrhosis.
- In Chinese traditional medicine, considered nutritious, demulcent, cooling, pectoral, and anthelmintic. Used for spleen invigoration, diarrhea, oliguria, edema, beriberi, appendicitis and warts. Also, used as food for the dyspeptic. Coix seed has been used in the preparations used in the treatment of tumors.
- In Europe, tincture or decoction of seed use for catarrhal afflictions of the air passages.
- In Vietnam stems are used in some diabetic recipes.
- In Japan, used for warts.
Others
- Ornaments: The berries as strung as beads for rosaries and decorative for curtains, bags, trays, necklaces, etc.
- Matting: Stems used for matting.

Studies
• Antitumor: Components isolated from the Chinese herbal medicine Coix lachryma-jobi showed antitumor activity attributed to the acidic fraction which was composed of four free fatty acids: palmitic, stearic, oleic and linoleic acids. (2)
• Anti-Inflammatory / Seeds: Results showed the methanol seed extract of seeds of CL showed antiinflammatory properties which may involved the inhibition of NO and O2 production by activated macrophages. (4)
• Anti-Inflammatory / Roots: Study on the anti-inflammatory activities of six benzoxazinoids from roots of Coix lachryma-jobi var. Ma-yuen showed the free hydroxyl group in the benzoxazinone skeleton involved in the expression of inhibitory activity. (6)
• Progesterone Production Inhibition: Study suggested decrease of progesterone production via mechanisms involving the inhibition of cAMP pathway, enzyme activities and protein expressions in rat granulosa cells. (5)
• Cytotoxicity / Anti-Viral: In a study of its in vivo effects on healthy volunteers, showed the Coix seeds increase peripheral cytotoxic lymphocytes and may be effective to viral infection through enhancement of cytotoxic activity. (8)
• Macrophage Biostatic Activity: Results of study of water extract of seeds suggest that some components other than the non-proteinous and defatted components in Coix lachryma seeds may contribute to activate macrophages through induction of NO for the biostatic activity. (9)
• Osteoporosis Prevention: Results of study of the water extract of adlay seed suggest it may be capable of reversing the osteoporotic status in rats and may be a helpful healthy food for osteoporosis prevention. (10)
• Abortifacient / Embryo toxicity: Results indicate the water extracts of adlay seeds are capable of inducing embryo toxicity and enhancing uterine contractile during pregnancy, possibly through the enhanced activities of PK-alpha, ERK1/2 and COX-2. (11)
• Hypoglycemic Effect / ß-Sitosterol and Stigmasterol: Study on STZ-induced hyperglycemia in mice, the chloroform fraction of an ethanol extract significantly reduced blood glucose as well as gluconeogenic enzyme activities. Two compounds isolated, ß-sitosterol and stigmasterol, have been reported as hypoglycemic. (14)
• Hypocholesterolemic / Antioxidant: Study of polyphenol extracts on high cholesterol diet fed rats showed an effective reduction of TC, LDL cholesterol, and oxidative stress marker, MDA (malondialdehyde). There was also an increase in HDL-C and antioxidant capacity. (15)
• Anticancer / Breast and Skin: Coix lacryma and Asparagus cochinchinensis showed breast and and skin anticancer activity. Coix lacryma ethanol extract yielded terpenoids, steroids, and phenolics; For Coix lacryma, the methylene chloride extract showed the most activity. (16)
• Gastroprotective / Anticancer / Antiulcer: Study of extracts of bran and endosperm showed antiproliferative activity, with inhibitory effects, especially by caffeic and chlorogenic acids, on a gastric cancer cell line. Study also showed an antiulcer activity in an indomethacin-induced gastric lesion model. (17)
• Anti-Obesity / Neuroendocrine Modulation: Study in high-fat diet induced obesity in rats, results showed adlay seen water extract may regulate neuroendocrine activity in the brain, causing reduction in body fat mass, body weight, serum leptin level and immune activities of NPY (neuropeptide Y) and LR (leptin receptor). Adlay presents as a potential for therapies targeting obesity. (18)
• Coix Seeds / Kanglaite Injection (KLT) Preparation / Anticancer and Immunomodulating: A review on the pharmacological actions of Coix seed and its preparation Kanglaite Injection reports antitumor and immunomodulating actions. (20)
• Antimutagenic Components / Cancer Chemopreventive: Study yielded six compounds exhibiting great antimutagenic activity: p-hydroxybenzaldehyde, vanillin, syringaldehyde, trans-coniferylaldehyde, sinapaldehyde, and coixol. Two exhibited potent scavenging of DPPH radicals. Among the six, trans-coniferylaldehyde may be a highly promising agent for cancer chemoprevention. (21)
• Anti-Allergic / Inhibition of Chemical Mediator Release: Study evaluated the anti-allergic effects of adlay bran on rat basophilic leukemia (RBL)-2H3cells. Results showed adlay bran extract reduced the release of histamines and cytokines and suppressed production of Akt. The anti-allergic effect was through its effect on signal transduction in RBL-2H3 cells. (22)
• Fructooligosaccharide / Antioxidant: Fructooligosaccharide (FOS), a prebiotic was extracted from the grain of Coix lacryma-jobi Lin. The FOS-containing extract exhibited antioxidant activity by DPPH free radical scavenging assay comparable to vitamin with a slight lipid peroxidation inhibition activity. Results suggest a potential for use as antioxidant in food and cosmetic products. (23)
• Anti-Inflammatory / Seed Hull: Study evaluated the effects of adlay seed hull extracts on liposaccharide-induced inflammatory response in RAW 264.7 macrophages. Study showed anti-inflammatory effect which was attributed, in part, to eriodictyol and ceramide (2S,3S,4R)-2-[(2′R)-2′-hydroxytetracosanoyl-amino]-1,3,4-octadecanetriol, isolated for the first time from seed hull extracts. (24)
• Anti-Allergic: Adlay bran extract reduced the release of histamines and cytokines and suppressed the production of Akt.--combined effects that influenced the signal transduction in RBL-2H3 cells, revealing mechanisms of the anti-allergic effects of adlay. (26)
• Endochitinase / Seeds: Studies of the purification, characterization and primary structure of protein inhibitors of trypsin and -amylase from seeds of Job's Tears (Coix lacryma-jobi) were undertaken. Endochitinase activity was demonstrated. The results suggest a first characterization of a plant protein with activity as an enzyme and as an enzyme inhibitor. (27)
• Anti-Tumor / Seeds: Triterpene-loaded microemulsions using Coix lacryma seed oil was evaluated for enhanced antitumor activity. The TME preparation showed markedly enhanced antitumor efficacy in a xenograft model of Lewis lung cancer after intragastric administration. Compared to cyclophosphamide, the TME showed similar antitumor activity but less general toxicity. (28)
• Melanogenesis Inhibitors / Skin Whitening / B16-F10 Melanoma Cells / Seeds: Study of seeds isolated an adenine derivative, 9-ß-D-glucopyranosyl adenine, together with nine known compounds. The compounds were assayed for melanin inhibition using B16-F10 melanoma cell line. Results showed Coix lacryma-jobi seeds have potential for use as skin whitening agent and a rich source of compounds with melanogenesis inhibitory activity. Among the isolated compounds, coixol (2) and 2-O-ß-glucopyranosyl-7-methoxy-2H-1,4-benzoxazin-3(4H)-one (8) showed potent melanogenesis activity without obvious melanocytotoxicity. (30)
• Trolein / Induction of Cell Cycle Arrest Through P53/P21 Signaling Pathway: P53,a tumor suppressor protein, has an important role in DNA repair, cell cycle and apoptosis--key evens in cancer development. Study isolated 4 compounds (1-4), including the most potent p53-increasing compound, triolein. Triolein treatment induced P53, p21, p27, and Bax in MCF-7 cells. Data showed triolein may induce cell cycle restart involve DNA synthesis and apoptosis pathway in MCF-7 cells. (31)
• Hypouricemic / Nephroprotection / Seeds: Study of Adlay seed extract in hyperuricemic rats showed hypouricemic and nephroprotective actions with significant reduction of plasma uric acid in a dose dependent manner, increased fractional excretion of urate (%FEua) and decreased creatinine clearance (Cc)r to normal level and inhibited XOD activity in the liver and plasma of hyperuricemic mice. (32)
• Job's Tear Flour as Substitute to Cake Flour: Study evaluated Job's tear flow prepared by wet milling method for its potential as substitute to cake flour in butter cake. A 20% of flour obtained the highest score for Just About Right test, with only sweetness and texture attributes needing improvement. The product had a remarkable 87% consumer acceptance, with a 7.3 preference score. The addition of Job's tear flour increased fiber and protein contents of products. (33)
• Decreased Adipocyte Differentiation / Increased Glucose Uptake in 3T3-L1 Cells: Study investigated the effects of ethyl acetate fraction of an ethanol extract of Coix lacryma-jobi on glucose uptake and adipocyte differentiation in 3T3-L1 cells. The extract phosphorylated AMP-activated protein kinase in a time- and dose-dependent manner. ECLJ also cause a decrease in expression levels of adipogenesis factors in a dose dependent manner. Results suggests a possible role of AMPK in adispose differentiation. The effect on adipocyte functions could be effective in improving the symptoms of metabolic syndrome. (34)
• Liposoluble Components / Antibacterial Activities / Stem: GC-MS analysis Coix lacryma-jobi stems yielded 23 compounds, accounting for 87.12 % of total liposoluble components. Main components were fatty acids, esters, aldehydes, etc. The liposoluble components exhibited strong antibacterial activities against Staphylococcus epidermis, S. aureus, and Escherichia coli. (35)
• Larvicidal on Dengue Fever Mosquito, Aedes aegypti: In a study of 10 Indian medicinal plants for larvicidal activity against Aedes aegypti mosquito larvae, C. lacryma showed the second highest LC50 value with 92.77 ppm. (37)
• Synergism of Coix Seed Oil with Norcantharidin / Anti-Tumor: Study showed that Norcantharidin (NCTD) + Coix lacryma-jobi seed oil (CLSO) combination exhibited more potent antitumor effects in terms of cytotoxicity and apoptosis induction in human HepG2 and HepG2/ADM cells than NCTD or CLSO alone. In vivo, the combination significantly suppressed the formation of tumor in Hepal-1-hepatoma bearing mice. Results suggest the combination of NCTD+CLSO improves anti-tumor activity and regulates tumor infiltrating Tregs (CD4 + CD25 + regulatory T cells). (38)
• Antihypertensive / Oligopeptides: The hydrolyzed bioactive oligopeptides of adlay have been shown to be anti-hypertensive effective components. Angiotensin-1 converting enzyme (ACE) was identified as the main potential target for the antihypertensive activity of adlay oligopeptides. ALA354 was identified as a key residue of ACE inhibitors. The study provides research strategy to explore the pharmacological mechanism of Traditional Chinese Medicine proteins based on in silico proteolysis and virtual screening to reveal the pharmacological action of TCM proteins and provide new lead compounds for peptides-based drug design. (39)
• Drug-Herb Interactions: Moderate interaction: Medications for diabeetes interacts with Job/s Tears. Job's tears might decrease blood sugar levels, and when taken with antidiabetic drugs may cause the blood sugar to go too low. Medicines include insulin, micronase, glyburide, glipizide, glimepiride, among others. (40)
• Coixenolide / Anti-Tumor / Ehrlich Ascites Carcinoma / Seeds: Study reports on the anti-tumor component , coixenolide, isolated from an acetone extract of seeds, which showed highest anti-tumor activity to Ehrlich ascites carcinoma in mice. (41)
• Antibacterial / Oil: Study evaluated the phytochemical composition and antibacterial activity of Coix lacryma-jobi oil against E. coli, B. subtilis, and S. aureus. Results showed inhibitory activity against the test bacteria with MIC value of 0.031 g/L and the MBC of 0.125 g/L Dodecanoic acid displayed inhibitory activity against gram-positive and gram-negative bacteria. (see constituents above) (42)
• Hepatoprotective / Anti-Inflammatory / Seeds: Study of seed extracts evaluated the hepatoprotective activity of Coix lacryma-jobi on CCl4-induced hepatotoxicity and anti-inflammatory activity on egg-albumin induced paw edema and complete Freund's adjuvant-induced arthritis models. Extract treatment restored various serological alterations induced by CCl4 and reversed toxic effects on liver cells. There was considerable reduction in paw volume of exudates indicating anti-inflammatory activity. (43)
• Flour for Food Use / Wet-Milled vs Dry-Milled: Job's tears is a staple crop with potential to improve food security as rice substitute. Study evaluated the physical and chemical properties of Job's tear flour by wet milling and dry milling techniques. Results showed the two milling processes yielded different properties of flour. Wet-milled process yielded lower protein content, higher ash and moisture content compared to dry-milled flour. Wet milling increased viscosity, swelling and gelatinisation enthalpy. Dry-milling caused more damaged and various cracks, fissures, and holes on the starch surface. The well-milling process is recommended for producing Job's tear flour. (44)
• Antibacterial / Anthelmintic / Leaf and Seeds: Study evaluated chloroform extracts of leaves and seeds for antibacterial and anthelmintic activity of Coix lacryma-jobi Lowest MIC of 12.5-50 mg/ml was observed against all selected bacteria. On anthelmintic testing using Pheretima posthuma, the chloroform leaves extract showed shorted time of paralysis (p=8.17) and death (D=18.23 min) at 100 mg/mL concentration. Results showed efficacy as antibacterial and anthelmintic. (see constituents above) (45)
• Analgesic / Seeds: Study on 90 patients evaluated the effect of coix seed oil intravenously injected every day for 2 weeks. Upon treatment completion, patients in both groups experienced reduction is pain, but patients who receive coix seed oil have a more significant decrease in pain score (2.55 vs 3.84, p=02). (46)
Availability
- Wild-crafted.
- Seeds, tinctures, dried grains in the cybermarket.