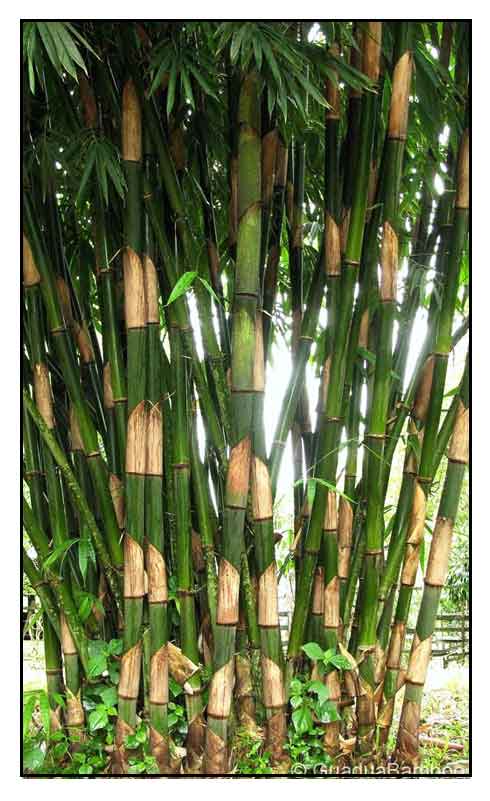 Gen info
- As of 2000, there were 62 known bamboo species in the Philippines. Of these, 21 are endemic or native Philippine bamboos; 13 are climbers and 8 are erect. (3)
- The rest are introduced; a few introduced in prehistoric times.
- There are more than a 1000 different bamboos worldwide.
- Bamboo, a type of grass, is the fastest growing plant in the world. Some varieties grow at a peak rate of 5 centimeters (2 inches) per hour; more commonly about 10 centimeters per day. (3) (4)
Botany
Kayali is a densely tufted, sympodial bamboo. Culms grow up to 25 meters high, 5 to 10 cm in diameter, about 8 mm thick, bluish-green with distinct pale rings on the nodes; internodes are 40 to 50 cm long, on the upper part with dark-brown appressed hairs, the lower nodes with a few aerial roots. Branches arise from the nodes above 2 to 3 m from the ground. Culm sheath are narrowly triangular with truncate apex, 21 to 36 cm long, black hairy on the outer side. Blades are lanceolate, about 10 cm by 3 cm, deflexed, deciduous, ligue 3 to 6 mm long, irregularly toothed. Young shoots are slender, green to dark green, with appressed black hairs. Leaf blade oblong lanceolate, 20 to 44 cm by 3 to 9 cm, glabrous, lugule 2 mm long, auricles firm and low, 2 mm by 1 mm. Inflorescence are borne on leafy branches, with 35 pseudospikelets at the nodes; spikelets are ovoid-lanceolate, 9 to 12 mm by 3 to 4 mm, containing 4 perfect florets and oe terminal imperfect one. (Pl@ntUse) (5)
Distribution
- Introduced.
- Cultivated in Davao.
- Native os Malaysia.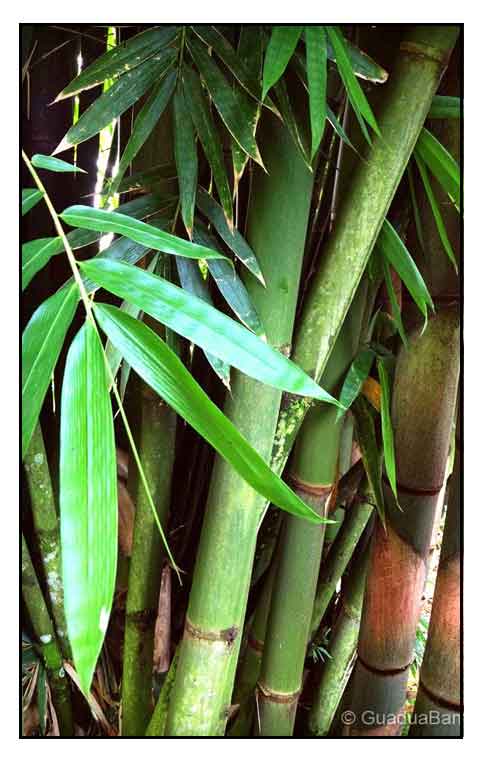 Constituents
- Leaves yield saponins and tannins. (see study below) (6)
Properties
- Culm is green with purple patches when young, purplish-black when mature.
- Study of leaves suggest antioxidant, radical scavenging activity.

Parts used
Leaves.

Uses
Culinary
- Young shoots consumed as vegetable.
Folkloric
- No reported folkloric medicinal use in the Philippines.
Others
- Crafts: Used for making musical instruments.
- Construction / Utensils: Culms for construction as framework, fences, walls. Also used for making household items like beds, cooking utensils, meal skewers, chopsticks, toothpicks, and handicrafts.
Studies
• Antioxidant / DPPH-Scavenging / Phenolic Content / Leaves: Study evaluated the extractive contents, phenolic content, and DPPH-scavenging activity of various leaf extracts of 3 commonly cultivated bamboo species (Gigantochloa atter, Dendrocalamus asper, and G. verticillata). Hot water produced highest yields of G. atter (3.62%) and D. asper (3.16). Phytochemical screening detected saponins in the hot water extract of G. atter and tannins in the 70% ethanol extract. Resullts showed all 3 bamboo leaf extracts have potential as natural sources of antioxidants and phytochemicals. (6)
Availability
Wild-crafted.
Herbal teas and supplements in the cybermarket.