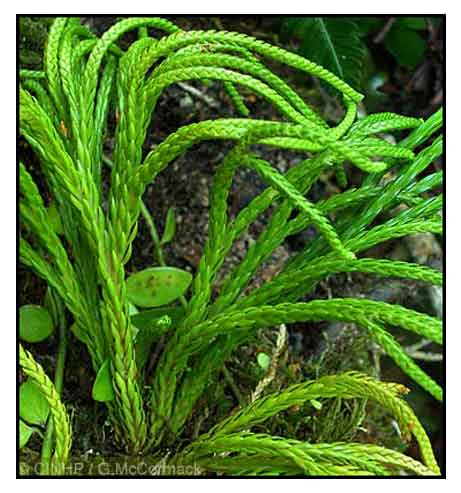 Gen info
- Huperzia is the largest genus in the Lycopodiaceae family, comprising about 300 species, which are difficult to distinguish because of wide plasticity of the characteristics. (5)
Botany
Huperzia carinata is a variable, epiphytic herb, with long, lax, pendulous branches; the narrower forms, slender and snake-like. Roots usually form one basal tuft. Stem is initially erect, becoming pendulous 35 to 50 centimeters by 7-15 millimeters, 1 to 4 times dichotomously branched, pale green. Leaves are subapproximate, spirally whorled in 6 to 8 rows, ascending, sessile; margins entire, apex acute, gray-green to yellowish-green, subcoriaceous, midrib distinct, keeled.. Strobili is terminal, cylindrical, 4 to 8 centimeters by 2.5 to 4 millimeters, distinctly demarcated from the vegetative parts of the stem, no branched. Sporophylls are in four rows, ovate to oblong-subdeltoid, 4 to 5 millimeters long, as broad as the sterile leaves, sharply keeled, acuminate, rather appressed. Sporangium borne at the base of the sporophyll, sessile, reniform, smooth, yellow. Spores are triangular, trilete, 40 µm in diameter, granulated. (5)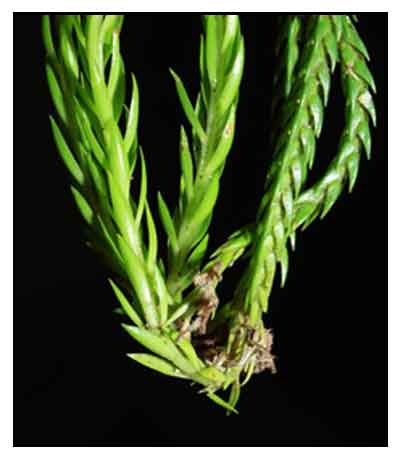 Distribution
- In the Philippines, found in primary forests.
- Occasionally, cultivated in gardens.
- Grows naturally in tropical Asia (including South-East Asia), the Ryuk islands, Taiwan, Polynesia and Australia. (5)
Constituents
- Study isolated three new Lycopodium alkaloids, carinatumins A-C (1-3) from the club moss, Lycopodium carinatum. (see study below) (2)
- Study of dried and powdered methanol extract of L. carinatum and fraction yielded new lycopodine-type alkaloids, lycopocarinamines A-F. (3)
- A methanol extract of H. carinata yielded 8,15-dihydrohuperzine A (2) and lycocarinatine A (3), along with nine known alkaloids including huperzine A (1), 12-epilycodine N-oxide (3), lycodoline (5), gnidioidine (6), lycoposerramin K (7), fawcettimine (8), and phlegmariurine B (9). ( see study below) (6)
Properties
- Studies have suggest cholinesterase inhibiting and memory enhancing properties.

Uses
Folkloric
- In South-East Asia, whole plant extract or ointment formulation used for washing the hair to stimulate hair growth. (5)
Others
- Ornamental: Usually grown as an ornamental; suitable for hanging baskets.
Studies
• Carinatumins / Acetylcholinesterase Inhibition: Study of club moss, Lycopodium carinatum isolated three new Lycopodium alkaloids, carinatumins A-C (1-3). Carinatumins A (1) and B (2) exhibited potent inhibitory activity against acetylcholinesterase. (2)
• Huperzine A / Anticholinesterase: Studies have isolated chemical compounds huperzine A, lycodoline, lucidioline and lycopodine from H. carinata. Huperine A has demonstrated anticholinesterase activity and has shown effects in behavior tests appraising animal learning and improving memory function in humans. It has been approved by the Chinese Community for treatment of senile dementia and age-related memory impairment. (5)
• Alkaloids / Anticholinesterase Activity: Study of a methanol extract yielded - A methanol extract of 8,15-dihydrohuperzine A (2) and lycocarinatine A (3), along with nine known alkaloids. 12-=Epilycodine N-oxide (4), 8,15-dihydrohuperzine A (2), and gnidioidine (6) showed the most potent inhibitory activity against AChE with IC50s of 0.591, 2.626, and 3.442 µM, respectively. (see constituents above) (6)
Availability
Wild-crafted.