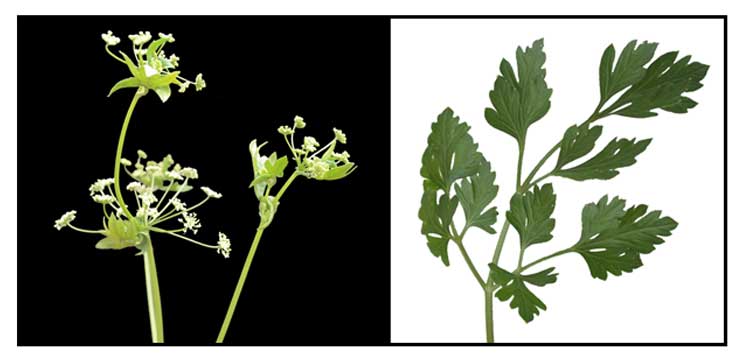 Botany
Kintsay is an erect herb, seldom growing over 30 centimeters in height. The Chinese variety has short stems. Leaves are pinnate, with large, deeply-lobed segments, on long petioles. Peduncles are short, less than 1 centimeter in length, and borne opposite the leaves. Flowers are borne in umbels, very small, and greenish white. Fruit is very small, with narrow ridges.
Distribution
- A biennial of Europe and northern Asia which has been cultivated from fairly remote times.
- Introduced in the Philippines.
- Two forms are cultivated in the Philippines: (1) In the lowlands, the small Chinese form, known as "kinchai," raised extensively by the Chinese and common in the Manila markets. (2) Baguio kind has a thicker and larger leaf stalk and is blanched, much smaller than the high-grade celery cultivated in temperate zones.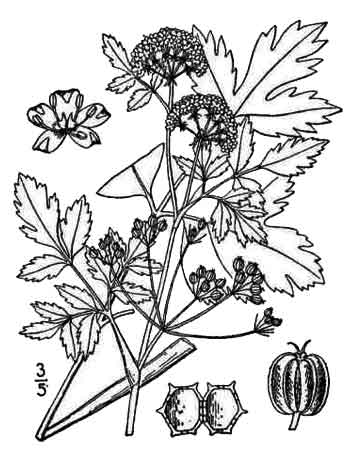 Properties
- Considered anti-inflammatory, deobstruent, diuretic, resolvent, pectoral, tonic, carminative, emmenagogue, diuretic, adjunct to purgatives, lithotriptic, stimulant, antispasmodic, aphrodisiac.
Possible antioxidant.
Constituents
- The plant yields a glucoside, apiin; a volatile oil, mannite and inosite.
- Bulb yields a volatile oil, 0.009%; glutamine; asparagine; tyrosine; mannitol.
- Fruit contains a volatile oil, 2.5-3%; apigenin; protein, 1.3%; choline, linase.
- Volatile oil: d-limonene; a-pinene; cineole; cymene; a-terpineol.
- Seeds are a rich source of phenolic constituents such as flavonoids, anthrons, xanthons and tannins.
- Study yielded two phthalide compounds, 3-n- butylphthalide and sedanenolide. (17)
- The major components of volatile oil were β-pinene, camphene, cumene, limonene, α-thuyene, α-pinene, β-phellendrene, p-cymene, γ-terpinene, sabinene and terpinolene. (26)
Parts used and preparation
Entire plant.

Uses
Culinary / Nutritional
- Petioles and leaves are used for seasoning local dishes, especially pansit, chop suey, bachoi, etc.
- Excellent source of calcium and iron; contains vitamins A, B, and C.
- Seeds are rich in iron and vitamins, including A, B and C.
- Celery juice before meals as appetite suppressant; after meals as a digestive.
Folkloric
- In the Philippines, plant decoction is used as a diuretic and emmenagogue.
- Poultice of plant with barley meal used as deobstruent and resolvent.
- Used as a tonic and carminative adjunct to purgatives.
- Used as diuretic, lithontriptic and alexipharmic.
- Root used as alterative and diuretic, given in anasarca and colic.
- Antiasthmatic (bronchodilation): Pound seeds, wrap in thin cloth and inhale frequently.
- Used for hypertension, flatulence, indigestion.
- Decoction of seeds for bronchitis and asthma; also for liver and spleen diseases.
- Seeds used as stimulant and cordial.
- Arthritic and rheumatic disorders.
- Seed infusions used for rheumatoid arthritis and gout.
- Celery roots used as aphrodisiac.
- In Mexico, decoction of root used to diminish milk.
Others
Perfumery use: The volatile oil is of value in perfumery, where it is used in combination with various perfumes, both as fixative and/or as additional scent.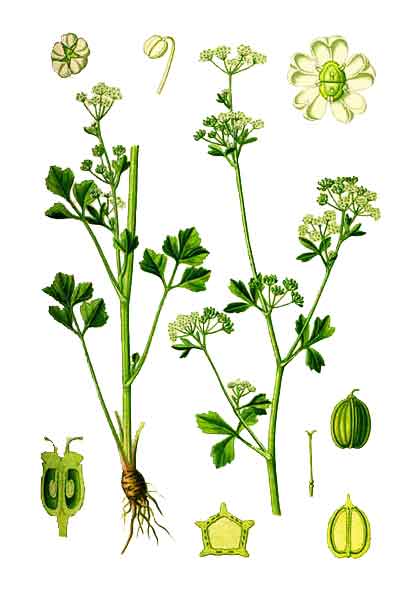 Studies
• Hepatoprotective: Hepatoprotective activity of Apium graveolens and Hygrophila auriculata against paracetamol and thioacetamide intoxication in rats: Study showed both extract of seeds to possess significant hepatoprotective activity. (1)
• Antioxidant / Carbon Tetrachloride-Induced Oxidative Stress: Effect of celery (Apium graveolens) extracts on some biochemical parameters of oxidative stress in mice treated with carbon tetrachloride: Study of both extract of roots and leaves are showed antioxidant activity probably involving flavonoids and other antioxidant compounds. (2)
• Anti-Toxicity / Apigenin: Pretreatment with Ag extract effectively alleviated most of the VPA-induced effects suggesting a protective role against experimental VPA toxicity. Apigenin was a major factor of the Ag extract. (3)
• Nematicidal / Antifungal / Mosquitocidal: Study of AG seeds isolated and characterized compounds sedanolide, senkyunolida-N and senkyunolide-J which showed nematicidal, antifungal, and mosquitocidal activities. (4)
• Mosquito Repellent / G10: (1) A comparative evaluation of G10, a celery-based topical mosquito repellent product, with Insect Block 28 and standard 25% DEET showed G10 and IB28 exhibited similarly powerful repellent activities with 100% protection, DEET was effective with 99.68% protection. (2) Study showed AG offers a potential against Ae. aegypti, particularly in its markedly repellent effect.
• Antipyretic: Antipyretic effect of celery (Apium graveolens) extracts in mice: Study showed extracts of celery leaf decreased the pyrogenic effect of 12% yeast suspension. (5)
• Essential Oil / Cercaricidal: Essential oil of the fresh aerial parts of Ag at its flowering stage yielded: a- and B-pinene, myrcene, limonene, cis-B-ocimene, g-terpinene, cis-allo-ocimene, trans-farnesene, humulene, apiol, B-selinene, senkyunolide and neocnidilide. Study showed a cercaricidal and chemotactic effect. (6)
• Hypolipidemic: Study of the ethanol extract of A. graveolens in adult male albino rats showed significant decrease of total cholesterol, trigylcerides and LDL, and a significant increase in HDL cholesterol. (7)
• Hypolipidemic / No Hypoglycemic Effect: Study on the intraperitoneal effects of AG on serum glucose and lipid levels of diabetic rats showed no significant hypoglycemic effect but could possibly lead to appropriate changes in blood lipid profiles. (8)
• Antinociceptive / Anti-Inflammatory: Study of the aqueous and hexane extracts of AG showed both fractions exhibited remarkable anti-inflammatory effect supporting is traditional use in diseases associated with inflammation. (10)
• Hepatoprotective / Anti-Inflammatory: Methanolic extract of A. graveolens seeds tested against Di-(2-ethylhexyl)phthalate (DEHP) induced hepatotoxicity in rats showed hepatoprotective activity with a significant recovery of biochemical parameters. (12)
• Learning / Memory Benefits in Diabetic Rats: Study showed chronic oral administration of AG could enhance consolidation and recall capability of stored information only in diabetic animals and did not affect spatial memory of diabetic animals. (13)
• Anti-Mosquito Potential / Aedes aegypti: A crude seed extract of Apium graveolens was investigated for anti-mosquito potential, including larvicidal, adulticidal, and repellent activities against Aedes aegypti, the vector of dengue hemorrhagic fever. Results showed larvicidal activity against fourth instar larvae, slight adulticidal activity and repellency. (15)
• Anticancer / Apoptosis Induction / Cytotoxic Activities: Study evaluated a methanolic extract of Apium graveolens seeds for antiproliferative effect in vitro on two human cell lines (DLA, Dalton's lymphoma ascites; L929, Mouse lung fibroblast). The methanolic extract of seed showed cytotoxicity and provoked DNA fragmentation, a sign of induced apoptosis. Results suggest a potential candidate for an anticancer drug. (18)
• Vasorelaxant / Antihypertensive Effect: Study investigated the vasorelaxant effect of organic extracts from Apium graveolens. All the extracts caused concentration-dependent relaxation in precontracted aortic rings, attributed to secondary metabolites and probably mediated by calcium antagonism. Results suggest an ideal source for lead compounds to design potential vasorelaxants and antihypertensive agents. (19)
• Adaptogenic Activity: Study investigated the adaptogenic activity of ethanolic and aqueous extracts of Apium graveolens in experimentally induced stress models in mice and rats. The extracts showed increased increase in anoxia stress tolerance time and swimming endurance time. Results showed the ethanolic extract with greater adaptogenic property than the aqueous extract. (20)
• Angiotensin Converting Enzyme Inhibitory and Antixoxidant Activity: Study of a methanolic seed extract of Apium graveolens showed significant in vitro ACE inhibitory potency and strong antioxidant activity. (21)
• Carbon Tetrachloride induced Hematotoxicity: Study investigated the role of aqueous extract of A. graveolens seeds against hematotoxicity induced by CCl4 in female rats. Results showed two-week consumption to be safe at tested doses, and caused improvement in hematological parameters and protection of hematopoietic cells from the damaging effects of CCl4. (22)
• Carbon Tetrachloride induced Hematotoxicity: A crude ethanol extract of seed yielded phototoxic compounds which offer potentials activity against Aedes aegypti, particularly through toxic and growth disruptions activities. Results suggest a promising candidate for commercial bioinsecticide development.
(23)
• Nephrocalcinosis / Increase Urinary Ca++ Excretion: Study evaluated the effect of A. graveolens in reducing calcium deposits from renal parenchyma in rabbit models with induced nephrocalcinosis by a large dose of oxalic acid. Results showed significant reduction in calcium deposition in the renal parenchyma, a significant diuretic effect that accentuates urinary calcium excretion. (24)
• Effect on Protease Inhibitor (Ritonavir) Induced Dyslipidemia: Study investigated the protective effect of an ethanolic extract of A. graveolens (celery seeds) on protease inhibitor induced dyslipidemia in mice. Results suggest the ethanolic extract showed potential for improving the lipid profile ad liver lipids deranged by ritonavir, with a efficacy approaching fenofibrate. (25)
• Antiulcerogenic / Antibacterial: Study investigated the antiulcerogenic and antibacterial activities of Apium graveolens extracts of aerial parts. Results showed dose-dependent inhibition of gastric lesions, similar to omeprazole. The essential oil was strongly inhibitory against E. coli and moderately inhibitory against Pseudomonas aeruginosa and Staphylococcus aureus. (26)
• Effect on Reproductive Hormones: Study evaluated a hydroalcoholic extract of leaves on the pituitary-gonad axis in young male mice of Balb/C. Results showed a dose-dependent negative effect of celery extracts in the pituitary-gonad axis in male mice, with significant decrease in FSH and decrease in LH and testosterone concentrations. (27)
• Insecticidal: Musca domestica, the housefly, breeding in human and animal excreta and a wide variety of domestic rubbish, can act as a vector for many diseases .Study showed an Apium graveolens extract to have insecticidal activity against Musca domestica. A. graveolens contains flavonoid and saponin believed to have potential as insecticide. (28)

Availability
Wild-crafted.
Small scale commercial production.