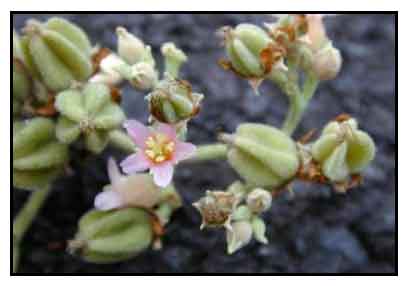 Gen info
- Etymology: The specific epithet comes from the Latin umbellatus (umbel-like), referring to the inflorescence..

Botany
Melochia umbellata is a rapidly growing shrub or small tree attaining a height of 2 to 15 meters. Leaves are large, broadly ovate, 90 to 300 millimeters long. Flowers are pale pink to red. Seeds are winged and wind-dispersed.
Distribution
- introduced.
- Cultivated in warm regions of the world as a shade tree.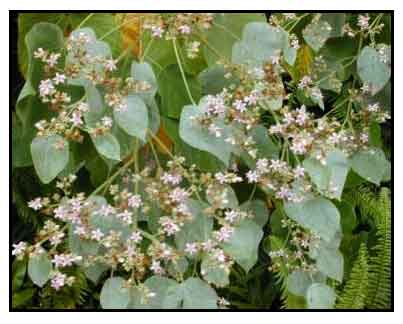 - Invasive in some places.
Constituents
- Study of n-hexane extract of leaves yielded two compounds i.e., 1-tetracisanol and a steroid compound. (see study below) (3)
- Study of stem bark for secondary metabolites yielded alkaloids and triterpenoids. Isolate E is a triterpenoid group compound, while FKs and FKb are steroid group compound. (see study below) (6)
Properties
- Studies have suggested antibacterial, anti-dengue, anti-tumor properties.

Parts used
- Leaves, roots, stem, bark.

Uses
Folkloric
- No reported medicinal use in the Philippines.
- In South Sulawesi, Indonesia, used for treatment of hepatitis, high cholesterol, diabetes, and hypertension.
Others
- Fodder: A cut-and-carry feed for ruminants.
Studies
• Antibacterial / Leaves: Study evaluated various extracts of M. umbellata (Houtt.) Stapf var. K. degrabata leaves for antibacterial activity against three bacterial strains i.e., E. coli, S. aureus, and S. dysenteriae. At concentrations of 2500, 5000, 10,000 and 20,000 ppm, the N-hexane extract was most active against S. aureus with ZOI of 10.5 mm, 10.80 mm, 11.00 mm, and 11.45 mm, respectively. The ethyl acetate extract was most active against S. dysenteriae. (see constituents above) (3)
• Dengue Antiviral Activity / Cytotoxicity / Bark: Study evaluated the dengue antiviral activity on a polar bark extract of M. umbellata var Vicenia. An ethyl acetate extract was tested against A. salina and dengue virus. Results showed IC50 of 101.66 µg/ml against A. salina and IC50 of 1.67 µg against dengue virus. The toxicity to brine shrimp A. salina has a positive correlation with the dengue antivirus activity. (4)
• Antibacterial / Stem Bark: A hexane extract of stem bark of M. umbellata showed highest antibacterial activity against B. subtilis with inhibitory zone diameter of 12.0 mm. Isolate D showed weak inhibitory effect on all test bacteria. FKs compound showed highest diameters of inhibition against B. subtilis and A. aureus, 18.0 mm and 13.0 mm, respectively. FKb showed highest ZOI of 12.0 mm against B. subtilis. (5)
• Methyl ß-(p0hydroxyphenyl( Acrylic Compound / Antitumor / Root Bark: Study of root bark yielded methyl ß-(p-hydroxyphenyl) acrylic. The compound was evaluated for antitumor activity using P-388 murine leukemia cell. Results showed high antitumor activity with IC50 of 5.35 µg/mL. (6)
Availability
Wild-crafted.