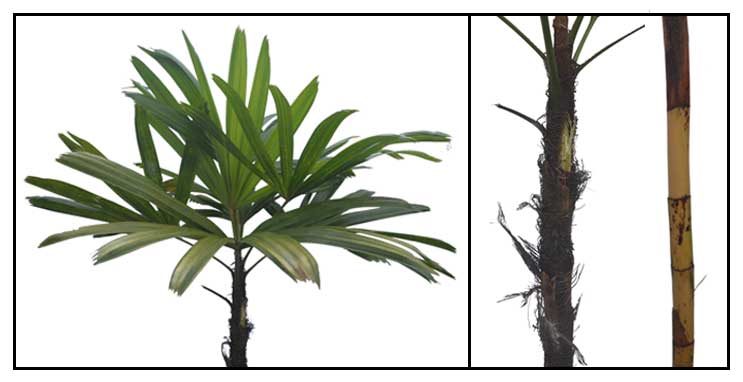 Botany
Rhapis excelsa is an erect, slender, suckering and clustering palm, erect and slender, growing up to 3 to 4 meters tall. Stem is cane-like, up to 4 centimeters in diameter, densely wrapped with dark-brown mats of coarse fiber. Leaves are palmately divided into broad, ribbed segments, appearing like a dissected fan. Leaf ends are saw-toothed in slender petioles up 20 to 50 centimeters long, smooth, stiff or arching. As the lower leaves fall off, stems are left with scars that give a bamboo-like appearance. New foliage emerges from fibrous sheath which remains attached to the base. Small inflorescences occur at the top, with spirally-arranged fleshy flowers with three petals fused at the base.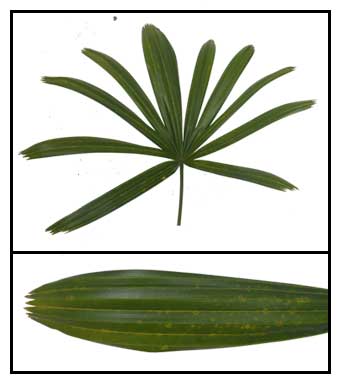 Distribution
- Introduced to the Philippines in the early 1900s.
- Ornamental cultivation.
- Used for dense hedges.
- Probably native to China and Japan.

Constituents
- Methanol extract of leaves yielded terpenoids, steroids and triterpenoids, saponins, glycosides, cardiac glycosides, phytosterols, resins, phenols, flavonoids, and oxalic acid. (see study below) (3)
- Chromatographic fractionation of R. excelsa leaves isolated four flavonoids: Apigenin-8-C-glucoside (vitexin), Apigenin-6,8-Di-C-β- glucopyranoside (vicenin-2), Luteolin-6-C-glucoside (isoorientin) and Luteolin-8-C-glucoside (orientin). (see study below) (4)
Properties
- Considered hemostatic, antidysenteric, and circulatory tonic.
- Studies have shown anti-viral, bacteriostatic, cytotoxic, antioxidant properties.

Parts used
Bark, roots.

Uses
Folkloric
- No known folkloric medicinal use in the Philippines.
- Burned or charred bark applied externally to stop bleeding. (1)
- Decoction of roots or ashes from burnt bark used for rheumatism; also used to stimulate blood circulation. (1)
- Used as hemostatic and antidysenteric. (12)
Others
- Air-cleaning Indoor Plant: Used as air-filtering plant.

Studies
• Air-Filtering Property: Included in the NASA list of 10 Best Air Filtering House Plants, Raphis excelsa is considered capable indoor air purification—eliminating formaldehyde, ammonia, xylene and toluene from indoor environment. (1)
• Phytochemicals / Antioxidant / Leaves: Study evaluated leaves of Rhapis excelsa for phytochemical composition, antioxidant activity and FTIR evaluation. Total phenolics and terpenoids in the methanolic extract showed 11 mg GAE/g and 130 mg/g, respectively. Hydrogen peroxide and reducing power scavenging assays were used to evaluated antioxidant activity. Results showed moderate to significant antioxidant activity. (see constituents above) (3)
• Flavonoids / Antioxidant / Antibacterial Potentiation / Leaves: Study of leaves extract yielded four flavonoids. Ethyl acetate and butanol fractions showed remarkable antioxidant activity (86.2 and 75.6 respectively) on DPPH radical scavenging assay. The extracts had no antimicrobial activity alone, but revealed an ability to potentiate the antibacterial activity of ciprofloxacin, tetracycline and oxacillin. (see constituents above) (4)
• Anti-Chikungunya Virus Activity / Antifungal / Bacteriostatic: Study investigated the antimicrobial and antiviral potential of three medicinal plants viz., Catunaregam spinosa, Houttunyia cordata, and Rhapis excelsa. All the extracts showed bacteriostatic activity. The ethanol extract of R. excelsa exhibited the strongest fungicidal activity against C. albicans, C. parapsilosis and T. mentagrophytes with minimum fungicidal concentration (MFC) of 0.04-0.08 mg/mL. Only the chloroform and ethyl acetate extract of R. excelsa showed significant antiviral activity against Chikungunya virus with 50% effective concentrations (EC50) of 29.9 and 78.1 g/mL. (6)
• Cytotoxicity / Anti-CHIKV Testing: Study investigated a total of 30 crude extracts from leaves and aerial parts of five Malaysian plants (Ipomoea aquatica, Persicaria odorata, Rhapis excelsa, Rhoeo spathacea, and Vernonia amygdalina) for anti-CHIKV activity. On cytotoxicity testing on Vero cells in a 72 hour NRU (neutral red uptake) assay, the ethanol extract of R. excelsa showed the highest cytotoxicity with CC50 of 51.67±2.89 µg/mL. In post-inoculation antiviral assay, all the extracts did not achieve the half-maximal effective concentration (EC50). (7)
• Anti-Chikungunya Virus Activity: Chikungunya virus is a reemerging arbovirus transmitted mainly by Aedes aegypti mosquito. Study investigated 120 extracts from 20 selected medicinal plants for anti-Chikungunya activity. Quantitative RT-PCR analysis showed the chloroform extract of Rhapis excelsa leaves exhibited the highest percentage of viral load reduction (98.1%) with EC50 of 29.9 ± 0.9 and selectivity index of 5.4. (10)
• Comparative Indoor VOC Absorption: Study evaluated the effectiveness of VOC (volatile organic compounds) absorption between Rhapis excelsa, Nephrolepis exaltata, and Dracaena fragrans in small rooms. Among the three plants, R. excelsa was identified as the best indoor plant to absorb VOC with the highest decrement when using six plants. (11)
• Antidermatophytic / Leaves: Study evaluated the antidermatophytic activity of 48 extracts obtained from medicinal plants and marine algae. Ethanol and methanolic leaf extracts of R. excelsa and methanol and water extracts of S. myrtifolium were highly active (MFC <0.1 mg/mL) with highly selective indices (SI>2.8) against reference strains T. rubrum and T. interdigitale, and most of the clinical isolates of T. tonsurans. Phytochemical analysis showed presence of alkaloids, anthraquinones, flavonoids, saponins, tannins, phenolics and triterpenoids in the extracts. (13)
Availability
- Wildcrafted.
- Ornamental cultivation.
- Plant and seeds in the cybermarket.