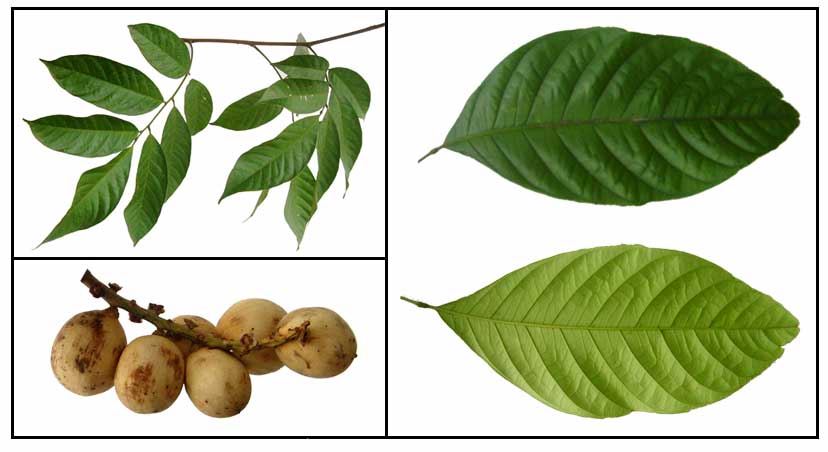 Botany
Lansones is a tree growing to a height of 4 to 15 meters. Leaves are alternate, 20 to 40 centimeters long, with 5 to 7 leaflets, oblong to oblong-elliptic, 7 to 18 centimeters in length, and pointed at both ends. Flowers are small, yellow and borne on spikes, solitary or fascicled on the trunk or larger branches. Fruit is yellowish-white, occurring in bunches on a single stem, ellipsoid or globose, 2 to 4 centimeters long, with bitter seeds that are surrounded by a translucent pulp (arillus). The outer skin is thin and tough, abundant in a milky juice. The pulp occurs in five sections with one well-developed seed.

Distribution
- Cultivated for its fruit in Luzon, particularly the Quezon and Laguna Provinces, and occurs wild in Mindanao and Basilan.
- Also occurs in Indo-China, and the Malay Peninsula and Archipelago, in general cultivation.

Constituents
- The rind yields 6% lansium acid which is toxic.
- The fresh peeling yielded a volatile oil, a resin, and some reducing acids.
- The resin is believed to be nontoxic and protective to the stomach against alcohol.
- The outer skin of the fruit is rich in tannin.
- From the seeds, two toxic and bitter substances and traces of an alkaloid.
- The fruit pulp contains sucrose, saccharose, fructose and glucose.
- Study isolated a new tetranortriterpenoid from the seeds: methyl 2-[4-(3-fur­yl)-6b,10a-dihydr­oxy-3a,7,9,9-tetra­methyl-6,10-dioxo-2,3,3a,6b,7,8,9,10,10a,11-deca­hydro-1aH,4H,6H-benzo[h][1]benzoxireno[3,2,1a-de]isochro­men-8-yl]acetate, C27H32O9. (

22

)
• Study yielded five tetranoterpenoids, domesticulide A-E (1-5) from the seed. The seed extract was rich in limonoids.
• Yields triterpenoid lansiolides with antimalarial activity.
• Seeds yielded two tetranortriterpenoids, kokosanolide A (1) and C (2), together with 3 onoceranoid-type triterpenoid: kokosanolide B (3), 8,14-secogammacera-7,13-diene-3,21-dione (4) and a mixture of 8,14-secogammacera-7,14(27)-diene- 3,21-dione (5) and compound 4 isolated from the bark. (see study below) (

13

)
• Food value per 100 g of edible portion: Moisture 86.5 g; protein 0.8 g; carbohydrates 9.5 g, fiber 2.3 g; calcium 20 mg; phosphorus 30 mg; vitamin A 13 IU; thiamine 89 mcg; riboflavin 124 mcg; ascorbic acid 1 mg. (

3

)
Properties
- Bark is considered antipyretic, anthelmintic, and astringent.
- Studies have shown anti-malarial, antioxidant, antimelanogenesis, antibacterial, anticancer, antipyretic, repellent properties.

Parts utilized
Bark, fruit, leaves, seeds.

Uses
Nutritional
-The fruit pulp is succulent and delicious, eaten fresh out of hand; candied or preserved in syrup.
Folkloric
- Decoction of bark and leaves used for dysentery.
- Peel, rich in oleoresin, used for diarrhea and intestinal spasms.
- Crushed seeds used for fevers.
- Astringent bark used for dysentery and malaria.
- Powdered bark used for scorpion stings.
- Bark resin used for flatulence and gastrointestinal colic, for swellings, and as antispasmodic.
- Grounded seeds mixed with water as vermifuge and antipyretic.
- Tincture prepared from the dried rind used for diarrhea and abdominal colic.
- In Java. seeds are used as vermifuge and antipyretic.
- In East Kalimantan, Indonesia, decoction of bark used for malaria.
Others
- Repellent: The dried fruit skins when burned emit an aromatic smell which repels mosquitoes. In Java, used as incense in room of sick people. (3)
- Wood: Light brown wood is tough and durable; used as house pots and for making tools and handles. (3)
- Poison: The juice of the bark and fruit is recorded as used for poison arrow.

Studies
• Anti-Malarial / Skin and Leaf Extracts: Lansium domesticum: skin and leaf extracts of this fruit tree interrupt the life cycle of Plasmodium falciparum, and are active towards a chloroquine-resistant strain of the parasite (T9) in vitro: Study indicates extracts of LD are a potential source for compounds with activity against chloroquine-resistant strains of P. falciparum. (1)
• Anti-Malarial / Tetratriterpenoids: Study yielded five tetratriterpenoids – domesticulide A-E from the seeds of Lansium domesticum together with 11 known triterpenoids. Eight of the compounds showed antimalarial activity against Plasmodium falciparum. (6)
• Antioxidant: Extract of LD was shown to have antioxidant activity against DPPH free radical and anti-tyrosinase activity.
• Cosmeceutical: Review focuses on its medicinal, nutritional, and cosmeceutical value from its antioxidant, moisturizing, whitening and lightening effects. Dry extract of fruit, re-dissolved in propylene glycol is used for skin depigmentation and as a moisturizer. (3)
• Skin Moisturizing / Lightening Effect: Study showed LD extract can significantly increase skin moisture and decrease the skin melanin index. (3)
• Antimelanogenesis: LD methanol extract was one of the study extracts that showed strong inhibition of melanin production of B16 melanoma cells without significant cytotoxicity, presenting as a potential ingredient for skin-whitening cosmetics if their safety can be confirmed. (4)
• Antibacterial: The air-dried fruit peel of LD yielded five onoceroid triterpenes; the air-dried seeds yielded one onoceroid triterpene (lansionic acid) and germacrene D. Studies of the compounds showed varying degrees of activity against P. aeruginosa, B subtilis, C albicans, A niger among others. (5)
• Anti-Skin Tumor / Cycloartanoid Triterpene / Leaves: Study isolated a new cycloartanoid triterpene from the leaves of LD. Some of the natural product derivatives show significant inhibitory activity on skin-tumor promotion on the basis of Epstein Barr virus activation. (7)
• Onoceramoid Triterpenes / Cytotoxicity: Study isolated three new natural onoceranoid triterpenes from the fruit peel of LD together with two known triterpenoids. The triterpenoids exhibited mild toxicity against brine shrimp (Artemia salina). (8)
• Onoceranoid-type Triterpenoids / Antibacterial: Study yielded a rare class of onoceranoid-type triterpenoids, lamesticumin a, lamesticumins B-F, lansic acid 3-ethyl ester and ethyl lansiolate and four known analogues from the twigs of LD. Compounds 1-9 exhibited moderate antibacterial activity against Gram-positive bacteria. (9)
• Fruit Peels / Nutrition and Medicinal Potential: Study evaluated the phytochemicals present in peels of selected fruits from Manila. All studied fruit peels (rambutan, lanzones, pomelo, longgan, mangosteen) showed the presence of reducing sugars and glycosides. In phytochemical screening, lanzones yielded highest in alkaloids and sugars. (11)
• Anticancer / Young Fruit Extract: Study evaluated the antiproliferative activities and phytoconstituents of Longkong extracts. Highest total phenolic and flavonoid content were seen in the cold and hot methanol extract of stalks. Hot and cold chloroform young fruit extracts exhibited cytotoxic effect against cancer cells. Cold chloroform young fruit extracts showed the highest apoptotic effect against KB cells. (12)
• Antifeedant / Triterpenoids: Study isolated two tetratriterpenoids and three onoceranoid-type triterpenoids. Triterpenoids 1-5 exhibited moderate to strong antifeedant activity against 4th stage instar larvae of Epilachna vigintioctopunctata. (see constituents above) (13)
• Mosquito Repellent: Study evaluated the repellant effect of Lansium domesticum (lanzones) peel on mosquitoes. Results revealed that the effect of Lanzones peel as repellant is comparable to commercially available "katol," a popularly used insecticide vaporizer. (14)
• Non-Genotoxic / Antioxidant: Study investigated the antioxidant and genotoxicity property of L. domesticum fruits, particularly seeds and skins. Results showed the skin of fruits possessed higher antioxidant potential than seeds. On genotoxicity study on TK6 human lymphoblasts using cytokinesis-blocked micronucleus assay, the ethanol extract of seeds were non-genotoxic to TK6 cells. (15)
• Antipyretic: Study investigated the antipyretic activity of LD seed extract on male rabbits with Brewer's yeast induced fever. Results showed a dose dependent antipyretic effect. (16)
• Lansioside D / Antibacterial: Study isolated a major antimicrobial compound, lansioside D, from the fruit peel of L. domesticum. Evaluation showed remarkable activity against Gram-positive bacteria Staphylococcus aureus and Bacillus subtilis and moderate activity against Gram-negative bacteria E. coli. (17)
• Repellency of Peels to Nilaparvata lugens on Oriza sativa: Study evaluated the repellent potential of various concentrations of Lansium domesticum peel extract (0.1% to 0.5%) to Niloparvata lugens on Oryza sativa. Results showed repellent activity with the highest repellent activity was at 0.2% and the lowest, at 0.1%. (19)
• Antioxidant / Seed: Study evaluated the antioxidant potential of L. domesticum seed extract
in while male rats. On measures of glutathione (GSH) and malondialdehyde (MDA), Lansium domesticum seed extract showed antioxidant potential with the optimum dose of 100 mg/kg.   (20)
• Adsorption of Methylene Blue / Peel: Wastewater discharge from textile industries includes residual dyes which are no bio-degradalbe. Acute exposure to methylene blue may cause some harmful side effects. Study showed Lansium domesticum peel has good potential as adsorbent for methylene blue dye removal from aqueous solution. (21)
• Repellent / Aedes aegypti / Peel Extract Lotion: Study evaluated the repellent activity of lotion containing ethanol extract of lanzones peel against Ae. aegypti mosquitoes. Ethanol extract was obtained by macerating the peel with 96% ethanol, and prepared in three concentrations of 15%, 20%, and 25%. Each concentration exhibited repellent activity, with the 25% indicating a 100% protection up to 135 minutes. (23)
• Lamesticumin G / α-Glucosidase Inhibitor / Fruit Peels: Study of ethyl acetate extract of fruit peel isolated a novel onoceranoid triterpene, lamesticumin G, along with four known compounds (2-5). Lamesticumin G inhibited α-glucosidase with IC50 of 2.27 mM. Compounds   2-5 showed no inhibition. (24)
• Onoceranoid Xyloside / Radical Scavenging / Fruit Peels: Study isolated a novel onoceranoid triterpene xyloside, methyl lansioside C (1) along with two known glycosides (2,3) from the polar fraction of fruit peels. Compounds 1 and 3 exhibited moderate radical scavenging activity with SC50s of 14.5 and 13.7 mM, respectively. None of the compounds exhibited inhibition of α-glucosidase. (25)
• Reduction of Ski Pigmentation / Invention / Leaves: Invention relates to the use of extract of leaves for reducing pigmentation of the skin and/or appendages, and/or for reducing pigment stains on the skin. (26)
• ZnO and Ag/ZnO Nanocomposites / Antibacterial: Study reports on the green synthesis of ZnO nanoparticles by direct precipitation method using zinc acetate and sodium carbonate as precursors and biosynthesized using plant extract. The Ag doped ZnO particles were also synthesized in various concentrations in a green route synthesis. The synthesized ZnO and Ag-ZnO nanocomposites were also tested for their antibacterial activity against facultative pathogenic E. coli. Colony counting and broth dilution methods were used. Both methods showed an MIC of 200 µg/ml. (27)

Availability
Commercial cultivation.