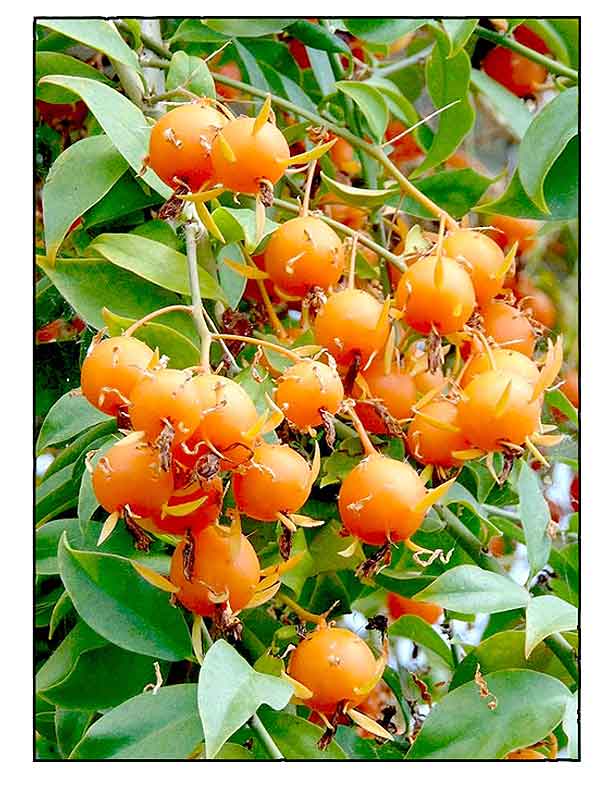 Gen info
- Pereskia is a small genus of about four species of cacti that do not look much like other types of cacti, having substantial leaves and non-succulent stems. Close examination, however, shows spines developing from areoles, and the distinctive floral cup of the cactus family. (3)
- The genus was once more widely circumscribed, but the majority of species have been transferred to Leuenbergeria and Rhodocactus. (3)
- The genus name honors Nicolas-Claude Fabri de Peiresc, a 16th-century French botanist. (3) The species epithet aculeata means 'thorny'.
Botany
Pereskia aculeata is a scrambling vine growing to 10 m (33 ft) tall in trees, with stems 2–3 cm (0.79–1.18 in) thick. Younger stems have hooked thorns and older stems have clusters of woody spines. The leaves are 4–11 cm (1.6–4.3 in) long and 1.5–4 cm (0.59–1.57 in) broad, simple, entire, and deciduous in the dry season. Strongly scented flowers are white, cream or pinkish, 2.5–5 cm (0.98–1.97 in) diameter, and numerous, produced in panicles. Fruit is a berry, translucent white to pink, yellow, orange or red, and 2 cm (0.79 in) in diameter, containing numerous small seeds.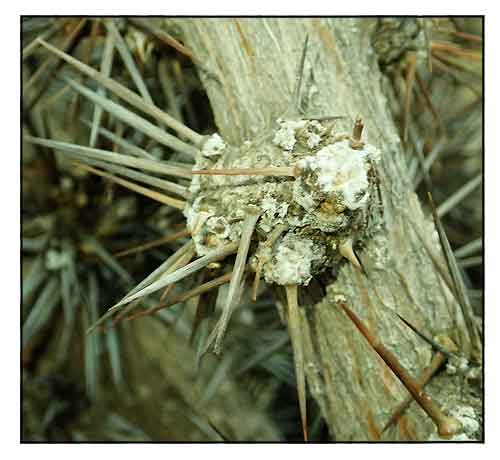 Clambering shrubs or lianas; branches terete, relatively slender, about 3-10 m. long, with pairs of stout reflexed spines 2-5 mm. long. Leaves shortly petiolate, ,the blade variable, usually elliptic to obovate, obtuse to acuminate, the base obtuse to cuneate, 3-8 cm. long, 1.5-4.0 cm. broad, the petiole 3-5 mm. long. Flowers usually few or several in terminal or axillary panicles about twice as long as the subtending leaves; pedicels about 0.5-1.5 cm. long, accrescent in fruit; perianth white, yellowish, or pink, rotate, about 3-5 cm. in diameter, the segments rather numerous, the inner obovate-oblong, the outer oblong-linear; stamens numerous, less than half as long as the perianth segments; style rather stout, slightly longer than the stamens. Berry globose, 1.5-2.0 cm. in diameter, with inconspicuous thornless areoles, yellow or orange when ripe. (Flora de Panama)
Distribution
- Introduced.
- Cultivated, not naturalized.
- At risk of being invasive.
- In some places, already declared an environmentally damaging invasive alien weed.
- Native range is Panama to S. Tropical America; growing primarily in seasonally dry tropical biome.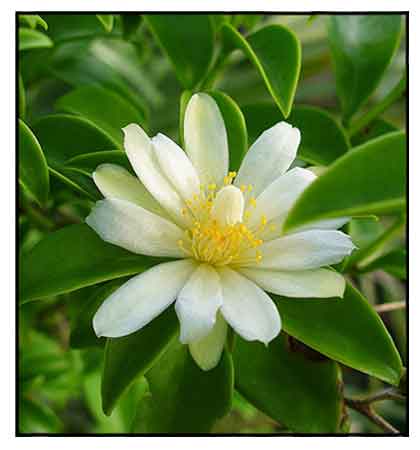 Constituents
- Phytochemical analysis of hydromethanolic fraction of leaves yielded tryptamine, abrine, mescaline, hordenine, petunidin, di-tert-butylphenol isomers, and quercetin. (see study below) (10)
- Study of leaf essential oil identified 24 compounds, accounting for 91.03% of total oil. Oxygenated sesquiterpenes were the main constituents (44.92%), and the main compound was acorone (30 .0%). Other important compounds were (Z,Z)-methyl-4,6-hexadecadiene (16.34%), 1-nonadecen-ol (6.18%) and (5E,9E)-farnesyl acetone (5.70%). (see study below) (16)
- Nutritional analysis of leaves showed remarkable levels of total dietary fiber (39.1% dry basis), minerals (calcium, magnesium, manganese, zinc) and vitamins (vitamin A and C, folic acid). Tryptophan was the most abundant amino acid (20.5%). (see study below) (19)
- Mucilage chemical composition yields 6.08% moisture, 78.93% carbohydrate, 8.89% protein, 9.99 ash, 1.68% lipids, and 0.49% total fiber. Active components in the mucilage are phenolic compounds, flavonoids, carotenoids, and vitamin E. (see study below) (22)
Properties
- High mucilage yield.
- Studies have suggested wound healing, cytotoxic, anticancer, antinociceptive, anti-inflammatory, neuroprotective, antipsoriatic, nutritional properties.

Parts used
Leaves, aerial parts.

Uses
Edibility
- Fruit and leaves are edible.
- Fruits resemble gooseberry in appearance and has an excellent flavor.
- In Brazil, many poor communities consume the dark green leaves as vegetable.
Folkloric
- No reported folkloric medicinal use in the Philippines.
- In Brazil, leaves used to treat skin wounds and inflammation.
- In folk medicine, because of high mucilage content, used as emollients for skin wound healing and cutaneous lesions caused by burns.

Studies
• Wound Healing / Leaves: Study evaluated the topical wound healing activity of gels from methanol extract and hexane fraction of leaves of P. aculeata in a model of excisional wound healing in mice. Both ME and HF markedly accelerated closing of skin wounds with the HF showing more evident activity, attributed to increase in blood flow rate and collagen deposition. Treated mice showed less fibroplasia, blood vessels and inflammatory cells, which suggest more advanced wound healing. (5)
• Wound Healing Emulsion / Mucilage: P. aculeata is a cactus with high mucilage production. Study evaluated the correlation of nutritional content, mucilage production, and wound healing properties. Extracts were evaluated in measures of swelling index, cytotoxicity, and in vitro wound healing property of plants grown in five different soil treatments. Results showed the substrate used in cultivation may interfere with mucilage production, but not with cytotoxicity and wound healing. Morphological studies showed the beneficial effect of the mucilage-containing extract on fibroblast cell culture, corroborating its folk use for wound healing. (6)
• Mucilage Potential: Survey evaluated and highlighted the composition of leaves and applications in the development of new products. Mucilage showed great potential in the development of complexes or microparticles to transport active molecules. Emulsifying properties have been explored in food processing, films for functional and/or edible packaging. Anticancer and anti-inflammatory properties have opened research in pharmaceutical products. The polysaccharide chain and interaction with other biopolymers have opened exploration in colloidal chemistry and production of biomaterials. (7)
• Flour / Metabolic Effects: Survey evaluated the composition and effects of ora-pro-nobis (OPN) flour on metabolic profile and intestinal motility in Wistar rats. The flour was effective in reducing weight, visceral fat, total cholesterol, triglycerides, LDL, VLDL, and increased HDLc, along with improvement in intestinal motility. Results suggest potential for incorporation of the flour in industrial products. (8)
• Cytotoxic against Cancer Cell Lines MCF-7 and HL60 / Metabolic Effects: Study evaluated the cytotoxic activity of methanol crude extract of P. aculeata leaves and fractions against MCF-7 and HL60 cell lines by MTT assay. Results showed some fractions inhibited MCF-7 and HL60 cell proliferation. Most of the antioxidant compound found in leaves were phenol compounds. No activity was found against normal cells. (9)
• Antinociceptive / Leaves: Study evaluated the antinociceptive activity of hydromethanolic fraction from methanol extract of P. aculeata leaves using acetic acid-induced writhing, formalin, and tail-flick tests in mice with single doses of 100, 200, and 300 mg/kg. Antinociceptive activity was inversely proportional in acetic acid test: 100 mg/kg dose reduced number of writhing by 78%, while 200 and 300 mg/kg caused 64% and 41% reduction, respectively. In formalin test, 300 mg/lg inhibited paw licking by 50% and 86% in first and second phases. There was no response to tail-flick test. Results suggest a peripheral and central antinociception devoid of an opioid effect. (10)
• Effect of Maturity Stage / Antioxidant / Fruits: Study evaluated the antioxidant capacity of fruits according to three maturity stages: unripe (green), intermediate (yellowish green) and ripe (yellow) stages. There was a decrease in chlorophyll content followed by increase in total carotenoids and yellow flavonoids, due to the maturity stage. The maturity stage significantly influenced the bioactive compounds, which presented higher values of carotenoids, yellow flavonoids, and antioxidant capacity in ripe fruits. (11)
• Neuroprotective / Antioxidant / Leaves: Study used compressed fluid technologies to obtain antioxidant rich extracts from P. aculeata leaves. The leaf extracts showed high antioxidant potential in DPPH and FRAP in vitro assays. Supercritical fluid extracts (SFE) presented acetylcholinesterase inhibition and anti-inflammatory activity. Non-polar extracts yielded 11 compounds belonging to terpenoids and phenolic compounds. (12)
• Topical Anti-Inflammatory for Acute and Chronic Dermatitis / Leaves: Study investigated the topical anti-inflammatory activity of hexane fraction from a methanol extract of leaves in models of acute and chronic ear dermatitis in mice, induced by topical administration of croton oil, arachidonic acid, capsaicin, ethylpropiolate and phenol, and by subcutaneous injection of histamine. The HF significantly reduced the inflammatory process induced by all irritant agents used, except for arachidonic acid. Activity was related, in part, to reduction of IL-6 and TNF-α cytokine levels. Results strongly suggested a glucocorticoid-like effect, which was reinforced by the presence of significant amounts of sterol compounds in the HF. Acute dermal irritation/corrosion test showed no signs of toxicity. (13)
• Topical Anti-Inflammatory Cream / Adjuvant to Psoriasis Therapy: Study developed an herbal medicinal cream (INFLATUV) from a hexane fraction (HF) of P. aculeata leaves, which showed promising topical anti-inflammatory activity. The anti-inflammatory activity shown by INFLATUV was comparable to dexamethasone, without the skin atrophy of dexamethasone. INFLATIV modified skin parakeratotic differentiation into orthokeratosis, which revealed its antipsoriatic potential. Preliminary stability tests indicated the 6% formulation is more stable than 12%. Results suggest therapeutic and marketing potentials for INFLATIV. (14)
• Effect of Flour on Intestinal Health / Clinical Trial: Study investigated the influence of ora-pro-nobis flour on adhesion of probiotics to intestinal epithelial cells and effect of a flour-based product on gastrointestinal symptoms, weight, body fat, glycemia, and lipid profile in overweight men. P. aculeata did not affect Lactobacillus casei adhesion to Caco-2 cells. The flour improved GI symptoms and increased satiety. The consumption of the flour improved intestinal health. (15)
• Antioxidant / Antibacterial / Cytotoxicity / Leaf Essential Oil: Study evaluated the chemical composition of essential oil from leaves and its biological activities. A methanol extract showed antioxidant activity (EC50 7.09 mg/mL) and high polyphenols content (15.04 mg GAE/g). A petroleum ether extract showed antibacterial activity against Escherichia coli, while the chloroform extract showed inhibitory activity against Bacillus cereus and Staphylococcus aureus. Petroleum ether and methanol extract were more effective in inhibiting growth of Aspergillus versicolor. A chloroform extract showed antiproliferative activity on neuroblastoma SH-SY5Y cancer cell line and significantly reduced ADCY1 expression. (see constituents above) (16)
• Mucilage from Green Fruit: Pereskia aculeata is a cactus known fro its non-toxic mucilage. Study evaluated the mucilage powder obtained from green fruits of Pereskia aculeata. The technological characteristics of the reconstituted powder were evaluated. All the mucilage solutions showed pseudoplastic behavior. Increasing mucilage concentration of the medium contributed to increase in viscosity, emulsification capacity, emulsion stability, and decrease in mean size of oil droplets. Mucilage powder from the fruit showed twice the protein content with low water activity and a clarified product with light coloration. (17)
• Antipsoriatic / Leaves: Psoriasis is a chronic inflammatory disease which affects 1-3% of the world Caucasian population. Study evaluated the antipsoriatic potential of P. aculeata leaves by mouse tail test. Topical formulations containing 6% or 12% of hexane fraction from leaves, vehicle or Psorex™. Results strongly suggested P. aculeata has antipsoriatic potential as evidenced by degree of orthokeratosis. (18)
• Nutritive Evaluation of Leaves: Study evaluated the nutritional components of green leaves in terms of proximate composition, minerals, vitamins, protein content and digestibility. Study showed OPN leaves to be a good source of minerals, vitamins. amino acids, and has potential as a functional ingredient. (see constituents above) (19)
• Alternative for Iron Supplementation / Leaves: Ora-pro-nobis dried leaves contain high protein and mineral contents. The protein content (20-30%) in OPN leaves is higher than various types of food such as meat, fish, eggs. Mineral content, particularly iron and calcium, is higher than broccoli, spinach and chard. The significant iron content in OPN leaves (47.81 mg 100g) compared to spinach (6.67), broccoli (6.76), bean (5.50-21.88), cress (50.82), purple lettuce (58.14 mg 100g) make it a potential alternative natural supplement for iron deficiency anemia. (20)
• Alternative Protein / Emulsifier and Fat Replacement in Processed Meat: Study evaluated the mucilage of Pereskia aculeata (OPN) as an alternative emulsifier in meat product. OPN mucilage has high emulsifying potential, rich in minerals and contains all essential amino acids, characterizing it as a nutritionally attractive food ingredient. Use of the mucilage as replacement of chicken skin, which is an emulsifier traditionally used in mortadella-type meat product, contribute to the reduction of overall fat content of the product. The OPN mucilage formulation showed high sensory acceptance with great potential for use in meat products and as food ingredient. (21)
• Anti-Inflammatory / Mucilage: Review highlights plant-based mucilage that may or may not form a film and can be used for topical application with its anti-inflammatory and healing properties. Its healing and anti-inflammatory properties include stimulation of collagen and elastin, a cytostatic effect, reduction of edema, leukocyte deposit, and vasodilation, and antimicrobial activity. (see constituents above) (22)
• Antihemolytic / Antioxidant / Leaves: Study evaluated various extracts for chemical composition, antioxidant activity, and bioactivities in vitro. An optimized extract (60% water, 40% ethanol) was rich in phenolic compounds (64 mg GAE/g) and proteins (823 mg/g) and exhibited antioxidant activity and inhibited lipid peroxidation (32%) and inhibited hypotonic and H2O2-induced hemolysis (H50=0.339%). The extract showed no toxicity against cancer and normal cells. (23)
• Antifungal / Leaves: Study evaluated the antifungal activity of P. aculeata against Candida albicans, C. tropicalis, and C. albicans ATCC 90028 strains. A hydroalcoholic extract demonstrated inhibitory activity against the strains tested, with inhibitory concentrations varying between 12.5 and 25%. (24)
• Acute Toxicity / Cytotoxicity / Leaves: Study evaluated the acute toxicity of P. aculeata using three different doses administered by gavage to female Wistar rats. Acute toxicity study showed not difference among groups in either clinical evaluation or histopathological analyses. On cytotoxicity study of dried ethanolic extract was applied on lettuce seeds, the extract affected lettuce root and shoot growth, but not germination or mitotic index. Results show acute toxicity on rats and cytogenotoxicity on lettuce are neglibigle, and suggests potential use as functional food. (25)
Availability
- Cultivated.
- Supplements, capsules in the cybermarket.