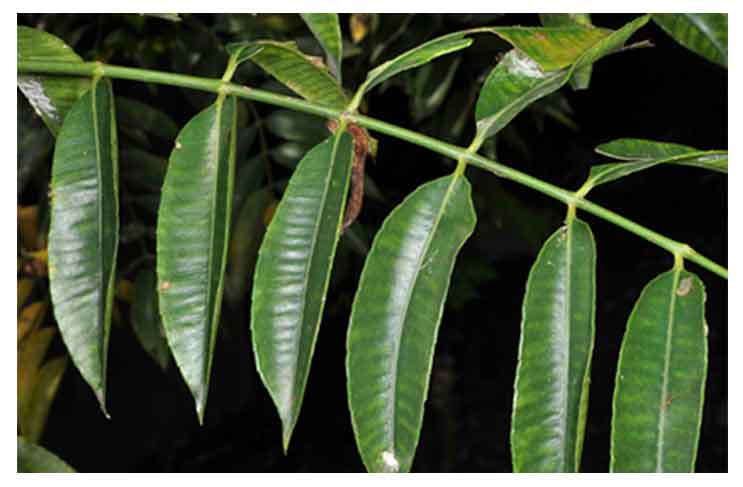 Botany
Libas is a tree reaching a height of about 25 meters and a diameter of about 60 centimeters. Bark surface is smooth, with irregular cracks, grey to pale reddish brown, exuding a clear, sticky sap with a turpentine smell. Leaves are alternate, pinnately compound, 20 centimeters or more in length. Leaflets are pointed at the apex, rounded or abruptly pointed at the base, 7 to 14 centimeters in length. Flowers are small and in panicles. Fruit is rounded, yellow, a one-seeded drupe, with a finely flavored, edible pulp.
Distribution
- In primary forests at low altitudes.
- Occasionally planted as a shade tree.
- Widespread from India to Celebes and the Moluccas.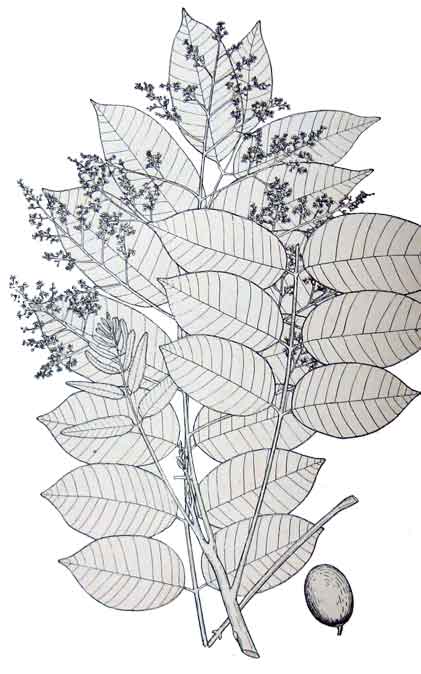 Constituents
- Phytochemical studies have yielded flavonoids, tannins, saponins and terpenoids.
- Essential oil from the pulp yielded carboxylic acids and esters, alcohols, aromatic hydrocarbons. The major compounds were 9,12,15-octadecatrien-1-ol (36.78%), hexadecanoic acid (25.27%) and furfural (19.77%).
- Study isolated 24-methylene cycloartanone, stigma-4en-3one, lignoceric acid, β-sitosterol and its β-D-glucoside. (10)
- Fruits yield ß-amyrin, oeanolic acid, glycine, cystine, serine, alanine, and leucine. Aerial parts yield lignoceric acid, ß-sitosterol and its glucoside.

Properties
- Used traditionally as anthelmintic, anti-inflammatory, anti-pyretic, anti-tumor, antibacterial, and to regulate menstruation.

Parts used
Bark, leaves.

Uses
Culinary
- Young leaves, flowers, and fruits are edible.
- Leaves and fruits are sour and used in stews and the filling for the fish dish "sinanglay," a Bicolano delicacy.
- Dried young leaves used for laing.
- Fruits eaten raw; can be made into jams, jellies and juices.
Folkloric
- Bark, leaves and fruits used the treatment of burns, sores and wounds.
- Bark used for treatment of diabetes.
- Used for dysentery and diarrhea, rheumatism, vomiting.
- Unripe fruit used as aphrodisiac.
- Ripe fruits used as antiscorbutic.
Others
Wood: Used for various carpentry application – mouldings, interior finishing, turnery, carvings, etc. Because of lightness, suitable for manufacture of matchsticks, matchboxes, boxes and crates.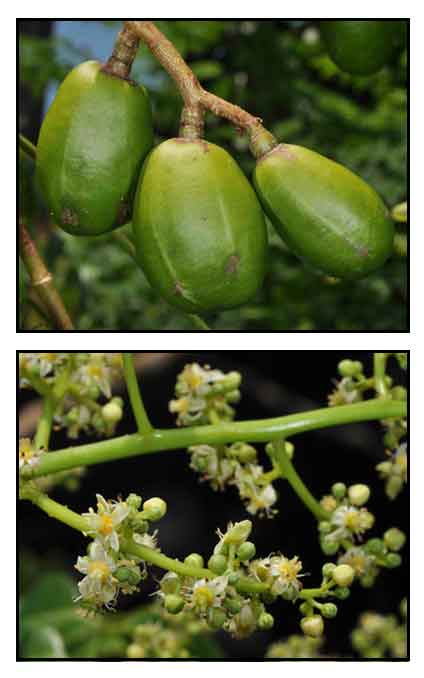 Studies
• Hepatoprotective / Carbon Tetrachloride-Induced Hepatotoxicity: Study showed the ethyl acetate and methanolic extracts of the stem heartwood of Spondias pinnata possess hepatoprotective activity against carbon tetrachloride-induced hepatotoxicity in rats. The hepatoprotective activity could be due to the presence of bioflavonoids. (1)
• Laxative / Diuretic: Study on chloroform and methanol extracts of the bark of Spondias pinnata produced significant diuretic and laxative activity. The petroleum extract did not reveal significant activity. (2)
• Hypoglycemic: Study on adult Wistar albino rats showed the methanol extract to have promising results comparable to standard reference glibenclamide. Phytochemicals showed the presence of flavonoids, tannins, saponins, terpenoids.(3)
• Antioxidant / Antibacterial / Cytotoxicity: Extract showed excellent scavenging of DPPH radical and reducing power. A chloroform extract showed moderate antibacterial activity against eight microorganisms. An ethanol extract showed cytotoxicity with an LC50 of 65 and LC90 of 160. (7)
• Anthelmintic: In a comparative extract study for anthelmintic activity, all extracts of both acetone and ethanol extracts showed anthelmintic activities than standard drugs, with the ethanol extract showing better activity than the acetone extract. (8)
• Antioxidant: Study of methanol extract of stem-bark extract using various assays showed it to be a potential source of natural antioxidants. (9)
• Hepatoprotectivre / Iron Overload Liver Toxicity: Study of a methanol extract of Spondias pinnata showed hepatoprotective activity in iron-intoxicated mice, suggesting a potential use as iron chelating drug for iron overload diseases. (11)
• Antimicrobial / Resin: Antimicrobial activity of resin of S. pinnata tested on various organisms showed maximum activity on Bacillus subtilis, a Gm+ bacteria. (12)
• Antibacterial: Study of ethanolic extract of pulp showed antibacterial activity against S. aureus, E. coli, and Pseudomonas aeruginosa, and antifungal activity against C. albicans and Aspergillus flavus.
• Antibacterial / Stem Bark: Study of Methanolic extract of stem back showed antibacterial activity against B. subtilis, S. aureus, E. coli, and P. mirabilis at a concentration of 128 µg/ml. (13)
• Hypoglycemic Activity / Root: Study evaluated various extracts of roots of Spondias mangifera for hypoglycemic activity in adult Wistar albino rats, with glibenclamide as reference standard. Results showed dose-dependent reduction of blood glucose concentration. Results suggest extra-pancreatic effects and justifies the use of roots in the folklore treatment of diabetes. (14)
Availability
Wild-crafted.